Subscribe to UVA Insider Articles | UVA Schedule/Results | Video Highlights | UVA Women's Hoops on Twitter | Jeff White's Twitter
By Jeff White (jwhite@virginia.edu)
VirginiaSports.com
 
CHARLOTTESVILLE –– The news from her medical team floored Felicia Aiyeotan. She was just starting to tap into her immense potential in basketball, and suddenly her playing career was over.
 
"You just don't think it would ever happen," said Aiyeotan, a 6-9 center from Lagos, Nigeria.
 
Doctors discovered last year that Aiyeotan has Marfan syndrome, a genetic disorder that affects the body's connective issue, and determined it would be dangerous for her to continue playing. The diagnosis left a void in her life. With help from her vast support network at the University of Virginia, however, she's filling it in a variety of ways.
 
Since last summer, Aiyeotan has been interning with the Virginia Athletics Foundation. For a study-abroad course, she spent two weeks last year with fellow UVA students in Dominica, which is still recovering from Hurricane Maria, which hit the Caribbean island in September 2017. The UVA group helped residents with soil problems and learned more about their communities and culture.
 
"It was just a really cool experience," Aiyeotan said.
 
During this academic year, she's gone on Virginia Athletics Career Development trips to Charlotte, N.C., where the group learned about finance, law and real estate from UVA alumni; and to New York, where the primary topics were marketing and retail.
 
"I have to stay positive," Aiyeotan said. "I'm just realizing that there's more to life than basketball. Although I wanted to live out my dreams [in the sport], there is more to it, and I'm just trying to stay open."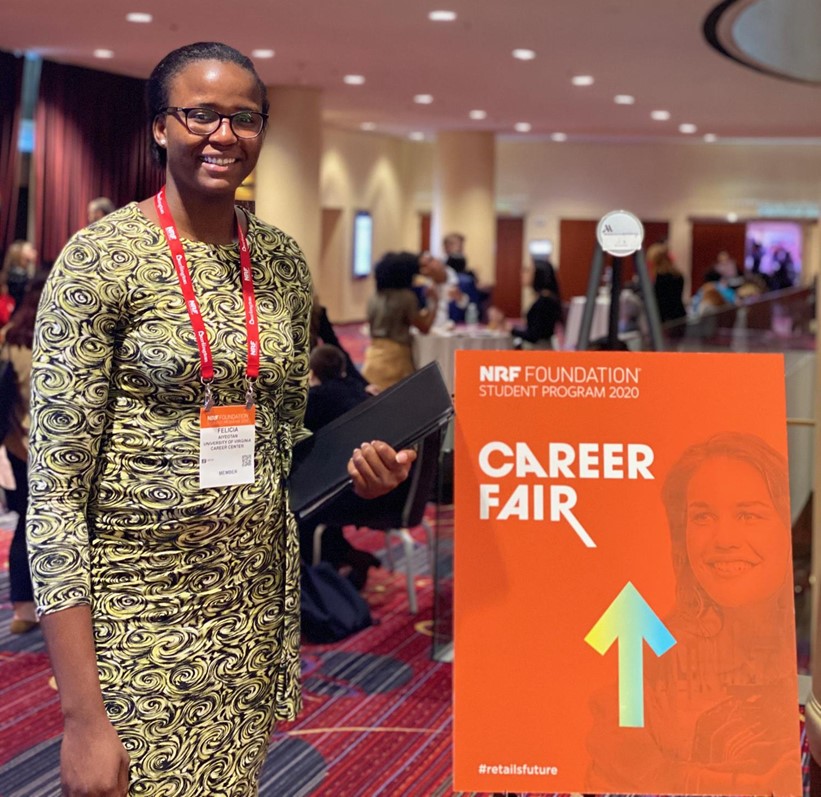 Her final appearance for the Cavaliers came on Jan. 24, 2019, near the midpoint of her junior season. When she was told she could no longer play, Aiyeotan said, she never would have dreamed she'd be in such good place as graduation approaches.
 
"But just being able to think positively and understanding there's more to life than basketball has been helpful in navigating what's next," Aiyeotan said. "I feel like in college I've been able to find myself more, just understanding my strengths and my mindset and how much I've grown. I feel that experience is the biggest teacher. You get to learn about who you are, and I've been able to do that through the last couple years."
 
She's majoring in sociology, with a minor in global culture and commerce. What path she'll follow after graduating in May is still to be determined. 
 
"I've been trying to navigate that," Aiyeotan said, "because obviously it's hard being an international student and trying to find jobs that will sponsor my OPT [Optional Practical Training] work visa. I'm just trying to see if I want to do an internship versus having a full-time job, or if I want to go to grad school. People have been very helpful in trying to connect me with people and find opportunities that are available. It's still a work in progress."
 
Eventually, Aiyeotan said, she'd love to start a clothing line for tall people, especially women. She's also interested in working in athletics in some role, "just because I'm so connected with it," she said.
 
Her advocates at UVA include athletics director Carla Williams.
 
"She's been very supportive," Aiyeotan said. "After basketball was over, I was kind of freaking out about what was next. Although I haven't figured it out, I've been able to get in contact with people from the community, and they've been really helpful in trying to help me navigate that space about what opportunities are available."
 
Aiyeotan remains a valued member of the women's basketball team, even if she's not playing. For much of the season, thanks to a suggestion from director of basketball operations Anna Cho, she's been assisting Breyana Mason, the team's director of scouting and video services.
 
"Fe was talking with Anna about her future and some possible things that she could do," said Mason, a former UVA guard, "and Anna told her it would probably be a good idea to learn some of the things that I do. So we just kind of talked and set a time to meet and go over some of my roles and responsibilities and how she could learn. From there, she started filming practices, and that's kind of what she's been doing."
 
Aiyeotan said: "After the whole diagnosis thing, I was just trying to figure out ways that I could keep my mind busy and not try to think too much. I also wanted to gain experience, because I have time on my hands. So I spoke to Bre and asked her if I could learn how she does film and coding and stuff like that. She walked me through the process. It was a lot of information at first, but I've been able to get the hang of it. Now I film practice, edit, code, upload and all that stuff."
 
In addition, Aiyeotan recently started assisting Stephanie Soh, the team's director of multimedia and content. "It's kind of an internship through graduation, just doing photography and media and a little graphic design," Aiyeotan said.
 
In late October, Aiyeotan posted an open letter to UVA fans in which she discussed the obstacles she was facing and how her medical condition had changed her life. Also released that day was a statement from Virginia head coach Tina Thompson that included this pledge: "I'm not sure if we will ever be able to mend Fe's heart with this great loss, but we will do everything possible to comfort her and support her in the journey of her new normal."
 
True to their words, UVA's coaches "have been really supportive," Aiyeotan said. "They already knew my goals and visions with basketball, so they've been really supportive and understanding with this whole process."
 
Mason said Aiyeotan "doesn't necessarily show you all the time what she's going through. She might seem OK, but if you really sit down and talk to her, you'll realize that there's more going on with her. But she does a great job of just taking each day one at a time. Her smile can light up a room, and I definitely think she's starting to find her groove with things."
 
Aiyeotan's various activities have "given her a little bit more confidence in her abilities and her future," Mason said.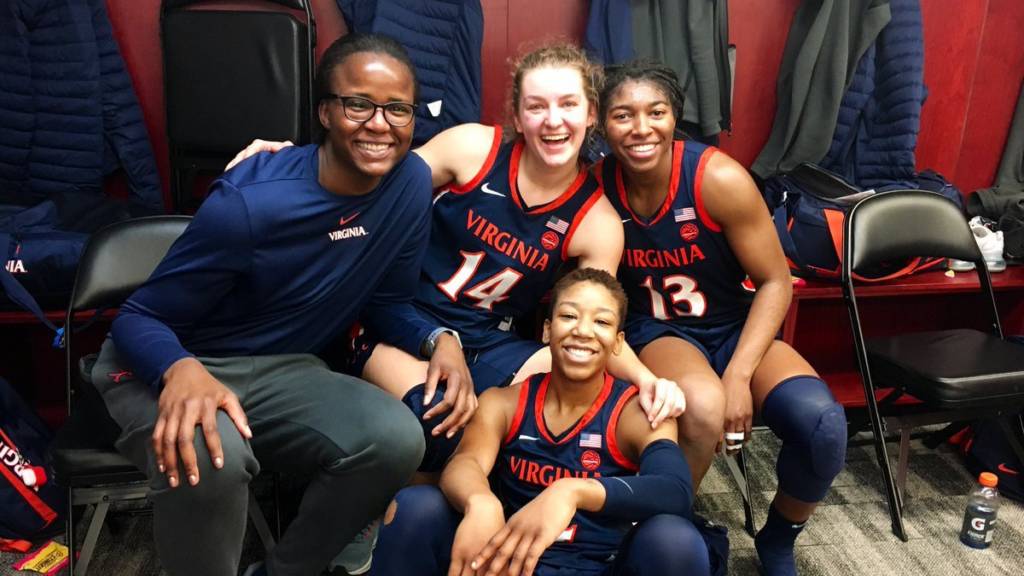 Senior class celebrates UVA's win over Virginia Tech on Sunday in Blacksburg
 
In her internship with the VAF, Aiyeotan communicates regularly with donors, and she helped launch, along with former UVA football player Ben Trent, the Student-Athlete Ambassador program. This program is aimed at bridging the gap between student-athletes and donors, Aiyeotan said, as well as showcasing the VAF's work.
 
Moreover, she said, the program "allows our student-athletes to understand the value of their scholarships and how those funds are raised." 
 
Aiyeotan was already fluent in English when she came to the United States as a ninth-grader. She added Neumann Goretti High in Philadelphia for three years before transferring to Blair Academy in New Jersey.
 
She enrolled at UVA in 2016 as part of a recruiting class that also included Jocelyn Willoughby, Lisa Jablonowski and Dominique Toussaint. As sophomores in 2017-18, they helped the Wahoos advance to the NCAA tournament for the first time in eight years, and they fully expected more success to follow.
 
After that season, Aiyeotan recalled, 'I was just like, 'Wow, there's so much out there for us to achieve.' " Instead, the Cavaliers finished 12-19 last season, their first under Thompson, in no small part because of Aiyeotan's absence. She missed 11 games early in the season with a knee injury before her medical condition was detected.
 
This season, Virginia is 12-15 overall and 7-9 in ACC play after knocking off Virginia Tech in Blacksburg on Sunday. The Cavaliers have no player taller than 6-3.
 
"It's been hard, to see people driving the paint and having the confidence [against UVA]," Aiyeotan said, "and then you see us not rebounding that much, and I know these are the things that I can really contribute. But I've also seen the growth in the post players and how much they've accomplished over the last couple of months."
 
Aiyeotan averaged 7.4 points, 6.9 rebounds and 2.1 blocked shots per game as a sophomore and was starting to emerge as a force in the post. Not having her in the lineup has been "hard for the team," Willoughby said, "but you can't change it." Aiyeotan doesn't travel with the team to midweek road games, but she's with the Cavaliers on weekends, home and away, and at practices.
 
"She's still a voice on the team," Willoughby said, "and she's still a leader … I'm proud of her, and I love her so much."
 
Aiyeotan said her teammates and coaches have "been really understanding in knowing how difficult this transition is, because it really is an identity shift, going from being an athlete to being a question mark. It's hard, but I think also they've been able to gain strength and realize that days are not guaranteed, and that you just have to keep working hard and trying to be better every day."