Tihana Stojsavljevic, a forward on the women's basketball team, joined the Cavaliers in December as a graduate transfer after earning her bachelor's degree from Texas Tech. She was a physical presence in the post this season on the court, but off the court, the native of Zagreb, Croatia, has another set of skills that she is practicing during the COVID-19 pandemic.
 
Q: Besides studying, what else have you been working on in your spare time during social distancing?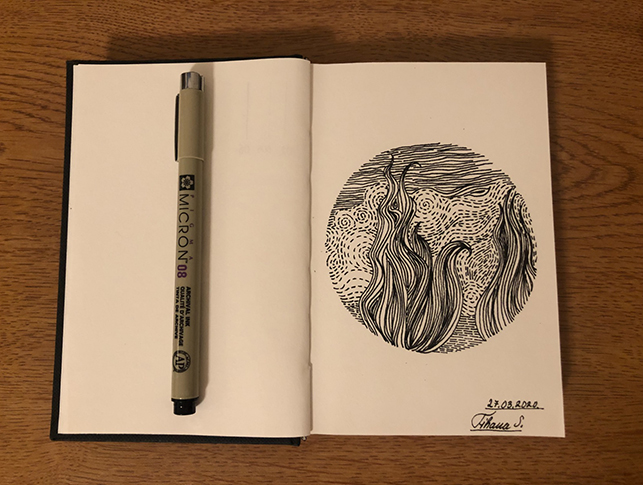 Stojsavljevic: I've been trying to focus on art as much as I can because that is something that helps me focus on being present in the moment. Art is something that I really love to do. I like to draw and illustrate and create in any way possible.
 
Q: When did you first take up art? Have you had formal/informal training?
 
Stojsavljevic: When I was in kindergarten, I remember all the children were playing around with toys and cars and Barbies, but I really only wanted white paper and pencils and a pen or sometimes watercolors. This is something I have loved to do since I was a child. Unfortunately, I never had any type of formal or even informal training. I would really like to have it one day, maybe when I finish school. I think the love of art is in everybody. We have so many emotions that we can we are able to express ourselves. I think that training would help me sharpen my skills and I would really like to do that one day, I'm just not sure when or where.
 
Q: What is your favorite medium to work in?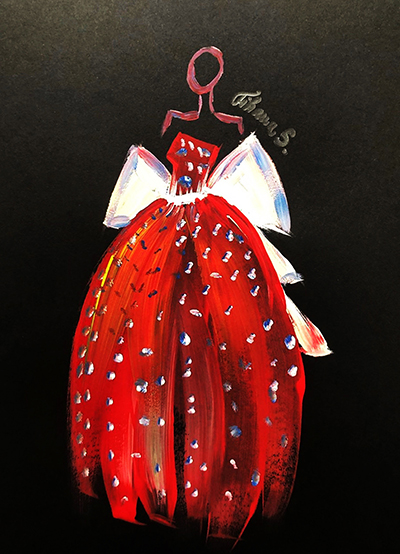 Stojsavlevic: That is hard to decide because I think that each medium brings something different. For example, when I work with acrylics, that is something that you can use it in so many different ways and you can express yourself in so many different ways. But I also like to work with watercolors because it just brings that transition and different type of expression. Something that I started doing lately was using technology. After I got an iPad and an Apple Pencil, I downloaded apps where you can draw. At first, I was skeptical and very judgmental. I felt that graphic designers using technology were not really creating art and that you aren't really an artist if you don't paint it from scratch. But now I think that you still paint from scratch, even if you draw from scratch on an iPad. The technology is so convenient when you travel. For example, when we are in a bus or in a plane and I don't have much time to bring watercolors or acrylics with me, I can still have my iPad with me and I can create another way.
 
Q: What are some of your favorite subjects to capture? How do you find inspiration for your works?
 
Stojsavljevic: I have a series of drawings that are portraits of influential people that I think are really incredible. One of them is a huge inspiration to me, Dr. Martin Luther King. Another is an actress I really like, Audrey Hepburn. I used their speeches, or a quote, and I drew their face from the words. I did it on an iPad. It was just so convenient because it just came to my mind when I was on a road, and I started writing Dr. King's speech, and the words were just taking shape. And then I was like, 'Why don't I draw his face' and then 'why don't I draw faces of other people that inspire me'. So that's how I started doing that. I think that technology is going to be a really big deal in the future and I'm happy to learn more about it.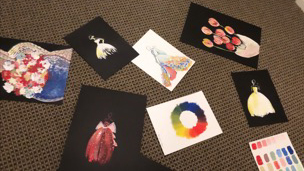 Q: Who are some artists that you have found influential?
 
Stojsavljevic: I really love Impressionism. I think that Monet and Van Gogh are geniuses. When I look at their paintings, I can see the emotion in it. I can see the movement of the wind. I really loved the nature, and that's where I find the most amazing inspiration: in the trees, in the wind going through the leaves, and especially in the spring and the fall where everything is orange. In the fall, the leaves are falling down of the trees. In the spring, when we can see so many different colors and nature coming back to life, giving an opportunity for a new year, I think it's so incredible. It's like a rebirth.
 
Some of the artists that I really admire are fashion illustrators. There's a lady in Atlanta, Georgia, named Jessica Durant. And she's an incredible artist. She works for big companies like Chanel and Jimmy Choo, illustrating for them. One of my dreams would be illustrating for fashion companies because I really love fashion. One of the ladies that really inspires me is Coco Chanel. I love her simplicity and her creativity. She was revolutionary. I really like to learn from those people and see what they've been doing and just how they did it because they had their own vision and they pursued their dream and they succeeded.
 
Q: Have you visited any of the great museums of Europe? How about the US?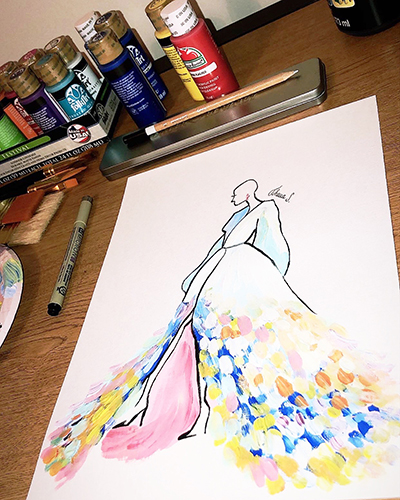 Stojsavljevic: During social distancing, I have been going online a lot and taking advantage of being able to virtually visit museums all across the world. I've been doing that a lot. And that's something that I really love. I have visited some museums in Europe in person before, but not the Louvre, where I would love to go. I visited all the museums in Washington D.C., and I'm going to be very honest, I could really live there, because I could walk around those museums all day long.
 
One of my favorite museums is the National Gallery of Art where I actually saw Monet and Van Gogh paintings in person. I've never experienced such an emotional day because it was really a dream of mine just like to see them in person. I had seen a Van Gogh and a Monet once before in Dallas, but seeing all of those in D.C., was amazing. I could really work in a museum and just spend my time around paintings and art all day long.
 
Q: You are from Zagreb, Croatia. Did you go home or are you still in Charlottesville?
 
Stojsavljevic: I didn't go home to Croatia yet. By the time I decided I wanted to go home, it was already dangerous to travel and the borders across Europe were closing. I decided to stay where I am just finish the semester and then in the summer, I plan on going home.
 
Q: Tell us about the graduate program you are working on at UVA.
 
Stojsavljevic:  The Batten School of Leadership and Public Policy is simply amazing! My undergrad degree from Texas Tech is in political science and international relations, so studying public policy and policy analysis and overall policymaking is something that will really help me in my future career, even if just in learning observation and decision making. I think it's incredible that I get to learn from faculty that has such a broad experience from the United Nations to working for presidents. All of the professors are just so inspirational. I'm really honored to learn from them. One of my favorite classes is leading U.S. foreign policy and our professor, Dr. [Jeffrey] Bergner, has worked with so many incredible people. It's incredible to listen to him and to his experiences. We had a class in the Rotunda. It was my first semester at UVA and you can imagine what it was like for me having a class there. I get to learn so much, and I'm just so blessed to be able to be part of the Batten School.
 
Q: Where can people see some of your artwork?
 
Stojsavljevic: I have an Instagram account where I post some of my work (https://www.instagram.com/tiha_illustrator/) , whatever I draw or something was on my mind related to art or where I find my inspiration. However, after the semester is over, I'm going to start working on my website, because I want to get more serious about my art and I would like to pursue some opportunities like maybe illustrating for some companies or just drawing for someone, because for me that's always going to be a pleasure. That would never be a job to me, just like something on a side that I want to keep doing. Since I really love diplomacy, I would really like to become a diplomat for my country. I think that art is just something that brings another perspective to me and who I am.
 
EDITOR'S NOTE: During this time of non-competition, UVA athletics will be posting frequently on VirginiaSports.com to keep you up to date with the happenings, experiences and thoughts of our student-athletes, coaches, staff and alumni. We encourage Wahoo fans to share these links on your social media accounts for others to enjoy. We also suggest you follow the University's website – news.virginia.edu – for more stories and information. #GoHoos