By Jeff White (jwhite@virginia.edu)
VirginiaSports.com
CHARLOTTESVILLE –– The group that assistant coach Martin Maric oversaw in 2017 set a standard that may never be matched at the University of Virginia. At the NCAA Men's Outdoor Track and Field Championships that spring, Maric's throwers accounted for all of the team's points as the Cavaliers finished a program-best third overall in Eugene, Ore.
Filip Mihaljevic swept the shot put and discus titles, Jordan Young placed third in the discus, Hilmar Jonsson finished fourth in the hammer throw, and Pobo Efekoro was fourth in the shot put. Mihaljevic and Young were seniors that season, and each left Charlottesville as a 10-time All-American.
Two years later, Maric's throws group had another memorable postseason showing, this one at the ACC outdoor championships at Lannigan Field. Ethan Dabbs, who was a freshman, won the javelin. Ekeforo won the shot put and placed fourth in the discus. Nace Pleski finished second in the discus and sixth in the shot put.
The COVID-19 pandemic ended the 2020 outdoor season before it could begin, but Maric has another stellar group on the men's side this spring. It consists of Dabbs, freshmen Claudio Romero and Jacob Lemmon, and graduate transfer Ty Kunzman.
Dabbs, who's from Johnstown, Pa., holds the school record in the javelin. Romero, who's from Santiago, Chile, broke Mihaljevic's school record in the discus and ranks fifth all-time at UVA in the shot put. Romero also holds Chile's national record in the discus.
Lemmon, who grew up in Sanibel, Fla., near Fort Myers, ranks third all-time at UVA in the hammer throw and fifth in the discus.
Romero and Lemmon enrolled at the University in the summer of 2019. Kunzman transferred last year from Hamilton College, where he played football and was a Division III All-American in track & field, to Virginia. He ranks sixth all-time in the hammer throw at UVA.
The four throwers are among the 36 men and women from UVA head coach Vin Lananna's program who will compete, starting Wednesday, at the NCAA East Preliminary Rounds in Jacksonville, Fla.
Romero is entered in the shot put and the discus, Lemmon in the discus and hammer throw, Dabbs in the javelin, and Kunzman in the hammer throw. The top-12 finishers from each individual event, and the top-12 relay teams, will advance to next month's NCAA Championships in Eugene, Ore.
At this month's ACC Championships, Romero won the discus and placed sixth in the shot put. Lemmon placed fifth in both the discus and the hammer throw, and Dabbs repeated as champion in the javelin.
Maric, a former NCAA champion in the discus, twice represented Croatia at the Olympics. In Dabbs, Romero and Lemmon, he sees the nucleus of another record-setting group.
"Definitely," Maric said. "And they're still freshmen, technically, except for Ethan, who's a sophomore. But he's already an All-American."
As a freshman in 2019, Dabbs placed seventh in the javelin at the NCAA outdoor meet, and he hopes to join Jonsson (hammer throw) and Mihaljevic (discus) as four-time ACC champions from UVA. To his younger teammates, Dabbs is a trusted mentor.
"The thing about Ethan is, he's a bridge between generations," Romero said. "He knows the drill. He knows how things work, the best places to live, the best food to eat."
The latest generation of male throwers at UVA is physically imposing. Romero stands 6-4 and weighs 275 pounds, and Lemmon is 6-3, 230.
"I think both of them obviously have very bright futures," said the 6-0, 240-pound Dabbs.
He smiled. "But it's also a little humbling, because they show up in the weight room and they're doing more weight than me, especially Claudio. I'd say Jacob and I are pretty comparable, but he gets me on every explosive workout, and Claudio gets me on every strength workout."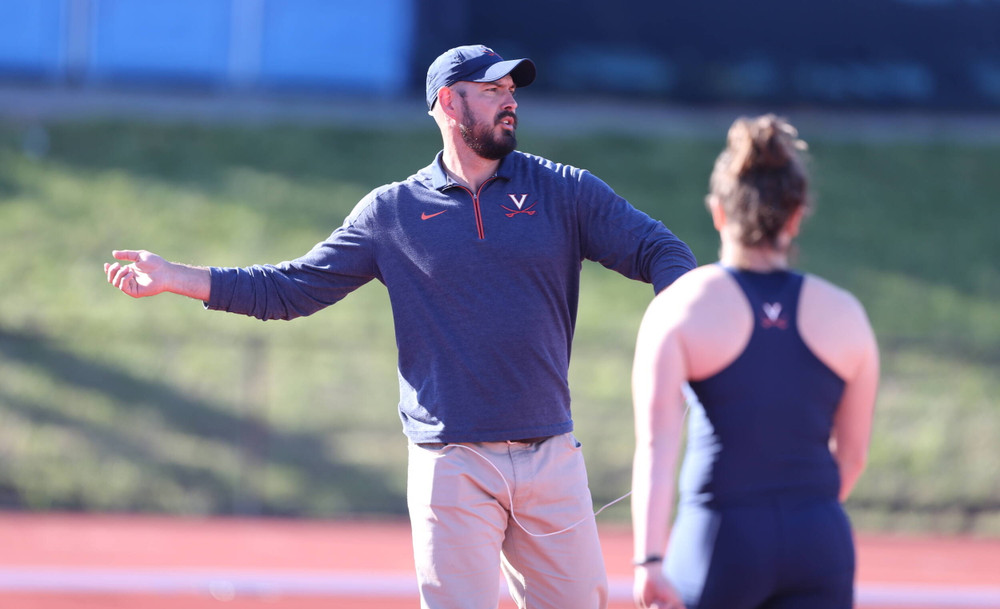 As for his role in the group, Dabbs said, "I guess I have the position of being a leader, because I've been here. I'm tested in the ACC. But when you talk about somebody leading by example, it's Ty. Every day. Genuinely, I think it's an accountability that everybody has. Everybody holds everybody else accountable. In the weight room we're always pushing each other. At practice we're always pushing each other."
The value of that can't be overstated, Maric said. "Every day they compete against each other. They talk smack to each other in a friendly way, and it's a tremendous advantage to have somebody who is right there at your level pushing you and training with you and competing with you at the major championships. I think––I don't think, I know––that's why we were so good in 2017 and that's why we're so good right now, because we do have three guys that are at that level, that want to perform and want to go to the Olympics."
In high school, Lemmon said, he rarely was challenged at practice or in meets. Now he finds himself battling Romero every day.
"It's a big change," Lemmon said, smiling. "You don't have that feeling of adequacy that you normally have, but it's good. It pushes you."
Romero and Lemmon both plan to major in foreign affairs, and they're close friends. "I love seeing him throwing far," Romero said. "I am always cheering for him. His second event is hammer, but as an overall athlete he has an advantage on me, because I'm not as good in shot put as he is in hammer."
Last summer, Romero stayed with Dabbs' family in Pennsylvania for about a month.
"He was here and told me, 'Dude, I'm so bored,' " Dabbs recalled this week at Lannigan Field. "I was like, All right, come home with me and we'll train together.' We threw, we worked out, we did everything [in Johnstown]."
Lemmon, whose family now lives in Purcellville, a town in Northern Virginia, was still a student at Fort Myers High School when he visited several colleges.
At that point, Lemmon said, UVA "wasn't really on the radar. But we were on the road trip, and we pulled up the results of the national championship meet from the year previous and [for the throwing events] it was like, Virginia, Virginia, Virginia."
A stop in Charlottesville was added to the itinerary, and Lemmon ended up committing to UVA in the fall of 2018.
Romero attended St. Gabriel's School in Chile, where his sport of choice initially was rugby. But once he began competing in the track & field, his potential as a thrower became clear. Romero joined a local club and learned there were scholarship opportunities in the United State for talented athletes.
"So I thought that it was going to be real exciting to come to the U.S. to throw and study," Romero said.
When he was 16, he started sending messages to college coaches on Facebook, listing his personal bests and chronicling his progress as a thrower. Maric's interest was piqued, and he visited Romero in Chile.
Romero knew nothing about UVA then, Maric's background as a thrower and a coach impressed him. "And he was just overall a good guy," Romero said.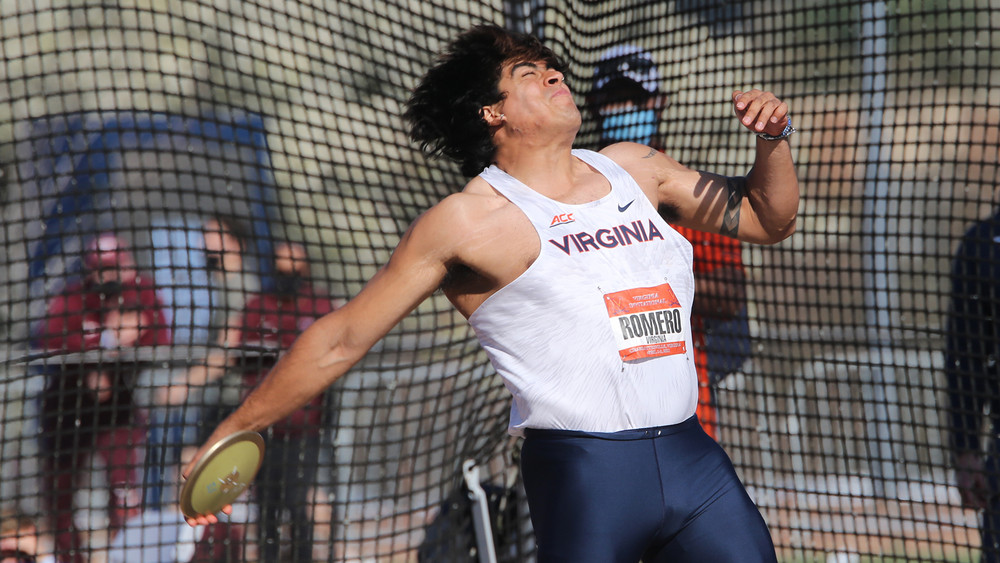 Neither Lemmon nor Romero competed during the indoor season in 2019-20, and the pandemic forced them to postpone their Cavaler debuts until this school year.
"It was a blow," Lemmon said, "because of the way we lift, the way we train. We put in all this hard work only for a few days, to be honest, because the only time it really pays off is at meets. To lose that season, it feels like a blow to the whole cycle, but we're back this year and we'll be back for future years."
Romero was disappointed too.
"It was rough, because I had never had quality training," he said. "I've always done the sport for fun. When I finally came here and started having a strict regimen of training, lifting every day, throwing every day, I could see a huge improvement, and I was really excited to throw for Virginia in my first year and do big things.
"It was tough. I know I could have done good things, but at the same time the fact I had to wait for another year gave me the motivation, that energy, that I wanted to be out there. And now that I can, I'm doing everything that I can."
Romero is ranked No. 2 nationally in the discus, and "the fact that he's already in a position to win [an NCAA title] as a freshman is incredible," Maric said. "You need strength for these type of events, and as you get older, you get better."
Dabbs says the experience he gained at the NCAA meet in 2019 was invaluable. His advice for Lemmon and Romero as they enter this stage of the season?
"Don't count yourself out, because I know that's what I did my freshman year," Dabbs said. "I remember getting on the runway and I was like, 'Do I even have any business being here?' And that's not me. You have to have that certain level of cockiness about yourself, where you're like, 'There's no reason why I shouldn't be here. I can beat everybody here, and there's nothing that anyone can do to stop me.' "
To that end, Dabbs said, he draws motivation from a quote his father sent him.
"Compete like you're in first, train like you're in second," Dabbs said. "Always be hungry. That's the attitude I've kept this entire year."
To receive Jeff White's articles by email, click here and subscribe.