By Jeff White (jwhite@virginia.edu)
VirginiaSports.com
The University of Virginia baseball team has already won four elimination games at Founders Park in this NCAA tournament. The Cavaliers will have to win another one Sunday to extend a season in which they've overcome adversity time and again.
In the first game of its best-of-three super regional with Dallas Baptist, UVA lost 6-5 on Saturday in Columbia, S.C. To call the series opener a marathon would be an understatement.
The game, which started at 12:07 p.m., was stopped three hours and 12 minutes later when lightning was spotted in the area. Play finally resumed at 7:16 p.m., with the Wahoos up to start the ninth inning, and they came agonizingly close to extending the game.
Logan Michaels drew a leadoff walk, after which Jimmy Sullivan came in to pinch-run. With one out, Zack Gelof hit a fly ball to deep center field. It was caught near the wall, but Sullivan tagged up at second base and moved to third.
That brought up Max Cotier, who hit a scorching line drive that, had it gotten past first baseman Andres Sosa, would have scored Sullivan and tied the game. But Sosa ended the end with a spectacular diving catch, putting the Hoos in a familiar position.
"They've been in this scenario a lot," UVA head coach Brian O'Connor said of his players. "Other teams have as well, but certainly our guys have been fighting for it for the last two months."
In the double-elimination regional at Founders Park, third-seeded Virginia lost the opener to host South Carolina and then responded with four straight victories. The Cavaliers "found a way to scratch back and found a way to win," O'Connor said, "so it wouldn't surprise me if this team finds a way to win tomorrow and then everything's on the line on Monday."
Virginia (33-25) and Dallas Baptist (41-16) meet again Sunday at noon. The game will air on ESPNU or ESPN2. If the Hoos win, the final game of the super regional is set for Monday at 1 p.m.
The Cavaliers have advanced to the College World Series, which they won in 2015, four times under O'Connor. In two of those seasons, Virginia lost the first game of its super regional and then rallied for back-to-back wins.
"Our guys will brush this one off, and we'll be ready to play tomorrow at noon," O'Connor said. "I've got a lot of confidence in them. We've got plenty of pitching, and I'm looking forward to seeing our guys bounce back tomorrow."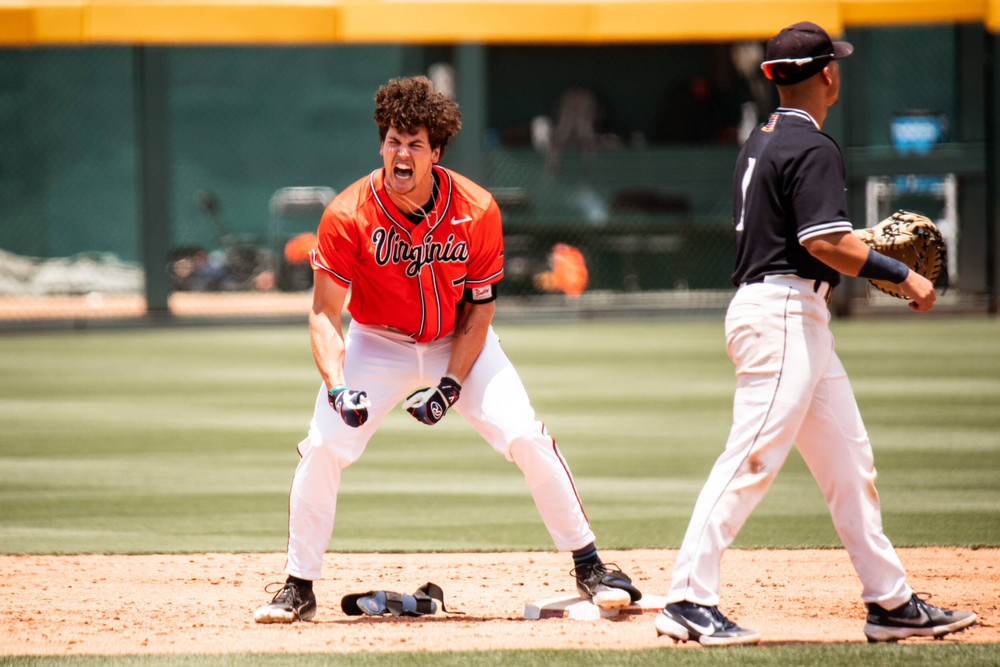 The Hoos spent the long delay Saturday inside the facility where South Carolina's batting cages are located. The Patriots camped out in the Gamecocks' weight room.
"We just hunkered down for three or four hours or so and waited it out," O'Connor said.
That wasn't ideal for either team, but "I thought our guys were ready to play [in the ninth]," O'Connor said.
"Max Cotier put a good swing on that ball, and so did Zack Gelof. They just couldn't find a hole. I think Gelof's ball, if that was during the day here, the way the ball was flying out of here, it wouldn't surprise me if that ball would have gotten out. But those are the breaks. [Dallas Baptist] made the plays. The center-fielder made a great play, the first baseman made a great diving play there to win the game. Our guys were hungry and eager and ready to play and just couldn't get it done."
The Patriots entered the game with 97 home runs, and they belted three more Saturday. Dallas Baptist's first homer, off UVA starter Andrew Abbott, made it 2-0 in the first inning. Its second, off Virginia reliever Zach Messinger, made it 5-5 in the sixth. Andrew Benefield's solo shot off Messinger put the Patriots up 6-5 in the seventh, and they finished game with 12 hits.
"They can obviously swing the bats," O'Connor said. "They play with a lot of confidence and have good pitching, so it's going to take everything for us to win tomorrow and have a chance to play Monday."
Abbott struck out eight, walked one and allowed four runs, all earned, in his five innings. Teams that hit as well as the Patriots are "basically going to make their money's worth on your mistakes," Abbott said, "so it's important to stay ahead in the counts, keep them off-balance at points. As a pitcher you're going to make mistakes, it's important to know that, but it's all about trying to minimize and not try to compound mistakes at the same time."
The Cavaliers scored all of their runs in the fifth. Alex Tappen led off with a home run to right field, and Jake Gelof followed with a homer to left to tie the game at 2-2. Virginia continued to pressure Dallas Baptist starter Dominic Hamel, and Devin Ortiz came to the plate with the bases loaded and two outs.
The hero of UVA's final win in the NCAA regional at Founders Park, Ortiz delivered again Saturday, clearing the bases with a double that put the Hoos ahead 5-2.
"We had a great offensive inning there in the fifth inning [but] just couldn't muster enough in any of the other innings after that, unfortunately," O'Connor said. "We had opportunities, we just couldn't capitalize."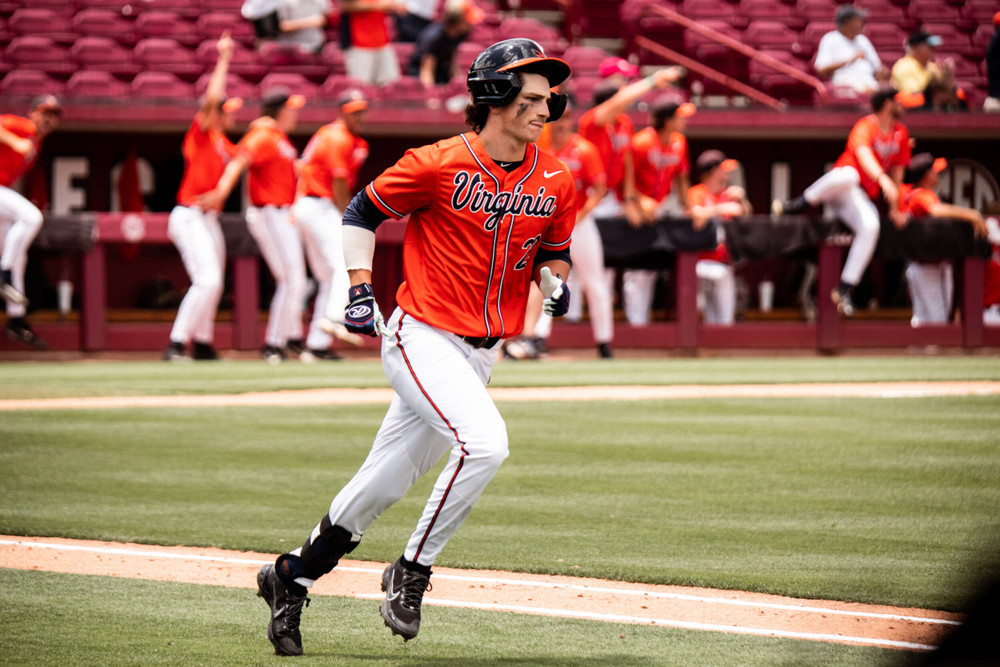 A controversial call in the eighth went against the Cavaliers and incensed their fans. With runners on first and second and one out, a 3-2 pitch from DBU closer Peyton Sherlin hit Tappen, who bats right-handed, on the inside of his right leg. Instead of awarding Tappen first base, however, the umpires called him out after reviewing video of the play. They ruled that he'd leaned into the pitch.
The next batter, Jake Gelof, flied out to center, and the Patriots avoided what could have been a big inning for UVA.
"I'll address that whole play after this series is over," O'Connor said on his postgame Zoom. "I'll just say this: The rules put the umpires in a very, very difficult position. I don't envy the umpires with the way the rule is, and it's tough. But that's not why we lost the game. Even had [Tappen been awarded first base], who knows? We might not have scored a run. I know Gelof hits the fly ball [that probably would have been a sacrifice], it's easy to look at it that way, but we're gonna focus on tomorrow and move on from there."
O'Connor said the Cavaliers' coaches would meet Saturday night and decide on a Game 2 starter. He told the pitching staff on Thursday that "essentially everybody that was available was potentially going to pitch out of the [bullpen]."
No matter who starts Sunday, O'Connor said, it's "going to take a collection of guys tomorrow to win the game, because Dallas Baptist isn't going to go away. They're aggressive and they're going to attack the fastball, and we're gonna need to have a number of guys go out there and be successful."
After losing 12 of their first 16 games in ACC play, the Cavaliers had little margin for error, but they turned their season around and made the NCAA tournament for the 15th time in O'Connor's 18 seasons as their head coach. (There was no tournament in 2020).
Given all the Hoos have been through this year, the prospect of another elimination game doesn't faze them. Abbott said it's "definitely something that we can all relate to, speaking to teammates and stuff, saying like, 'Hey, we've been here all season.' When we were 4-12 [in ACC play], no one believed we'd even be here, so we're trying to go out and prove everybody wrong."
To receive Jeff White's articles by email, click here and subscribe.