Below you will find everything you need to know to prepare for the season. Click here for Scott Stadium facility information, including information on the Clear Bag Policy.  Looking for single-game promotional dates? Click here.
If you need assistance on game day at Scott Stadium, simply text the keyword HOOS to 69050 along with your message.  A member of our game day service will then contact you to remedy the issue.
The Virginia athletics department has also implemented a text message program that enables fans to receive text message alerts in the event of severe weather. To enroll in this program, text HoosFBAlerts to 69050. This text message system will only be used for notifications as they relate to severe weather. Standard text message rates for your individual plan apply. To cancel enrollment, text STOP to 69050. For more information, click here.
Parking Information
Parking Map  (PDF)   |    Pre-Game Traffic Flow  (PDF)    |    Post-Game Traffic Flow  (PDF)
Follow Waze App: App Store | Android
Have a reserved parking pass (PDF)? The lots around the stadium open at 8 a.m.  Get to the stadium early to enjoy camaraderie with fellow Wahoo fans!
Don't have a reserved parking pass? There are plenty of public parking (PDF) options around Grounds within a 20-minute walk of Scott Stadium.  The Fontaine Research Park (FREE)  has a nicely lit, pedestrian walkway that leads you to the southwest side of Scott Stadium. This lot typically fills up close to kickoff, so if you plan to park here, arrive early!  Approximate walking time is 20 minutes.
FREE parking is also available in the University Hall and John Paul Jones Arena lots. Simply walk south on Alderman Road from these lots. Be sure to stop by the Aquatic and Fitness Center (AFC) for Cavalier Fan Fest!  Approximate walking time is 20 minutes.
Want to park a little closer to the stadium? The Emmet/Ivy, UVA Health System and Central Grounds Garages are within a 10-15 minute walk of Scott Stadium. The UVA Health System garage fee to park per game is $10 in advance and $15 on game day.  Season passes are also available.  The Emmet/Ivy and Central Grounds garages fee to park per game is $15 and available on game day only.
The City of Charlottesville will provide Free Trolley service from downtown to Central Grounds on Saturdays from 6:35 a.m. until 11:30 p.m. The Free Trolley runs approximately every 15 minutes depending on traffic and picks up fans at 615 E. Water Street (Downtown Station). Passengers heading to Scott Stadium should use either the Jefferson Park Avenue at Cabell Hall bus stop (#11155) or the Emmet Street at Central Grounds Parking Garage bus stop (#10472).
Virginia football ticket holders can also ride Route 7 for free simply by showing their printed or mobile game ticket. Free rides will be honored from three (3) hours prior to kickoff until two (2) hours post-game. Route 7 serves bus stops near the downtown parking garages and along Emmet Street by University Hall and John Paul Jones Arena. For more information on Charlottesville Area Transit, click here.
Pregame Information
Tune In!
"Countdown to Kickoff" with the Voice of the Cavaliers Dave Koehn begins an hour before kickoff and airs on both 97.5 FM-3WV and 1070 AM-WINA. The first half hour of the show is broadcast live at Cav One just outside Cavalier Fan Fest at the Aquatic & Fitness Center (AFC).
Cavalier Fan Fest
Check out the Cavalier Fan Fest at the AFC. Admission is free! The AFC is located across the street from Scott Stadium's north gate at the corner of Alderman Road and Whitehead Road. Fan Fest opens two hours before kickoff and closes 30 minutes prior to kickoff.
New for 2019, there will be live music on the AFC patio from local bands.  The music will begin one hour and 45 minutes prior to kickoff and end 15 minutes prior to kickoff.
Inside Cavalier Fan Fest, you can watch games from around the country in HD on 60″ LCD televisions. Test your cornhole skills on our custom UVA boards!
Let the kids burn off some steam on inflatable games and get ready for the big game with face painting or a receive a temporary tattoo from the Virginia spirit squads!
The AFC is climate controlled making it convenient for pregame activities for early-to-late season games!
Tailgating
The Fontaine and U-Hall/JPJA lots open three hours prior to kickoff. Tailgating is permitted, including the use of propane grills. Charcoal grills are not allowed. Please note that grilling of any kind is not allowed in any of the parking garages.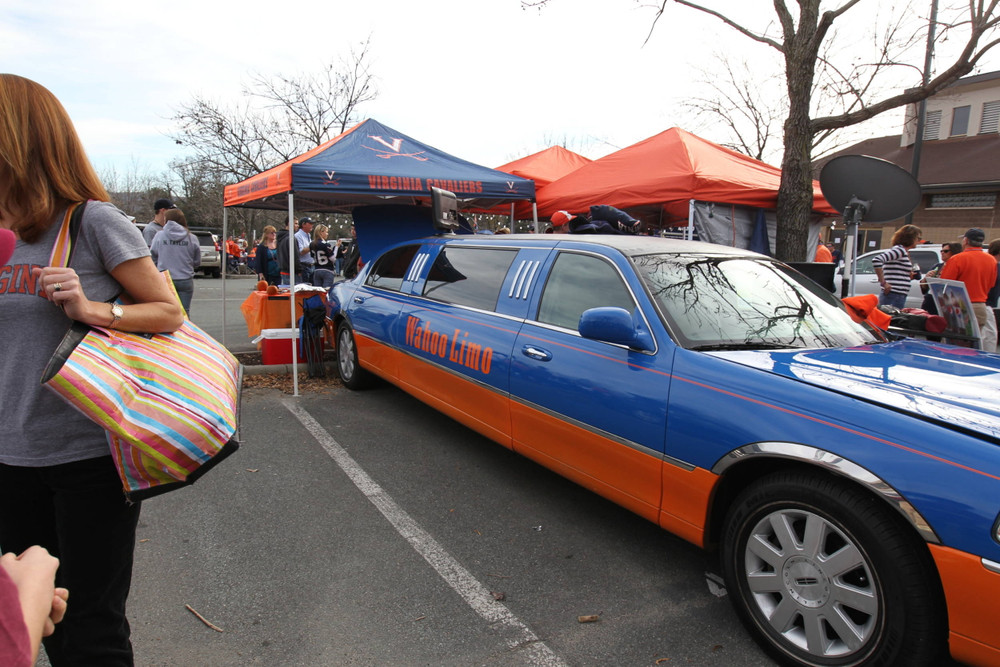 Around Grounds
There's plenty of activity around Grounds on game day. You can watch the Cavalier Marching Band's pre-game practice at Carr's Hill Field. The band's practice lasts from four-and-a-half to three hours before kickoff.
Afterwards, visit the historic Lawn or one of the many restaurants or shops along the Corner. You're still only a 20-minute walk from Scott Stadium.
Gates Opening
All gates open one and a half (1.5) hours prior to kickoff. Fans can enter any gate they choose.  The busiest gate times are 20-30 minutes before kickoff; it always helps to arrive early!
Want some additional comfort?  Cavalier Seats with padded seats and backs are available for rent inside the gates for $8.
Inside Scott Stadium
Concessions & Merchandise
There's a variety of food and beverages to choose from at Scott Stadium's concession stands.  For a stadium map of concessions locations as well as an A-Z listing, download the official mobile app of Virginia Athletics and tap the Game Day tab.
The price of bottled water has been reduced to $3, and two hydration stations will be available to provide complimentary water to fans in sustainable cups.  One hydration station is located inside the northwest gate near section 128, while the other is located on the northeast side near section 104.
Beverage gardens will be located inside Scott Stadium's east and west gates and will serve beer, wine and cider to fans of legal drinking age.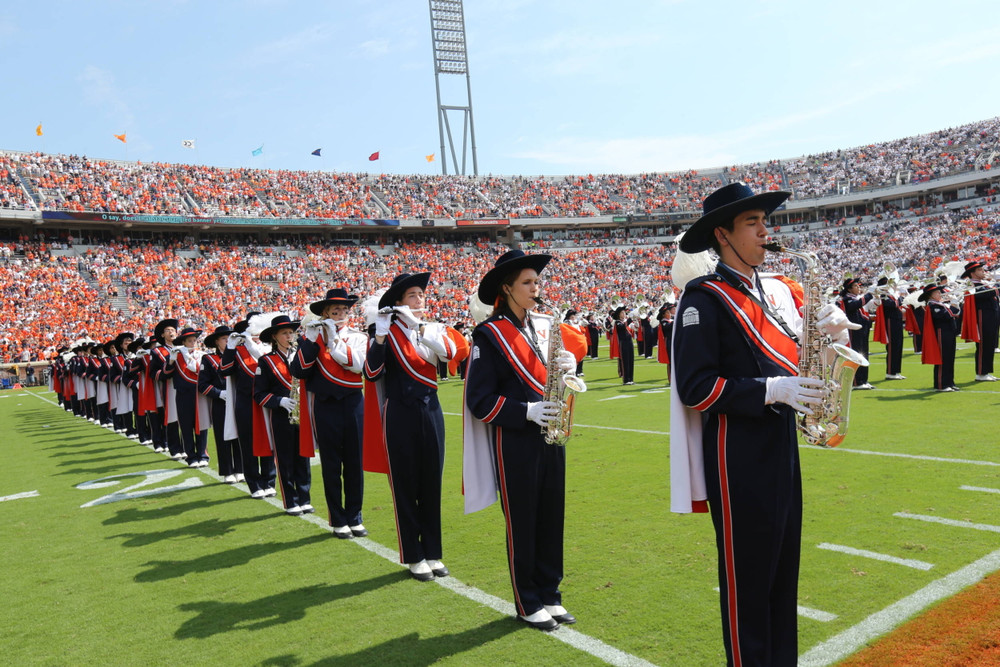 Gear Up!
Didn't wear orange and blue to the game or want to browse the latest Virginia athletics gear and merchandise? Make sure to stop by the Cavalier Team Shop locations inside the East and West gates, behind Hoo Vision and on the concourse outside Sections 119-120 and 112-113 to check out what's new for 2018.  The Cavalier Team Shop features the latest in official Nike sideline gear.
It's Game Time!
Our mission is to create a first-class and fun game day atmosphere, and this starts and ends with Hoo Vision. The 32′ x 57′ videoboard shows instant replays throughout the game, so you'll never miss a bit of the action.  Hoo Vision is also your source for up-to-the-minute stats, scoring summaries, out-of-town scores and highlights, player features, exciting videos and more.  The LED system also features closed captioning on the northeast and northwest corners.
A brand new sound system has been installed for the 2019 season.
CBS 19's Tara Wheeler is joined by Jamar Hicks as the 2019 in-game hosts. DJ Ron Manila has moved his post down to the front of the student section, while Tim Zawacki, the voice of Virginia Men's Basketball and Virginia Men's Lacrosse, will take over PA duties at Scott Stadium.
When the Cavaliers score a touchdown or field goal, join in the time-honored tradition of singing and swaying to the "Good Old Song." Don't know the lyrics? No problem. They'll be shown on Hoo Vision and you'll learn them in no time.  Stay on your feet after the Good Old Song for a rousing rendition of the "Hey Song" (UVA, Go `Hoos Go!).  Whether you're in the upper or lower level, keep your eyes peeled for t-shirts being tossed into the crowd.
Ticket Information
Tickets are available at multiple price ranges, starting at $15 for William & Mary, ODU and Liberty and $25 for ACC games against Florida State, Duke and Georgia Tech.  The Virginia Tech game is only available through the purchase of a season ticket or by donating $100 or more to the Virginia Athletics Foundation.
Online ticket sales through VirginiaSports.com are available 24 hours a day and can be purchased until kickoff.  There are no additional fees for purchasing online or mobile when your tickets are delivered via print-at-home (pdf) or to a mobile device.
Gameday Information
Stadium gates open 90 minutes prior to game.
Gameday ticket office opens 2 hours prior to game.
Stadium gameday ticket sales begin 2 hours prior to game at both the East and West ticket offices.
Player guest entrance for both teams is located at East ticket office and opens 90 minutes prior to game.
Public will call is located at East ticket office and opens 2 hours prior to game.
High school recruit entrance is located at East ticket office and opens 90 minutes prior to game.
High school coach entrance is located at West ticket office and opens 90 minutes prior to game.
Dedicated ticket services windows are located at both the East and West ticket offices.
Click here for Virginia football ticket information.
There's nothing like a game day at Scott Stadium. We look forward to seeing you in orange and blue this fall!
Stay connected to Virginia Football
For the latest news and information about Virginia Football, follow these official social media channels:
Wahoowa!