2020 Soccer Ticket Information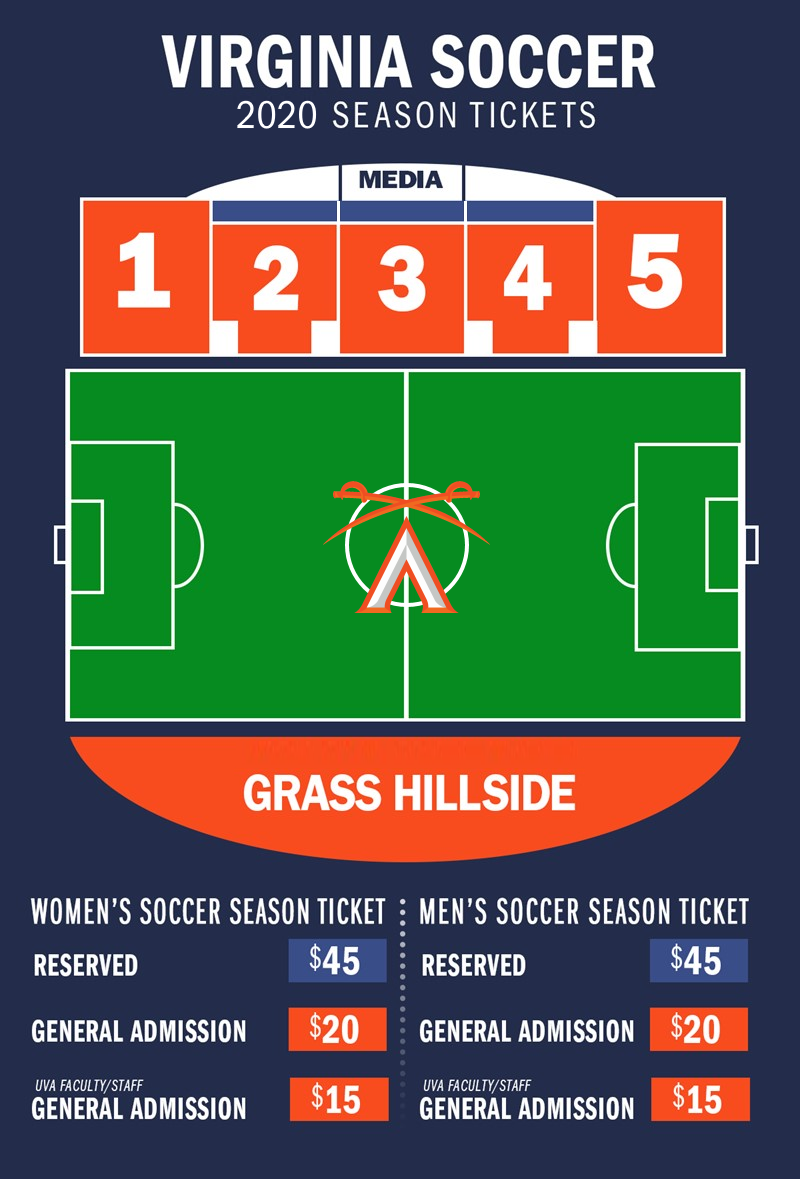 Season Tickets
Be a part of all the excitement at Klöckner Stadium this year by reserving your seat as a 2020 soccer season ticket holder!
Returning Season Ticket Holders

Beginning July 13, returning season ticket holders may sign in online to renew season tickets for the 2020 season. Click here to sign in to your account and complete your online ticket application.
Reserved seat season ticket holders may renew their same seat locations as long as their application is completed by the priority deadline and any appropriate VAF contributions have been made. Seat location improvement requests will be reviewed shortly after the priority deadline.
Season tickets are sold separately for men's and women's soccer, and include all home matches for each team.
---
New Season Tickets

New season tickets will not be sold for the 2020 season. Single game tickets may be purchased beginning July 13.
---
Reserved Seating
Reserved seating areas for both men's and women's soccer include section include the blue chairbacks at the top of sections 2, 3, and 4.
General Admission
General Admission seats are located in the metal bleachers which make up the stadium grandstand. Fans with General Admission tickets may also sit on the grassy hillside opposite the grandstand. Seating in these areas is on a first-come, first-served basis.
Faculty/Staff Discount
Full-time University of Virginia faculty and staff are eligible to purchase a maximum of 4 discounted season tickets.
Single Game Tickets
Tickets On Sale July 13

Tickets – Home Games
Tickets can be ordered online at UVATix.com or by phone at (434) 924-UVA1.
| 2020 Single Game Tickets | Advance / Online |
| --- | --- |
| Reserved (if available) | $8 |
| General Admission | $5 |
Tickets – Away Games
Virginia Athletics does not sell tickets for regular season away soccer matches. Please check with the host institution for availability.
Group Tickets
Tickets On Sale July 13
Virginia soccer group tickets are the perfect way for family, friends, co-workers, sports teams, church groups, companies and civic groups to enjoy a fun group outing! Tickets for groups of 20 or more start at just $4 per person, a 50% savings off the regular game day price! To qualify for group discounts, fans must purchase group tickets in advance of the game by calling the Virginia Athletics Ticket Office at (434) 924-UVA1.
| 2020 Group Tickets | Advance / Online |
| --- | --- |
| General Admission – Group Tickets (20+) | $4 |
Postseason Tickets
ACC & NCAA Tournament
After it has been announced the Virginia will host a certain postseason event, tickets will likely go on sale the first business day after announcements. Ticket prices will be announced following Virginia's selection to host the event.
Reserved season ticket holders will have a limited, exclusive period to purchase the same seats held during the regular season for postseason events to be hosted in Charlottesville. After this exclusive period, any unsold seats will be released for public sale. Reserved season ticket holders will be contacted by email with further details and asked to place their order by phone. To purchase General Admission tickets, or to check the availability of other Reserved seats, fans may visit UVATIX.com or call the Virginia Athletics Ticket Office at at (434) 924-UVA1.
Important Dates
Date

Information

July 13, 2020

Season ticket renewal applications available online for 2019 men's and women's soccer season ticket holders.

Single game and group ticket sales begin.