About Us
Welcome to the home of the University of Virginia Cheerleading program! We are committed to enthusiastically representing Virginia Athletics and providing steadfast spirit and energy to our student-athletes, fans, and the Charlottesville community.
We have both Coed and All-Girl cheerleading teams that represent the University of Virginia at all athletic and community events. Both squads cheer on the sidelines of every home football game in Scott Stadium as well as home basketball games inside John Paul Jones Arena. Members of the UVA Cheerleading program have the opportunity to travel to away football games and postseason play, including Men's and Women's ACC and NCAA Basketball Tournaments. All cheerleaders are required to maintain good academic standing and have at least a 2.0 GPA. For the latest updates on UVA Cheerleading, follow us on Instagram at UVACheerleading!
Upcoming Youth Camps
Virginia Cheerleading Youth Camp
Information on Youth Camps for the 2020-2021 season will be announced here when available. Go Hoos!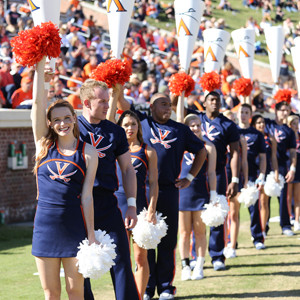 Tryout Information
Tryout Dates and Location
Tryouts are currently suspended and will be rescheduled at a later date and time. Check back here for more information in the future. For questions, email Kelley Haney at klc4z@virginia.edu.
More Information on UVA Cheerleading Tryouts (DOCX)
Download Mandatory Tryout Medical Forms (PDF)
Cavman Tryout Information
Cavman tryouts are complete for this year. Tryouts will be held again in January/February of 2021. Information will be posted here in December of 2020. Go Hoos!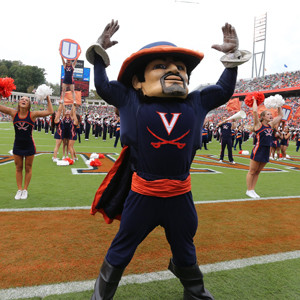 Cavman Appearance Request & Information
Cavman is the official mascot of the University of Virginia and our 27 varsity teams. ​​​​​Cavman may be available to appear at your event! Please download and complete the mascot request form below and email your completed form to Kevin Thurman, Director of Marketing and Social Media, at kthurman@virginia.edu. All appearance requests must be submitted a minimum of two weeks prior to the scheduled event. Event requests are subject to availability and are confirmed on a first-come, first-served basis.
Please note that all Cavman events and appearances are suspended until at least the end of 2020 due to COVID-19. Cavman will only be appearing at Virginia Athletics events until further notice.
Cavman Appearance Policies and Information (PDF)
Download Cavman Appearance Request Form (PDF)
Coaching Staff 
Contact: For questions regarding the Virginia Cheerleading program, including possible event requests, please contact Kelley Haney, Head Cheerleading Coach, at klc4z@virginia.edu.
Make a Gift to UVA Cheerleading 
All members of the UVA Cheerleading program receive a stipend that increases with the number of years the athlete has been on the team. If you would like to make a gift to Friends of UVA Cheerleading, please click here. All donations are coordinated through the Virginia Athletics Foundation and are tax deductible.