About Us
Welcome to the home of the University of Virginia Cheerleading program! We are committed to enthusiastically representing Virginia Athletics and providing steadfast spirit and energy to our student-athletes, fans, and the Charlottesville community.
We have both Coed and All-Girl cheerleading teams that represent the University of Virginia at athletic and community events. Both teams cheer on the sidelines of every home football game in Scott Stadium as well as home basketball games at John Paul Jones Arena. Members of the UVA Cheerleading program have the opportunity to travel to away football games and postseason play, including Men's and Women's ACC and NCAA Basketball Tournaments. All cheerleaders are required to maintain good academic standing and have at least a 2.5 GPA. For the latest updates on UVA Cheerleading, follow us on Instagram at UVACheerleading!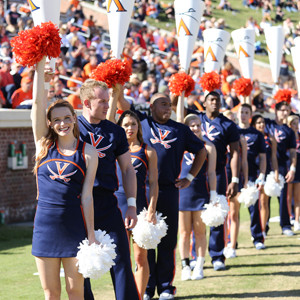 2023-2024 Tryout Information
Friday, April 21:  6 – 8:30 p.m. John Paul Jones Arena
Saturday, April 22:  9 a.m. – 3:30 p.m. John Paul Jones Arena
Sunday, April 23:  8:30 a.m. – 3:30 p.m. John Paul Jones Arena
Paperwork Packet: Must include all of the following:
Cheer Application
Medical ID form
Physician's Affirmation of Physical Fitness
Sickle Cell form or waiver
Xeroxed copy of Insurance Card
$30 tryout fee
What to Wear
Please wear orange, navy, gray or white. All athletic t-shirts must be tucked in for both males and females. Hats are not permitted. Athletic tennis shoes must be worn at all times during the tryout process. It is suggested that females wear sport tanks during the tryouts process, but it is not mandatory.
Please email Kelley Haney at klc4z@virginia.edu with questions regarding tryout paperwork and application.
CavMan Tryout Information
Interest meeting:  Tuesday, April 4th @ 7pm  Bryant Hall Lobby at Scott Stadium
Tryout details and paperwork will be distributed at the interest meeting.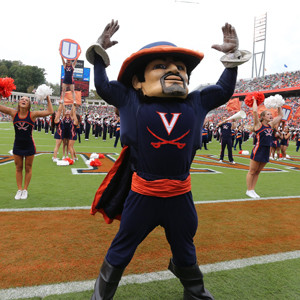 CavMan Appearance Request, Information & Pricing
CavMan is the official mascot of the University of Virginia and our 27 varsity teams. ​​​​​CavMan may be available to appear at your event! Please download and complete the mascot request form below and email your completed form to Kelley Haney, Spirit Coordinator, at klc4z@virginia.edu. All appearance requests must be submitted a minimum of two weeks prior to the scheduled event. Event requests are subject to availability and are confirmed on a first-come, first-served basis.
Before filling out the CavMan Request Form, you must review the CavMan Appearance Information & Pricing sheet.
CavMan Appearance Information & Pricing Sheet
CavMan Appearance Request Form
Coaching Staff 
Contact: For questions regarding the Virginia Cheerleading program, including possible event requests, please contact Kelley Haney, Spirit Coordinator, at klc4z@virginia.edu.
Make a Gift to UVA Cheerleading
All members of the UVA Cheerleading program receive a stipend that increases with the number of years the athlete has been on the team. If you would like to make a gift to Friends of UVA Cheerleading, please click here. All donations are coordinated through the Virginia Athletics Foundation and are tax deductible.