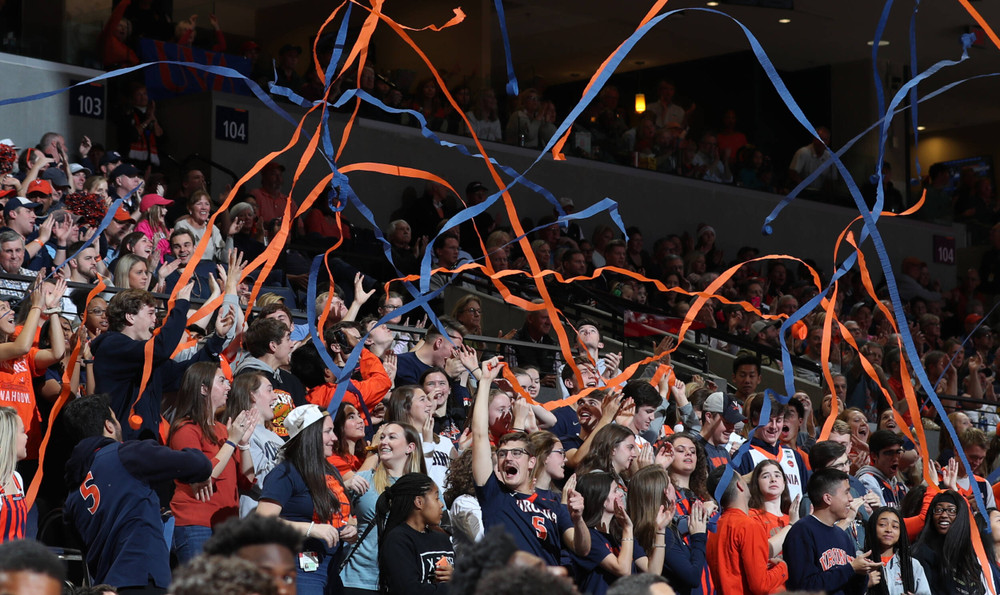 The 2023-24 Virginia Men's Basketball student ticketing schedule is below! Be sure to keep this handy so you never miss a request or on demand period.
Please follow the instructions below if you haven't already done so:
1.Register your UVAShots.com account by clicking here. Without first registering on UVAShots.com, you will not be able to request Men's basketball single game tickets.
If you create additional accounts, this request will be denied. All requests will need to be submitted through your UVAShots account.
If you need assistance or have any questions, please visit the student ticketing information page or contact us at studenttickets@virginia.edu
Go Hoos!
| | | | | |
| --- | --- | --- | --- | --- |
| Opponent | Date | Request | Delivery & Notification | On Demand |
| Texas A&M | Wednesday, Nov. 29 | November 17-19 | November 20 | November 22 |
| Syracuse | Saturday, Dec. 2 | November 17-19 | November 20 | November 22 |
| N.C. Central | Tuesday, Dec. 5 | November 17-19 | November 20 | November 22 |
| Northeastern | Saturday, Dec. 16 | December 1-3 | December 4 | December 6 |
| Morgan State | Wednesday, Dec. 27 | December 1-3 | December 4 | December 6 |
| Louisville | Wednesday, Jan. 3 | December 1-3 | December 4 | December 6 |
| Virginia Tech | Wednesday, Jan. 17 | January 5-7 | January 8 | January 10 |
| NC State | Wednesday, Jan. 24 | January 5-7 | January 8 | January 10 |
| Notre Dame | Wednesday, Jan. 31 | January 19-21 | January 22 | January 24 |
| Miami | Monday, Feb. 5 | January 19-21 | January 22 | January 24 |
| Pittsburgh | Tuesday, Feb. 13 | February 2-4 | February 5 | February 7 |
| Wake Forest | Saturday, Feb. 17 | February 2-4 | February 5 | February 7 |
| UNC | Saturday, Feb. 24 | February 16-18 | February 19 | February 21 |
| Georgia Tech | Saturday, Mar. 9 | February 16-18 | February 19 | February 21 |