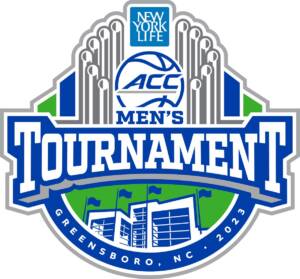 2023 ACC Men's Basketball Tournament
Ticket Information
Greensboro Coliseum 🏀 March 7-11
Seating & Pricing
For the 2023 ACC men's basketball tournament, the seating locations for all schools will be different than in previous years. The ACC has adopted a "checkerboard" seating allocation for each school, which will provide each school with seats in multiple sections throughout the Greensboro Coliseum. In addition, there are several price levels based on location and row. Please see the details below for the seats in the Virginia allotment. Each ticket book includes admission for all games Tuesday through Saturday.
Lower Level                                       Price per Tournament Book
123, 125, 126                                     $998
119, 120, 122                                      $698
101, 102, 132                                      $598
Upper Level                                        Price per Tournament Book
229, 230, 231, 233, 234, 235              $498
235, 236, 237, 238                              $298
The Greensboro Coliseum Seating map can be found HERE for reference.
The process to request ACC Tournament ticket books will be conducted in several waves. Donors in the first wave (consisting of the top 500 donors in VAF Priority Point order) will have until January 17th at 5 p.m. to request tickets. Please note that tickets will be assigned in the best location, highest price ticket, based on priority points.
If tickets remain, an offer will be made to the next group of donors in the second wave beginning on January 18th.  We will continue to offer tickets in waves until we have exhausted the available allotment. All seat locations will be allocated in priority point order, and the cutoff to qualify for tickets will be based on overall demand.  
Requests are NOT guaranteed to be filled, so fans will only be charged in the event they are awarded tickets. Requests should only be submitted if you plan to attend, as refunds will not be offered for any awarded tickets. Fans that submit a request will be notified the status of their request in early February.
Information regarding hotels can be found HERE.
Giving Levels
The maximum number of tickets which can be requested is limited by the current Virginia Athletics Foundation donor's giving level.
Request Limits By 2022 Giving Level:
Scholarship Society ($35,000+)
8 tickets
Champions Club ($25,000-$34,999)
6 tickets
Commonwealth Club ($15,000-$24,999) & V Club ($7,500-$14,999)
4 tickets
Other VAF Donors ($100-$7,499)
2 tickets