| | |
| --- | --- |
| , | Follow the 'Hoos in Europe here with daily updates, photos and video features |
Thursday, August 16
We made it back to America! Some of us are now en route on the bus back to Charlottesville (and fighting Northern Virginia traffic). Some of the players were able to get connecting flights at Dulles to head home for a few days before they have to be back for classes. It was a great trip and thanks to everyone who followed us on the blog, website, Jeff White's columns and the highlights on VirginiaSportsTV.com. I hope we were able to keep you updated about our travels as we went across Europe.
Wednesday, August 15
– Our last day in Europe concluded this evening with a nice dinner at Chez Francios and a midnight trip to the Eiffel Tower. The city at night is spectacular from the tower. It is now time to get a little bit of sleep before our 6:45 am wake-up call and our 8 am departure for the airport. It seems amazing that in a 21-hour span we will go from the Eiffel Tower to landing at Dulles. It has been a great trip, but I think everyone is ready to get back to the comforts of home. Check back to VirginiaSports.com early next week for a final photo gallery and wrap-up of the trip. Goodnight from Paris!
– Our final day in Paris began with a tour of the Louvre. We had about 2.5 hours to explore the museum, which was barely enough to wander through the museum and see a few things, but you would need days to look at everything in it. While there we ran into Colorado's men's basketball team and Penn State's women's basketball team, who are both playing tonight in Paris.
As we were gathered outside the museum, waiting to head to the bus, a few of the players decided to pose for some fun photos, such as this one of Mike Tobey, Darion Atkins and Justin Anderson.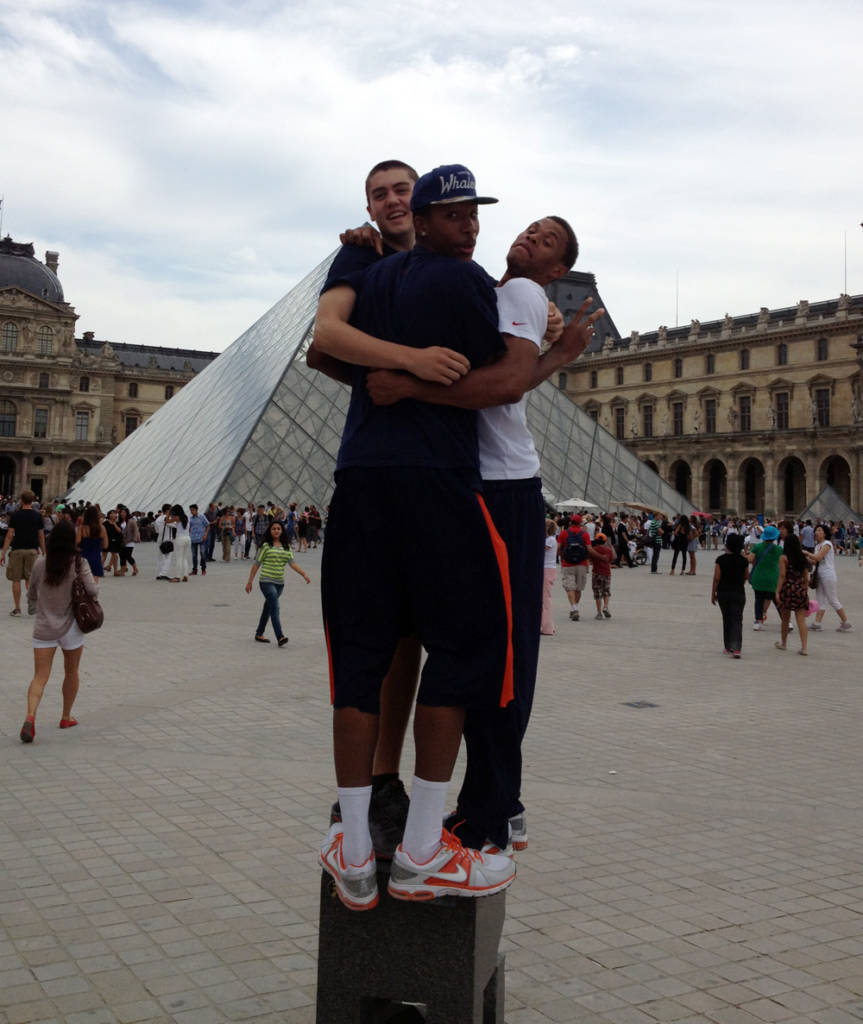 On our way back to the hotel, we wanted to stop at a statue of Thomas Jefferson that was along the banks of the Seine. Paris has statues of all kind of famous people with a connection to the city, and Jefferson was the U.S. Minister to France for four years. We wanted to get a team photo with the statue, but to do so, our bus would basically need to stop in the street for us to hop out and take the photo, a move our Dutch bus driver referred to as "extremely illegal". We managed to get out, take the pic and get back on the bus in under two minutes and without the police coming along!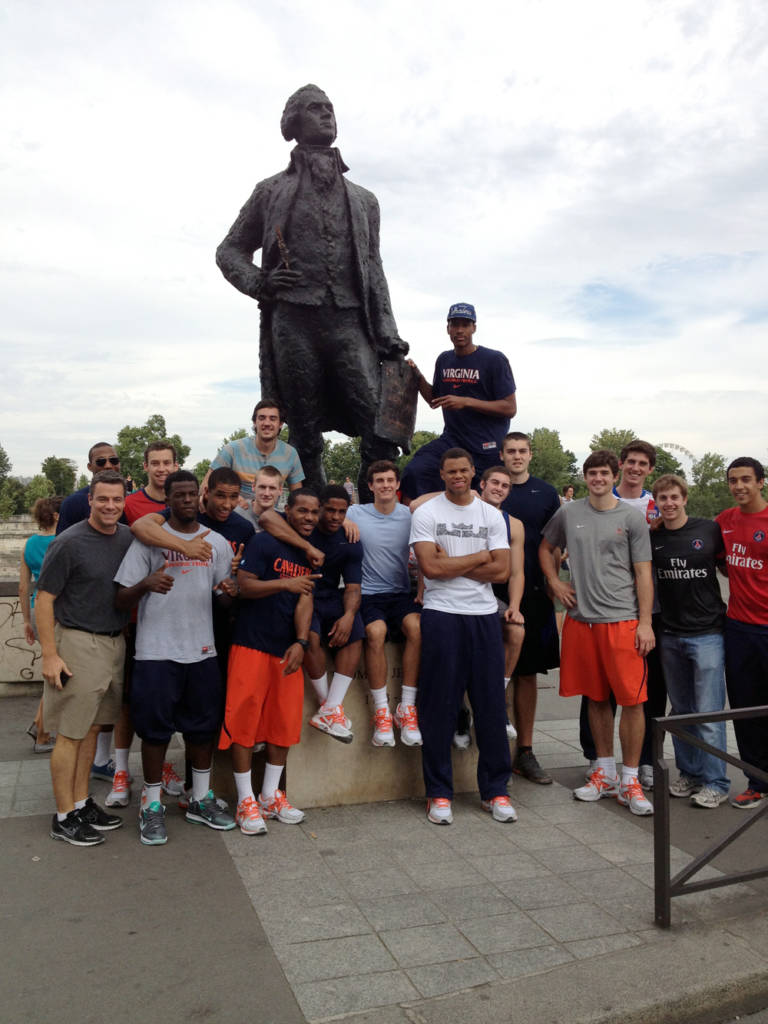 Tuesday, August 14

Photo Gallery
– We concluded our five-game European schedule with an 82-65 win over AMW Team France. It was great to get a little revenge from our loss to them last night and to end our tour on a positive note. Tomorrow we have one final day in Paris, and we will visit the Louvre and go to the Eiffel Tower that night. Then Thursday it is the flight home.
Akil Mitchell discusses the win over AMW Team France and the trip in this video…
– Our morning sightseeing trip took us to Montmartre, a neighborhood on the highest hill on Paris that features Sacre Coeur, a giant 19th century church. It is considered an area that is home to artists, and there are many street artists that will draw portraits and caricatures. We wanted to get one of our entire team. Even through all the players were walking around, we were able to make it work. Our tour guide, Antonio, spent over an hour with an artist as he drew faces from photos that were on an Ipad that Antonio held. The end result is below. If you can tell which player each one is, you are doing better than we are…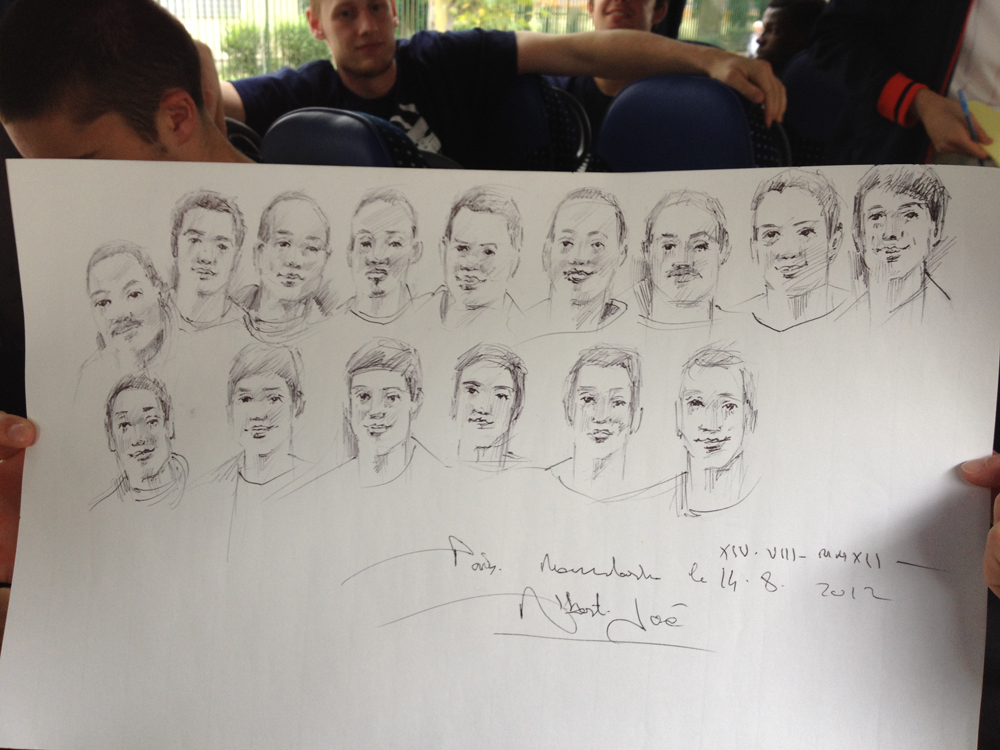 A few players even got their own personal portrait done. Below, Taylor Barnette poses next to his…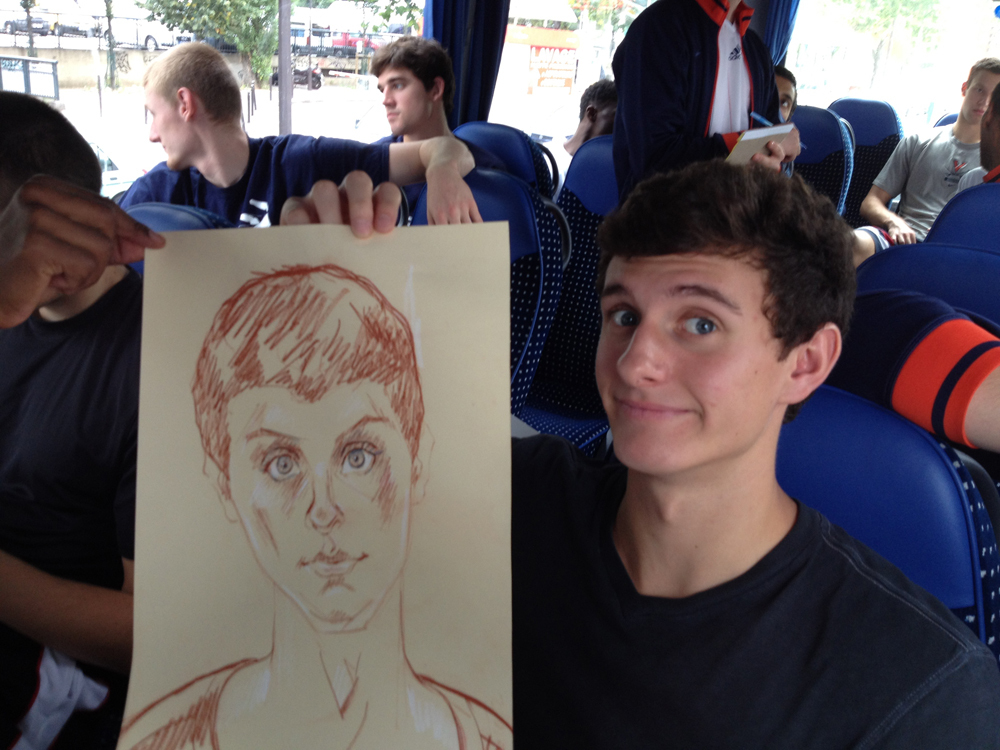 After we returned to the hotel, we had some adventure. This trip is an opportunity for the team to learn lessons. Today's lesson was, it doesn't matter if you are in the U.S. or in Europe, you can't try and fit more people in an elevator than it is designed for. Twelve players jammed themselves into one of the small elevators of the hotel and it stopped midway up one floor. Those 12 guys ended up stuck in that elevator for 45 minutes until the maintenance people were able to free them. Hopefully they have learned their lesson and won't try that again.
Monday, August 13

Photo Gallery –

Game Photo Gallery
– Tough game tonight against AMW Team France, a collection of pros, including one NBA player. We were in it right to the end, but lost 71-67. We will get a rematch with them tomorrow night in our final game here in Europe. Also tomorrow, we will visit Montmartre. Looking forward to another great day of sightseeing and basketball here in Paris. 
– Today began with a bus tour of the city. We drove around the city and got to see a lot of the landmarks. The tour ended at Notre Dame and we were able to go inside the cathedral. In the afternoon, we returned to the hotel to rest for our first game against AMW Team France tonight. It should be a good challenge. You can check in later today for the recap and highlights. 
Sunday, August 12

Photo Gallery
– Our first night in Paris was enjoyable. We drove into the heart of the city and went to dinner in the Latin Quarter. It is already evident that we will have to work more on learning the local language here in France. The Dutch and Belgians fluency in English has spoiled us during the first part of our trip. Following dinner, we went on a 9pm cruise on the Seine, which coincided with sunset. We got to see a lot of sights (Notre Dame, Louvre, Eiffel Tower) that we will tour later in the week. Tomorrow we will do a bus tour of the city and tour Notre Dame before we play our first game against AMW Team France. That team has defeated Kansas the last two nights, and tonight had Kevin Seraphin of the Washington Wizards play on their squad. Both of Virginia's games in Paris (Monday and Tuesday) have been moved to 8:30 p.m. starts (2:30 p.m. ET).
– We have arrived in Paris. It was about a 5-hour trip from Antwerp (including our mandatory 45-minute stop). On this trip, the rest area we stopped at was large and had a lot of amenities. One of them was an arcade, which the team found (photo below of Mike Tobey and Taylor Barnette playing Dance Dance Revolution). We will head to the Latin Quarter for dinner tonight before taking a cruise on the Seine. It should be a nice first night in Paris.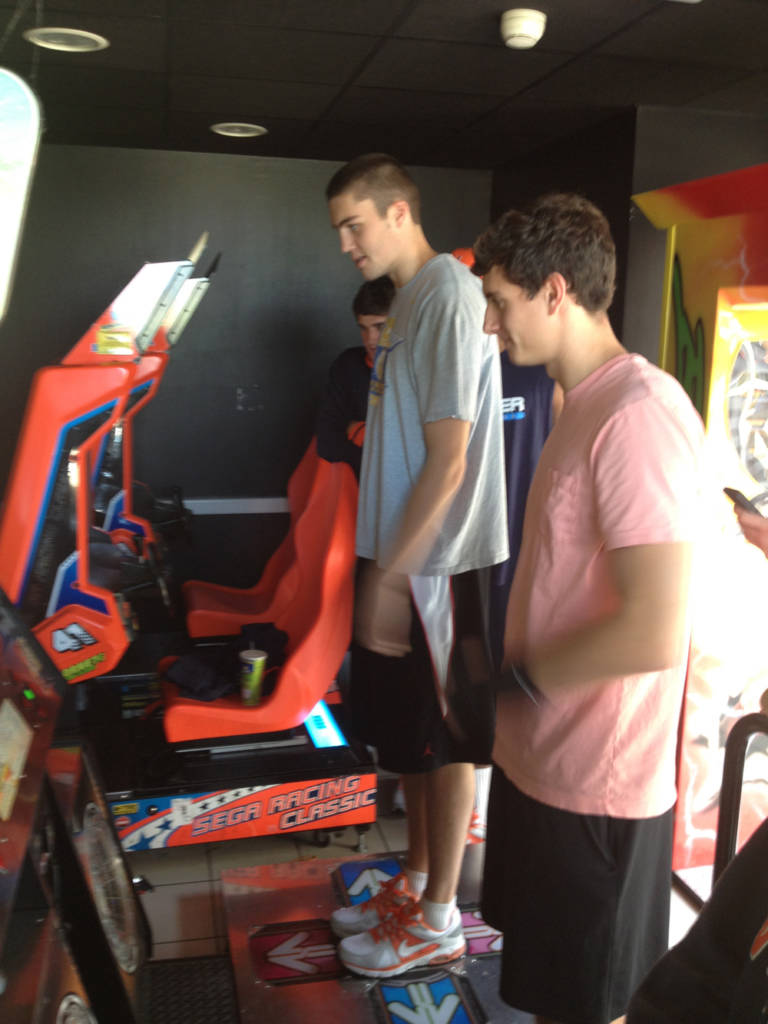 Saturday, August 11

Photo Gallery – Video Highlights
– Another tough game tonight, as we lost 102-97 to Gembo, the reigning champions of the Belgian Second Division. Their gym was small and had a sportcourt floor with many different lines, but there was a few fans who came out and provided a nice atmosphere. We even had some Virginia fans come from England. They took the ferry just to watch the game! We have this final night to enjoy Belgium (time for one last waffle!!) and in the morning we leave for Paris, the final stop on our journey. 
– It has been a relaxing day in Antwerp. We have had free time all morning and afternoon and everyone has taken advantage of it by shopping in the nearby commercial district or looking at the historical sites, such as the Cathedral and Town Hall, which are just a block from the hotel. It looks like one of the most popular souvenirs for the team has been getting soccer shirts of top European club teams and national teams. Many of the guys have been wearing them since we were in Amsterdam.
Friday, August 10

Photo Gallery
– This morning we departed Amsterdam to travel to Belgium. After three days in Holland, it was time for the four-hour bus ride south. One European law we learned about today dealt with regulations for bus drivers. A bus driver can only drive for three hours at a time before having to take a 45 minute break. (Our tour leader even mentioned that some buses are designed to shut down after three hours to make sure drivers are obeying the law). That meant that we had to make a stop at one of the many rest areas along the side of the highway for a 45 minute break just before we reached the Belgian border. This rest area had a McDonalds that featured a large outdoor seating area that included sofas and chairs (pictured below). 
After the stop, we continued on our way to Brugge, a city with a history that dates back to the 9th century. The whole city center is a World Heritage Site as many buildings are from the city's golden age, which was from the 12th to 15th century when it was an important trading center. We had about an hour to explore on our own before meeting back in the city center for a guided tour of the city. Following our tour, we hopped back on the bus for the remainder of the journey to Antwerp. Tomorrow we will tour Antwerp before playing local club team Gembo in the evening.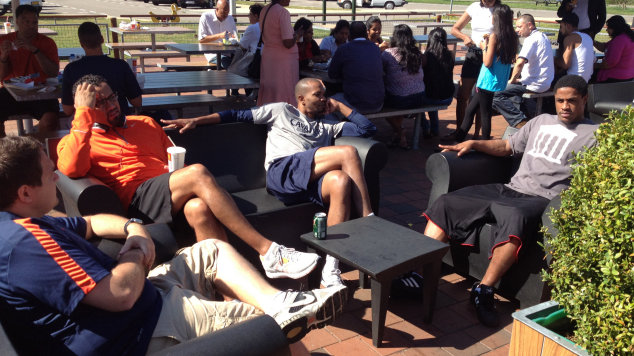 Thursday, August 9

Game 2 Photo Gallery – Video Highlights
– It was a tough game today in our rematch against the Netherlands B Team, as we lost 82-73. We were down 20 in the second half before having a strong fourth quarter to finish the game. It is our final night in Amsterdam, one last chance to enjoy this city. We are off to Belgium in the morning. We are going to visit Bruges on our way to Antwerp, where we play club team Gembo on Saturday.
– It is our last day in Amsterdam. It has been a relaxing morning. Since our game against the Netherlands B Team is at 4 p.m. today, we don't have any organized plans for the morning. The team had the option of exploring on their own during this free time or staying in the hotel and resting for the game. We have been really lucky with the weather. This can be a very rainy time in the Netherlands and other than a light shower as we landed on Tuesday morning and an occasional sprinkle, it has been dry and often sunny. Hopefully that continues for the rest of the trip.
Wednesday, August 8

Photo Gallery –

Game 1 Photo Gallery – Jeff White: Freshmen Shine as 'Hoos Open Tour with Romp – Video Highlights
– The Cavaliers defeat the Netherlands B Team 89-62 in the opener. The three leading scorers for the team were all first years: Mike Tobey (18 pts), Justin Anderson (15 pts) and Evan Nolte (13 pts). After the game, Justin Anderson discussed the game and the tour so far:
Good night from Amsterdam. Thanks to everyone who is following the team back home in the U.S. Another game tomorrow against the Netherlands B Team.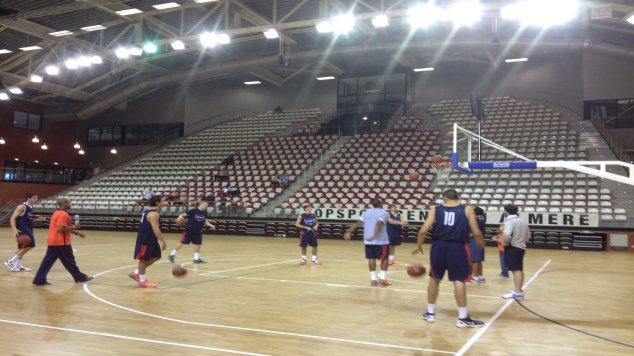 Pregame warm-ups before taking on the Netherlands B Team. Check VirginiaSports.com and VirginiaSportsTV.com later for all the details and highlights.
– Our day in Amsterdam began with a walking tour of the city. We got to see all kinds of historical and cultural sites; the Flower Market, Begijnhof, Dam Square and the Anne Frank House. We even ran into some UVa alumni along the way. The photo gallery link above shows some of the sites we saw.
We have an afternoon to rest and prepare for our first game of the tour as we play the Netherlands B Team tonight in the suburb of Almere. Go Hoos!
Tuesday, August 7

Photo Gallery – Day One Video – Jeff White: Splendor of Amsterdam Greets 'Hoos
"Groeten uit Amsterdam" (Greetings from Amstrerdam). That translation is courtesy of Google Translate, but so far we haven't needed to translate much, if anything. Our tour guide, Antonio, mentioned that almost everyone in the Netherlands, especially Amsterdam, speaks English, so it hasn't been too difficult to communicate. The times you really notice it is on signs and TV (Dutch coverage of the Olympics on EuroSport).
We landed about 7:30 a.m. The flight was comfortable, but it was a red-eye. Combine that with the six-hour time difference and most everyone is tired. We had some free time to nap and explore the area around the hotel before heading to practice. You quickly notice in Amsterdam that there are lots of bikes and trams. They are all on the streets along with the pedestrians and cars. You have to be alert at all times or else you might get hit by a bike (our tour guide said the bicyclists will curse at you if you get in their way). 
We had about an hour-long practice here in Amsterdam this afteroon. Just enough to get the legs moving after the flight. After practice, we walked across the street to the Olympisch Stadion, site of the 1928 Amsterdam Olympic Games and former home of the Dutch National Soccer Team. Outside the stadium the Olympic torch still stands, as it was the first Olympics to light a torch, beginning that tradition. 
This day ended with a two-hour dinner cruise on the canals of Amsterdam. We got to see a lot of the city and it was a nice relaxing way to conclude our first day. It was a long day and it will be an early night for most of us. 
Tomorrow we have our first game as we play the Netherlands B Team. The game will be played in Almere, which is about 30 minutes outside of Amsterdam. For all games on the tour, there will be a recap on VirginiaSports.com, highlights on VirginiaSportsTV.com and stories on VirginiaSports.com from Jeff White. 
Goodnight from Amsterdam!
Monday, August 6
– Fun fact about the trip … For five Cavaliers (Darion Atkins, Taylor Barnette, Teven Jones, Thomas Rogers and Mike Tobey), this trip marks their first trip outside of the United States. For four others (Doug Browman, Joe Harris, Caid Kirven and Evan Nolte), this is their first trip to Europe.
– Waiting in line at international check-in at Dulles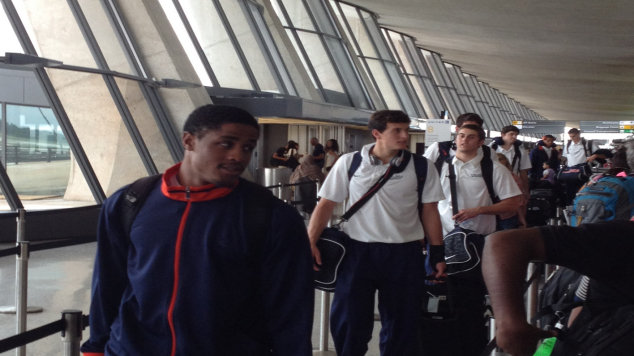 – Just before the team pulls out of JPJA for Dulles, the group takes a photo

– Jeff White previews the trip by talking with Akil Mitchell, who is making his second trip to Europe this summer. 
– The Cavaliers begin their travel day with their final practice at John Paul Jones Arena. After practice, the team buses to Dulles Airport for their evening flight to Amsterdam.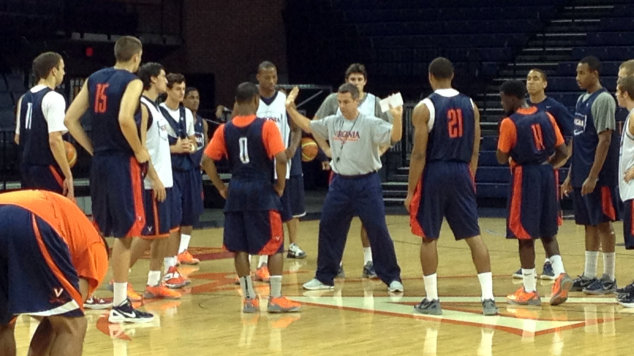 Saturday, August 4
– The Cavaliers continue their preparations for their European Tour. Joe Harris discusses those preparations in this video…
Friday, August 3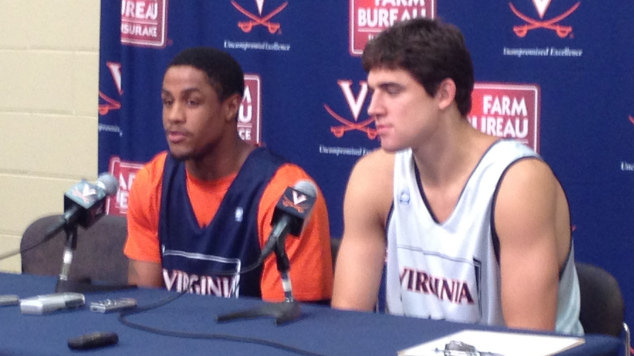 Jontel Evans and Joe Harris discuss the upcoming trip during Friday's media day at John Paul Jones Arena
Thursday, August 2
– Welcome to the Virginia Basketball EuroBlog. This page will be updated throughout the Cavaliers' trip to The Netherlands, Belgium and France with behind-the-scenes info, photos and videos. Check back often for the latest information about the trip.