Virginia Cavaliers Official Athletic Site
Joe Portland
Volunteer Assistant
Position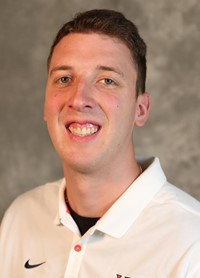 Joe Portland is in his first season as the volunteer assistant for Virginia volleyball.
Portland comes to Virginia after spending the past two seasons as a graduate assistant for the men's and women's programs at Misericordia University. Last year, he helped Misericordia's women to a school record 26 wins and an ECAC playoff berth.
"Joe has been close to the UVA program for the last 10 years or so," Smith said. "Having coached at multiple clubs and universities during that time, he has always made it a priority to get to Charlottesville to work UVA's summer camps. He and I have developed a close friendship and I have seen him first-hand gain the trust and respect of his athletes.
"The majority of the UVA team already knows Joe from camp, which will provide a great relationship foundation going into the fall season. Joe's experience coaching both men and women at the club and collegiate level has prepared him to step in and be a voice in our gym, and we are excited for him to be joining our staff."
Prior to his time at Misericordia, Portland was an assistant at West Chester University. There he directed the program's offensive strategy and blocking efforts. He helped West Chester to a 22-11 record and coached four all-conference players.
Portland got his start in collegiate coaching at Muhlenberg College, helping the women's team to a 19-9 record in his lone season. He also has coaching experience with numerous club programs as well as four years at the high school level.
In each of the past five years, Portland has worked alongside the Virginia staff during the Cavaliers' summer camps.
Portland earned a bachelor's degree in professional studies from West Chester before completing a master's in organizational management at Misericordia.