Virginia Cavaliers Official Athletic Site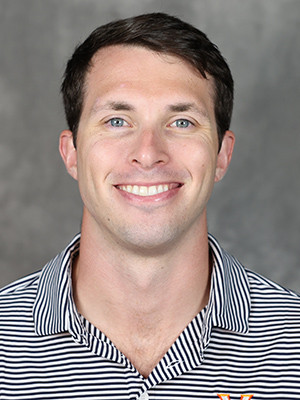 Carroll spent three seasons with UNC Wilmington before joining the Cavaliers' staff for the 2023-24 season. While at UNCW, Carroll and the coaching staff transformed the Seahawks in his three years with the program. During the 2022-2023 season, UNCW won the Colonial Athletic Association Championships combined title for the first time since 2006.
Carroll's distance group thrived at the CAA conference meet. The Seahawks came away with event victories on the men's and women's side in the 500 Free, 1650 Free and 400 IM events. The UNCW staff won swimming coaching staff of the year awards on the men's and women's side. Each side scored the most points in team history.
The 2021-2022 season was another banner season for the Seahawks. Carroll and the Seahawk coaching staff were honored by the CAA coaches as the men's swimming staff of the year as the Seahawks breezed to the program's first CAA title since the 2014 season.
UNCW combined to win 16 events at the championship meet. Brooke Knisley became the first Seahawk since Carly Tanner in 2013 to compete at the NCAA championships. Knisely was the CAA champion in the 500 and 1650 Free, setting program records in each event. Four Seahawks earned major honors with Sam O'Brien (500 & 1650 Free CAA champion) and Katie Knorr (400 IM CAA champion) earning CAA swimming rookie of the year honors.
Before UNCW, Carroll was a graduate assistant coach with at Auburn from 2018-2020. He worked primarily with the mid-distance and distance swimmers. Carroll assisted the staff with all facets of the program. He assisted with two SEC individual champions, two SEC relay champions and multiple NCAA qualifiers.
Carroll began his collegiate coaching career as a volunteer assistant at Rowan University in 2016-17. Alongside his time at Rowan, Carroll coached for two seasons as an assistant senior coach with the Jersey Wahoos Swim Club.
Carroll, graduated from the University of Maryland Baltimore County (UMBC) in 2016, where he earned a degree in history and a minor in political science. He helped the Retrievers to three conference championship titles. He served as a team captain during his senior season. Carroll also earned a master's degree in education at Auburn in 2020.