Virginia Cavaliers Official Athletic Site
Kris Grunwald
Associate Head Coach
Position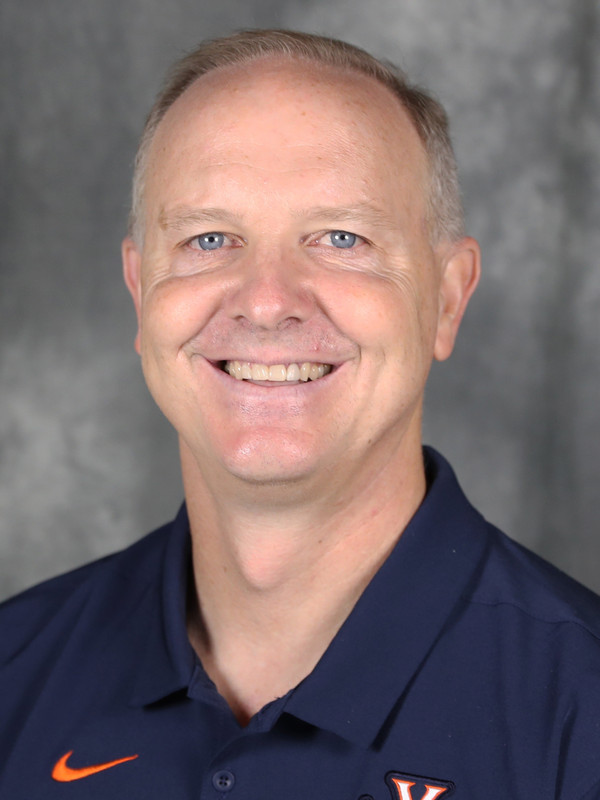 Kris Grunwald was named an assistant coach on Shannon Wells' staff on May 5, 2021 before being elevated to associated head coach on Oct. 21, 2022. Grunwald, who boasts 30 years of college coaching experience, came to UVA most recently from Cornell where he was an assistant coach.
Grunwald enjoyed head coaching stints at UConn (2014-18) and Auburn (1998-1999) before spending one year at Cornell, but never had the opportunity to coach a season due to the Ivy League not playing sports during the 2020-21 academic year because of the COVID-19 pandemic.
In 2022, Grunwald helped the Cavaliers achieve their highest overall win total (12) and best ACC finish in the last three seasons. Virginia boasted an 8-3 record in non-conference action in 2022. As UVA's defensive coordinator, Grunwald has witnessed Virginia tally at least 15.0 blocks in six different matches in his first two seasons at UVA, including 17.5 blocks against then-No. 10 Pittsburgh in 2022. Grunwald also helped train Grace Turner, who was tabbed a Second Team All-ACC recipient after finishing the 2022 regular season eighth in the league in kills (3.48/set) and points (4.14/set), and sixth in aces (0.39/set). Turner was UVA's first outside hitter to garner Second Team All-ACC honors or better since 2009.
In his first season as UVA assistant coach, Grunwald helped the Cavaliers achieve the program's best start of 8-4 through its first 12 matches since the 2015 season. Virginia's notable wins included a five-set victory at VCU, three consecutive sweeps over Bellarmine, Georgetown, and Fairleigh Dickinson to win UVA's second home tournament of the season and a four-set triumph at North Carolina. Prior to UVA's win over the Tar Heels, the Cavaliers had only defeated UNC once in the last 19 matchups.
Grunwald, who helped lure former UVA middle blocker Alana Walker, guided the graduate transfer to finish the 2021 regular season second in the nation and atop the ACC in blocks per set (1.51). Walker's 1.51 blocks-per-set average was also good for second all-time in a single season in program history. Additionally, Grunwald mentored UVA outside hitter Brooklyn Borum, who was named an ACC All-Freshman Team selection after leading the Cavaliers in kills per set and reception percentage.
Grunwald spent the 2019 season as an assistant coach at Auburn in what was his third stint with the Tigers. Grunwald initially joined the Auburn staff as an assistant, coaching in that role from 1994-97 before being elevated to head coach of the program for the 1998 and 1999 seasons. He also returned to Auburn as an assistant coach for the 2002 and 2003 campaigns.
The Tigers had a winning record in all eight years with Grunwald on staff. As a head coach, he amassed a 41-20 record, which included a 22-win campaign in 1998. Grunwald was also a part of the 1996 squad that finished 22-9 overall and 11-4 in SEC play, winning the SEC Western Division title.
Between his second and third coaching stints at Auburn, Grunwald served as the head coach at UConn from 2014-19. He finished his time at Connecticut with a 70-86 overall record, including back-to-back seasons with 16 wins in 2015 and 2016 and a 10-win conference record in 2015.
Grunwald also spent four seasons as an assistant coach at Arkansas where he excelled on the recruiting trail, helping the Razorbacks' secure a top-45 recruiting class in 2009. His ability to help turn programs around was also on display at Arkansas, as he helped transform the Razorbacks from a 7-23 team in 2008 to an 18-12 team by 2011.
Grunwald helped Morehead State experience a similar turnaround during his time as an assistant and associate head coach, helping the team go from a 6-26 record in 2005 to 22-12 and OVC Co-Champions in 2007.
Grunwald started his coaching career out at Florida State as an assistant coach from 1991-93 before his first stint at Auburn started in 1994. Overall, he spent 15 seasons in the Southeastern Conference, including three years at Ole Miss (2002-04). He also served as the compliance services coordinator at Michigan from 2000-02.
A native of Germantown, N.Y., Grunwald played collegiate volleyball at George Mason University where he was a starter on the 1988 squad that made the Final Four. During his time as a Patriot student-athlete, Grunwald was a three-time honorable mention Asics All-American and four-time first team All-EIVA selection.