Brogdon Leads Virginia Past Belmont, Advances to Next Round
Story Links
March 20, 2015
Box Score | Notes | USATSI Gallery

NCAA Postgame Quotes

| NCAA Postgame Notes

| UVa NCAA Tournament Central
VIDEO: Justin Anderson and Darion Atkins Postgame
CHARLOTTE, N.C. (AP) Malcolm Brogdon scored 22 points, Justin Anderson re-emerged as a scoring threat and second-seeded Virginia defeated 15th-seeded Belmont 79-67 on Friday in the NCAA Tournament's round of 64.
Anderson had 15 points on 4-of-6 shooting and Anthony Gill added 16 points as the Cavaliers (30-3) moved on to face No. 7 seed Michigan State on Sunday in the East Region.
"I knew we were going to have to make some plays, get some stops and make some free throws,"Virginia Head Coach Tony Bennett said. "But you are never (comfortable) when you play a team like that that has big-play ability."
Anderson, playing with his broken left pinky taped to his ring finger, scored for the first time since Feb. 7 against Louisville. He failed to score in two ACC Tournament games.
"It felt good to show everybody, in a game, that I'm fine," Anderson said.
Like last year when Virginia avoided a historic upset and held on to beat 16th-seeded Coastal Carolina, the Cavaliers needed a late second-half push to advance.
Belmont (22-11) had clawed within two behind 25 points from Crag Bradshaw, but the Cavaliers outscored the Bruins 17-7 over the final 4:37 of the game.
Virginia came into the NCAA Tournament having lost two of their last three games.
The Cavaliers trailed 20-17 midway through the first half when Brogdon scored on a reverse layup igniting a 12-0 run.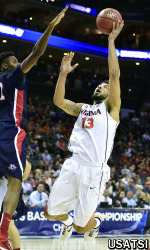 Anthony Gill scored on a low post move before Anderson scored and was fouled on a fast break layup for a three-point play. Marial Shayok added a 17-footer and scored on a driving layup and drew a foul.
Virginia led by as many as 14 points in the second half, but Belmont wouldn't quit.
Mack Mercer and Bradshaw got the Bruins back into the game with a 10-0 run. Mercer scored on two layups and Bradshaw had a dunk on a defensive breakdown by Virginia and knocked down a 3-pointer from the right wing to help cut Virginia's lead to 51-48 with 11:15 remaining.
The emotional Bradshaw would later close the gap to 62-60 with 4:37 left behind consecutive 3-pointers, including one off the glass. He would finish 5 of 9 from 3-point range.
"At that point we were thinking we have to get stops," Brogdon said. "We had to make him uncomfortable. I tried to pressure him and get the ball out of his hands and swipe at the ball."
But the Cavaliers would never surrender the lead.
London Perrantes hit a jumper from just inside the 3-point arc to make it a two-possession game and Gill made two free throws to give the Cavaliers some breathing room.
Gill then scored on a give-and-go layup from Perrantes and drew a foul to push the lead to nine as the Cavaliers began to pull away.
Gill had 13 points in the second half.
"It was good for us to be in a game like that," Bennett said. "Our young men have been in a lot of games like that where we had to just outlast and stay in there and make some plays and even overcome some of our mistakes."
—
TIP-INS
Virginia: With the win, Virginia avenged an opening-round NCAA Tournament loss in this building to Georgia in 2008.
UP NEXT
Virginia: Faces No. 7 seed Michigan State on Sunday.