Brogdon's 20 Leads No. 13 Virginia Past No. 8 Miami 66-58
Story Links
Box Score Jan. 12, 2016
Final Stats | Quotes | Notes | USATSI Photo Gallery

| Photo Gallery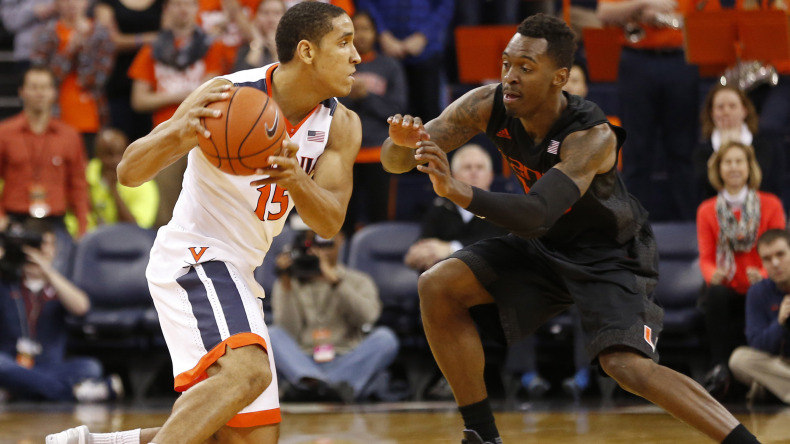 VIDEO: Tony Bennett Postgame Press Conference
VIDEO: London Perrantes and Malcolm Brogdon Postgame Press Conference
CHARLOTTESVILLE, Va. (AP) Virginia coach Tony Bennett saw progress, but the unusual animation in his words suggested he also saw plenty to remain concerned about as the No. 13th-ranked Cavaliers ended a two-game slide with a 66-58 victory over No. 8 Miami on Tuesday night.
"We never took control. I'll be honest with you," Bennett said. "We took a step in the right direction in terms of our physicality and our mindset and our patience, but we've got a lot of work to do. We've got a ways to go and we'll just keep grinding away."
The Cavaliers (13-3, 2-2 Atlantic Coast Conference) made the plays they needed to on offense, answering most every challenge down the stretch from the Hurricanes, but the defense that has always been able to produce stops when it needs them once again struggled.
"If we have any notion, any notion at all, saying, `There. We got it,"' we're on the wrong path," Bennett said.
Malcolm Brogdon had 20 points and London Perrantes scored all 13 of his in the second half for the Cavaliers, who used an 11-2 run in the second half to turn a 43-41 deficit into a 52-45 lead with 7 1-2 minutes to go and never trailed again. Anthony Gill added 15 points.
Angel Rodriguez had 17 points and Sheldon McClellan added 13 for Miami (13-2, 2-1), which had a seven-game winning streak snapped.
The Hurricanes closed within 59-56 on Rodriguez's driving basket with 2:20 to play, but Miami didn't score again until Rodriguez hit two free throws with 29 seconds left. In the meantime, Perrantes hit a runner in the lane with 1:05 to play and the shot clock running down, Gill added a free throw and Darius Thompson made two free throws for Virginia, pushing the lead to 62-56 before Miami finally scored.
"The shot clock was going down and I knew I couldn't get to the rim," Perrantes said of the floater. "I don't use it much, but it's there."
Perrantes, who didn't score until 15:42 remained, also sparked the go-ahead run with a 3-pointer, followed with a driving shot that banked in and then added two free throws. After Rodriguez scored for Miami, Mike Tobey scored on a hook, disturbed a layup at the other end and Brogdon's free throws made it 52-45.
In two previous games against the Hurricanes, Perrantes scored 26 as a freshman and 15 last year.
"I think he is just a terrific player who loves playing against Miami," Hurricanes coach Jim Larranaga said. "He's averaged 21 points a game against us in his career. I think Angel Rodriguez did a fantastic job on him, and yet he hit those two shots, one right after the other, and what was really crucial, he went to the foul line and made 6 for 6 from the foul line."
Tobey finished with 12 points and seven rebounds for Virginia, and Gill grabbed eight rebounds.
Tobey's putback with 4:35 left in the first half sparked a 10-4 run for the Cavaliers, with Tobey scoring eight points. The burst gave the Cavaliers a 27-21 lead, and Ja'Quan Newton cut it to four with two free throws in the final minute.
LINEUP JUGGLING:
Two straight losses caused Bennett to change Virginia's starting lineup, inserting guard Marial Shayok and big man Jack Salt in place of Thompson and Isaiah Wilkins, who had started the last six games. Bennett liked the physicality the new starters brought, but neither scored.
STRIPES:
Virginia finished 16 for 21 from the foul line, including 15 of 17 after halftime, and Miami was just 10 of 17 in the game.
TIP INS:
Miami: Larranaga was an assistant under Terry Holland at Virginia from 1979-86. … Tuesday night's game marked the first time both teams were ranked when the faced each other.
Virginia: Virginia hasn't lost three straight since Jan. 8-19, 2011. … In consecutive road losses at Virginia Tech and Georgia Tech, the Cavaliers allowed their opponents to shoot 53.1 percent from 3-point range (17 of 32). Miami was just 6 for 22.
UP NEXT:
Miami plays at Clemson on Saturday.
Virginia plays at Florida State on Sunday.