One of three seniors competing at this weekend's NCAA Championships in Arkansas, meet Katharine Palmer and follow her and the Hoos here.
My Nickname: KP
 
My dream foursome: Me, Tiger Woods, Jordan Spieth and Annika Sorenstam at Pebble Beach
 
My favorite club: Putter, especially when I am putting well. It's a great feeling to make a good par save or birdie putt.
 
My favorite course: Pebble Beach because of the beautiful scenery
 
My favorite snack during a round: Beef jerky
 
My favorite warm-up artist/song: Body by Loud Luxury, Brando
 
Who introduced me to the game: My next-door neighbor (he's like my surrogate grandfather) introduced me to golf when I was eight-years -old. He saw me hitting baseballs in the back yard and thought I should try golf (he was a regular golfer). He paid for my first set of clubs and golf lessons and said that if I picked it up further, he wanted to travel with my family and I to some of my tournaments.
 
Best golf advice I've received: To pick out a target far off in the distance behind the hole/green/ fairway but in line with where you want the ball to land. Dr. Bob Rotella and Coach Ria gave me this advice.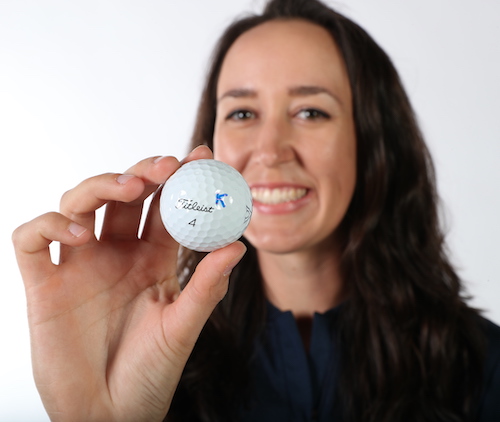 How I mark my ball: A "K" above and to the right of the Titleist logo for Katharine and a SFT on the side above the line which stands for "See it, Feel it, Trust it"
 
Story behind my ball marker: A "Blingo" ball marker with blue, white, and orange sparkly beads on it. I won it last year from my coach for good play in a tournament.
 
My golf course superstition: I don't have one
 
If I could play another sport at UVA it would be: Volleyball; the games are fun to watch and there's a lot of enthusiasm among the players.