EDITOR'S NOTE: During this time of non-competition, UVA athletics will be posting frequently on VirginiaSports.com to keep you up to date with the happenings, experiences and thoughts of our student-athletes, coaches, staff and alumni. We encourage Wahoo fans to share these links on your social media accounts for others to enjoy. We also suggest you follow the University's website – news.virginia.edu – for more stories and information. #GoHoos
 
Former Virginia men's tennis player and 2017 NCAA Singles Champion Thai-Son Kwiatkowski had a strong start to the 2020 season, winning his first-ever Challenger singles title in Newport Beach in February and then winning a Challenger doubles title on March 7 at Indian Wells. He also earned a wild card into the qualifying tournament for the BNP Paribas Open, a Masters' 1000-level tournament being held on those same courts and featuring all of the biggest stars of the ATP tour. A day later, the tournament became the first major sporting event held in the United States to be postponed or canceled because of the COVID-19 outbreak. Below is a Q&A as Kwiatkowski talks about those events as well as what training looks like for him now as well as other topics. Give it a read below.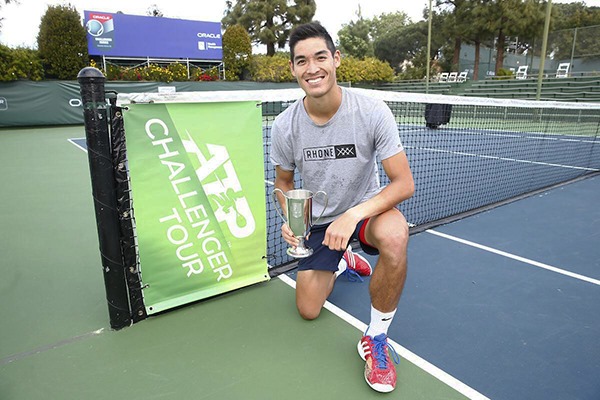 Newport Beach Challenger, February 2020
Q: Did you feel good about the start of your season and are you back to being healthy? You were battling some injuries last year, like the one that kept you out of the Charlottesville Challenger in October.
 
Kwiatkowski: Yeah, I felt really good about the start of the season. I had a really great offseason in December we worked really hard. I had to take October and November off from tennis. I had a wrist injury that kept me out of the Charlottesville Challenger, which was a big bummer, but Dr. Bobby Chhabra here in Charlottesville, helped me get back to full strength. I then did about half my offseason here and then the other half in Orlando where it was a little warmer. And, yeah, my coach Carlos [Benatzky, a former UVA volunteer assistant coach] and I, we had a really big win in Newport Beach. So that was really good, probably the biggest win of my career. And then to win the Indian Wells doubles challenger that last week with Dennis Kudla, another of Carlos' players, was really awesome.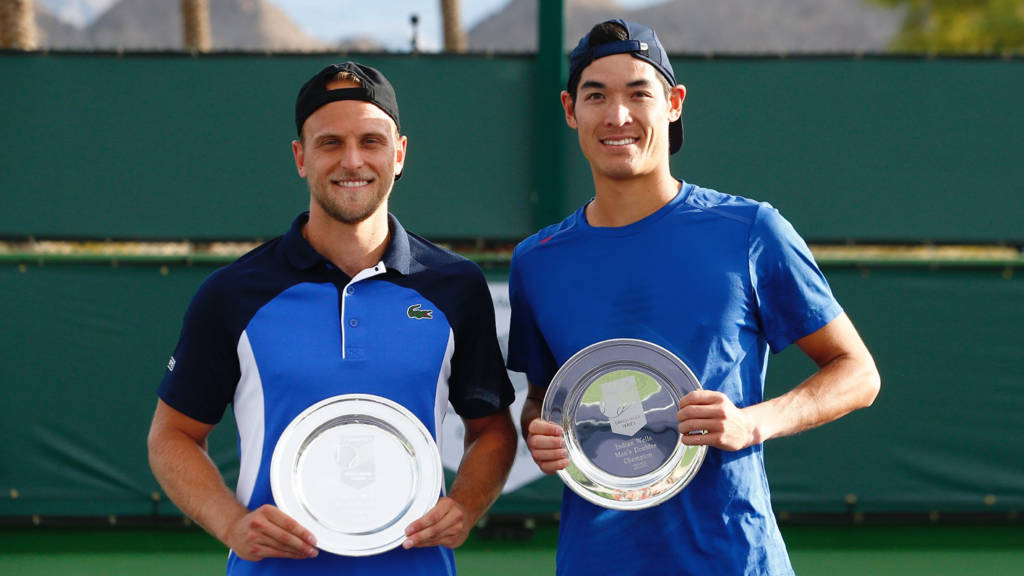 Indian Wells Challenger with Dennis Kudla
Q: Talk about your week at Indian Wells. You won the doubles title and then earned the wildcard into the ATP Masters 1000 tournament, and then came the sudden announcement that the ATP tournament was canceled. What was that like?
 
Kwiatkowski: We felt like we had some really good momentum going into Indian Wells which was really exciting and I was able to get a wild card into qualies. It's a huge bummer that the tournament was canceled but, obviously with how everything shaped up, it was the right decision and, you know, it's just tough time for everyone across the world.
 
I was super excited to play my first masters 1000 here in the States. I actually found out when we were at a dinner. We went out to get a cold beer to celebrate and that was really cool moment that I definitely cherish that even though it didn't happen because we did earn it, as a team, so it was really exciting.
 
As soon as I found out that the tournament had been canceled, I flew right back to Charlottesville (his home) the next day. I wanted to be in a place where I was okay. When we first heard the news, we thought it was a bit of an overreaction because it hadn't really started spreading in the US yet. I think it was pretty impressive by the tournament staff to cancel it because it was a huge move all the top players were already there.  Nadal, Djokovic. They were all there practicing already, so to decide not to have the tournament was amazing. It was the first major sporting event in the US that was canceled. They were closing things in Italy and Japan already but not yet here in America. We kind of started the ball rolling and then obviously, once one big sports stops, I think all of them have to kind of follow suit.
 
Q: As a former NCAA athlete, what was your feeling when you heard that news about March Madness and then spring competition and championships being canceled?
 
Kwiatkowski: March Madness being canceled is absolutely devastating because that's one of my favorite things to watch. Being the huge UVA basketball fan that I am, that's tough. I mean I can't imagine how those seniors are feeling Mamadi [Diakite] and those guys. They work so hard, so it's tough. That's everything you work for.
 
I really feel for Carl [Söderlund]. What an incredible career he's had here at UVA, probably one of the best in history. He was the first-ever UVA tennis guy to live on the Lawn. For that to end the way it did is a bummer, but we'll see what the NCAA decision about giving those guys an extra eligibility means. I'd love for him to come back that would be incredible. And it's not just tennis. It is all of the spring sports, baseball, lacrosse and the sports that lost their entire season. Players have trained three years to get to this point and now it is just gone.
 
Q: Tennis, by its very nature, is a sport with a good deal of social distancing. Are you still able to train? What are you doing to stay in shape for when things re-start?
 
Kwiatkowski: It's tough right now. [The sport of tennis] is on break until at least June 8. That is when we could restart, and that's a full two months away. I don't think I've ever had that much time away from tennis while healthy, so it's tough to get really motivated to work hard right now. Carlos is doing a good job of keeping practices short, but really productive. We're just working on one or two things that we couldn't address during the season because you just don't have enough time to change things. If you look at things in the right way, in the positive light, it's possible to use this time to get better on the court. Obviously, it's tough to stay motivated a little bit right now, with it being so far away, but we can look at it as an offseason, which tennis doesn't really have.
 
I miss tennis very much. I miss competing and I'm super excited for whenever we get back. I felt like I was finally gaining momentum in my career. It's been a tough couple of years, but things are moving in the right direction.
 
Q: Do you have some good suggestions for the people stuck at home? Other general coping recommendations?
 
Kwiatkowski: I've had a lot of time here my Charlottesville apartment that I haven't had in a while. I'm spending some time with some people because I'm in quarantine with my roommates. It's been okay so far. We are only in week one.
 
I've been doing a lot of workouts, in my apartment, like yoga. I'm trying to stay flexible and not get too fat eating ice cream on my couch watching Netflix. I've completed two puzzles, read two books. I've been trying to do other things than just watching TV. I think my one recommendation to people would be maybe make a schedule for yourself because if you don't make a schedule, you'll just end up sitting on the couch and next thing you know it's like you've been there for seven or eight hours. I wake up, try to make breakfast  (I'm not a very good cook so that's why I said try), maybe meditate 10-15 minutes, answer emails, read a book, try to do something productive, go for a run. I mean, we're not in full lockdown and people can still go out and have a run. That's plenty of social distancing, running and not being around people.
 
There's a number of things you can do to stay healthy. Eat good food. Try to stimulate your brain in some way. Watch a positive YouTube video or read a book. I've been reading a lot of fiction to take my mind off of what's happening
 
Q: Do you have a message to UVA fans and tennis fans or your fellow Cavaliers during this time?
 
Kwiatkowski: I hope everyone's able to stay safe in the next three to four months, hopefully that's all it takes for this massive problem to go away, but there are new developments every day. We need to stick together and really do social distancing because that's the quickest way that this is going to be over for everyone. It sucks because I'm a really social person and I love to hang out my friends but we're doing this for everyone, especially the elderly. I'm a big Cavalier guy, so let's do this together, Hoos!
 
 
Editor's Note: For those wondering, the Thai-Son Kwiatkowski reading list has included You Were There Too by Colleen Oakley, On Earth We're Briefly Gorgeous by Ocean Vuong, and now he has moved on to Fahrenheit 451 by Ray Bradbury