UVA junior Beth Lillie, a two-time All-ACC selection, relocated to her family home in Fullerton, Calif., after the University switched to remote classrooms. Just weeks after helping the Cavaliers to victory at the IJGA Collegiate in Mexico, she's now keeping her game in shape in her back yard while juggling classes and a new form of home life.
 
Q: What do you think about the news that professional golf may resume without fans?
 
Lillie: I think it will be very interesting to watch if it actually happens. Seeing empty stands at Augusta or at the US Open would be weird for both the viewers and the players. But at least we'll have a sport to watch on tv!
 
Q: What are you doing to practice and keep your game sharp while not competing in tournaments?
 
Lillie: The golf courses around me are all closed because of COVID, so my dad built me a net in our backyard that he tied up between a few trees. I can hit balls into that and work on my swing technique which I'm really grateful for, since I know some people don't have the ability to even do that. I also chip and putt on the carpet inside my house into juice glasses.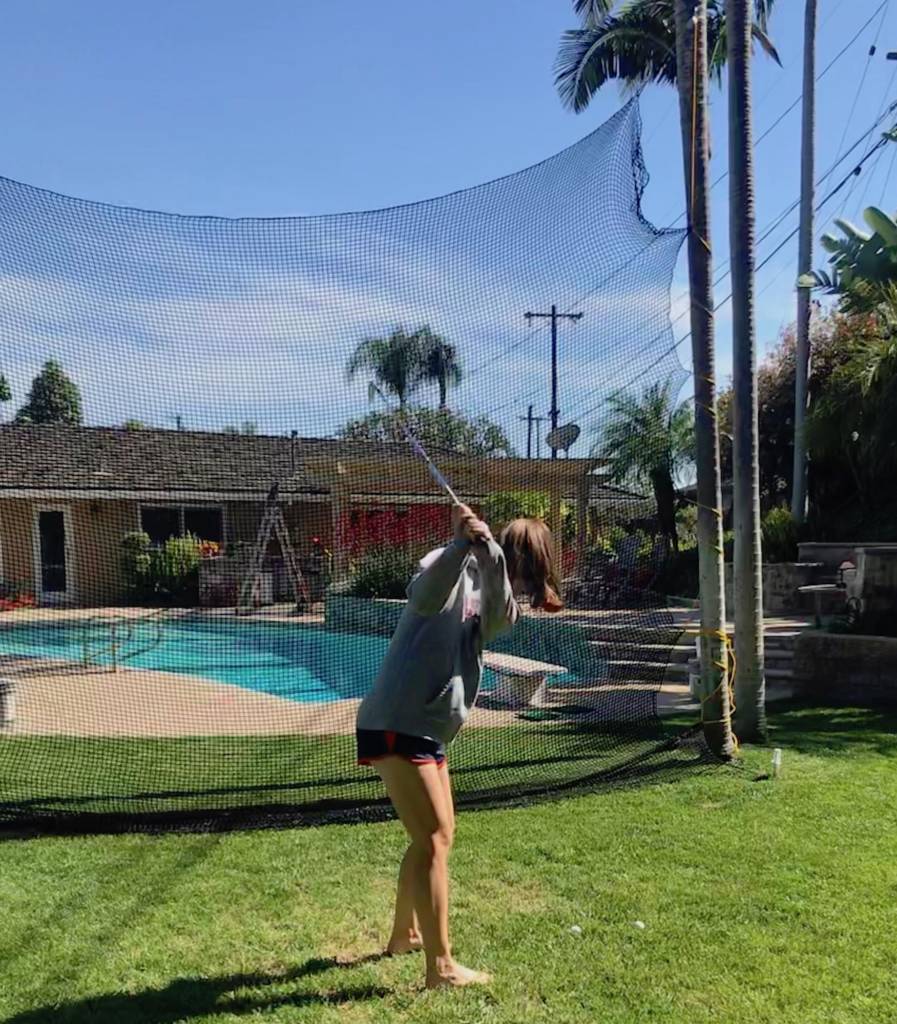 Q: How are you dealing with cabin fever. What are some things you are doing now that you don't normally do to fill your time?
 
Lillie: I'm doing okay. It's very disappointing to be sitting at home during a time that is usually very exciting and eventful in college golf, but I know it is for the best right now. I've just been hanging out with my family. We're definitely watching more movies together or playing games more than we did before this, so it's been nice.
 
Q: Do you have a new guilty pleasure?
 
Lillie: Sleep is definitely my new guilty pleasure. At school we often have early mornings, and because many of my online classes are pre-recorded for us to view at any time, I'm able to sleep in much more now. Sometimes I set an alarm to get myself up because I could easily sleep the day away haha!
 
Q: What's something new you have learned to do during the self-quarantine?
 
Lillie: I've been doing mat pilates a lot with my mom and sisters using YouTube videos and online classes. We don't usually do workouts like this at school so it's been fun to shake things up and be sore in places I never thought could be sore!
 
Q: Have you experimented with cooking? Any successes?
 
Lillie: Yes, I actually love to cook, I just usually don't have that much time during the school year. I've made a lot of Italian food during quarantine for some reason- pizza, Bolognese sauce, and chicken Marsala were all pretty good. I'd need my Italian teammate, Virginia's, seal of approval though for it to be considered a real success.
 
Q: Have you binge watched or read anything you'd like to share?
 
Lillie: I've watched an embarrassing number of episodes of Shameless on Netflix during quarantine. I also have been watching Little Fires Everywhere on Hulu which is really good. New episodes come out every week though, so it's probably good that I can't just watch it all at once because in know I would!
 
Q: How often do you communicate with your teammates now?
 
Lillie: I talk to them every day. I think we all really miss each other right now and are looking forward to the next time we get to all be together again.
 
Q: What things to you and your family do to pass the time?
 
Lillie: We cook, watch movies or TV, or play board games. We've also been going on walks with our dog. It's been a little bit of forced bonding, but it is actually very nice since my whole family is often not home at the same time.
 
Q: How do you keep yourself motivated with such a disruption in your schedule?
 
Lillie: I just try to stay patient and look forward to when this is all over. Everything is so uncertain, so I think it's important to step back and be thankful for my health and safety, understanding that normal life will resume at some point.
 
Q: How have on-line classes been? Anything in particular you found interesting about the process?
 
Lillie: They've gone pretty smoothly for me. I actually really like how my big lecture classes are pre-recorded and I can watch them at my own leisure. I find that I listen better and take better notes when I can pause the video or rewind to hear the professor say something again.
 
Q: Have you created a unique study area at your home?
 
Lillie: Not really. Both of my sisters are home right now, and my house is not that big, so it can get a little cramped at times. My sister is working from home in our office, my other sister usually claims the bedroom we share, so I just go wherever it's quiet and the WIFI is strong.
 
Q: What do you miss most about golf right now?
 
Lillie: I miss competing and traveling with my team. It's such a fun bonding experience to travel together and spend so much time playing, eating, and hanging out with each other. It's especially disappointing to be missing out on post season because it's so high pressure yet rewarding and fun at the same time, that you can't help but become close with each other. I know that when the next college competition comes around, the team will be excited and ready to have that fun again.
 
Q: If you could paint a personal message on Beta Bridge, what would it be?
 
Lillie: I think I would paint 'Hoos Together', the hashtag that was started a couple years ago by the athletic department. It's a good reminder that the only way we beat this virus to care for our neighbor so that we can all be back together again at UVA. 
 
EDITOR'S NOTE: During this time of non-competition, UVA athletics will be posting frequently on VirginiaSports.com to keep you up to date with the happenings, experiences and thoughts of our student-athletes, coaches, staff and alumni. We encourage Wahoo fans to share these links on your social media accounts for others to enjoy. We also suggest you follow the University's website – news.virginia.edu – for more stories and information. #GoHoos