Rising senior Regan Quinn (Rockville Centre, N.Y.) has appeared in 28 career games for the UVA men's lacrosse program, missing most of 2019 with an injury. A key member of the midfield unit, Quinn returned in 2020 and appeared in all six of UVA's games before the COVID-19 pandemic halted the campaign, recording at least one point in four of the Cavaliers' six games.
 
Q: You finished your third year at Virginia. Does the time feel like it has flown by?
Quinn: Yes, time has absolutely flown by. It feels like just yesterday I was moving into the Lile Maupin dorm with Will Rock. 
 
Q: You missed most of 2019 with injury and finally made it back to the field in 2020. How did it feel to be back out there to start the season and then how much of a disappointment was it for you to only get six games in before the COVID-19 pandemic halted the country?
Quinn: It felt amazing being back on the field suiting up with all my teammates and best friends. I really appreciated every single day being out there because as I learned last season you really never know when your last practice might be. Disappointing would be an understatement to describe the unexpected end to this season, but I acknowledge there are far greater issues this country is going through than our lacrosse season. I miss being out on the field every day and I can't wait to compete next season.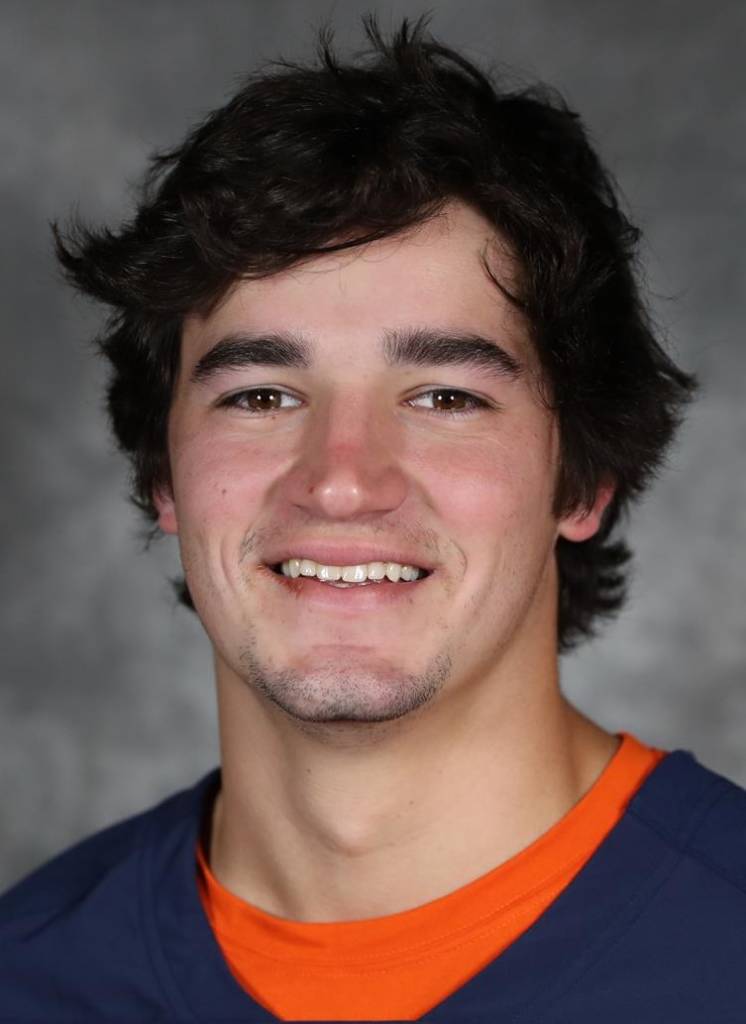 Q: Today is Memorial Day and last year you were on the sidelines as Virginia won the program's sixth NCAA championship. Being injured, what was your vantage point like for the title run and what did you see that you may not have seen if you were playing?
Quinn: Last year was a blessing in disguise for me because it allowed me to grow and mature way more as a person. I never broke a bone or have been sidelined for any medical reason in my life up until both of my foot surgeries last season. It was extremely hard going to practice every day and not being able to compete, but it gave me a different perspective on the game. Our title run last year may have taken a few years off my life due to all of our late game heroics, but I was able to see the game in a way different way. 
 
I saw plays develop like I have never seen before and it formed a newfound respect for Coach [Sean] Kirwan just listening to him talk through the developing plays. One moment that stuck with me was at the [Johns] Hopkins game Mikey Herring was guarded by one of their offensive middies and instead of telling Mikey to dodge Kirwan told him to stay in the crease and cut. Everyone on the sideline was confused but Ian [Laviano] ended up scoring because the player covering Mikey did not know the slide package. I picked up little things like that from every coach and it really made me become more of a smarter player this year. Being on the sideline really made me be more of a student of the game because I was not thinking of my shot or dodge, I was actually able to watch the plays develop which gave me a very unique perspective that I have never noticed before.
 
Q: Virginia's NCAA Tournament run last year has been replayed a lot over the last month. Have you watched at all and were your reminded of moments or pivotal plays that had escaped your mind in the last year?
Quinn: I have definitely watched a few of the games from the tournament and there were so many amazing plays that went on that month. One pivotal play that really sticks out to me was from the championship game when Cade Saustad landed a monster hit on someone in the middle of the field during a really long ride by us. I felt like it really set the tone for the physicality of the game which really helped us win the game. 
 
Q: Is there anything you find by not playing last year that made you a better player, or more a student of the game?
Quinn: Yes, I was never a big fan of film but last year that was one of the few things that I could do to continue to better myself. So, I watched more film than I ever have and I felt like my lacrosse IQ got way better. 
 
Q: These past couple months, what has this experience been like for you, especially living on Long Island and so close to New York City, an epicenter for COVID-19?
Quinn: Being only 30 minutes out from the epicenter of the pandemic has definitely been stressful because of how many people I personally know who are being affected by the coronavirus. As you could imagine everything is completely shut down and they even have cops at every field making sure no one is using them. Thankfully, my mom is an amazing cook, I really don't know what I would have done without her. 
 
Q: Speaking of Long Island. Have you been able to connect with any other teammates that are regionally nearby?
Quinn: Long Island is actually very big and I live an hour or so away from all of my fellow Long Islanders, beside Ian Laviano. I have been able to see him a couple of times, but other than that I unfortunately haven't seen anyone else. I will have to make a trip out there at some point to see my other guys this summer. 
 
Q: With the season ending so abruptly, is there anything you would like to share with or about the seniors on the team?
Quinn: Of course! I have nothing but the utmost respect for every single guy in that class. They are all great guys who I will continue to keep in touch with for the rest of my life. I am going to miss all of them so much in all aspects. They are all very talented lacrosse players, great locker room guys, great roommates and I will always remember my relationships with every single one of them. All of these seniors really paved the way on and off the field for the entire team, especially for the third year class and we can't thank them enough for all they have done for us. I wish them all the best of luck and the future is so bright for all of them. U Court [University Court] will never be the same without these guys. 
 
Q: What is your routine like at this time? Walk through a normal day. 
Quinn: It is not very exciting and my schedule has changed a little bit after the semester ended and will most likely change again in June. But I wake up have breakfast and watch the news. I go on a run for however long, come home, work out and do something lacrosse related then have lunch. After Lunch I usually wait until my brothers are finished with their work days and we play basketball or videogames before dinner. We usually have family dinner around 6 p.m. and hangout for a little longer after everything is finished. My nights consist strictly of playing Xbox with some guys on the team or my brothers and watching Netflix. Nothing too out of the ordinary but hopefully this summer will bring more opportunities to spice up my routine. 
 
Q: How do you stay motivated to train on your own?
Quinn: It is easy when I know I have 45 guys on my team that are pushing themselves to come back better than they left so I use that and push myself to work harder. 
 
Q: Describe Coach Tiffany in one word?
Quinn: Competitive 
 
Q: Besides men's lacrosse, who is your favorite UVA team to watch or follow? Favorite UVA athlete from another sport and why?
Quinn: My favorite UVA team is the men's basketball team because I have played basketball competitively my whole life and it is my favorite sport to watch. My dream would be to play in an open gym with all the guys one time next year. Favorite UVA athlete from another sport, that is such a tough question because I have so many friends on different teams who are all great at what they do. I don't want to be put in that position, but I will go with someone I don't know personally. I think Jay Huff on the basketball team because he is so talented and does not get the love from the media he deserves. I think he will open up a lot of people's eyes next year as he dominates the ACC. 
 
Q: The place you miss most on Grounds and/or in Charlottesville?
Quinn: Food wise, either my guys at Riverside lunch cafe or White Spot for breakfast. If you have not had White Spot breakfast you are missing out. The place I miss the most on Grounds is probably the Lawn. 
 
Q: You come from a pretty athletic family. Who inspired or encouraged you the most athletically growing up?
Quinn: My brothers definitely inspired me the most because I always looked up to them and wanted to do what they were doing. The only way I got to play with them and their friends was if I could hold my own in whatever sport they were playing so that always encouraged me to keep practicing. 
 
Q: During this time away from Charlottesville and UVA, have you picked up anything new that you always wanted to try?
Quinn: I always wanted to be a good cook and be able to "chef" up some of my favorite meals, so I have been putting in a better effort on that. I am nowhere close to good yet. It will take time but thankfully I have all the time in the world right now.
 
Q: Have you been binge-watching anything since you have been home?
Quinn: Yes, my two recent favorites have been Outer Banks and All American if you guys haven't seen them, I definitely would recommend. 
 
Q: To close, now that you are at home and you raved about your mom's cooking, what has been your go-to meal?
Quinn: I would say either steak tidbits or chicken parm with vodka sauce. 
 
EDITOR'S NOTE: During this time of non-competition, UVA athletics will be posting frequently on VirginiaSports.com to keep you up to date with the happenings, experiences and thoughts of our student-athletes, coaches, staff and alumni. We encourage Wahoo fans to share these links on your social media accounts for others to enjoy. We also suggest you follow the University's website – news.virginia.edu – for more stories and information. #GoHoos