Sophomore Kristen Leland took on an expanded role in 2019 for the Cavaliers, becoming a key component on the back row. The defensive specialist amassed 123 digs on the year and also displayed her versatility, serving as an emergency setter. Ahead of her third year on Grounds, Leland discusses her progression, versatility and what to expect in 2020.
 
 
Q: Your second year saw a significant increase in production, nearly tripling your digs and dig per set average. What was the biggest difference for you from year one to two?
 
Leland: The biggest difference was being comfortable around my teammates on the court and earning my keep on the team. I was able to progress in serve receive which allowed me to earn a larger role on the team.
 
Q: What has been your favorite moment or memory from the first two seasons?
 
Leland: My favorite memory was my first year when we beat Tech in five. I went in cold and I served a few balls that allowed us to tie up the match and eventually win that set.
 
Q: In the fall you had a couple of moments where you got to show off some setting prowess, perhaps most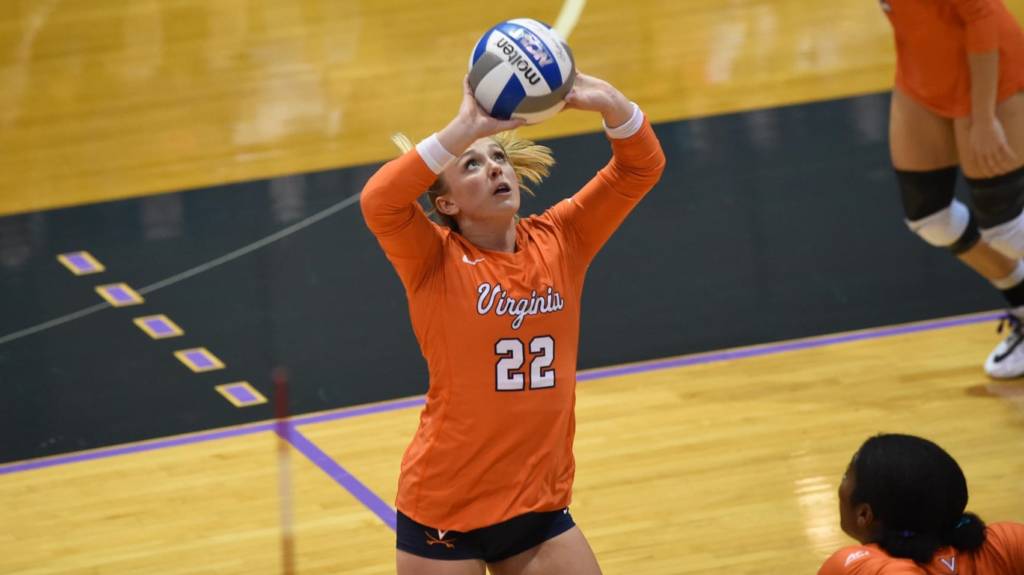 memorably in the Virginia Tech match. What was that experience like to flip your role mid-match?
 
Leland: It was not anything extremely new for me as a player. Throughout my career, I have always, at some point, been asked to flip between setting and passing because of my history as a setter. I began my volleyball journey as a setter and, after my 15-U season, I switched to defensive specialist. I ran a 5-1 in high school as the setter and sometimes would have to fill in setting during club if someone was injured or sick.
 
Q: What has the shutdown been like for you? What's been the most challenging part?
 
Leland: It has been difficult not being able to see my teammates and not being able to be in Charlottesville, but it has been nice to spend some much-needed time with my family. The most challenging thing during this time is not getting to mess with Grace Turner.
 
Q: How have you been trying to keep up with volleyball and put in individual work over the past few months?
 
Leland: I am fortunate enough to live in an area where volleyball is everywhere, so I have been playing recently in some of my old clubs with former teammates and started to pick up beach volleyball again. I have also taken the time to work on my physical fitness to prepare for the upcoming season and return to Charlottesville.
 
Q: While it is the offseason, how does missing a large part of the spring and especially the spring play dates impact things?
 
Leland: It definitely makes a big difference not having our spring play dates. There are so many skills that you just can't get from a private lesson that you need to work on during live play. As a DS, one thing that I am missing out by not having the spring play dates is reading other hitters and analyzing their body positions.
 
Q: Have you picked up or done anything new during the shutdown?
 
Leland: I recently have gotten into reading, which is crazy for me. I was never a big reader growing up because it always took me longer and it was always harder for me than others.
 
Q: As a back row, you all faced the challenge of replacing a libero when Kelsey Miller went down with an injury midseason. How difficult was that process and how do you think the team grew from the injury hardships last season?
 
Leland: I think it showed the depth of our team and the resilience that all of the girls embody. Even though Kelsey is a phenomenal player, we were able to rally together and step up into roles when our names were called and still improve on our record from last season.
 
Q: Heading into 2020, where do you think the program stands?
 
Leland: I think we have a pretty good standing going into play next year. Our upperclassmen show an immense amount of leadership and consistent play and our first years have shown great strides in their maturity and awareness on the court. We are receiving five outstanding recruits that I believe will learn our team culture very quickly and will take to the court with ease.