­­Kristine O"Brien is one of the most decorated rowers in UVA history, earning three All-America honors, winning NCAA team and individual championships, and claiming four ACC titles. O'Brien is currently an elite rower and member of the USRowing National Team. Hoos Life caught up with O'Brien to discuss the cancellation of the 2020 Tokyo Olympic Games, why she chose to attend UVA and what she gained from her experience, and the impact head coach Kevin Sauer has had on her life. 
Q: You qualified for 2020 Tokyo Olympic Games in the women's eight, but the event was moved to 2021 due to the coronavirus pandemic. How did you handle the initial disappointment of the postponement and change your focus to 2021?
O'Brien: I was in the women's eight that qualified for the 2020 Olympic Games at the 2019 World Rowing Championships, However, that does not mean the athletes that competed in 2019 will be in that specific boat for the Olympics. Before COVID-19, the team was in the beginning stages of final selection and were scheduled to train and race in Europe before the Olympic Team was named in June. As an elite athlete training for the pinnacle event of sport, you put in an immense amount of time, focus and energy into training throughout the Olympic quadrennium with one particular date in mind, the most important race of your career. So, to have that date postponed was initially a tough fact to comprehend. I had to remind myself that it wasn't about us, the athletes, but about the health of the entire world, and I absolutely agree that it was the right decision. I gave myself a few weeks to wrap my head around the situation and continued to train with the new Olympic date in my mind. I'm now using this opportunity to be an even better athlete next year. It's my goal to leave nothing on the table and to not only make the team, but win an Olympic gold medal.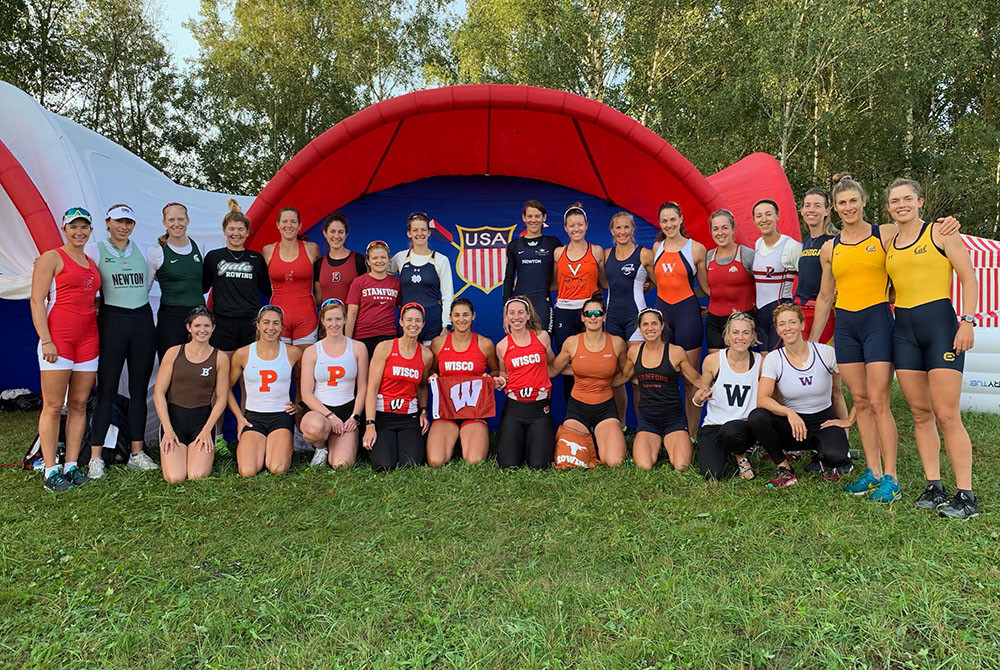 Q: How did you get involved in rowing and what other sports did you play growing up in New York?
O'Brien: I grew up playing soccer, basketball, lacrosse, track, cross-country, volleyball, and softball. I was introduced to rowing when I was 13 years old and competed at St. John the Baptist Diocesan High School. My parents heard there were college scholarships in women's rowing, so they encouraged me to pick up an oar! My initial reaction was that it wasn't a real sport. You sit down and go backwards, and I was worried I wouldn't get a good enough workout (I was very wrong). But I gave it a try and the rest is history!
Q: Why did you choose to row at Virginia and what does the school offer prospective student-athletes?
O'Brien: I will never forget my first recruiting call with Virginia. Associate Head Coach Steve Pritzker asked me if I wanted to be a big fish in a small pond or a small fish in a big pond, and I wanted the latter. I wanted to be a part of something great. I wanted to be challenged academically and athletically, and I wanted to win.
I ultimately chose to row at Virginia because of the remarkable academics, incredible rowing team and the all-star coaching and support staff. I immediately fell in love with Virginia the moment I stepped foot on Grounds. The team and coaches felt like a second family and I will forever be grateful for that. Virginia offers a special and unique experience. Of course, there's the academic and athletic excellence, but on top of that, being able to represent Virginia at the highest level of collegiate competition is an indescribable feeling. Training with your best friends every day, working to be your best self in the classroom and on the water, has really shaped me into the person I am today. Kevin (Sauer) and the coaches always emphasized the importance of team. It's pushing from the bottom, pulling from the top, that really motivated everyone, no matter their ranking on the team, to show up every practice and be 100 percent of whatever we were feeling that day.
Q: What else can you tell us about rowing for Coach Kevin Sauer?
O'Brien: Kevin Sauer has had a large impact on my life. Kevin not only cares about his athletes as rowers, but also as people. He wants to see every one of his athletes succeed at Virginia and also in life. I wouldn't be who I am today as a person, and as a rower, without Kevin Sauer. From day one, Kevin has pushed and challenged me, but most of all, he believed in me. Through the many ups and downs, Kevin has been a constant in my life. When I was cut from the 2016 Olympic Team, he was the one of the first people I called, second to my mom, of course. I said, "Mom, I have to go. I have to call Kevin." After that painful experience, I wanted to retire from rowing at the elite level, and applied for the assistant coaching position at Virginia. It was a dream for me to work with Kevin, but he made it extremely clear that if I changed my mind and wanted to train for the 2020 Olympics, he would fully support my decision.
Throughout my experience with Kevin, he has always made it clear that rowing isn't the end-all-be-all. We get to wake up every day and make boats go fast and that's really cool, but that's not all life has to offer. I catch myself from time to time obsessing over a bad practice, or not feeling right, but learned to take a step back and think about all of my blessings. I have the opportunity to wake up every day and do what I love. It's a good reminder to not let the highs get too high and the lows get too low, and remember that there's more to life than rowing.
Q: You are one of the most accomplished rowers in UVA history, earning three All-America honors, winning NCAA team and individual championships, and claiming four ACC titles. What does your UVA rowing experience mean to you?
O'Brien: When I think about the most special rowing experiences during my career, I think about my time at Virginia. The team, the coaches – it was a culture that I can't really put into words. There was such a belief in each other and ourselves, and we collectively had this fierce determination that we were going to do everything in our power to win ACCs and NCAAs. Rowing at Virginia gave me so much and it empowered me to be my best self.
Q: You were part of the 2012 Virginia national champion Varsity Eight. How special was winning that championship and what can you tell us about that boat?
O'Brien: Being a part of the winning 2012 NCAA Varsity Eight was priceless. We had won our first NCAA Championship team title in 2010, and we set our sights to win the school's first ever Varsity Eight title in 2012. I still vividly remember the first practice where Kevin put us in the lineup that would go on to win the NCAA title. The boat took off and it felt as if we were one unit flying. From that first practice, I think we all knew we were going to achieve something pretty special. We gained confidence through the regular season, and every practice gained more trust in each other and our ability. We were going to do whatever it took to get our bow across the finish line first. I will never forget our race in the Grand Final of the NCAA Championships. The whole boat had this cool confidence and took down our competitors every stroke until we crossed the finish line with open water. It was pure magic.
Q: Did you happen to see the 2012 UVA Varsity Eight won the virtual race against the 2019 Washington Varsity Eight for Fastest NCAA V8 Champion? What does that virtual title mean to you?
O'Brien: Of course I saw we won! I rallied everyone I knew from Long Island to Ireland to vote for us. Although it's hard to replace the thrill of real racing, it was amazing to win something this season! Kevin recently said in an email, "It shows the incredible support from all of the alumni, parents and team and what this program stands for." I couldn't agree more. It helped remind me that during these tough times, we will always be a part of something really special, and that is Virginia Rowing.
Q: You took a break from training to serve as an assistant coach under Kevin Sauer from 2016-17. What did you learn from that experience and will you return to coaching after you're done competing?
O'Brien: That nine months I spent coaching at Virginia completely changed my perspective on training and the sport in general. I went back to the place where I truly fell in love with rowing with the same coaching staff I trained under. It was incredibly rewarding to recruit prospective student-athletes to, hopefully, have the same experience I had at Virginia. I developed a special bond with the student-athletes I coached, and we worked really hard, but had a lot of fun doing it. My time coaching was exactly what I needed to motivate me to return to training full-time. I'm not sure what the future holds and if I will return to coaching after I am done competing, but thankfully I have another year to figure it out!
Q: In addition to your training, what else have you been doing during the pandemic?
O'Brien: I spend the majority of my time training, eating and resting, but this time has also given me the opportunity to reconnect with my family and friends. These past few months have forced me to take a moment to reflect on where I am, where I want to go, and be incredibly grateful for all the people that I'm sharing this journey with.
EDITOR'S NOTE: During this time of non-competition, UVA athletics will be posting frequently on VirginiaSports.com to keep you up to date with the happenings, experiences and thoughts of our student-athletes, coaches, staff and alumni. We encourage Wahoo fans to share these links on your social media accounts for others to enjoy. We also suggest you follow the University's website – news.virginia.edu – for more stories and information. #GoHoos