Madison Morey is an incoming freshman set to join Virginia volleyball for the 2020 season. A native of Marietta, Ga., Morey is a defensive specialist/libero who helped Walton High School to back-to-back state championships in 2018 and 2019.
Q: Why Virginia?
Morey: I chose Virginia because as soon as I got there it felt like home. Everyone welcomed me with open arms and treated me like family.
Q: How did you first find Virginia volleyball and when did you realize you wanted to be a Hoo?
Morey: I found Virginia volleyball at the Bluegrass Tournament [in Louisville, Ky.]. I knew I wanted to be a Hoo as soon as I stepped on Grounds.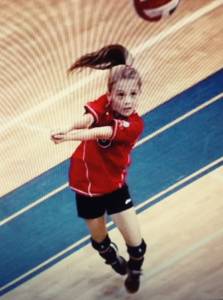 Q: What's your first memory playing volleyball? What advice would you give to yourself at that age?
Morey: I remember playing volleyball on my driveway with my parents. We always laughed and teamed up against my brother. My advice would be to have fun and practice like you play.
Q: If you didn't play volleyball, what sport would you play?
Morey: I would have done track and ran the 100-meter dash or hurdles.
Q: Favorite professional athlete?
Morey: My favorite athlete is Misty May-Treanor. I remember watching her when I was young and wanting to be her.
Q: What was the first Virginia volleyball match you attended?
Morey: It was on my official visit when they played against Clemson. It was an intense and fun game to watch.
Q: Favorite part of Mem Gym?
Morey: I love the environment of Mem Gym. I love how everyone is in tight proximity to the court and the energy that is there.
Q: Favorite place you visited on Grounds?
Morey: My favorite place is The Lawn and Rotunda.
Q: Favorite food?
Morey: Italian food and avocado toast. I LOVE buffalo pretzels too!
Q: Favorite show/movie?
Morey: My favorite show is Outer Banks on Netflix. I have a sweatshirt with John B's face on it!
Q: What's your go-to hobby or activity (outside of volleyball)?
Morey: Hanging out with friends and going on fun adventures!
Q: Any hidden talents?
Morey: I'm a dog whisper, I can pinch with my toes and I can play the ukulele.
Q: Favorite thing (place, restaurant, event, etc.) from your hometown?
Morey: The Greek restaurant, Christos, has always been my favorite place as a kid.