Kadin Shedrick will make his Virginia men's basketball debut in 2020-21 after sitting out last season as a redshirt. Hoos Life caught up with the North Carolina native to discuss his redshirt season, goals for 2020-21, passion for baseball, favorite NBA players and how he's handled time at home during the pandemic.
Q: What are your biggest takeaways and lessons you learned from your redshirt season with the Cavaliers?
Shedrick: In my redshirt season, I learned how important unity and resiliency is during times of adversity. It's hard to be successful, especially in the ACC, without some aspect of mental toughness.
Q: How difficult is it to sit out as a redshirt and participate in practice/training only?
Shedrick: It was very different to have to practice and train and not get to see the results. It was helpful having Sam (Hauser) alongside me going through the same thing though. There were definitely some good memories and not so good memories from the redshirt season.
Q: How are you preparing this offseason to be ready for the 2020-21 season?
Shedrick: I've been working out and trying to continue to gain weight to be prepared for the 2020-21 season. I am extremely excited for what this season holds.
Q: What was it like going head-to-head against Jay (Huff), Mamadi (Diakite) and Francisco (Caffaro) every day in practice and how did it make you a better player?
Shedrick: It was a great challenge. All three are very different players, so it was nice to have to play against three different styles of play. I think it got better as I was able to learn some of the things that they do just by guarding them and trying them out in my own game. It also helped me learn how to guard players that are different than me.
Q: What type of player are you and what can Virginia fans expect from you next season?
Shedrick: I consider myself a team player and Virginia fans can expect for me to do whatever the team needs me to do to make sure we get the win in the end. I don't care about my statistics as long as we have another W in the column.
Q: Who are your favorite NBA players and which players do you try and model your game after?
Shedrick: My favorite current players are Anthony Davis and Giannis Antetokounmpo. I like to watch their games to learn what they do. Their games are very different and I think I can take things from each of them as I'm built similar to them.
Q: Who are your role models and why?
Shedrick: My parents are my role models because they've showed me how to be a respectable person in the world. They've supported me throughout my athletic journey whether it was going to baseball tournaments or late night basketball practices.
Q: What are your best memories of your first year at UVA?
Shedrick: My favorite non-basketball memory from first year was probably the Virginia Tech football game. It was fun to storm the field with the guys after beating them for the first time in a while.
Q: The 2020-21 UVA men's basketball roster includes two additional North Carolina natives Trey Murphy III (Durham) and Carson McCorkle (Greensboro). How well do you know Trey and Carson, and what can you tell us about them?
Shedrick: Trey used to play for the AAU team that I used to play for in the Durham Hurricanes. He was on the older team and I didn't really know him, but I had heard that he was a very good shooter. I look forward to getting to know him better this upcoming year. I know Carson better though. He played on the Garner Road team a year down from me. He also will bring great shooting to the offense and I'm excited to see him in the Cavaliers' uniform.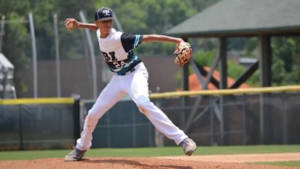 Q: You played baseball growing up, but you focused on basketball in high school. What did you like about baseball and do you miss playing?
Shedrick: I liked everything about baseball. My favorite aspect was probably hitting. I also liked playing first base a lot. I only miss it sometimes now. I realized how hot it is when I would play and I don't quite miss that weather. Sometimes I'll go to my sister's softball hitting and I'll take a few swings for fun.
Q: How have you handled this time at home and what are you doing to stay busy?
Shedrick: The time at home has definitely been nice. It has been challenging to just workout on my own, but in the last few weeks I've been able to meet up with a few friends and workout with them. I've also been hanging out with family and my friends whether it be in small groups or virtually online during video games. Class has started back up, so I have that to keep me busy as well.
EDITOR'S NOTE: During this time of non-competition, UVA athletics will be posting frequently on VirginiaSports.com to keep you up to date with the happenings, experiences and thoughts of our student-athletes, coaches, staff and alumni. We encourage Wahoo fans to share these links on your social media accounts for others to enjoy. We also suggest you follow the University's website – news.virginia.edu – for more stories and information. #GoHoos