By Jeff White (jwhite@virginia.edu)
VirginiaSports.com
CHARLOTTESVILLE –– As a fourth-year student at the University of Virginia, Carl Soderlund lived on the Lawn during the 2019-20 academic year. As a graduate student in the McIntire School of Commerce, he'll reside on the Range in 2020-21.
The list of those who've lived in both historic sites is not a lengthy one, but Soderlund's inclusion will surprise no one who's followed his UVA career. Since leaving his native Sweden, he's taken full advantage of his opportunities at the University.
Soderlund acknowledges that he expected to follow another path at UVA. He enrolled in the summer of 2016 as a heralded tennis recruit who figured he'd launch his professional career sooner rather than later.
"The plan at first, before I even came to school, was to stay one or two years and then leave," Soderlund recalled this week. "Then one year came around and I was like, 'Yeah, let's do another year.' And after two years I was like, 'Yeah, let's do another year.' I guess UVA had something to always bring me back."
He entered his fourth year at UVA intending to turn pro after the 2019-20 season, but another change of plans followed, this time because of the COVID-19 pandemic.
After concerns about the pandemic shut down college sports in mid-March, the NCAA granted an extra year of eligibility to student-athletes on teams that competed in the spring. That gave them an opportunity to end their college careers "on their own terms," as Soderlund put it, and he decided to apply to grad school at UVA.
Soderlund, who graduated in May with a bachelor's degree in economics, was accepted into the one-year M.S. in Commerce program. Ammar Alhaqbani, the Cavaliers' other senior this year, also will be back in 2020-21.
"I was bummed out the way the season ended this year and bummed for my teammate and classmate Carl," Alhaqbani said last month. "It would be nice to go out together on a better note."
That seems a realistic goal for the Wahoos, who were 11-4 overall and 2-1 in the ACC this year. A highly regarded recruiting class will join such returning players as Soderlund, Alhaqbani, Gianni Ross, Ryan Goetz, Matthew Lord and William Woodall.
"I think our team can play with anyone, as long as they work hard and they come prepared, which they will," said head coach Andres Pedroso, who's the director of tennis at UVA.
Soderlund, Alhaqbani and the fourth-years will be asked to help their new teammates "understand the culture and help them transition through this different year that we're about to experience," Pedroso said.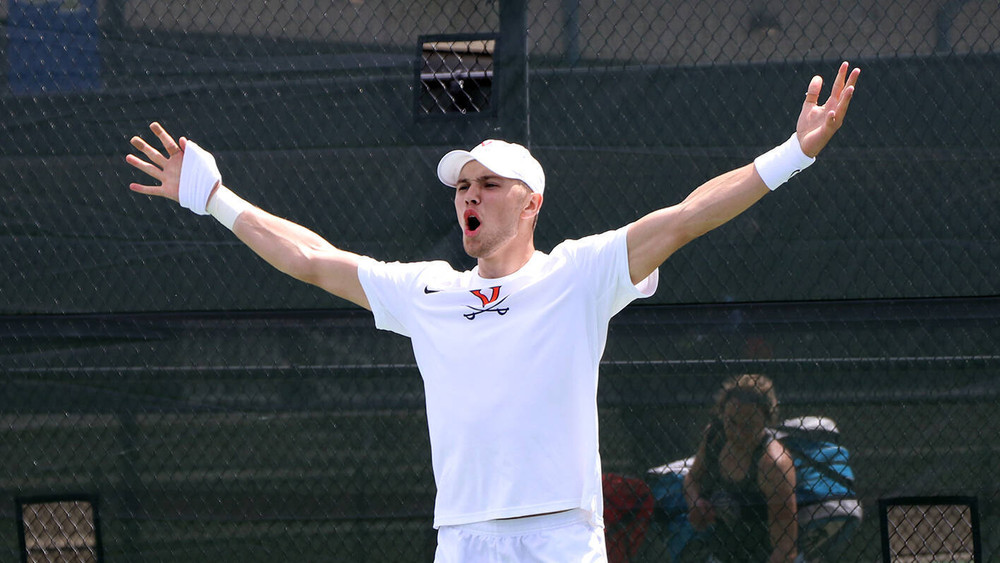 Soderlund has distinguished himself not only in the classroom at UVA, but on the court. As a freshman, playing primarily No. 3 singles, he posted a 15-3 record and helped the Wahoos capture the NCAA title. In 2017-18, the Cavaliers' first season under Pedroso, Soderlund played No. 1 singles and made the All-ACC first team.
In 2018-19, he was an ITA All-American and went 20-5 in singles.The 6-foot-2 Soderlund was 7-2 in singles this year when the season was canceled, and his return will be a tremendous boost for the program.
"If you look at great teams, regardless of sport, professionally or collegiately, they have one signature player who leads on and off the court and culturally, a leader who's an amazing captain," Pedroso said. "You look at the best teams, you look at the Michael Jordans and you look at the Tom Bradys, and that's how I see Carl on our team. That doesn't mean he's going to win every single match, but he's going to push the guys in practice. He's going to push the guys in matches. He's one of the best fighters that this program has ever had, and that just lifts the entire team up.
"Carl brings a competitive edge to the team and a level of professionalism that I think helps all the guys. And for these incoming first-years that are showing up in the fall, I think it's just a great example, and it's going to be a great influence on them, and I know Carl is going to take pride in it, because it's going to set up the program for success for years to come."
An illness sidelined Soderlund early this year and forced him to miss the Jan. 18 dual match against Louisville, which upset UVA 4-3. "He was literally in bed for about a week," Pedroso said.
Soderlund returned for Virginia's matches against Memphis and NC State but wasn't close to full strength. "At the end of the season, when we played Notre Dame and he was getting ready for Davis Cup, that was Carl Söderlund gearing up for his best," Pedroso said, "but at the beginning of the season he was not where he needed to be, just because he was playing catch-up. It was tough."
In early March, Soderlund returned home to Stockholm, where his parents and three sisters have stayed healthy during the pandemic, for Sweden's Davis Cup match with Chile. He arrived back in Charlottesville a few days before the travel restrictions went into effect.
Had he waited longer to fly back to the U.S., "then I would probably have been in Sweden all this time as well," Soderlund said. "Small things like that, they can impact your life so much, it's crazy."
UVA switched to online classes on March 19, by which time most students had gone home to finish the semester. Returning to Sweden wasn't a viable option for Soderlund, however, and he was allowed to stay in his Lawn room into May.
"It was me and four students on the Lawn," Soderlund said, "and a few more on the Range, and then obviously the people who live in the Pavilions."
He's believed to be the first men's tennis player to have lived on the Lawn. "It was one of my best experiences at UVA," Soderlund said, "but especially during the quarantine time, you don't see too many people."
Soderlund was fluent in English when he arrived at UVA, but the speed at which his professors and fellow students spoke the language posed problems for him initially.
"That was for sure a barrier,' Soderlund recalled last year, "but I guess as with everything you do, you adapt to it and you just go from there."
To say he's thrived at UVA would be an understatement. Near the end of his third year, Soderlund and women's basketball star Jocelyn Willoughby were honored as Virginia's recipients of the ACC Scholar-Athlete Awards for 2018-19.
This year, Soderlund was one of three student-athletes from UVA, along with Jordan Mack (football) and Zoe Morse (women's soccer), awarded Weaver-James-Corrigan postgraduate scholarships by the ACC. Recipients will receive $6,000 each toward their graduate educations.
Soderlund may not have known exactly what to expect when he enrolled at UVA, but to his delight he found college life agreed with him. He's relished his time on Grounds.
"Tennis-wise, I've obviously had the time to learn more about my game and mature more off the court, which has helped me on the court," Soderlund said. "If you see me play, you know I take tennis very seriously, but I guess I don't take it [treat it] as life or death, as I would have done before I came here.
"Outside of tennis, college helps you to learn more about yourself, know more about what you want to do with your life. And then being involved with a community that cares for you and that supports you, it's been great."
He laughed. "I guess that's what's kept me from leaving all these times when I've been thinking about it."
In June, after learning he'd been accepted into the M.S. in Commerce program, Soderlund began exploring housing options for 2020-21. "I was thinking maybe it would be more fun to live in a house or apartment with people that I know," he said. "But then I saw that the Range applications were delayed a little bit. So I applied for it, not knowing if I would do it or not. When I got in, I said, 'I might as well live on the Range.' "