The 2020 ACC indoor long jump champion Jada Seaman looks back at the success of her first collegiate season and shares what she has been doing during the quarantine.
Q: How have you and your family been during this time? Where have you been staying during the quarantine?
Seaman: My family and I have been staying in Maryland. My parents still have to work through quarantine, but we've also been keeping ourselves busy with movie nights, gardening and mini cookouts.
Q: What have you been doing to stay busy during this time?
 Seaman: Two words: TikTok.
Q: You had a strong season, winning the ACC title in the long jump and setting a UVA record in the long jump and 200m dash. What was it like to have that level of success as a first-year?
Seaman: I'm really proud of myself because I came into college not knowing exactly where I'd stand in comparison to everyone else. I was intimidated at first but as the season progressed, I grew more confident and I realized that I fit right in with my competition. I did exactly what I set out to do for my first year and set the tone for the future.
Q: You had the sixth-best long jump mark by an individual in the NCAA this season. How did it feel to clear 21 feet (6.46m; 21'2.5") at ACCs?
Seaman: To be honest, I'm not great at gauging the length of my jumps, so when I landed, I thought it was going to be like any other jump. Then, I heard the reaction from the group of people standing around the pit and realized that I PR'd, and it felt amazing. I have jumped 21 feet in high school, but it wasn't wind legal, so to be able to jump that far indoors was a huge milestone for me.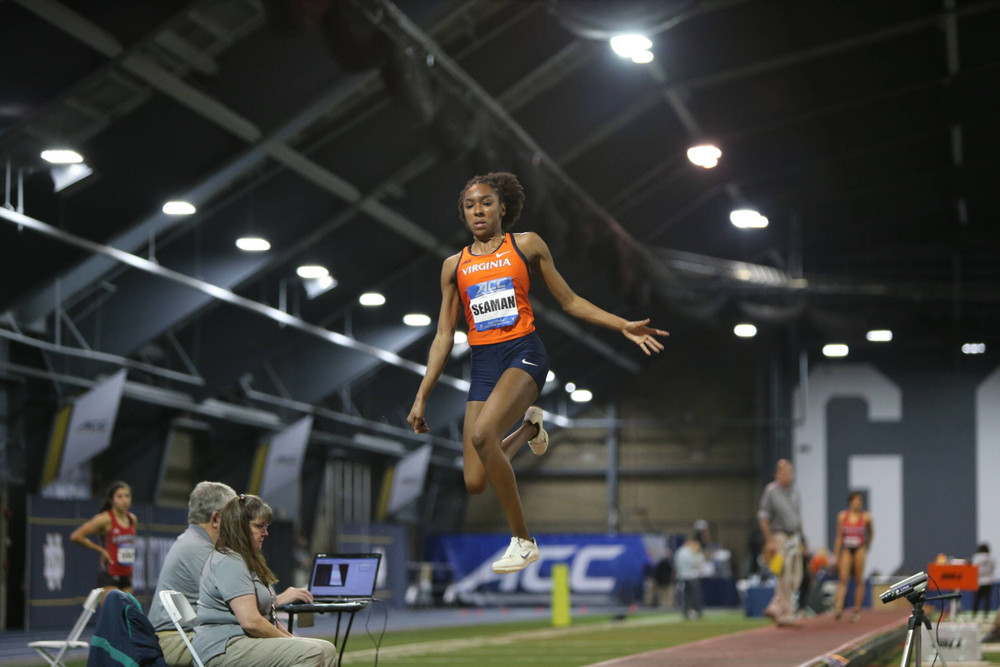 Q: You compete in both the sprints and the jumps. Do you think that has contributed to your success? What is it like to balance the two events at competitions?
Seaman: Definitely! My success on the runway all comes from the sprinting and speed work that I do. My speed is what gives me the power of my jumps, and for what I may lack in finesse, my speed helps make up for that. Having to juggle sprinting and jumping in meets isn't a new thing for me since I've been doing it for the majority of my track career. My coaches have always told me to get my big jump early so that I can save energy for my races. Sometimes that goes as planned, sometimes it doesn't, but that is always my goal when it comes to balancing the two.
Q: Looking back, you were in Albuquerque, New Mexico, preparing for the start of the NCAA Indoor Track and Field Championships when the NCAA announced the cancellation of winter and spring championships. What was it like to be at NCAAs and hear that the meet had been cancelled and that there would not be a spring season?
Seaman: In the moment, I was really disappointed because it felt as though all of my hard work leading up to NCAAs was for nothing. However, to say that would mean disregarding everything else I had accomplished in just a few months. I exceeded my own expectations this season and being able to even qualify for NCAAs is a huge success in itself, especially as a first-year. I definitely wish I had the opportunity to compete during the spring, but now I have more time to better myself and improve for next year.
Q: Building off of this year, what goals are you looking to accomplish during your second year?
Seaman: My main goal is to get stronger because strength is what's needed to improve my speed on the track and on the runway. A lot of what I've accomplished so far is because of the speed I have naturally, but I want to build off of that and put in more effort in the weight room and during workouts.
Q: You did a lot of community service in high school, working with the Special Olympics and your local animal shelter. How did you get involved in these service opportunities and what made you want to serve?
Seaman: With the Special Olympics, it was track season for them, so it was the perfect time for me to help out and be able to share my track knowledge with others. The energy was really great, everyone was eager to learn, and that made volunteering even more fun. With the animal shelter, I really love dogs and cats, so volunteering there was a no brainer since I got the chance to spend all day with them.
Q: Did you volunteer for anything while at UVA and if so, what were you been involved in?
Seaman: I'm a part of BOSS (Black Student-Athletes Offering Service and Support), and while the first few meetings have been more focused on getting to know each other, I'm looking forward to seeing what we do in the future.
Q: What was your favorite moment from the 2019-20 season?
Seaman: My favorite moment was sharing the ACC podium with Khyasia Caldwell. During our jumps, we supported and encouraged each other, and I definitely feel like our energy played into us being able to succeed. This moment meant a lot, especially since we both qualified for NCAAs.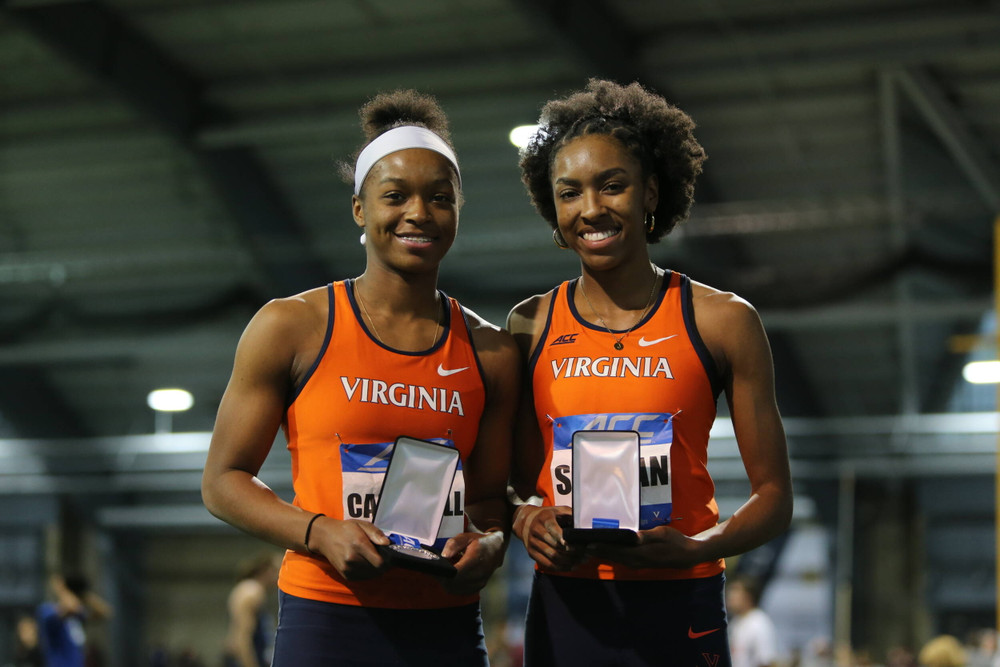 Q: What advice do you have for the incoming class?
Seaman: Don't just speak your goals, actually write them down and keep referring back to them throughout the season. Once you have a physical representation of what you set out to do, it becomes clearer what you need to do to get there. Hold yourself accountable and never lose sight of those goals that you wrote down.