Hoos Life: Alum Scott Hooper Talks Winning A Championship From the MLL Bubble
UVA alums Scott Hooper and Mark Cockerton (right)
Scott Hooper, a Wakefield, R.I., native was a 2018 Virginia graduate and a former USILA All-American and USILA Scholar All-American. He was drafted 28th overall in the 2018 MLL Draft by the Charlotte Hounds and currently is in his second season with the Boston Cannons. Hooper lives in Nashville and works as an analyst at Brown Brothers Harriman and is coming off a Major League Lacrosse championship this past Sunday during a 10-day season at Navy-Marine Corps Stadium in Annapolis. It was just the Cannons' second MLL championship in the 20 seasons of the league.
Q: Congratulations on taking home the MLL Championship crown over the weekend. What was the feeling like being on the field and watching the clock countdown to zeros?
Hooper: It was amazing, it was a dream come true and a bright moment in a crazy year filled with uncertainty. Denver was undefeated this season until we beat them on Friday. Having the chance to get back-to-back wins against the No. 1 seed in Denver was really special, especially since they knocked us out of playoffs last year. We knew it was going to be a gritty game and so we just tried to stick to the fundamentals and sell out on every single play. I'm happy it paid off!
Q: At what point did you say to yourself during the championship game … "this is going to happen?"
Hooper: I never truly say "this is going to happen" until the clock hits zero. The professional lacrosse game is unique in that there is a two-point line, so we are up by three goals with a minute and a half to play and Denver has the ball in our end after they call a timeout. I knew it was going to be a fight until the end, they could get a two-pointer or "two-bomb" and win the faceoff and come down 4 vs. 3 and score to tie it. We were fortunate that Denver mis-communicated and we were able to get the ball with about a minute left and run out the clock. Once we got the ball in the offensive end with less than a minute, I was able to relax a bit, but it's never over until it's over!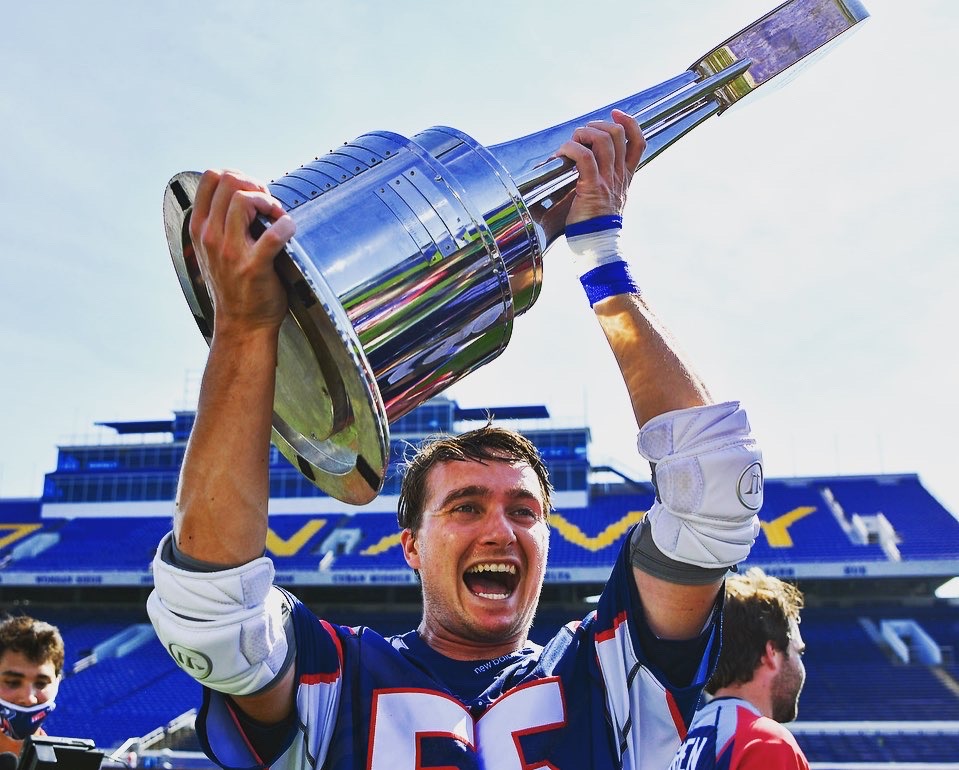 Q: You helped bring the Cannons only their second MLL title and first since 2011. What sense of pride to you have knowing you were part of something special for the franchise?
Hooper: It was awesome being a part of this championship team. In general, it was great to get back with a group of guys who were all bought in to win a championship. Being from Rhode Island, I grew up watching the Boston Cannons, so to be a small cog in the machine that helped to bring the trophy back to Boston was truly amazing. The Cannons are a first-class organization, from our ownership to the staff and the way they treat the players is incredible and I know the guys are very appreciative of the opportunity to play and win for such a great organization.
Q: This was the 20th season of the Major League Lacrosse League and you were in their bubble in Annapolis, Md. Can you walk us through what the process has been like logistically, starting with before you arrived?
Hooper: Going into this season there were a lot of questions about how everything would play out and what the 2020 MLL season would look like. Given the inhibiting factors of COVID-19, the league decided to bring all teams to one location, Annapolis, Md., to have a 10-day tournament. Prior to arriving, we had to provide the league evidence of a negative COVID-19 test as well as getting cleared by team physicians and medical staff. The league was great about providing all protocols required by players and staff and sent each player a 'safety care package' including a team-issued mask, hand sanitizer and gloves to wear during travel to Annapolis and throughout our stay. Upon arrival, we had our temperature checked and are required to wear masks at all times. There were hand sanitizer stations all around the hotel and field. All meals were individually prepared, so no buffet-style meals and we were not allowed to leave the hotel besides to travel on league issued vans to the field. Additionally, we get our temperatures checked before every game. It is a lot but it's much better to be safe in these uncertain times and the league did a great job providing all necessary safety precautions throughout our stay.
Q: How was playing in an empty stadium? And being just at one site for the entire season? Was it surreal just to be playing lacrosse again?
Hooper: It definitely was strange to be playing in a completely empty stadium, especially one as large as Navy's football stadium. It brought me back to my high school recruiting days where you were playing 10 games in a week at one centralized location, except now you're playing against the best players in the world. It is just awesome to be back playing the game of lacrosse. In a world of uncertainty, being able to get back on the field has brought a sense of normalcy and a chance to distract myself from the crazy past couple of months.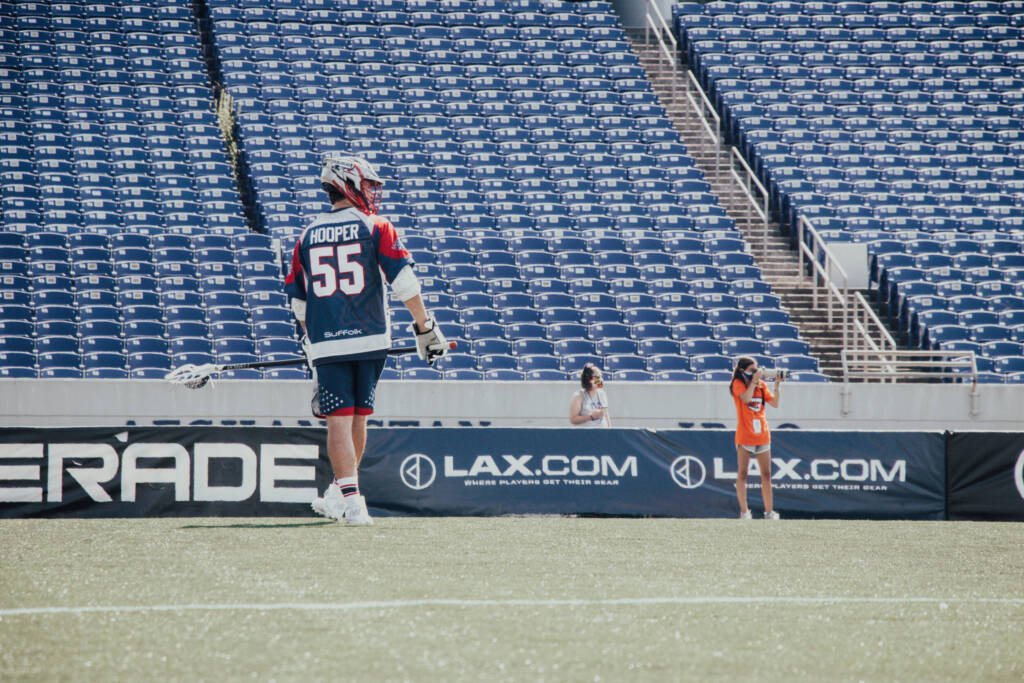 Q: When you were not playing a game, can you walk us through a day in the MLL bubble? What did down time look like?
Hooper: The league did a great job catering to players who have regular jobs outside of playing professional lacrosse. With game times in the evening it allows guys to be able to put in a regular day's work before heading to the field to play a game. We do have some meetings throughout the day to go over scouting reports for that night's game and to get treatments to stay healthy throughout the ten days. For some guys, it is a chance to relax during the day and catch up on some TV shows!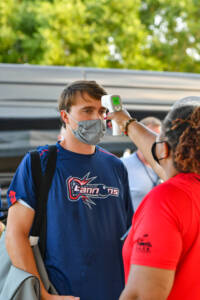 Q: What has the UVA brotherhood been like in the MLL since you have been playing professional lacrosse? When you face another Cavalier, whether you were teammates with them or not, do you try to connect at all?
Hooper: One of my favorite aspects of being a UVA alum is that the Hoos always stick together. The brotherhood runs deep and it doesn't matter if you didn't overlap at UVA or were in different classes, it's always a great time to get together and have a chance to play with or against each other. It is a great way to catch up with each other and stay connected.
Q: You are teammates with another former UVA All-American, Mark Cockerton. While you did not play at UVA at the same time, what has it been like being teammates with him?
Hooper: Having arrived at UVA the year after Mark left, I had always heard stories of how great of a lacrosse player he was. To be able to suit up with him for the Cannons, I quickly understood where those stories came from. He is one of the captains for the Cannons and one of our offensive standouts. Off the field, it is great to be able to connect with him and reminisce about the good old days at UVA.
Q: You left Virginia as a USILA All-American, a USILA Scholar All-American and team captain. Can you tell us a little about your career outside of the MLL? You graduated and moved to work in NYC.
Hooper: I was fortunate to be able to play with the best players in collegiate lacrosse and be coached by the best coaches out there during my time at UVA. Being able to play against those guys every day in practice allowed me to push myself beyond what I thought possible, both on and off the field. I tried to take that same mentality into the 'real world' after graduation. I was fortunate to get a job at Brown Brothers Harriman, a private bank and multi-family office in New York City. After working in New York for a little while, an opportunity came up in our Nashville office that I could not pass up. I have been with Brown Brothers in Nashville for the past year and a half and have been loving every second of it.
Q: Who do you keep in contact the most from your UVA days? Has the recent pandemic created any Zoom calls with former teammates?
Hooper: I do my best to keep in contact with guys from all classes that I overlapped with during my time at UVA. I am obviously very close with guys from my class and the class above me and we keep in regular contact. I also really enjoy catching up with guys who recently graduated or are still in school and hearing how everything is going and what the season might look like with COVID. My fingers are still crossed for an alumni game this year, which is always one of the best weekends of the year. Being able to catch up with all the alums coming back as well as the current players and coaches is always something special and a weekend I look forward to.
Q: What do you miss most about Charlottesville?
Hooper: I miss the team. I miss walking into the locker room every day and being a part of something so much greater than myself. Being able to work with 45 of your best friends to achieve a shared goal is something that is almost impossible to recreate after college. I jokingly tell my friends and old teammates that I should have done a redshirt year … anything to get some more time in Charlottesville.
Q: Where is your favorite place on Grounds?
Hooper: My favorite place on Grounds was the practice field. Having spent almost three hours there every single day, it basically became my second home. It was where we were all together and able to battle it out every day against each other. It was incredible how our time on the practice field would not only turn us into better lacrosse players and teammates but also into the best of friends, which is what we are able to carry with us beyond our time at UVA.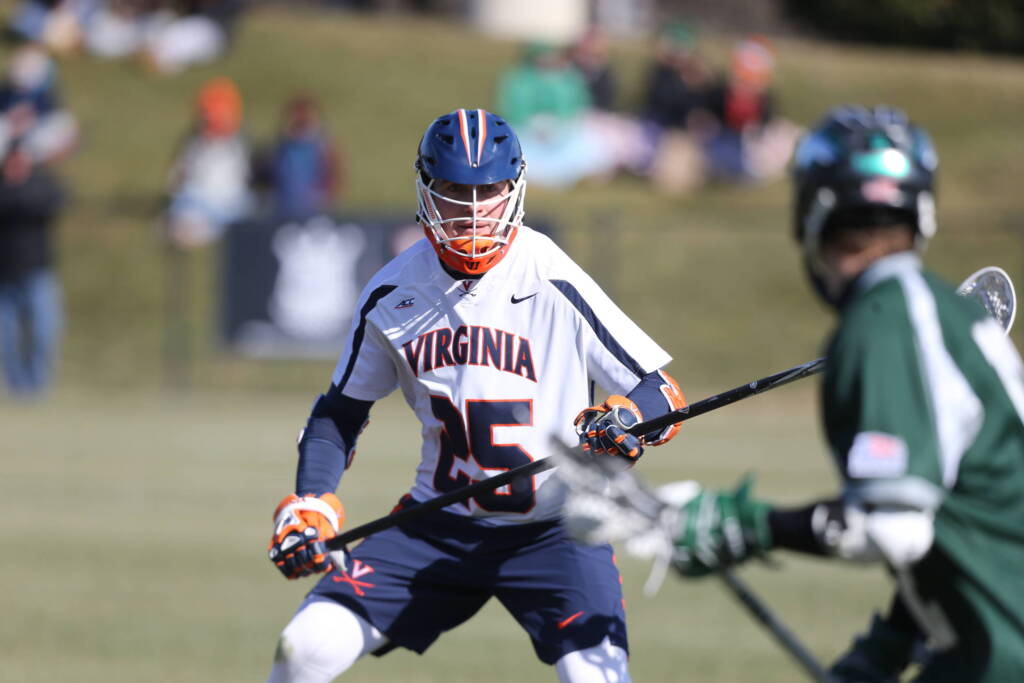 Q: How did your UVA experience best prepare you for your adult life?
Hooper: Playing lacrosse at an incredible school like UVA taught me how to manage my time and how to be efficient with the little time that I had. Spending almost six hours every single day dedicated to lacrosse related activities, from meetings, film, practice, lifts, treatments, I had to be efficient with my time outside of UHall. I remember Dom Starsia gave me great advice during my first-year fall when he simply told me to get up for breakfast every day. I can honestly say that it made an incredible difference in how I was able to manage my time throughout the day. It allowed me to get up at a reasonable hour, plan my day, get to classes, study during free time in the mornings and created a less stressful environment when I got home from practice that night. Instead of having to work for three hours after practice, I had already done two hours of that work in the morning and throughout the day and could spend the evenings hanging with the guys.
Q: Have you been binge-watching any shows or movies, if so – what has been your favorite?
Hooper: I have not been binge-watching too many shows, but am open to options! I really enjoyed the (Michael) Jordan documentary (ESPN) and have been casually watching Billions on Showtime. I have been trying to improve my golf game in my spare time, which needs as much help as possible!
Q: What advice do you have for any young lacrosse player trying to make it to college, or in college trying to make it into professional lacrosse?
Hooper: I like to call lacrosse a 'thinking man's/woman's game'. One of the best ways to get on the field early in your career is to prove that you can think through the progressions of the game, anticipate offensive schemes, and master defensive slide packages. Everyone is great athletes so if you can prove to your coach that you understand the game plan then they will feel more comfortable putting you into any situation.
EDITOR'S NOTE: During this time of non-competition, UVA athletics will be posting frequently on VirginiaSports.com to keep you up to date with the happenings, experiences and thoughts of our student-athletes, coaches, staff and alumni. We encourage Wahoo fans to share these links on your social media accounts for others to enjoy. We also suggest you follow the University's website – news.virginia.edu – for more stories and information. #GoHoos