Veronica Latsko, a 2018 Virginia graduate and alum of the Virginia women's soccer program, is in her third season in the National Women's Soccer League (NWSL) and the Houston Dash. She helped the Dash claim the NWSL Challenge Cup title last weekend as the franchise won its first league title and was the first league to play a season and crown a champion this year since the COVID-19 pandemic hit. Hoos Life caught up with the All-ACC performer to talk about her career at UVA and her experience in the Challenge Cup.
Q: You really took off in your last two seasons at Virginia, earning All-ACC honors and leading the team offensively. Can you talk about that growth and how it helped prepare you for the jump to the NWSL?
LATSKO:  When I came into UVA, I was a year post-op for an ACL injury. My soccer skills weren't developed into a "soccer player" as Steve (Swanson) would say. I was an athlete but not a soccer player. In my four years he really helped develop me into a soccer player technically and tactically. It was night and day from my first year to my fourth year with what he helped me achieve. I don't think I could have had half the growth without him and the time investment he put in to developing me.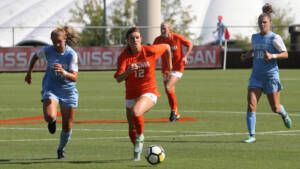 Q: What was it about your experience with the Virginia program that made you know you were ready and that you could make the jump to a professional league?
LATSKO:  When I came into the program, I knew if I invested my time, energy and effort into soccer and developing skills that I would get better. You could see it in the older players and how they had put in the work and it paid off for them. Brittany Ratcliffe (who currently plays professionally for the NWSL's Utah Royals) turned into a totally different player from her first year to her fourth year. I could say that about a lot of players. If you're willing to put in the time and work, there are a lot of people in this program who will help you reach the dreams you want to.
Q: What would you say Is the best piece of life advice you have received and how have you been able to apply that in your approach to soccer?
LATSKO:  I've learned a lot in life, especially in the last year with a second ACL injury. Honestly, it's that you have to take everything day-by-day. The small wins are what help you get through the toughest times. I wouldn't have been able to get through the second ACL injury if my focus was coming back and having to win an NWSL Championship. It was focusing on being able to lift my leg 50 times today. That was my small win and how I was going to stay on the path to getting healthy and getting better. A lot of times people overlook the small wins in each day and they can be the most important ones.
Q: Heading into the summer of 2020 once the COVID pandemic hit, were you thinking that you would get an opportunity to play in an event like the Challenge Cup or have an NWSL season? What were your thoughts at the time?
LATSKO:  I think everyone thought our season would happen. I don't think anyone predicted a tournament setting. I think we might have all been a bit skeptical about a month-long season when we were used to an eight month season. Once the announcement was made, we were like "this can work". We all wanted to play because we had worked so hard to get here. We didn't want 2020 to be a wash. We wanted it to be the best thing it could be. The combination of the leadership of our commissioner, the NWSL Players Association and the buy-in from players helped make it something huge.
Q: What was it like for you when the team arrived in Utah to get started for the Challenge Cup and you all had to go into the bubble?
LATSKO:  We were in a bubble in Houston already as COVID cases were on the rise and it was getting bad. Once we got to Utah, we were on lockdown. We weren't really allowed to go outside and leave the hotel vicinity. It was hard and challenging mentally because all you had was soccer. If you had a bad game or good game, all you dwelled on was soccer and you couldn't get away from it. It was about finding a way to balance your life in a bubble where soccer was your life 24/7. Everyone had to find a way to decompress in a short amount of time in a situation like that.
Q: What were some things you did to decompress and were there any specific teammates that helped you find that balance and make that transition sustainable?
LATSKO:  I was fortunate because we have a very close-knit team this year. All of us tried to find ways to help. Sometimes the best way was to just go off on your own and find something to take your mind off soccer for even half an hour. If we weren't doing team-bonding, I would go out for walks. Our hotel was in the middle of nowhere and so the property had some walking trails. I would just put in my headphones and turn on a podcast and go out walking and focus in on my podcasts.
Q: What was it like for you stepping out on the pitch for that first game to get everything started?
LATSKO:  It was surreal. I was so happy to be back on the field and back with the Dash and playing with teammates I felt like I hadn't competed with in forever. The weather was perfect and none of us felt the effects of the altitude. We felt ready and it was the perfect scenario. When we went up 3-1, it was so exciting. Then it was disappointing (Utah) got two goals back at the end of the match. While we were on the pitch, though, we were so exciting and loving every minute of it.
Q: People have probably found it difficult playing without any spectators and in an empty stadium. This wasn't the first time for you to do that this year as you played in the Championship game in Australia for Sydney FC in the W-League title game at the end of March. Did that help you in Utah?
LATSKO: I think playing without fans in Australia in that last game helped. I think it also helped that we had some intra-squad scrimmages at BBVA Stadium in Houston before we left. That stadium is huge and when there are no fans in the stands it echoes and you hear everything. It was much larger than where we played in Utah our first couple games. Our coaches did well to prepare us mentally and physically for that aspect of things.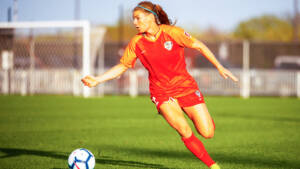 Q: Was there a game or moment in the tournament where you thought to yourself or looked at a teammate and said "we can win this thing?"
LATSKO:  It was the quarterfinal game. When we went to penalty kicks, my roommate (Haley Hanson) and I were standing at the midline and looked at each other and she said "We're going to win this thing." I looked at her and said "I think you're right. We're going to win this whole thing."
Q: How did it feel knowing you would be on CBS for that final and that it wound up having more than 650,000 viewers at the culmination of the tournament?
LATSKO: In the moment you aren't thinking about how it's being broadcast or how many people are watching it. You're just focusing on playing that match and winning a championship. I don't think anyone lifted the trophy thinking "This must look so cool on CBS!" After we got off the field and saw how powerful the impact CBS had on viewership had been is when it hit. After we found that out, it was so exciting. CBS was so great and supportive in their production. I had so many friends who subscribed to see the matches and that support was great. It's a credit to CBS for showcasing us and helping us make us so popular and letting people see that we are a fun league to watch and it's exciting.
Q: Are you still floating on that high of the championship now that you've returned to Houston?
LATSKO:  I think we're all still on a high. I still wear my medal unless I'm working out. I am so proud of it. I wear it to the grocery store, the doctor's office, to get coffee or smoothies. It's nice to prove we're winners. Never before did I really get recognized as a Dash player out in public. It might have happened once or twice. Now people are stopping us in grocery stores and out. I remember one moment we were putting out groceries away and a family in a minivan stopped to congratulate us and were so excited. It's been amazing. Houston has really embraced us. We did it for Houston. The city was really hurting with COVID and needed a win. It wasn't just our team that needed a win, but the city of Houston needed one. People are still buzzing and it was pretty big.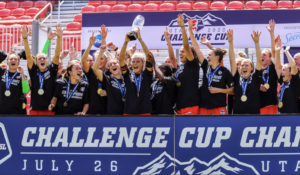 Q: What are your hopes for what the Challenge Cup and exposure can do for the NWSL and women's soccer moving forward?
LATSKO:  I hope we can be part of the national showcase. I hope cities that don't have an NWSL team are fighting to get one or everyone is able to watch and recognize players from the league. You see instances with the NFL or MLB, which have significantly more players, but everyone recognizes them walking down the street. I hope people say "There's nothing on TV today, but the NWSL is on so let's make a plan to watch it." Having us in people's mind on a regular basis is something very realistic – especially after this tournament. People want to watch sports and we showed we are fun people to watch and cheer for.
Q: The Orlando franchise didn't get to participate due to a COVID outrbreak but shifted their social media focus into a "stan account" for the tournament and took votes on who they would cheer for each match. Were you guys aware of that and "the curse" as almost every team they took on as their team to support seemed to lose that match? Did any of you talk about it?
LATSKO:  I'm not one to really believe in things like "the stan curse", but I think it's great they embraced the role of being the curse. It would have been easy to decide it wasn't working the way we thought and just quit after the first few games. Instead they kept on and made it their thing. I don't think any of us really talked about it in terms of picking us. We all realized its soccer and anything can happen. I am sure it was fun for fans.
Q: With the Virginia presence in the NWSL (12 players this season), what was it like knowing every time you step out on the pitch you were likely to face a former teammate from Virginia or another Cavalier women's soccer alum?
LATSKO:  I think it's fun to know you've played with and against someone. But at the same time, they aren't the same player. I'm a very different player than I was in college and everyone grows and develops in their own way after college. You don't really notice it on the field necessarily, but afterwards when you're hugging it hits you and it's funny to look at. I know at the end I realized there was a point in the championship match where I had to go one-on-one against Zoe Morse (a 2020 UVA grad who plays for Chicago). It's amazing and cool how everyone's paths crossed at some point.
Q: Is there any advice or wisdom you would impart to your younger self if you could?
LATSKO:  I've always felt this way, but really it's that everything happens for a reason. You get drafted or don't for a reason. You tear your ACL or stay healthy for years for a reason. We may not know what it is until the end of all of it, but I know that I tore my ACL for a second time and it was to prove that I could come back from it again and find a different path in the way that soccer has brought me here. It's to meet the people I met through that path. We don't know how things will all unfold, but I believe it all does for a reason.
Q: Are there any parting words you'd like to share with Virginia fans and UVA women's soccer fans?
LATSKO:  I'm forever a Wahoo. I always say "Go Hoos" and "Go Dash" at the same time because Virginia is in the blood. It's always funny when I'm with teammates from other schools – especially some that we have bigger rivalries with. I hope that everyone is always rooting for the Hoos and the Dash when they see us on the field. But I hope they are rooting for any Hoos on the field with another NWSL team because we all miss our Virginia fans so much.