In 2017, George DiCamillo capped his career as part of the Virginia wrestling program by earning All-America honors on a run to the finals at the NCAA Championships. With that run at 141 pounds, he became the third NCAA finalist in program history to cap off a career that saw him claim three ACC Championships and earn ACC Wrestler of the Year honors as a senior. In this edition of Hoos Life, DiCamillo reflects on his choice to attend Virginia, his career and how it all prepared him for his career after graduation.
Q: Looking back to starting your collegiate wrestling career, what was it that drew you to the University of Virginia and what made you decide that UVA was the place for you?
DICAMILLO: What drew me to the University of Virginia were the coaches, the academic opportunities and the team. Coach Garland and his staff made Charlottesville feel like home, despite being seven hours away from my hometown of Cleveland, Ohio. They showed interest in me not only as an athlete, but as a person as well. I trusted that they were the type of leaders that would develop me into a well-rounded wrestler and leader in every aspect of my life.
I also knew some of the guys on the team before visiting. For example, Nick Sulzer and Gus Sako were from Cleveland as well and I grew up watching those two have success that translated to the college-level. I got to know those two very well on my visit and formed friendships that last to this day. The comradery on the team was a big draw to choosing UVA and looking back, the friendships I built over throughout my time in Charlottesville are some of my most cherished memories.
Q: You turned in a stellar freshman campaign, setting a program record for wins by a freshman and claiming the ACC Championship at 133 pounds. Can you talk about that experience and were you expecting to have that kind of an immediate impact?
DICAMILLO:  When Coach Garland recruited me, the plan was 100 percent to redshirt my first year. It is extremely common in collegiate wrestling to redshirt your first season in order to develop and prepare for the grind of the next level. But the first lesson I learned in college (wrestling aside) was that sometimes plans change and I had to be willing to adapt. I planned to be a career 125-pounder and redshirt behind Matt Snyder. This quickly changed in the fall of my first year when I was no longer able to make the weight. So I moved up a weight class, where Joe Spisak was the starter. The plan was still to redshirt behind him and develop my skills. Two matches into the season, Joe decided to move up a weight class as well, leaving a hole in the lineup that I was next in line to fill. So my redshirt was pulled and instantly I was in the starting lineup.
The coolest part of wrestling my first year was being on the team with so many upperclassmen. I had the chance to wrestle alongside guys like Derek Valenti, Matt Snyder, Mike Salopek, Jedd Moore and Matt Nelson. If I had redshirted, I would never have had the chance to be in the lineup with any of these guys. Going on trips with them and experiencing the grind of the season with them made me a much better wrestler physically and mentally. With all this said, I can't say going in I expected to have any success. But as the season went on and with the help of all the upperclassmen and the coaches, I believed in myself much more than I did when I first entered the lineup.
I like to think the 33 wins as a freshman was a nice accomplishment. It is a little bit inflated since I wrestled 10 matches as a redshirt before the starters had any matches. But I still count it as breaking a record.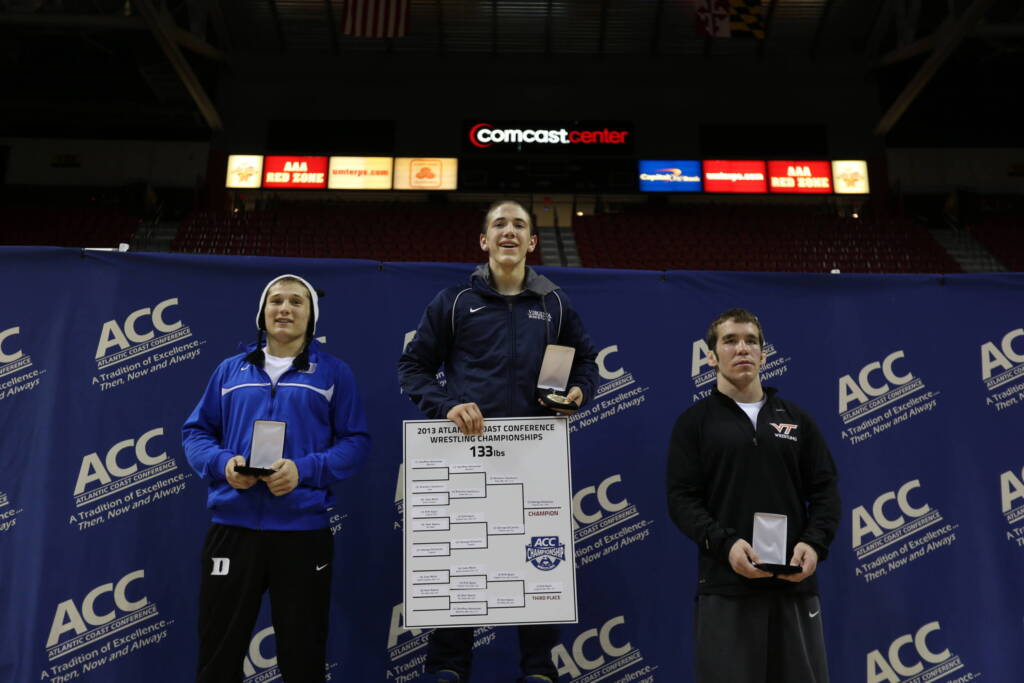 Q: Your second year, you took a redshirt season, which can be common in the sport. Was that something you had planned and how did that fit in with your development as a wrestler? What sort of things did you do to stay engaged with the team and ready to return to the lineup the next season?
DICAMILLO:  My second-year redshirt season wasn't the typical redshirt experience. I had reconstructive hip surgery that sidelined me for the entire season. Dr. Michael Millis at Boston Children's Hospital did a fantastic job with the surgery, but the inevitable recovery time made it difficult to develop much physically. I did, however, make mental gains during that season that gave me great perspective on the blessings I had to compete at such a high level for so long relatively unscathed. The window college athletes have to compete at their sport is so small and can be taken away at an instant with injury. This time off gave me a grateful heart that allowed me to wrestle with much more confidence once I returned to the mat.
As far as staying engaged with the team, I tried to support the starters as much as I could while on crutches. Derek Papagianopoulos , Billy Coggins, and Nick Herrmann were my roommates at the time and they made the redshirting experience much more tolerable. They also made recovering from injury much easier by taking my mind off of the pain. We had a pretty intense prank war throughout the year (Herrmann and I won) that made the dull experience of redshirting and being injured much more fun.
Q: You came close to All-America honors in your first three NCAA Championships. How did that motivate you each successive season and did you feel any added pressure knowing one of your goals was so close?
DICAMILLO: Each successive season brought its own successes and shortcomings, but for me the goal was always to win an NCAA Championship. So when I didn't reach that goal, I knew that I had to improve areas of my wrestling. One of my favorite aspects of wrestling is how there is always something to improve on. It is a very humbling sport that exposes many weaknesses on a daily basis between training and competition. Learning to adapt and having a growth mindset of always improving is a huge lesson I took from the sport that I use every day.
As far as added pressure, I wouldn't say that I necessarily felt it. Coach Garland helped me put wrestling into perspective shortly after arriving on Grounds my first year. In the grand scheme of things, wrestling is just what I did and not who I was. So for me, there never really was any pressure.
Q: Is there a particular match prior to your final season that stands out to you the most and why?
DICAMILLO:  Yes, but not a match of mine. I remember the gutting feeling of falling short in the Round of 12 for the third year in a row when I wrestled at 133 pounds. I remember sitting in the stands at Madison Square Garden and watching two guys compete in the 141-pound finals that I had beaten before. I had cut so much weight to make 133 that season. At that moment, I strongly considered going up to 141 pounds the following season. I knew deep down that my wrestling was being hindered by the weight cut, but the fear of moving up hindered me from making the decision.
Q: Your senior season you jumped up a weight class to 141 pounds and so many things fell into place for you that year. Can you talk about that transition and that season as a whole?
DICAMILLO: The transition was seamless for me, although it did take me a while to make the decision. But once I made the decision, I started to wrestle with much more freedom. My legs were fresher, I had more pop in my offense, and I was competing much closer to the weight I trained at. This allowed me to compete with a much freer mindset. It also allowed me to grow my wrestling as opposed to years past where all I thought about was cutting weight.
The season as a whole was the most fun season of wrestling I have ever been a part of. And I am not just saying that because of my accomplishments. I had so much fun on road trips, made so many gains in my training, and really had time to pour into the future generation of UVA wrestlers. My roommates and I had a blast with each other the entire year, and I got the chance to mentor guys like Jay Aiello and Jack Mueller. I'd like to think it was the least I could do to help the future of the program when I left Charlottesville.
Q: At the 2017 NCAA Championships you finally broke through to earn All-America honors and continued to the finals. What was it like when you won that match to secure a spot on the podium and All-America honors and did it change the way you approached the rest of the tournament?
DICAMILLO: Breaking through in the quarterfinals my senior year and securing All-American status was a huge weight off my back. And to some extent, it allowed me to wrestle freer in the semifinals. But the goal was always to win an NCAA Championship and not just place. With that said, my approach throughout the tournament stayed consistent throughout the weekend.
The week before NCAAs each year, we simulate the tournament by warming up, wrestling, and cooling down at the exact times we would compete at the actual event. This allowed me to think through my approach as mimicked the experience, which helped me think clearly when emotions were high in St. Louis.
Q: What is the dynamic of competing in a sport like wrestling where it is a team sport, but so much of your competition is on an individual basis that adds to the team score? How did you balance the demands of individual performance and goals with those of the larger team goals?
DICAMILLO: The dynamic of competing in an individual sport with a team component gave me the best of both worlds. From the standpoint of being an individual sport, wrestling taught me accountability. When you make a mistake in this sport, you can't blame anyone or anything for your mistakes.
As far as the team dynamic, I would say it is impossible to train and be successful without a team. Although I never competed on the mat with a teammate, going through the rigor of college wrestling with a group of 30 other guys made it easier to push through the tough workouts and matches. Going through the good times and bad as a team helped us all build a close comradery as a team that made us all better people at the end. So although wrestling is an individual sport, I would not be where I am today without my team.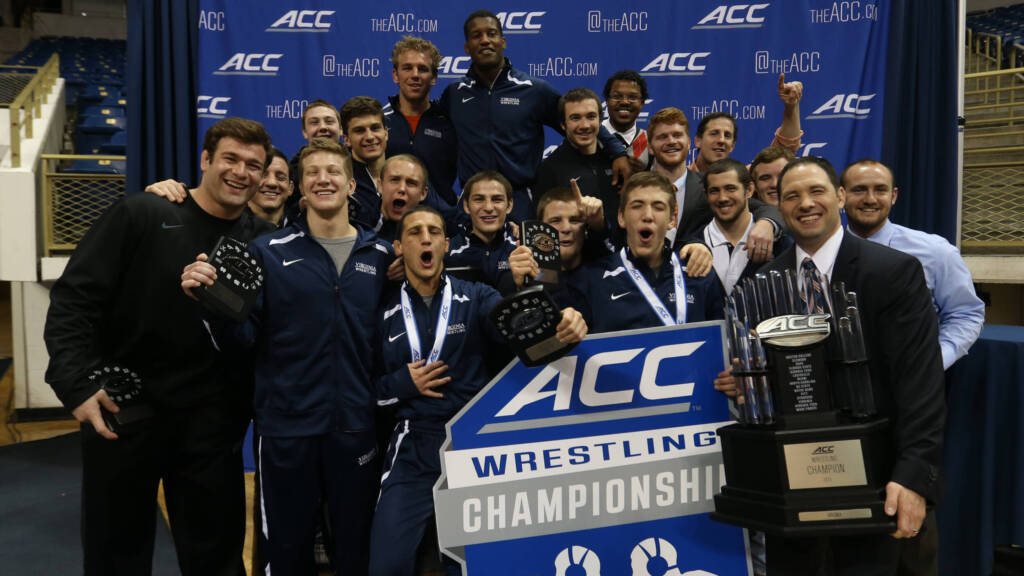 Q: Is there a dual match or an individual match (a win OR a loss) that you would go back and wrestle again if you could? Why?
DICAMILLO: I would love to wrestle in the NCAA finals again. That weekend was so much fun for me, outcome aside. Each match I won, I built momentum and the dream I had my entire life became more real. After my quarterfinals match, my girlfriend surprised me and flew from Columbus, Ohio, to St. Louis, Missouri, on a whim to watch my semifinals match. After my semifinals match, dozens of family members booked last-second flights to come watch my finals match. I got to enjoy breakfast with all of them on Saturday morning after weigh-ins and celebrate. All this to say, I would love to have those moments back and experience the lights and the media of Saturday night in March with my whole family behind me.
Q: What was that experience in the finals like for you and what stands out most about that moment on the raised stage in St. Louis?
DICAMILLO: The finals experience was a dream come true for me. I remember as a kid, I would watch the finals on ESPN with my dad and think to myself that one day that could be me competing on that stage. It was a bit surreal at the time. I remember my roommates at the time Will Mason (and his now-wife Aimee), Chris Yankowich, MJ Roberson, and Chuck Boddy drove through the night on Friday from Charlottesville to watch my match. I got to enjoy a meal with one of my best friends Zach Watson an hour after my quarterfinals match. As I mentioned before, my whole family was there after booking last-minute flights to St. Louis. And in the moments building up to the finals, I couldn't help but to just think of all the blessings in my life.
It made me think of my best friends to this day, and how they are all guys I've wrestled with. Guys who helped me develop into a high-character person on and off the mat. It made me think of my family, who played such a huge role in supporting me to get to where I ended up, Saturday night on ESPN. Obviously, I cared about winning my final match, and it stung bad when I lost. But standing on the podium at the end of it all made me think of the many blessings in my life, the trials, the adversities I dealt with, and how far I've come as a person because of wrestling.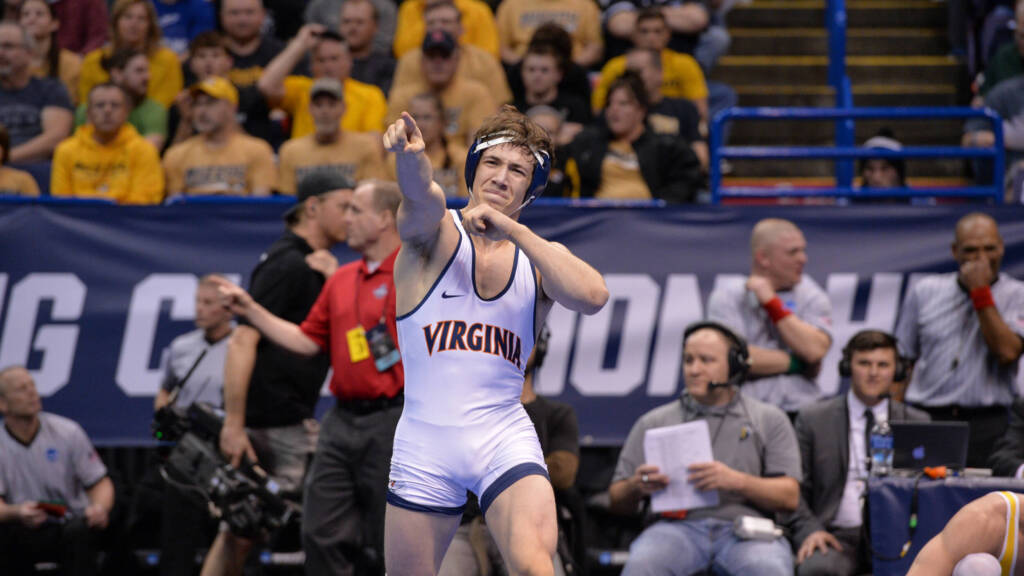 Q: That NCAA Championships in St. Louis was an exciting one for the program as a whole with you capping your senior season in the finals and then freshman Jack Mueller making a run to the semifinals before he suffered an injury. What was it like having that experience with a teammate and how did you guys feed off each other and support each other in that run?
DICAMILLO: Even though Jack was a first year and I was a fifth-year senior, Jack elevated my game just as much as I like to think I elevated his. We fed off each other most of the year. When he got to Grounds in the summer of his first year, he was already one of the more advanced guys technically in our room. So for me it was fun to pick his brain and wrestle with him. But we also built a friendship that lasts to this day. We were roommates on most of the road trips we went on, including NCAAs. We are both wrestling junkies, so during the NCAA tournament we would go back to our room and just talk about all the other matches that had happened in the tournament. We helped take each other's mind off our individual matches. That tournament specifically, we must have watched dozens of episodes of Family Feud at the hotel. But all-in-all, I think just having a high-level athlete with such lofty goals along my side raised me up to a level I maybe couldn't have reached otherwise. I will say this: experiencing success at the NCAA tournament was much sweeter doing it with a good friend.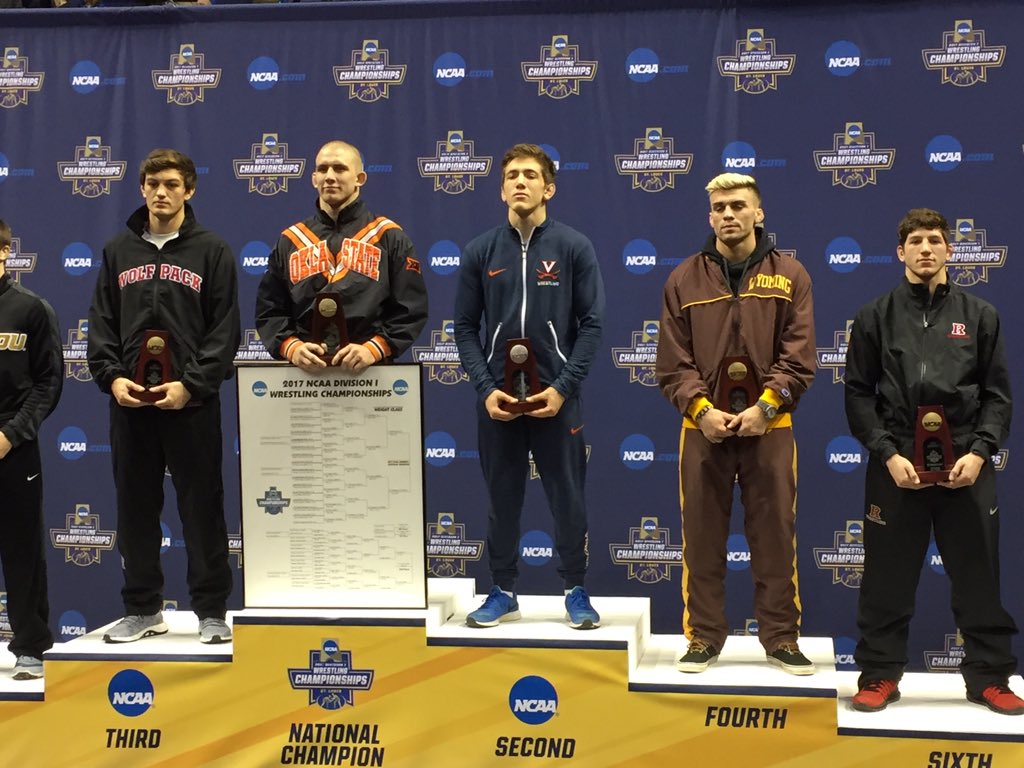 Q: Since you finished your wrestling career at UVA what have you been doing and how did your experience at UVA prepare you for this next stage in your life and career (whether educationally or athletically?)

DICAMILLO: Post-UVA, I moved back to my hometown of Cleveland, Ohio, where I completed my MBA at John Carroll University. While in grad school, I also served as the graduate assistant on John Carroll's wrestling team for a season. Following that season, I began an internship in Corporate Finance for a welding manufacturer in Cleveland called Lincoln Electric. This internship led me to a rotational program at the company's global headquarters, which I did in tandem with an accounting certificate program at a local university to prepare myself for the CPA exam. This ultimately opened a door to a position in the company's financial reporting department where I currently work. Along with this, I am still preparing to sit for the CPA exam.
My experience at UVA changed the way I view success in every aspect of life. Coach Garland instilled in me a growth mindset that focused on incremental improvement and process-based goals. This mental shift allowed me to not get fixed on results as much as becoming the best version of myself as I can. That is why I continue to pursue new academic and professional challenges as I continue to get older.
Q: Did you ever consider trying to continue your career in wrestling competitively after graduation?
DICAMILLO: Not really. I briefly considered coaching, but as far as competing goes I never truly entertained the option. Post-collegiate wrestling is freestyle, which I never felt passionate about like I did with collegiate-style wrestling.
Q: What's it been like for you following the program from afar and keeping up with teammates as they have continued to pursue individual success and, more specifically, watching Jack Mueller continue that growth from his freshman year to his own run to the finals as a junior?
DICAMILLO: Following the program from afar is what I consider one of my biggest accomplishments at UVA. As my time on Grounds went by, I started to think less about myself and more about the culture of the team. I thought about ways I can mold the younger guys into good leaders through word and deed. After lifts my fifth year, I would get coffee with many of the first years and just get to know them better – get to know how they think about wrestling and try to lend some knowledge based on my experiences. This not only helped me build more friendships, but it also helped build the culture of the team. It helped build the first-year class at the time into great leaders for the underclass man they wrestled with as fourth year. The more that culture gets passed down, the more cohesive and successful the program will be in the long run.
As far as Jack goes, watching him grow from his freshman to junior year was an awesome experience. When he earned All-American honors his true freshman year, it was because he was talented. But in my opinion, he had a much higher ceiling to be reached from where he was at that season. When he made the finals as a junior, he did so because he fulfilled his potential. He grew up and matured in so many areas of his life. And for me, watching that progression makes me extremely proud to be a small piece of his journey to find success.
Q: Is there anything you'd like to say to the Virginia fan base and community?
DICAMILLO: The University of Virginia and the wrestling program will always hold a special place in my heart. I can't thank enough all the people that made my experience possible. Go Hoos!