A rising junior with the UVA swimming and diving team, Carter Bristow (Richmond, Va.)  discusses her role with HackCville and her summer job in John's Island, S.C. She also shares her experience as a member of Todd DeSorbo's first recruiting class.
Q: How are you and your family doing? What have you been doing during the quarantine to keep yourself busy?
Bristow: My family and I are safe and doing well. One of the things that I did really enjoy about the quarantine was getting to spend an extended period of time with them since going to college. Because my mom really enjoys cooking and none of us were particularly busy, we had the time to all sit down together and have home-cooked family dinners. My dad worked from home more often, so it was really nice having him around during the day as well. My younger sister, who is a rising ninth grader, spent a lot of time doing school work and playing soccer in the backyard. My younger brother, who is a rising first year at UVA, played basketball in the driveway and FaceTimed his friends since they were all missing the end of their senior year. My dog Cali definitely loved that we were all constantly home as we took her on lots of walks and played fetch with her in the backyard. I spent most of my time finishing up my classes, exercising, reading, FaceTiming friends and doing puzzles with my mom. My dad loves biking, so I went biking with him and my sister. I also would meet friends for walks/runs in the neighborhood or by the James River to get fresh air and catch up. We also spent some time at my grandparents' river house in Deltaville, Virginia, because it is very isolated and a great place to quarantine.
Q: Where have you been working this summer? 
Bristow: In June, I moved to John's Island, S.C., with my best friend growing up to work as counselors for the kids programming done through the Kiawah Island Club. Our job consists of running activities for the kids whose families come to the Beach Club during the day as well as short "camps" at the playground or on the beach. This year is very different from years past in that we have limited camp sizes, are wearing masks during activities that are not in the pool and encourage non-contact games. It definitely is a challenge coming up with games that the kids like to play that also maximize safety during this time. I really enjoyed getting to know my co-workers and living with my best friend at the beach this summer.
Q: You're involved with HackCville. How did you get involved and what do you do with the organization?
Bristow: In the fall of 2019, I heard of HackCville courses through an email sent by the Engineering School. I had just failed to get off the waitlist for a computer science class, so I decided that I would take the HackCville Data Science course instead to learn more about what data science is. I instantly loved the way the class was taught. I loved the model that everyone, including the instructor (typically a UVA student), is coming together to learn more about the subject. This class made me realize that I wanted to pursue data science as a career. At the end of the course, I was accepted to be a Program Coordinator (PC) for the "Lite" version of the course. As a PC, I essentially had the same role as a TA in a regular UVA class.
For the upcoming fall semester, I have been accepted to be the Program Leader (PL) for the same course I was a PC for last spring. With this new role, I have been working this summer on developing my curriculum and schedule for the 10-week course that I am leading this semester. My curriculum includes a short introduction to programming using Python, followed by an introduction to Data Science, Data Cleaning and Data Visualization. The course is heavily project based, which encourages students to get to know each other and create deliverables with what they have learned. Additionally, HackCville recently made the decision to move all courses online, which will be a challenge as an instructor. We are currently in the process of training for online teaching so that we can be effective virtual instructors. I am very excited for my first semester as a PL!
Q: How did you start swimming? Did you always have the goal to compete collegiately?
Bristow: I started swimming on a summer swim team when I was five years old. By the time I was seven years old, I decided that I didn't want to keep winning only the "participation" ribbons and that I wanted to get a real ribbon. I began swimming at NOVA of Virginia Aquatics later that winter and stuck with it since then. My goal to compete collegiately came later, as I was inspired by the coaches and older swimmers both on NOVA and my summer league swim team who swam in college.
Q: You were a member of head coach Todd DeSorbo's first recruiting class. What was the recruiting process like and what made you choose Virginia?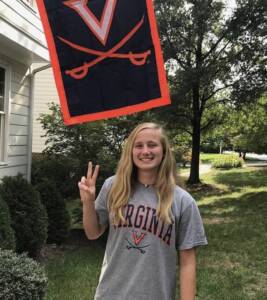 Bristow: I joined the recruiting process for Virginia much later than most people in my class did, so I was actually only recruited by the current coaching staff. Surprisingly, even being from Virginia, I had not been to UVA very often, but when I toured it over the summer before my senior year, I realized that it was exactly the type of school I was looking for. I ended up taking a recruiting visit in the fall and made my verbal commitment immediately because knew it was the right place for me. I was drawn to the school by its balance of challenging athletics and academics as well as the many opportunities to be involved in clubs/organizations. In addition, I loved the team dynamic that I saw on my visit, so I was confident that I would enjoy my experience on the team as well as improve.
Q: After seeing the progress the team made during your first two years, what is your expectation for the team next season?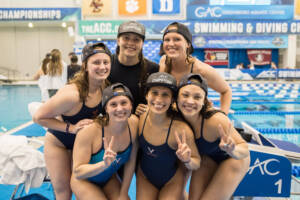 Bristow: I am very excited for the upcoming season! We have an incredible incoming class who will definitely add to the depth of the team and contribute greatly to our success. I think that we have a lot of momentum going into this season especially after not being able to compete as the number-one seed at the NCAA Championships this spring. Additionally, I think that the time off that we had during the beginning of the pandemic has helped motivate the team because we are so eager to get back to Grounds to train as a team. I am confident that we will feed off the momentum we created last season and have another successful season.
Q: Have you set any goals for yourself for the upcoming season?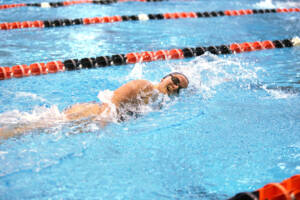 Bristow: Every year, I set time goals for myself because those help motivate me during practice especially when it gets tough. Additionally, I set goals that I want to achieve as a team such as winning the ACC and NCAA Championships. These team goals help me hold myself accountable to the team during every practice and meet. Finally, I also set non-swimming goals for myself that are related to the team, such as helping first-years adjust to college life and being a leader in energy and support to my teammates so that everyone can feel welcome and train in an environment that helps them be successful and enjoy their experiences.
Q: What have you been doing to stay in shape during the quarantine?
Bristow: At the beginning of the lockdown, I got into running and doing YouTube strength workouts. I also completed a lot of UVA dryland workouts and went on walks and bike rides. In the beginning of May, my club swim team ran practices outdoors with one swimmer per lane, so I was able to start swimming a few times a week. By the end of May, my summer swim team pool opened to members, so on the days that I didn't swim with my club team, I swam there by myself. Recently, since being in South Carolina, I have been swimming laps before work as well as running and doing dryland workouts/lifts in my apartment complex's small gym.
Q: Have you learned any new skills during this time or picked up any new hobbies?
Bristow: One of my quarantine goals was to read all the Harry Potter books because I never read them as a kid and have been told that I am missing out on a big piece of my childhood. I am currently reading a book then watching the movie after, and I have actually really enjoyed them. They've helped me get back into reading, and I am very glad because I used to really like reading and I hope to continue doing it. Additionally, I learned to surf the other day at work which was super fun, and I'd like to go again.
Q: Have you been able to keep in contact with your teammates? 
Bristow: Yes! We have had a lot of team Zoom calls, so I have been able to see them during those. Additionally, I keep up with them over text, Snapchat and FaceTime. Although I am able to stay in touch, it is definitely not the same as seeing them in person, so I am very excited to be back on Grounds soon!