Redshirt senior Jay Huff is coming off his best season at Virginia, averaging 8.5 points, 6.2 rebounds and 2.0 blocks for the 23-7 Cavaliers. Huff's season was highlighted by his near triple-double of 15 points, nine rebounds and 12 blocked shots in a win against Duke at John Paul Jones Arena. Hoos Life caught up with the Durham, North Carolina native to discuss his redshirt junior season, his recent engagement, the return to Grounds, goals for 2020-21 and how he's handled time at home during the pandemic.
Q: How does it feel to be back on Grounds and training with your teammates?
Huff: It feels great being back on Grounds! It feels like it's been forever since we've been here and been together. This has been the longest stretch of not seeing my teammates and coaches in four years. It's crazy looking back on how last year ended because it feels like so long ago.
Q: How different or difficult has it been training at JPJ with all of the necessary safety precautions during the pandemic?
Huff: It has definitely been different, especially without access to the locker room. We also don't have access to the gym whenever we want, since we have to get our temperature checked every time we go in. It's definitely hard, but at the same time I feel like this team has adjusted really well to the challenge.
Q: Your 2019-20 season was filled with highlight-reel dunks, blocks, 3-pointers and an epic performance vs. Duke. What were your biggest takeaways from the season?
Huff: My biggest takeaway was that we won our last eight games despite them being really, really close. That showed a lot about what our team was capable of and how resilient we were. A lot of people were writing last year off as a rebuilding year and while we tried to ignore most of the outside criticism and hype, I took that a little bit personally and used that as fuel to work harder.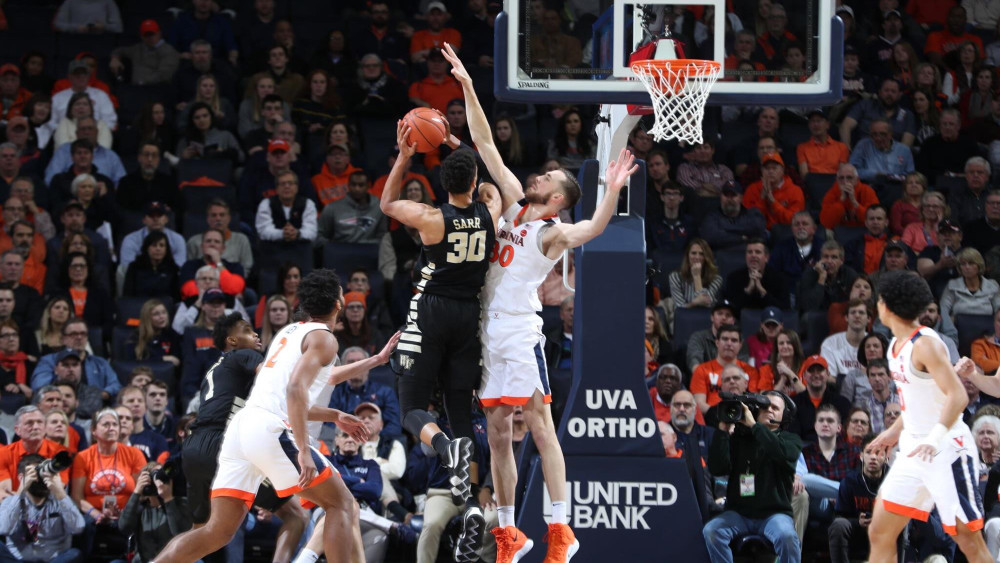 Q: What did you to do to prepare this offseason to be ready for the 2020-21 season?
Huff: Since I didn't have access to all the workout equipment we typically have, I decided to do some less conventional workouts. For starters, I did some yoga throughout the summer, which I think helped with my flexibility as well as core strength. I also chopped a lot of wood, which is really just a great workout in general. I feel like I got a lot stronger. My dad and I also decided to put a punching bag up in the garage, so I used that as well.
Q: What are your goals and expectations for your fifth and final season?
Huff: Assuming we can safely have a season, I think my goal is simply to try to take this team as far as it can go. Obviously, I have expectations for myself to play well and hopefully give myself a chance to play at the next level, but my goals come second to the goals of the team.
Q: You battled Mamadi (Diakite) in practice for four seasons. What did you learn from those battles and what can you teach or do to help the younger or less experienced guys like Francisco (Caffaro) and Kadin (Shedrick)?
Huff: I really learned a lot of subtle things from Mamadi, similar to things I learned from guys like Jack Salt and Isaiah Wilkins. There are little tricks when posting up or guarding in the post that I use now from time to time. I also just learned a lot of face up post moves from Mamadi that he was really good at, largely due to how quickly he moved his feet.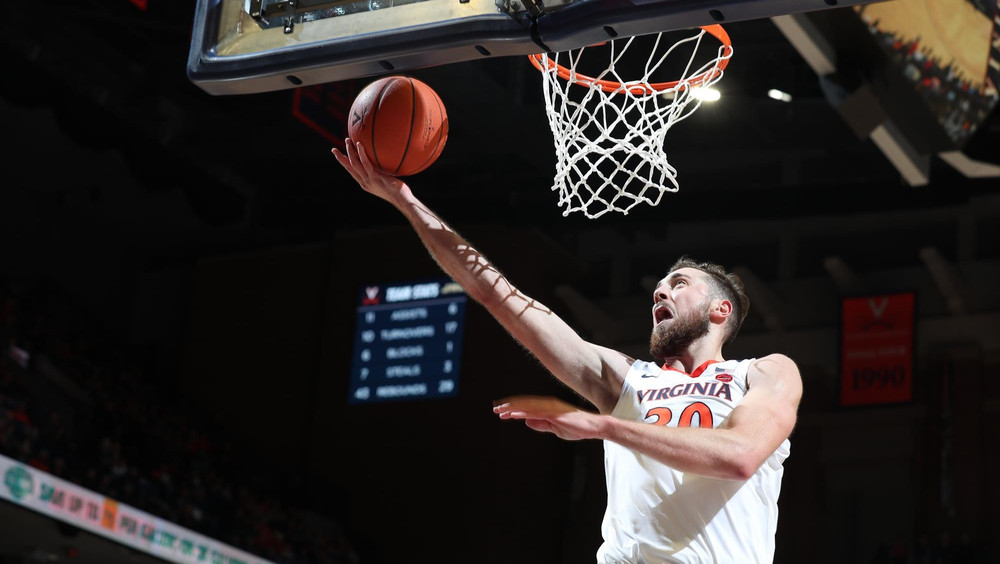 Q: You submitted your name for the 2020 NBA Draft. What do you hope to gain by going through the process?
Huff: I wanted to see what my chances were going into the 2020 NBA Draft versus staying for another year, as well as wait and see how the coronavirus situation played itself out during the course of the summer.
Q: Who are your role models and why?
Huff: I have a lot of role models with my parents being two of the biggest. They've both supported me through really hard times and through a lot of adversity. They also let me make a lot of decisions on my own as I've gotten older, which I really appreciated. My old youth pastor, Brad, is also one of my role models. He has taught me a lot about God and the Christian life that I didn't know before, and always has an interesting take on life.
Q: What have been your best memories during the past four years?
Huff: While I've had a lot of great memories on the court (such as the Duke game) I can honestly say that a lot of the memories I really cherish are the ones I've made off the court. I met my bride-to-be Lindsay Knights, which has been the greatest blessing I could ever ask for. She makes my life so much better and all the support she has given me has meant the world. On top of that, I have made friends who will be friends for life, and all the late night Cook-Out runs, hikes, Bible studies, and other fun times we've had together have been amazing. There have been so many great memories that I've made at this University, and I'm really grateful.
Q: The 2020-21 UVA men's basketball roster includes five North Carolina natives, including Justin McKoy (Cary), Trey Murphy III (Durham), Carson McCorkle (Greensboro), Kadin Shedrick (Raleigh), and yourself (Durham). What can you tell us about that group?
Huff: All I can say is that North Carolina is called the Hoop State for a reason. I really do think there is something special about North Carolina basketball, and guys that come out of there tend to be hard working as well as talented. Just from the few practices we've had I can tell these guys fit that bill.
Q: What has your alter ego, Sean Doubletary, been up to lately? Any plans for encore performances in 2020-21?
Huff: Sean took some time to go on a cross country trip in a hippie van, but it broke down somewhere in Albuquerque. Last I heard he was hitchhiking his way back here, but he's not very good with directions and somehow ended up in Denmark (don't ask how that happened). As soon as he can figure out a way to get back to the states, you can expect to hear from him again. I think he's even mentioned starting a game show, which seems to be pretty popular these days.
Q: How well did you handled the pandemic at home in North Carolina and what else did you do to stay busy?
Huff: I felt like I handled it pretty well, given the circumstances. There were definitely days that were harder, but luckily I was able to see my fiancé a good amount and I also got to spend a lot of time with family. I even got to see some friends around the campfire (socially distant of course). Overall, I think I did pretty well.
EDITOR'S NOTE: During this time of non-competition, UVA athletics will be posting frequently on VirginiaSports.com to keep you up to date with the happenings, experiences and thoughts of our student-athletes, coaches, staff and alumni. We encourage Wahoo fans to share these links on your social media accounts for others to enjoy. We also suggest you follow the University's website – news.virginia.edu – for more stories and information. #GoHoos