Hannah Prendergast (Leesburg, Va.) is in her first season with the Cavaliers after a standout high school career at Loudoun County. Prendergast was part of a squad that captured four consecutive state championships. The setter capped her high school career with first team all-state honors.
Q: Why Virginia?
Prendergast: UVA has always been my dream school. When I was in seventh grade I went to volleyball camp at UVA and wanted to be a part of the team and go to school here!
Q: How did you first find Virginia volleyball and when did you realize you wanted to be a Hoo?
Prendergast: It was around seventh grade I realized that I really wanted to be a Hoo but since I was so young, I wasn't very worried about college yet. After I started my recruiting process, UVA quickly became my top school!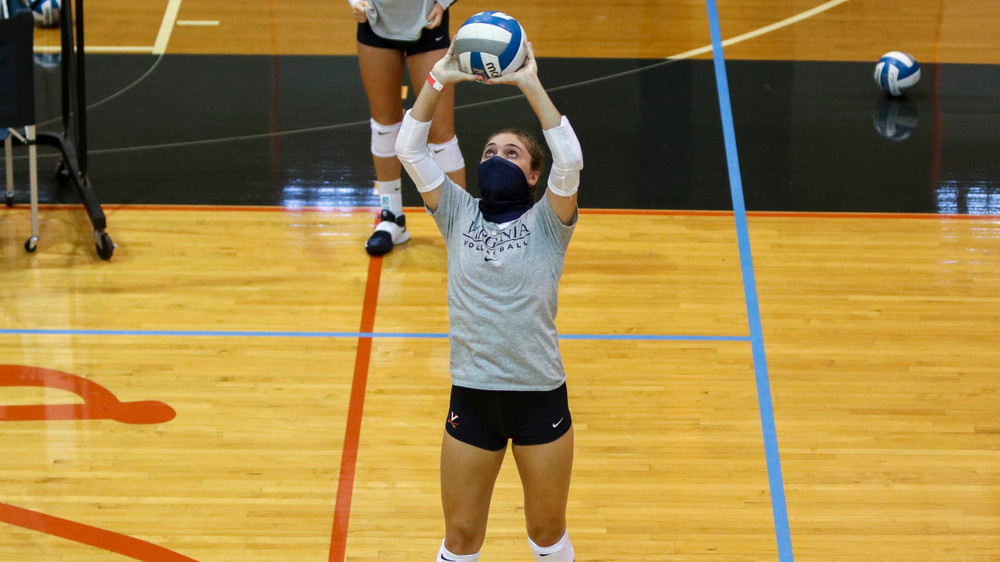 Q: What's your first memory playing volleyball? What advice would you give to yourself at that age?
Prendergast: My first memory about playing volleyball was really enjoying just playing the game and getting better. Advice I would give to myself when I first started playing volleyball is to make sure that I push myself in practice and not get frustrated when the game gets challenging.  
Q:  If you didn't play volleyball, what sport would you play?
Prendergast: I would probably play soccer. When I was little, I played soccer as a way to spend time with my dad because he was always my coach. 
Q: Who is your favorite professional athlete? 
Prendergast: My favorite professional athlete is Hunter Renfrow. He was a walk-on for Clemson football his freshman year and ended up becoming a starter and caught the game-winning touchdown in the national championship. He now plays in the NFL and inspires me to work hard because his hard work and dedication made him excel in his sport.
Q: What was the first Virginia volleyball match you attended?
Prendergast: The first Virginia volleyball match that I attended was the game versus Syracuse. I went with some of my high school coaches and my dad and it was very fun to see my future teammates play.
Q: Favorite part of Mem Gym?
Prendergast: My favorite part of Mem Gym is the locker room because it is where the team all hangs out and has a fun time together. 
Q: Favorite place you visited on Grounds?
Prendergast: My favorite place that I have visited on Grounds is the Corner because it has so many fun restaurants and places to see.
Q: Favorite food?
Prendergast: My favorite food is mac and cheese.
Q: Favorite show/movie?
Prendergast: My favorite show is Keeping up with the Kardashians. My favorite movie is Talladega Nights.
Q: What's your go-to hobby or activity (outside of volleyball)?
Prendergast: I like to swim.
Q: Any hidden talents?
Prendergast: This might not be a hidden talent, but I can eat a surprising amount of food for my size.
Q: Favorite thing (place, restaurant, event, etc.) from your hometown?
Prendergast: My favorite thing about my hometown is King Street because it has lots of little shops and restaurants. Especially in the summer because you can see all of the people from the town walking around and enjoying the community.