Rebecca Jarrett (Washington Township, N.J.) and Alexa Spaanstra (Brighton, Mich.), juniors on the Virginia women's soccer team, had the shared experience of competing with the U.S. U20 Youth National Team in the spring at the Concacaf qualifying tournament for the U20 Women's World Cup in the Dominican Republic. The duo, who were the top two ball distributors for the Cavaliers last season, reflect on their journey with U.S. Soccer, how it has helped shape them and look forward to the start of the 2020 fall season with the Cavaliers.
Q: Take us through the process of trying out for any of the U.S. Youth National Teams?
SPAANSTRA: It's a crazy process that can start at any level and age group. Initially in club soccer I played with the Michigan Hawks and we would go to different ECNL (Elite Clubs National League) and DA (Development Academy) showcases with college and national team scouts. Coaches recommendations and connections also play into it as well. Based on your performance, you can get invited to any of the different national team camps.
I got invited to a U14 camp in 2013 and from there you can get invited back if you perform well. You can move up in age groups and progress. I got invited to one of the U17 camps in a World Cup cycle and was able to make the roster and go to that World Cup in Jordan. Some of them on the team with me here were part of that process. I got a late call-up again for the U20 World Cup cycle with Zoe Morse, Taryn Torres and Laurel Ivory. We got to play in that World Cup in France. That was a different experience for me because I was in a different role more as a practice player and I was able to take in a lot more information. It was also really cool being there with teammates and getting to know them better.
Recently I was selected with Rebecca for qualifying with the U20 team in the Dominican Republic. That was another different experience with COVID-19 and no one being sure what was going on at the time. We played the tournament and qualified for the World Cup which is supposed to be played next January or February now.
JARRETT: Sometimes I forget I've been doing this since I was 13. The first event I went to was in 2013. I remember it perfectly – like it was yesterday. It's funny because a lot of the girls who were in that first camp are at UNC or here like Ashlynn (Serepca). So when I think all the way back it feels like it was just yesterday.
When you fast forward to this most recent time there had been some coaching turnover and so there was some stress because things change and there is some anxiety over whether they will want you or not. It's also unique in that just because you go to one camp doesn't guarantee anything. Every time feels like you have to prove yourself all over again. It was a long process of thinking when would the roster come out? When it does there is a sigh of relief. But then once it's over you're onto the next thing and just because you went to one doesn't mean you will go to the next.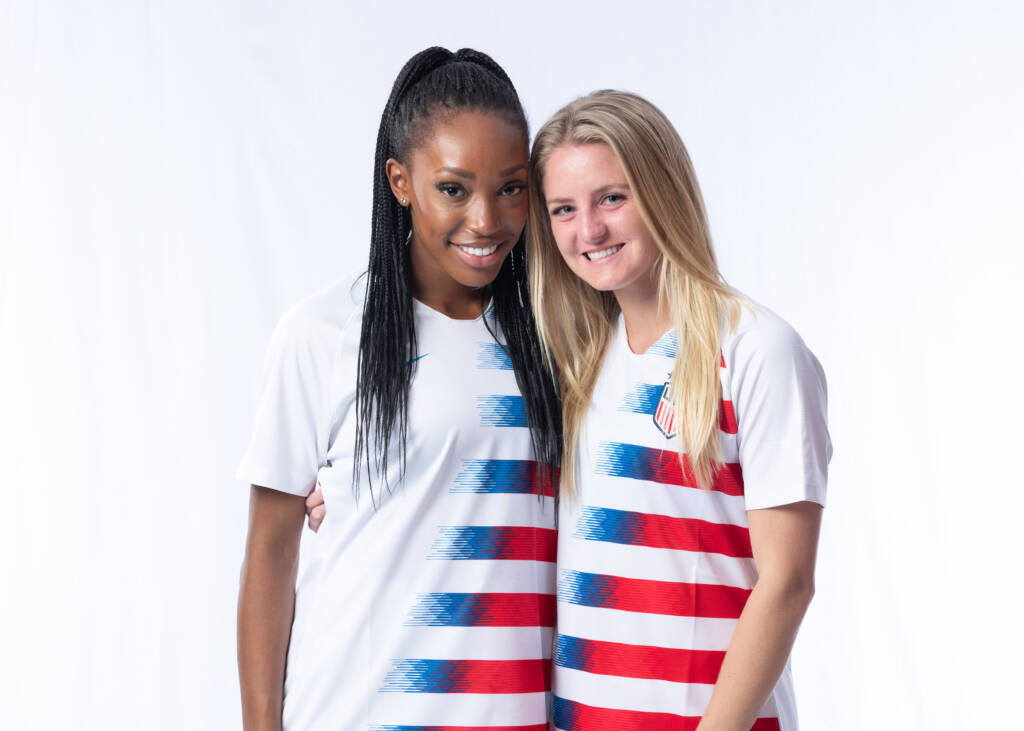 Q: Is it a taxing process trying out for these teams and going to compete with the U.S.?
SPAANSTRA: In the end it is pretty exhausting physically and taxing mentally. But, it's also really rewarding because you are playing soccer and doing what you love with some of the best players in the country. You're traveling the world, experiencing different cultures and playing soccer with people you may not have thought you'd get the chance to play with. I'd say overall the experience is more rewarding, though.
JARRETT: I would agree with Alexa. It's a lot. Especially in college now because you're gone for an amount of time,  so it's about keeping up with classes and everything from a remote location. It was a challenge growing up, but I'm used to it now and it seems normal to take classes online. From a mental standpoint it can be draining mentally. It's also difficult to be taken from your normal environment and dropped into a camp for a week or however long and expect to mesh with all these players. We've known each other for years but it takes some getting used to training with new people, traveling with new people and having a new roommate. But it's definitely worth it.
Q: You were able to compete with UVA teammates Talia Staude and Diana Ordonez (and then signee Lia Godfrey) in friendlies preparing for the Concacaf Cup. What was it like competing with so many players who you knew would be continuing on with you at UVA?
SPAANSTRA: It was an awesome experience with them because you're able to get closer with them and train with them at an even higher level. It's a unique experience too, because Coach Swanson has a lot of experience with the U.S. Women's National Team and so our systems are very similar in how we want to play the game. Being able to go to the Nike Friendlies with them we were able to learn some new tactics that we can bring back to our team and try to translate that into our system and implement it with how we want to play here at Virginia.
JARRETT: It is awesome. I've known Lia forever. I met her when she was 14 and got called up to my U16 team. Everyone was like "who is this girl who is so good?" Then she got here and it was exciting because I know her. It's always nice to travel and play with familiar faces – especially when it was me, Diana and Alexa because there are times when we will all be playing as our front three. Or when it was Talia at center back on the same side as me. It makes it easier when you're playing with people who know your tendencies. With Lia it was nice getting to know her more before she got here and I think it helped her knowing us better beforehand.
Q: What's it like sharing the experience with teammates as you travel abroad and get to represent the United States?
SPAANSTRA: It's exciting being able to travel with some of your own teammates and create closer bonds that help at the collegiate level. It's nice getting to know each other better. You get to see other countries and immerse yourself in cultures we may not get to experience if it weren't for soccer. It's amazing seeing places, eating foods and going places you never likely would have gotten to go and that's because of soccer.
JARRETT: It's really fun. I feel you become a lot closer. We spend every day in Charlottesville together, but it's a different experience traveling with them in that setting. We don't room together there, but we spend every day together. Our families come and it was always fun seeing my dad and Alexa's dad in their Virginia sweatshirts together at the US Soccer events. It's a very different experience and I think you bond over that shared experience. It can be exhausting and so when you get back you can decompress together. When I get back to school it's nice to have someone who was with me that whole time and can relate to how I feel. You have that person who you can relate to as a friend and a teammate.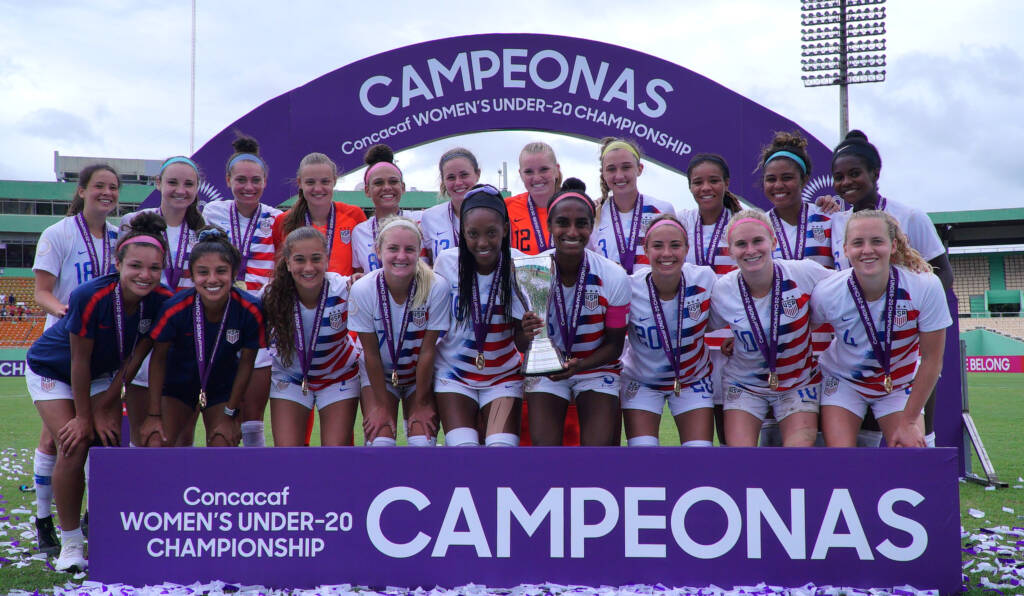 Q: What was it like for you when that experience got called off having won the tournament and not knowing how things will be handled for the World Cup?
SPAANSTRA: Initially we were very excited because we had just won the tournament (in the Dominican Republic) and qualified for the World Cup. There were so many emotions because of the hard work we had put in. I think one of the things that was upsetting was I was looking forward to the spring experience of coming home to scrimmage against other college teams and some NWSL teams. I've never gotten the experience to play against professional teams like we had planned for this past spring. It was frustrating because I've not experienced that.
We were all hopeful we would be able to make something out of these unprecedented times and that we could continue training and doing something that would be beneficial to us as a group. It was obviously crazy because none of us had been through that before. We're hopeful that we'll all be able to train together with the National Team, but there is a lot of uncertainty because with the World Cup being in 2021 a lot of players won't be under 20 anymore and we don't know how they will handle the age groups. There are a lot of emotions still from that.
JARRETT: It was the most hectic couple of weeks of our lives. As the tournament was winding down, people had started hearing things about school. One of my roommates at the tournament played for Stanford and her classes had already shifted online. Alexa and I hadn't heard anything and didn't know what was happening at all. Everything was crazy during the tournament. By the time it ended, I went straight home and didn't come to Charlottesville. I flew from the Dominican Republic and everything started shifting from online for two weeks to a month to indefinitely. They kept pushing back the date of the World Cup and we didn't know when it would take place. Now it's pushed back to next January or February which brings up questions of will we be eligible for the U20 World Cup now that we will be 21.
Q: Is there a favorite moment you have from the qualifying tournament in the Dominican Republic away from the competition field?
SPAANSTRA: Some of the most memorable moments would have to be walking out from underneath the tunnel onto the field before we were about to start warming up for a game. Becca would be blasting her music, as usual, and we would all be dancing and singing together. These moments stand out to me the most because it was a nice refresher to calm the nerves and help everyone get focused.
JARRETT: It would have to be our families being there. Aside from the players being close, you can forget how much our parents interact with each other. Alexa's dad and my dad are best friends. It was really sweet when my mom and sister came in early stages and my dad joined halfway through. At one point all of them were there and Alexa's family was there. The six of them went to dinner and my dad Face Timed me. I asked him what he was doing because I thought he was coming to the hotel. He turned the camera around and there is Alexa's family. We laughed and were like "thanks for inviting us." The next day they are all at the game.
You forget how involved all the parents and families are in this. I was blown away that they even came to the Dominican Republic to watch the games and take the time off from their lives. It's always sweet to see how much the parents are involved and how much they all get along. Even when you flip it and see my parents at the ACC Championship game talking to parents on other teams and you realize how close you become. Even though you are rivals in another environment, you really become a team in this one.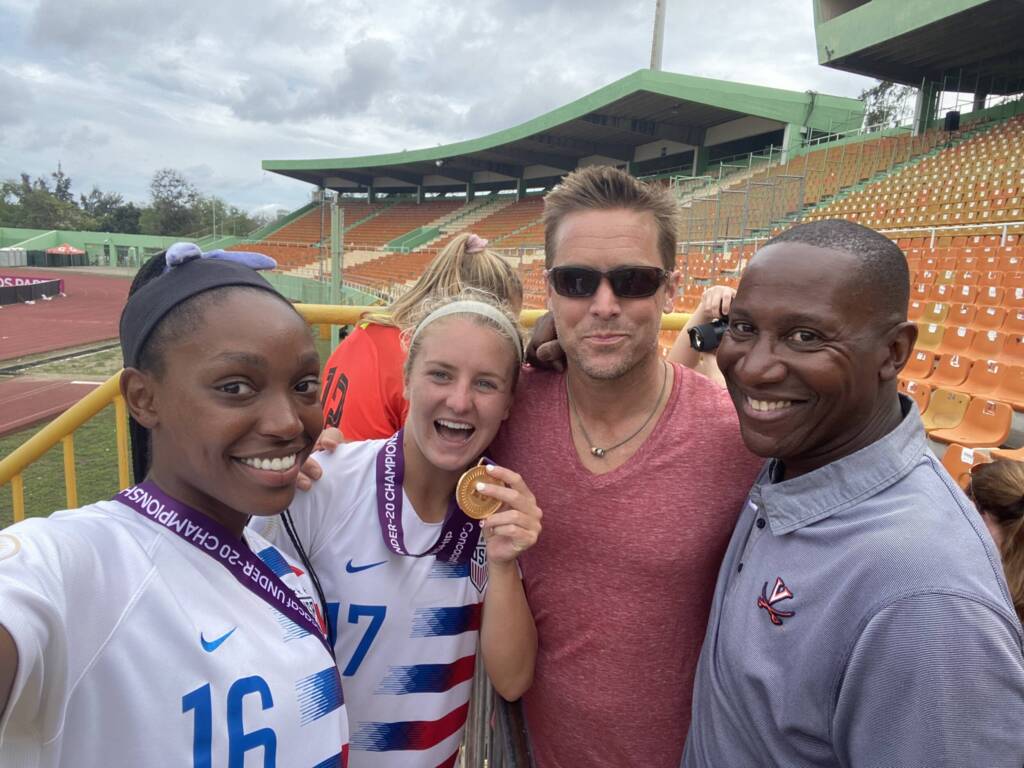 Q: How has the experience with US Soccer helped you in your development for your career at UVA and vice versa? How has playing at UVA helped you in preparing for opportunities with US Soccer?
SPAANSTRA: I touched on it a little earlier, but playing at UVA and working with this staff means the players here make us look really good. Being able to play with some of the best players in the country helps improve your game and gives you a lot of confidence playing at a higher level. It's nice knowing they all have your back and you have been prepared because of the competition here at UVA. It helps us prepare physically and tactically.
JARRETT: Playing with U.S. Soccer really helped me develop as a person. As a club player going to that environment, the best players from all the youth clubs get thrown together. You went from being the best on your team to being on a team of all the best players. Not everyone can be the best one. As a younger player I had never not been the best one. I hadn't had to handle not being in the starting 11 until I stepped out of the club environment and into the national team environment. Having that experience coming to college prepared me. I didn't show up here and instantly become the hero and had no expectation of that happening. I was mentally a lot stronger because I'd already faced that and in an environment where the talent level was so high and everyone was talented. It didn't feel like a punch in the face the same as it did when I was 13.
Training in this environment here at UVA I can tell where I am as a player now. Compared to my U15, 16 and 17 camps it's much better and I attribute that to playing in this environment every day. I can tell when I go into camps close to our season that I'm much better than in the summers when we haven't been training as a team here. I can tell that's when I'm really at my best because the training here at UVA is next level.
Q: The fall camp has begun and the framework is in place for a fall season. How are you guys navigating these waters and are you pulling from your experience in the spring to help the team prepare for the fall?
SPAANSTRA: Our team has done a very good job of being disciplined in terms of staying safe. We know what we want to do. We've been here since July and we know it's possible to have a season by doing the same things we have been doing – that will help us moving forward. We've been training hard and staying motivated. It's been fun incorporating the first-years into the program and helping them learn the language. They are going to be big for us this season. It's exciting seeing how well they are doing. There's uncertainty, but we are excited that we'll be able to play some ACC games.
JARRETT: This is a hard time to prepare for no matter what. The one thing I took out of our experience following the Concacaf qualifying is that you never know what will happen tomorrow, but it will ultimately work out. Initially I thought if they move the World Cup to 2021 I will be too old, but then I realized no one planned for this and so they will account for things. When it comes to this season, we don't know what will happen but it will work out somehow. No one planned for this, and it can be hard to make concrete plans as it's happening, but as we progress through it, things come out in the wash. I was able to take from that and relax and know that something would come out of it.
With our team here, we take it day-by-day because it can be one thing on Monday and something new on Wednesday. Our coaches have done a good job of managing that uncertainty. They have brought a very consistent plan and energy to us. If we didn't have any outside contact or context, we wouldn't know anything was going on because everything has been so planned and structured. Part of the difference from the spring with the World Cup situation is that our coaches have had time to adjust and plan. We've been able to prepare for the possibility that there would be no season, but train as if the national championship would be played tomorrow.