2020-21 Prospectus | UVA Men's Basketball on Twitter |  Jeff White on Twitter | 4TheHoos Initiative
By Jeff White (jwhite@virginia.edu)
VirginiaSports.com
CHARLOTTESVILLE –– The University of Virginia men's basketball program is accustomed to success and attaches little significance to preseason rankings. The Cavaliers have no trouble keeping in perspective their lofty standing in The Associated Press' preseason poll, which has them at No. 4.
"Obviously, it's a cool thing," Jay Huff, a 7-1 fifth-year senior, said on a Zoom call Monday, "but we've also been in situations where we were ranked really high and didn't do very well, and we've been in situations where we weren't ranked and did better.
"At the end of the day, the only ranking that matters is at the end of the season. and we don't try to put a whole lot of weight on what we're ranked in the preseason, because we know what can change quickly."
Junior point guard Kihei Clark agreed.
"When it's time to step out on the floor, rankings don't really matter," Clark said. "It's just whoever plays better that day, so you've got to prepare the right way and comes in with the same mindset. It feels nice to be ranked fourth, but we know it doesn't really mean much."
The Wahoos closed the abbreviated 2019-20 season with eight straight victories, and of the nine players who averaged at least 7.4 minutes per game for head coach Tony Bennett's team, seven return. Joining them are forward Sam Hauser and center Kadin Shedrick, each of whom sat out last season, plus a highly regarded recruiting class.
This is Bennett's 12th team at UVA, and it appears to have more firepower offensively than the 2019-20 group. But the departing starters, Mamadi Diakite and Braxton Key, were versatile defenders and outstanding rebounders. The 6-8 Key (7.4 per game) led the Cavaliers in rebounding, and the 6-9 Diakite (6.8) was second. Diakite, the Hoos' leading scorer (13.7 ppg), was second on the team with 38 blocked shots, and Key (9.9 ppg) was third with 16. Key was second on the team in steals.
"Those are big losses," Bennett said during Virginia's virtual media day. "I can see we don't have replacements for them, but we're going to have to do it collectively, and certain guys are going to have to step up."
The 2019-20 Cavaliers "could win because of their defense," Bennett said. "We struggled a lot offensively, didn't shoot it great, but we won games because we were so tough defensively … This year's team, they have not shown me up to this point that we can win with our defense yet, and trust me, that's a point of emphasis. But at times they show some great spacing and the [ability] to knock down shots and score in a variety of ways. So, again, it's just adjusting and evolving, and we have some more interchangeable parts this year."
Clark said: "I think the identity of this team is going to be just like any other [Bennett] team––our defense––but I definitely think we have offensive capabilities with a lot of shooters on the floor."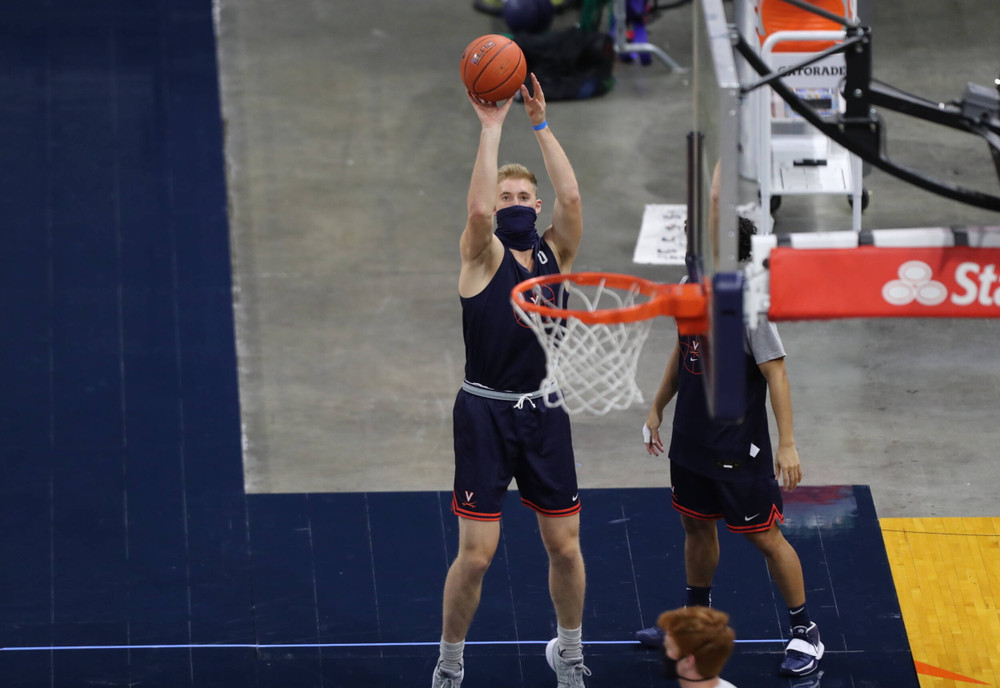 The best shooter, especially from 3-point range, figures to be Hauser, a 6-8, 218-pound fifth-year senior. He's a transfer from Marquette, where in three seasons he started 97 games, made 246 treys and shot 44.5 percent from beyond the arc.
As a junior in 2018-19, Hauser averaged 14.9 points and 7.2 rebounds and was named to the All-Big East second team. He has career highs of 31 points, 14 rebounds, eight assists and four steals, and twice he's hit seven treys in a game.
"When we need a shot down the stretch or a bucket in general, we can look to him, for sure," Clark said. "In practice he's really been shooting it well. He's just a great shot-maker, honestly, and he'll be able to stretch the defense and make it easier for me to drive the gaps, and my teammates."
Hauser's shooting ability has never been questioned. His goal after arriving at UVA last year was to become a more well-rounded player.
"Having a redshirt year, you get a whole year to really work on your game and figure out what you need to fine-tune and what you really need to get better at, and I took that very seriously," Hauser said. "I hope I can show everyone that I've gotten better and I've improved, and hopefully I'm more than [the] shooter that I'm labeled as. I've taken that personally, and I'm just really excited to showcase it."
He's worked extensively with strength and conditioning coach Mike Curtis, "trying to get more explosive and quicker and trying to get the most out of my body that I can," Hauser said. "A lot of it was having to eat better and kind of trim off bad body fat and try to make it into lean muscle. So that was definitely an emphasis: just getting faster and quicker and stronger to be able to guard multiple positions more effectively and obviously help my overall game."
Hauser said he believes the Hoos can build on their strong finish to the 2019-20 season, which was canceled in mid-March because of the COVID-19 pandemic.
"Obviously, we lost a couple really key guys, and they played really good defense and were really key contributors to our team last year," Hauser said, "but hopefully we can fill the shoes of those guys, because they're big shoes to fill. But, I think, with the guys we have we're going to have a good year again."
The 5-9 Clark, the Cavaliers' top returning scorer (10.8 ppg), led the team in assists (176) and steals (37) last season. A key contributor on Virginia's NCAA championship team, he's now an upperclassman whose role in the program has changed.
"I'm just trying to learn different ways of how to lead," Clark said. "We've got a lot of new faces, so [it's a matter of] being able to figure out how guys can get encouraged and how to lead certain guys. Some guys like being yelled at, some guys you need to give them a little bit of encouragement, just give them some, 'It'll be all right, look forward to the next play, just move on.' I'm still trying to grow as well. I'm new to this leadership role, in a sense, so I'm just trying to figure it out as we go on too."
Huff (7.9 ppg, 6.4 rpg), Clark and Hauser are the team's most experienced players. Other veterans include senior swingman Tomas Woldetensae, sophomore guard Casey Morsell and junior forward Kody Stattmann, each of whom averaged at least 21 minutes per game in 2019-20.
Woldetensae, a junior-college transfer, was new to the program last season, as was Morsell. Stattmann had played a total of 73 minutes as a freshman in 2018-19. Inconsistency was an issue for all three last season, but Bennett has seen improvement from them this fall.
"They're more comfortable … You can see the work they put in, and that experience is valuable," Bennett said. "I think they've improved, and that experience they had last year, playing well at times and struggling at times, is all very important in the process."
Counting the 6-11 Shedrick, who redshirted last season, the Cavaliers have four freshmen on scholarship. Reece Beekman, Jabri Abdur-Rahim and Carson McCorkle were high school seniors in 2019-20. Another newcomer is 6-9 Trey Murphy III, a transfer from Rice who's expected to sit out this season under NCAA rules.
Beekman is a 6-3 point guard from Baton Rouge, Louisiana, where he helped win Scotlandville Magnet High win four consecutive Division I state titles.
"He's a great player," Clark said. "He's young, but he doesn't make that many mistakes. He takes care of the ball. Defensively, he's really solid. He doesn't get beat off the dribble. He has quick hands in the gap. He's a really good help defender, and we've played a little bit with each other throughout these past couple months. I think we could definitely play together. We're not ball-dominant guys. I think it could definitely work out."
During the pandemic, Bennett said, his team has "pretty much been able to practice without interruption." But there's been minimal physical contact off the court, and social distancing measures remain in place.
"You feel a little disconnected," Bennett said, "but I always say, it beats the alternative."
The ACC will release its teams' 2020-21 schedules Tuesday morning. There's no mystery about one of the Cavaliers' opponents. The conference announced late last month that UVA would host Michigan State in the ACC/Big Ten Challenge, Dec. 9 at John Paul Jones Arena.
The Spartans have a Hauser too: Sam's younger brother, Joey, who also left Marquette after the 2018-19 season.
"I was definitely excited to see that," Sam Hauser said, laughing. "I've never played against my brother. We've always been on the same team, so the parents are excited, the whole family is excited. I'm curious to see who they're going to cheer for or where they're going to in the stands. So that'll be really fun."
To receive Jeff White's articles by email, click here and subscribe.