When Moné Jones returned to Grounds and the Virginia women's basketball program as a graduate assistant in July, she became the third alumna to join coach Tina Thompson's staff. Jones joined assistant coach Monica Wright Rogers and director of scouting and video services Breyana Mason to give the program three generations of alumnae on staff. Wright (2006-10) played under coach Debbie Ryan, Mason (2013-17) for coach Joanne Boyle and Jones (2015-19) spent time under both Boyle and Thompson.
Wright, Virginia's all-time leading scorer with 2,540 points, was a three-time All-American, 2010 ACC Player of the Year, ACC Defensive Player of the Year and WBCA National Defensive Player of the Year. She returned to Grounds in 2019 and is in her second year as an assistant coach for the Cavaliers. Wright, the eldest of the three alumnae on staff, says the variety of experiences has provided a unique perspective among the three former players.
"For me, it has been great getting to know all of the younger players that came after me and to hear about their experiences here on Grounds," Wright said. "It's so interesting how everyone has such a different perspective and yet we all lived in the same dorms, ate in the same dining halls, etc."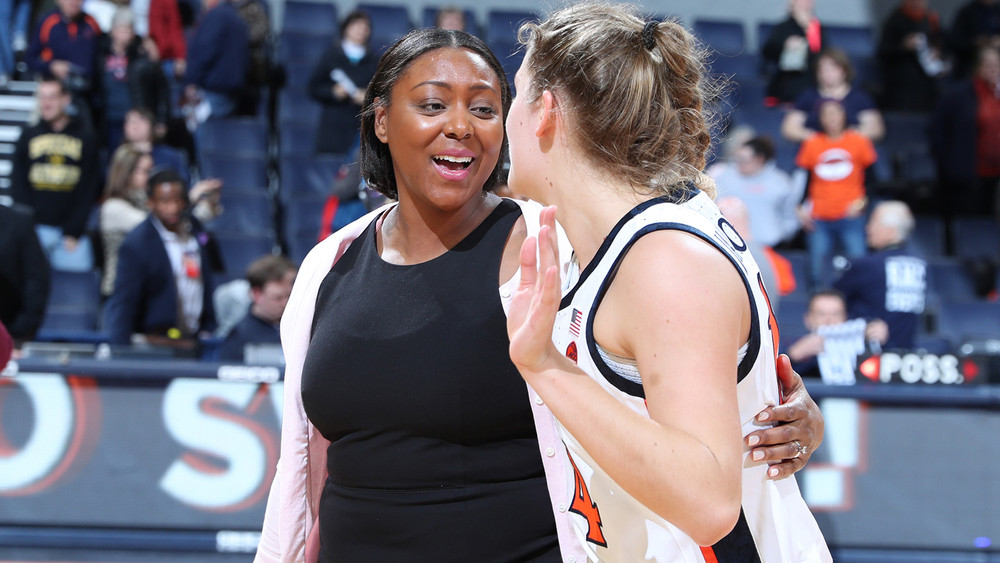 Those different experiences provide a broad range of knowledge for the trio to relate to the current group of Virginia players. Mason, a member of Virginia's 1,000-point club and the fourth Cavalier player to earn the prestigious Weaver-James-Corrigan ACC Postgraduate Scholarship, noted how the three staffers' experiences can aid this crop of Hoos.
"I think it helps the players more than anything to be able to have people around them that know what it's like to have been a part of Virginia women's basketball," Mason said. "I think we can serve as great models and mentors for them because the three of us have been in their shoes before. Even though each coaching staff is different, there are always some commonalities that underlie each of them in terms of the messaging and efforts to get the most out of the player so they can contribute to the team to the best of their abilities."
For Jones, who started a two-year master's program in higher education within the Curry School of Education and Human Development, the shared adventures of college life during the pandemic only deepens the connection with current players.
"This year has been interesting to say the least," Jones quipped of a fall semester unlike any before thanks to COVID protocols. "As a graduate assistant, I help out in any area that is needed; at times I still, in some ways, feel like a student-athlete. My schedule is the same as before, with classes, practices, and games.
"Thankfully, I have been through this process before," Jones continued, "and I know what works and what does not work. I can relate to these players because it was not that long ago that I was in their position. I understand what they are going through right now with the demands of class and being an athlete. With all that these women go through and the demands they face every day, I want to be as supportive as possible."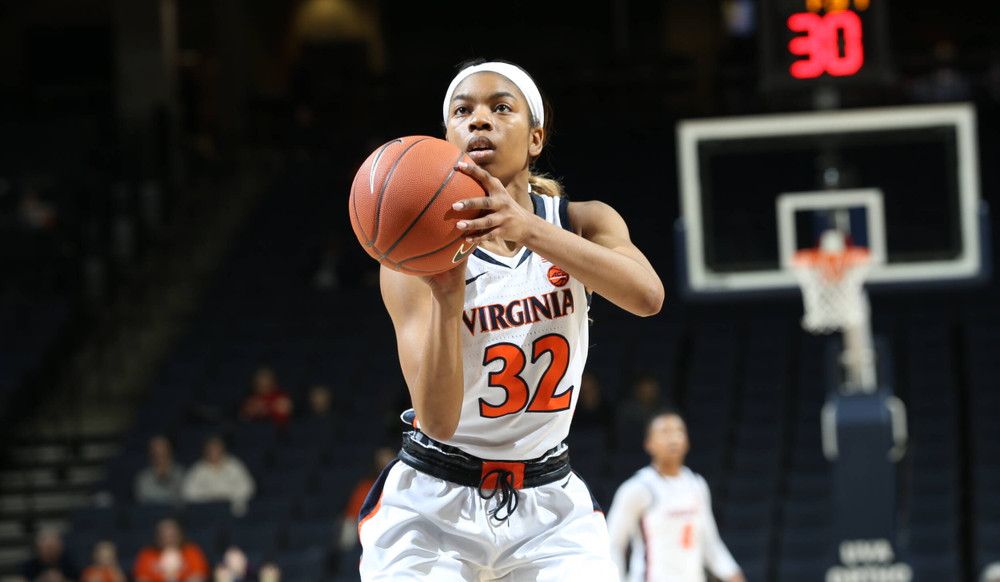 While Jones is still walking nearly step-for-step with the current student-athletes, Wright and Mason each lean on their own playing days to provide guidance to the youthful Hoos sporting the orange and blue this season.
"One thing I always try to emphasis is that they should enjoy every part of this playing experience because it doesn't last long," said Wright. "You can't play forever but I made lifelong memories with my teammates and that is what I want for them."
Wright went on to play in the WNBA and overseas and says those experiences have also played a large role in her mentorship of student-athletes.
"I try to use my playing experience to aid me in relating to my players and making sure they know I understand them," she said. "There are certain situations where I can remember, as a player, I felt extremely isolated and alone. That's not what I ever want for any player that I am in charge of coaching. I want them to confidently know they can always come to me about anything and that I can directly relate."
Mason aims to use her time as a student-athlete as a means to guide the young roster through the growing pains of life as a collegiate athlete.
"I try to share words of wisdom and encouragement to the players when necessary," Mason said. "I think one of the biggest things that can be helpful to the players is being able to help them put things into perspective. They have a great deal of newfound responsibility and sometimes it can be a bit overwhelming for them both on and off the court. If I feel like there's something that I've learned from my time as a student-athlete that could potentially help them, then I'm inclined to share it with them."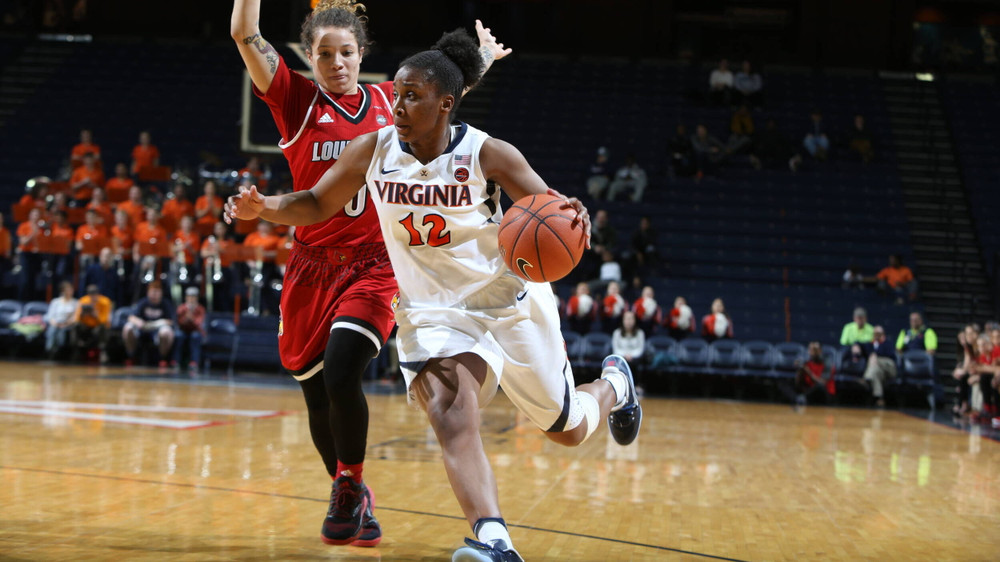 While Wright, Mason and Jones are all in the infancy of their coaching careers, the opportunity to be back at Virginia is something each clearly cherishes.
Jones was only away from Grounds for a year, but her love of UVA and the women's basketball program clearly showed while she served as an assistant coach at Carrboro High School.
"I watched as many games as possible [online or on TV]," she told Jeff White following her return in July, "and then the games that I couldn't watch, if I was coaching or we had practice while they were playing, I was on Twitter, trying to get the updates. When they came to North Carolina, NC State and Duke, I was there. I was there for Senior Day at UVA. I was around quite a bit."
For Mason and Wright, the return to Charlottesville was a bit longer awaited, but no less sweet.
"I've had a great experience being back at UVA and working with the team," Mason said. "I've been able to form solid relationships with the coaches and support staff. Every day that I walk into JPJ, I think about how blessed I am to be able to do something that I love for a university and women's basketball program that has given so much to me."
"I personally love being back on Grounds," Wright said. "It's been about 10 years since I left here to play in the WNBA/overseas, so to be able to start my family here has been really special to me. I am going to love telling my son that he was born at UVA Hospital. When the opportunity to return presented itself, I think it's obvious what my feelings were."