Jay Aiello (Chantilly, Va.), a senior on the Virginia wrestling team and ACC Champion at 197 pounds last season, discovered a love of cooking over the years. It's an activity that pairs nicely with his sport as weight maintenance and nutrition are a critical part of the day-to-day life of a wrestler. It also has been a source of team building and community for the program.
QUESTION: Has cooking always been something you've found enjoyable or was it after you wrestling career advanced you decided to focus on it as part of your recipe for success?
AIELLO: When I was growing up, my mom would always let me like cook with her and then she'd let me lick the spoon and stuff like that. As I was growing up I was a little bit of a chubby kid and so I liked to cook with her and do stuff like that just because it had that incentive. But, yes, when I first got the school, I was doing a whole lot of cooking my first year. Prior to that, my last two years of high school I'd probably make dinner two or three nights a week. My parents both worked until five o'clock and if I wanted to have dinner ready to go around six. I wanted to start up before they actually got home.
My second year I started to cook more for myself, but I would say it was my third year I really started doing pretty much all the cooking for myself.
QUESTION: Do you find that cooking for yourself can be more beneficial for you as a competitor because of the demands on weight maintenance and nutrition?
AIELLO: I tried to focus on nutrition coming into college, just because I knew that at this high level it's not just about the wrestling; it's about all the other things you do as well. I knew I needed to focus on that part of it. Then my first year going in second year, a guy named Frank Perrelli was training here (at the Cavalier Wrestling Club Regional Training Center) and he was crazy about nutrition and training. He was like "yeah, I haven't had this dessert in seven years" and he wrote out every single thing he ate every day. I'm not on his level by any means, but just seeing how serious he took it and the steps he took to compete at his best really showed me how important nutrition is and how to go about it and to do the work.
QUESTION: Do you incorporate the Sports Nutrition department in Virginia Athletics with your cooking plan and how you prepare foods?
AIELLO: I go to them at least twice a year to get meal plans. In the beginning of the year, when we're heading into season, I always go to them and say "I need to start losing weight" and then from there I work with them on a plan that's going to get me down to the weight that I want without losing too much muscle. After the year is over, I always go back to them and say "I want to put back on muscle and I don't want to put back on fat. What are some things I should be eating? What are the things I can add in my diet? Where should I have my protein, my carbs, and my fats? I work with them throughout the year, just talking to Sean Mohney when I can when I'm in the sports med room. Those appointments are really helpful for me.
QUESTION: Do you find that other guys in your house look to you as a go to for good food? Have they been known to just show up for dinner?
AIELLO: I would say so. Right now, not so much, just because I am getting my weight down, so meals are very consistent. They're all measured out and I know what I need a week ahead and am planning stuff out as far as that goes. But yeah, definitely I love to get us all together and grill some ribs or some steaks and I especially enjoy it with my whole family together. I love to cook for all them. Over Thanksgiving it was my mom, my dad and my brothers for Thanksgiving – just like the five to six of us. My mom and my dad never want to make the turkey, so I made the turkey.
QUESTION: Obviously this year has been different with social distancing, but do you enjoy being the cook and serving as a way for the team to get together and bond?
AIELLO: This year is different from years past, for sure. We used to do a pancake Wednesday thing. Any guys in the team that could make it or guys that wanted a ride I would I go pick them up. I'd make pancakes, have some coffee for everyone and just have a big breakfast with the guys.
QUESTION: Do you have a favorite thing to cook when you guys are able to get together as a team?
AIELLO: Probably my favorite thing to cook is either ribs or steak. This is for out of season, obviously. I really enjoy this one rib recipe that Jake Keating and I found my second year. I use this recipe every single time I grill ribs now. It's fun. When grilling ribs, it's not like you just throw it on there and it's going to be ready in 10 minutes or 15 minutes. It takes some time and it takes preparation. You've got to moderate it. I always enjoy that part of it for sure. But every single time make the recipe I think of Jake and the fun we had the first time making it, so I just love making it.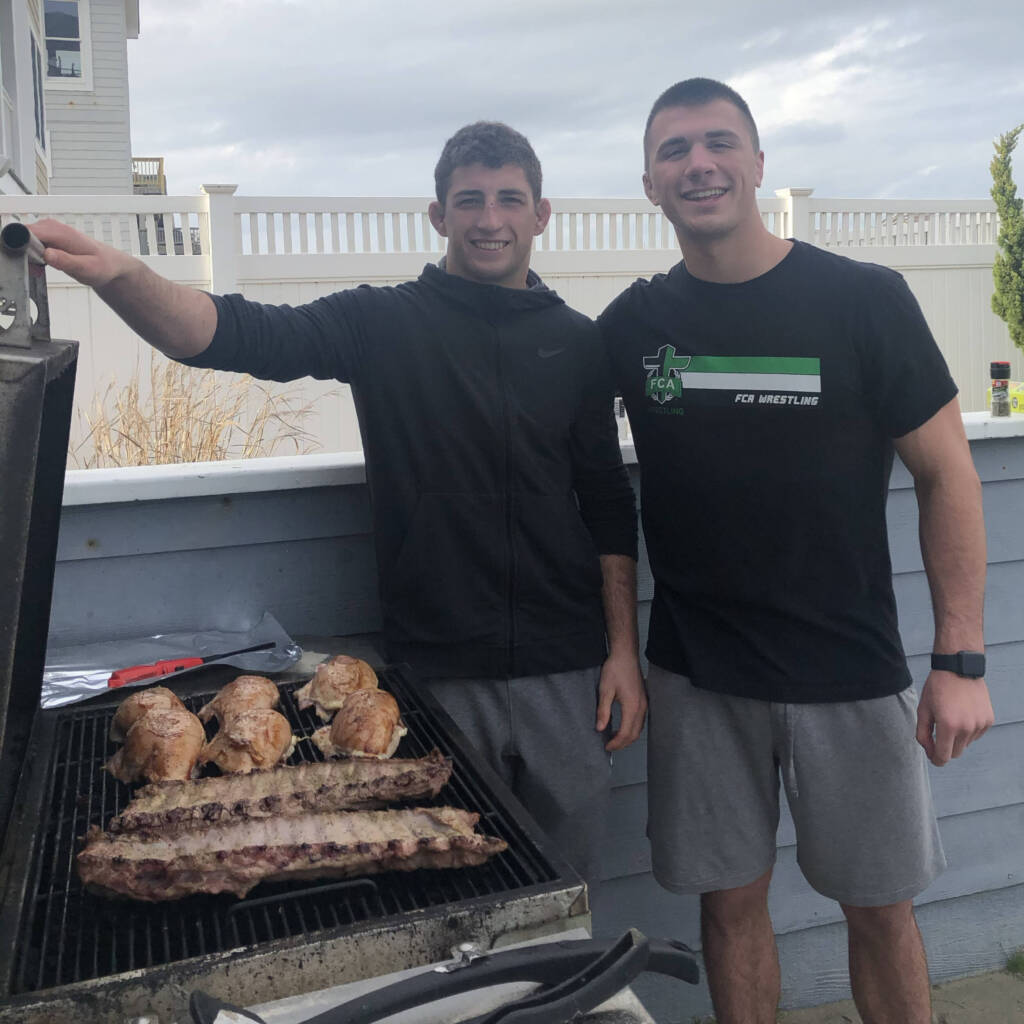 JAY AIELLO'S GUIDE TO RIBS
Step 1: Remove membrane
Step 2: Apply rib rub- I usually don't measure anything out and go with what I have at hand.
Usually consists of cayenne pepper, garlic powder, a little brown sugar, onion powder, cumin, salt and pepper, ground mustard powder, etc. Add your own twist.
Step 3: To the grill. Cook each side of the ribs on direct high heat for 4-5 minutes each side
Step 4: Take ribs off the direct heat and place in tin foil
Step 5: Apply applesauce or apple juice to the ribs, let cook in the tin foil for 2-3 hours
Step 6: Take the ribs out of the tin foil and lather on sauce
Step 7: Place the ribs back on the direct heat, flipping and coating the ribs with sauce every 2-3 minutes. Do this about 4-5 times.
Step 8: Enjoy with friends!