Vivian Glozman (Bellevue, Wash.), a senior on the Virginia women's tennis team, has a passion for photography and art, but when sports shut down last spring it provided her the opportunity to combine the things she loved with her passion of food and a new enjoyment she found in baking. As part of that response she started her own Instagram food blog "Toast With Viv!" You can find her Instagram blog here.
QUESTION: You've got an Instagram food blog that you started. How did that come about and what drew you to that as a creative outlet?
GLOZMAN: I named it "Toast With Viv!" I was trying to come up with different names and brainstorming, but "Toast With Viv!" just stuck and I've kept it ever since. I started last summer during summer school, because there was nothing open and we used to hang out all the time and go to restaurants. I thought I might as well take this opportunity to document everything (since we weren't doing that). When we travel, we go out to eat a lot and I was also inspired by my friend Kobe at home who had a food account and I would send him pictures of all the good food I was eating.
He said "wait, why don't you just make an account yourself?" and I thought it was too much work, but we were in summer school and I was stressed because I was in an anatomy class, which may be one of the worst classes for summer school. It stressed me out so much I needed to do something and I made the account. It's been so much fun. I'm documenting everything and it doesn't feel like work. My teammates tell me how dedicated they think I am because when they get their food they just want to eat. But, it's so much fun and I have a passion for photography and I like editing photos – I actually live to edit photos for people – so it combined eating good food, photography and editing pictures and it's awesome.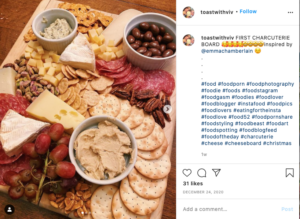 QUESTION: Are you posting about food as each day happens or did you go back and look at food and meals that you had from when you were traveling with the team and going out as a group?
GLOZMAN: It's always current. Whatever I did that day, I usually posted that day – even before I even eat it all I post it. When we were traveling before COVID it was so awesome because of the food we would eat at restaurants and I'd have my meals and the other girls' on the team. Since COVID I don't have as much content to put out, so people will literally think of me and they'll take pictures for me, send it to me, and I'll post it and feature them. People say, "wow I got featured on 'Toast With Viv!' my life is made." It just makes you feel so good. It's just an Instagram account, but it's gotten me so much closer with so many of my friends who think of me and share with me and want to be a part of it.
QUESTION: So you have followers and contributors who are friends from home and from other teams around the country?
GLOZMAN: My most loyal followers are definitely my teammates. They hit me up all the time and send me stuff. But friends from home or even just random (people). Natasha (Subhash) is by far my most loyal follower. For a while before I left for home, half of my page was just stuff from her. I told her she should start her own version, but she said she would let me have it.
QUESTION: How did the conversation with your friend back home go when he encouraged you to start your own Instagram account?
GLOZMAN: It wasn't really that deep, but he's such a big foodie. Back home, we would go to Seattle a lot because it has such cool restaurants and cute spots. He's kind of stopped his account (since social-distancing started), but we really bonded over food and the restaurants. He's one of my closest friends, so we talk about a lot more than just food, but he really encouraged me that I should start with this. Maybe he was just tired of me sending pictures of my food to him all the time and he wanted to get me off his back, but he's definitely responsible for me starting this up.
QUESTION: Do you have a specific post you can point to that is a favorite meal or one that brings up a special memory?
GLOZMAN: Everything I post is stuff I genuinely loved. I've definitely had things where I posted and then I will rate it in my caption and maybe this wasn't the best, but usually I like everything I post. It makes me happy to post and, not necessarily promote something like I'm someone with clout, but I just like to share my experiences and tell people I went to this place and it was good and if you go here, you should order this and try it. That's my main goal. I love the whole thing from taking the photos to editing to posting the content. Honestly, I just like to inspire people and give people ideas.
Early during COVID and quarantine, I started having to cook dinner for myself and I would look through my Instagram page and look for different things to try. I want to give people ideas or get ideas from other people that follow me through this page. I got a call from Chloe (Gullickson) who graduated last year and she told me she had been inspired by one of my posts about desserts and wanted to make something. That makes me happy.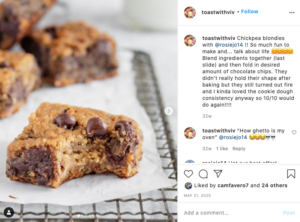 QUESTION: And you've gotten into baking now?
GLOZMAN: I actually love baking more than I love cooking. I'm actually not super into cooking. I don't like the smell of savory cooking as much as when something is baking in the oven. Also, when I go home my mom is just the best cook. I think like that's probably where my passion for food comes from. During quarantine banana bread was kind of a big thing. Everyone was getting into banana bread and I got into it and didn't even have to use a recipe anymore. I just threw a bunch of stuff together until it was a good consistency, threw it in the oven and it would turn out different every time but it was just as good every single time. I don't really follow recipes, because I feel like recipes are just there to like inspire you and give you an idea of what you need. My teammates always say "It's crazy that you never use (a recipe). Isn't baking so hard because it's all chemistry?" I just tell them you have to get a good feel for it and go for it. I love baking.
QUESTION: Did you pick up the baking during quarantine or was it something you'd always been doing?
GLOZMAN: I really picked it up during quarantine. A lot of student-athletes can relate, but you really don't have that much time to do anything normally because you're on the go. JPJ dining was definitely a savior for a lot of us most days. But since then I've tried so many new things. One of my favorite posts I made homemade gnocchi. It seems like one of those things that's super tough and fancy, but it was actually so easy. It's literally flour, water and an egg. The kneading is honestly the hardest part. You roll it on a fork to make those like fun shapes, and boil it in saltwater. Then you just fry it in a pan of oil or butter. It's so easy. It was good and made me so happy.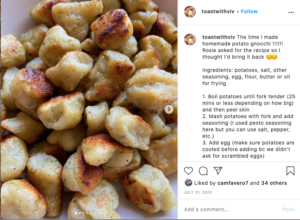 QUESTION: You said this combined a love for photography and art with your love for food. Have you always taken photos of food or do you do other photography?
GLOZMAN: I'm majoring in kinesiology, which is not artsy or anything at all, but I love (photography). My sister, Val, and I go out and take pictures every time I go home. I'm also really into fashion and the modeling industry, so I'd love to get into that. It really brings up a lot of conversations of what I want to do after school since I'm majoring in one thing and really into the other. I love photography and modeling and everything art related. We have a really nice camera at home and we'll go out and take pictures. We have this knack for and enjoy the photography and editing.
QUESTION: So you're playing tennis and majoring in kinesiology, but have the fascination and passion for photography, art and modeling. Do you see those combining more in front of the camera for you or behind the camera?
GLOZMAN: Honestly, I would love for it to be both. I would have to do schooling on it and be a little bit more committed to that area, but to work with some athletic company would be a dream. It would be great to be designing clothes and athletic wear and being an athletics apparel model, but being involved both behind the camera and in front of it.