Hoos Life: From Wahoo Fan to Coach's Award of Excellence Winner, the Journey of Spencer Bozsik
Typically, the Hoos Choice Awards are held at John Paul Jones Arena in May on the day before final exams begin with UVA's entire student-athlete population sitting in the stands, dressed in their best, cheering on stand-out performers and award winners. Each sport's Coaches Award of Excellence winner hears their name read out as they are called to the stage to be recognized.
Spencer Bozsik, the 2020 recipient of the Norton Pritchett Memorial Award (as the men's tennis honor is named), had a very different experience, and not just because it was a virtual ceremony.
"COVID had just hit and our season was over, so the last thing on anyone's mind was who won the Hoos Choice Awards. We were all just trying to figure out how to stay healthy," Bozsik recalled. "But [two-time recipient] Ash [Lizen] had come to visit from New York and was in my basement doing some laundry, and he's like 'you know it's crazy who won the award this year, right?'"
Bozsik had no idea who had won the award. Lizen decided to keep it a secret and encouraged a wrong guess by Bozsik. Bozsik was equally shocked and honored when he found out he had won the award.
"I think there's always been a sense of having to prove myself, day in and day out here," Bozsik said. "I know that I didn't necessarily come in with the same junior tennis credentials as others did. I've always wanted to contribute to the team in any way that I possibly could, if, even if that didn't mean I could put direct points on the board for the guys. I think we talked a lot about valuing people who work hard and are just genuine in their support for others, and I think we have a lot of guys on the team who live that. Just seeing, not even me specifically, but somebody who makes that effort to be recognized really reassured me about the strength of this program's culture."
Bozsik is an almost life-long expert when it comes to the culture of the men's tennis program. His father, Paul, a UVA alum, introduced his second-grade son to Virginia tennis in 2008. At the time, Spencer was trying to determine what sport he wanted to play. After catching the Virginia tennis bug, soccer and basketball were off the table.
Bozsik was born in and lived in New York for his early years, but he didn't let that distance dampen his love of Virginia tennis. When Mitchell Frank played at the 2011 USTA/ITA National Indoor Intercollegiate Championships at the Billie Jean King Tennis Center, Bozsik went to the championships with his family, watching the freshman win the prestigious title. Andres Pedroso, then a Virginia assistant, was there as Frank's coach.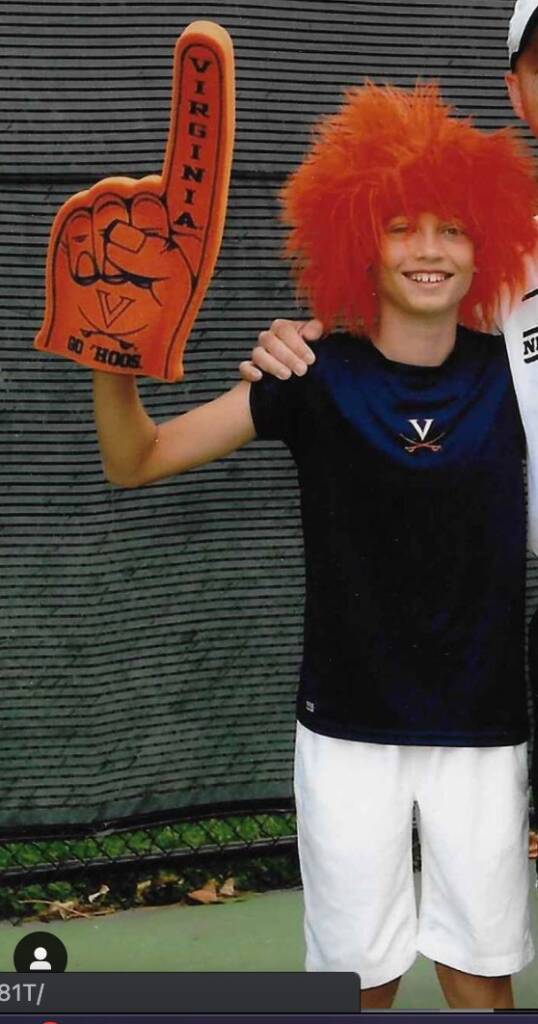 "Watching Mitchell Frank win that tournament in 2011 was when I really got interested in Virginia tennis," Bozsik said. "Coach Pedroso was just so unbelievably nice to my family and me. In February, we ended up going down to Charlottesville to watch the team indoors for the first time, and I was absolutely hooked. I caught the bug I needed to watch college tennis as much as possible. I wanted to know everything about every guy. I watched every single highlight and even found match footage from their junior careers."
The fandom included his family driving from Sag Harbor, New York, to Athens, Ga., to watch the 2012 NCAA Championship and UVA's runner-up finish. Though the family did not make the trip to Illinois in 2013, Bozsik did what he needed to be a part of it.
"I live-streamed the final in 2013 when Mitchell clinched," Bozsik said. "I came home from school, ran in and commandeered all the laptops in the house to make sure the WiFi would be fine. I watched the whole thing, which was so special because I'd been looking up to Mitchell for so long and I knew how hard he works. To see him and the team finally cross the finish line after all those years was really special."
As his love of the program grew, Bozsik's skills as a tennis player also improved.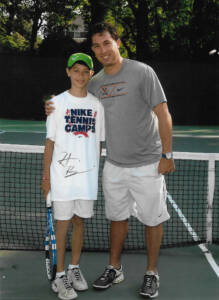 "Right after I'd seen Mitchell play in Flushing Meadows, I decided to sign up for a Nike camp in Charlottesville. I did two weeks' worth of Nike camps. Andres [Pedroso], [current UVA associate head coach] Scott Brown and [UVA alum and current Richmond head coach] Houston Barrick ran the camp, so I've known them since I was 10 or 11. I absolutely fell in love with the team at that point, but one thing a lot of people don't know is [current teammate] Jeff Dockter and I actually met at that camp when we were 10. I remember riding the bus to Boar's Head with him back when we were 10, having our packed lunch and eating Cheez-Its and having not eaten a vegetable in weeks."
The Bozsik family relocated to Charlottesville in 2013, but Spencer split his time between Virginia and Maryland while training at the JTCC in College Park. After he had already been training there a year, Scott Brown left his position as a UVA assistant to take a job at JTCC and was one of Bozsik's coaches.
"I called Charlottesville home. This was the place that I felt the most connected to. I viewed going to College Park as a business trip. Having Scott there was amazing because it was a little bit of familiarity for me during a tough time. It definitely was a challenge to be playing that much tennis and trying to find the school at the time. So Scott was huge for me."
When it came time to find a place to play college tennis, Bozsik turned to the program he felt most a part of, but not as a recruit.
"You can look at my record as a junior and see I was good, but I wasn't 'UVA good.' I was top-200 in the country, but that's not really saying much when you're getting players who are top 10 in the world. So, I never really thought that UVA was an attainable goal for me. Once reality kind of struck in 10th grade, I thought I needed to be realistic, so I called up Coach Boland and I said, 'You're the only college tennis coach I know who'd advocate for me. Is there any chance you can help me go DIII?'"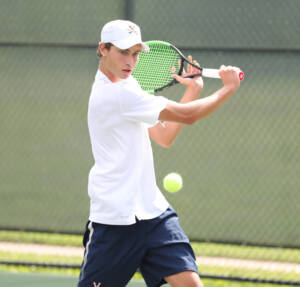 Boland offered to help and made calls on Bozsik's behalf, but even finding an NCAA III school to go to was a challenge.
"Even the DIII schools were looking for five-star and blue-chip recruits at the time. I didn't know if college tennis is for me anymore. I was getting a little disheartened and the process was just going south for me. I started playing very bad tennis. In, 11th grade my ranking slipped. It started looking like college tennis wasn't quite in the cards for me the way I wanted. I considered either not playing college tennis or taking a gap year and seeing if I could get a little bit better on the side. Then Coach Boland called me one day and said, 'I know the process has been tough for you but, I don't know if I've mentioned this, but you're welcome to have a spot on my team if you'd like.' And I said, 'No, you haven't mentioned that at all. In none of our phone calls have you've ever mentioned that my backup plan could be UVA.'"
Bozsik's journey to Hoo-dom did not end with that phone call. He verbally committed on the spot but did not sign an NLI. In March of that year, Boland resigned as the head tennis coach, leaving Bozsik's future up in the air. When Pedroso was named his successor, Bozsik was delighted and called to find out if the offer was still valid. Pedroso welcomed Bozsik to the squad. However, Bozsik was on the waitlist for admission to the school, a situation that only the admission counselors could remedy, so he still had one last hurdle to overcome.
"I was actually planning on going to Spain for a year and then reapplying to UVA for the following year because of the waitlist. In early June, I had just submitted my last final exam of high school when I got a call. Mind you, I had been going to the admissions office twice a week and emailing a new admissions member every single week, letting them know, 'Hey, I'm still very interested in UVA.' There was one email I finished up by saying that the Charlottesville economy would collapse because I bought like $30 worth of Bodos every single day, and there's just no chance that they can sustain their business model without me. When they called me to let me know that I got into the school, I thought it was a prank call. When I finally realized it wasn't, I told them I was 100 percent coming.  I can't remember the exact stat that he said to me on the phone, but I think I might have been one of 12 people to get off the waitlist and into UVA that year."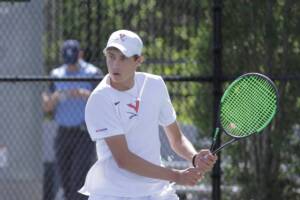 Bozsik made the most of his opportunity to live out his childhood dream. He was a fixture in the Cavaliers doubles lineup his freshman season and has filled in on the singles lineup when needed each of the last three years. In last year's shortened season, he had a clutch doubles performance in the dual against Liberty, clinching the point for the Cavaliers in what would be a 4-3 victory over the Flames.
One would think that adding his name to the list of recipients for the Coach's Award of Excellence alongside Jarmere Jenkins, Somdev Devvarman, Ryan Shane and Mitchell Frank would be the highlight of his career. He has earned one honor that he holds even dearer: being voted co-captain of this year's team alongside All-American Carl Söderlund.
"To me, that was the most special accomplishment that I've ever gotten, even above the Coach's Award of Excellence. It's one thing for the coaches to recognize you, but the way we select captains is a team vote. To know that my teammates felt that way as well, in the sense that they think that I represent the team's values and I carry enough weight in terms of my voice to make the right decisions and represent the program in the right way. That was probably the first time that I've cried actual tears of joy in a very long time. To go from not really having a home in college tennis and thinking that I'm not going to play college tennis to being named co-captain, it felt like for the first time in a very long time that the hard work and paid off. And I've been a small part of something really, really special."
Bozsik and the Cavaliers open the 2021 season this weekend, hosting Liberty on Sunday at the Boar's Head Sports Club. The match, which has limited attendance to just players' families, will stream online through links posted on VirginiaSports.com.