Coming off a strong high school career, first-year Jay Pendarvis (Annandale, Va.) is looking to make an impact while at UVA. The Cavalier sprinter shares his goals for the next four years on the track as well as his love for creating films and documenting events. Pendarvis created a short film for a school project he submitted to the Virginia Film Festival that ignited his passion for documenting and recording events.
Q: What made you decide to come to UVA? 
Pendarvis: UVA was actually one of the first schools to reach out to me when I was in high school. My family really liked the school. They thought it was a really good school and I live in Virginia, so when we were deciding where I would want to pursue my athletic and academic career, UVA was always at the top of the list. Being recruited by Coach (Michelle) Freeman, I really liked her when we spoke over the phone and also Coach Vin (Lananna) as well. So, I just really felt that I would have a good support system at UVA and that I'd be able to excel on the track and academically.
Q: How was your first semester at UVA? 
Pendarvis: It has been really weird, but I genuinely enjoyed the first four months that I had here. I like the coaches. I like Coach Freeman a lot. I like all the people on my team, especially on the sprint side. We're all with each other four days a week, dying together in practice. Classes, they're a little weird because everything's on Zoom. I was a little skeptical coming in for classes because I didn't know how I was going to have a connection with my professors for the smaller classes and just be able to communicate, but after the first couple weeks I got used to it. I've figured out a schedule for how I'm going to stay focused even when I'm on my computer and in my dorm. It's definitely been a really good semester in my opinion. I know when things go back to normal, I'm definitely going to enjoy it more because I've already enjoyed it and it's not even like a real college experience.
Q: Was it difficult transitioning from high school to college and learning how to manage your time? 
Pendarvis: For some things, definitely, other things no because we (the team) usually get up early for around 6:45 a.m., but when I was in high school I had to get up at 5:45 a.m. to get to school because I lived in Virginia, but my school was in Maryland. So, I'm kind of used to getting up early to go to school and getting back at home late and having to start my homework. It's honestly been better in terms of waking up and sleeping, because everything's there so I don't have to get up as early. But at the same time, there is a lot more workload, which I did have to get adjusted to – especially balancing practice and the workload. But no, I think I've had a good adjustment with that, and I definitely prefer my schedule now than I did in high school when I was having to get up before the sun rose to get to school.
Q: Your dad was a collegiate athlete, competing in baseball and soccer at Lincoln University. What made you decide to compete in track and field and how did you get your start? 
Pendarvis: Yes, my dad played baseball and soccer at Lincoln. He also ran track in high school and he was honorable mention All-Met for the triple jump. So he was pretty decent at that. I kind of got into it (track) in fourth grade. You know how kids race in school and stuff like that? I was like, 'I think I'm kind of fast, so why don't I try and do this as an actual sport.' So I started in fourth grade and every year just kept progressing, even though sometimes I really did not like it at all, especially when I had to do longer things like the 400. But my parents just kind of put me into it and I've just been sticking with it ever since.
Q: Have you always been a sprinter? 
Pendarvis: Yeah, I was always sprints. I was always like 100, 200 (meters) and then when I got old enough, they started putting me in the 400, which eventually became my main event, unfortunately. I think I had to do the long jump in seventh grade, but once I got to high school, I was just straight sprints, 400, 200.
Q: When did you start looking at track and field as something you could do in college? 
Pendarvis: I think my parents, in like seventh or eighth grade, they were like, 'You're going keep doing this and going get a scholarship for it.' I don't think I truly developed a love and want for track like that until my freshman year in high school. That's when I really started enjoying it. I enjoyed the people on the team, my coaches. There wasn't a doubt in my mind from freshman year of high school that I would be running track somewhere on scholarship to help out with the financials, but also just enjoying the sport and being able to do at least four more years of what I like to do.
Q: You set the U20 world record in the 4x400m and the U20 national record in the 4x200m. Coming in with that kind of background and knowing the hard work that it takes to achieve that level of success, does that give you some extra confidence as you begin your collegiate career? 
Pendarvis: Honestly, I thought it would at first but then after coming into college and just being with new people like Jordan (Willis) and Brandon (Outlaw), two like really top, fast guys in the 400, I think I was very humbled. In high school, I did have accomplishments, but once I got to college, I think everything kind of didn't matter at that point. It was time to rebuild myself like I would say I did my freshman year high school. Now I'm doing the same thing in my freshman year in college, just trying to stay up with everybody else and just make a name for myself. But I feel like I don't really have that name yet and I don't want to hold that national record or the world record and kind of flaunt that because I feel like that's high school and high school is done. It's time for college and time to show what I can do here.
Q: Did you know that you had set the world record and was that a goal heading into the meet? 
 Pendarvis: I think we definitely came in knowing that we wanted to break the records for the 4×2 and 4×4. I think some people were more confident than others. I wasn't as confident because I came from a public school and transferred to a private school my junior year, and that was kind of my first time really being on the big stage in terms of relays. So, I wasn't really sure what to expect. But we had a really good group of guys and we all came in and broke it. I don't think anyone was surprised, but it was definitely a great feeling.
Q: What are you looking to build upon from high school and what are you looking to accomplish in college? 
Pendarvis: Freshman year, I definitely want to break Brandon Outlaw's freshmen record in the indoor 400. That's my hope for this indoor season. I'm hoping to make the 4×4 relay team my freshman year as well and run a 46 second 400, that will be good. Then throughout the rest of my years at UVA, I want to be able to qualify for nationals multiple times, break some school records in the 400 and 200, and just put my mark and my name on the school so that when I leave I'll still be remembered as someone who came to the school and ran track but also made a major impact on this team.
Q: You submitted a film to the Virginia Film Festival. What film did you submit and how long had you been creating films at that time? 
Pendarvis: That short film I made in high school for my digital media class. I took the digital media class the second part of the year which is when COVID happened. So, one of our projects was to create a short film on our quarantine experience. That was my first ever short film. I shot it on my iPhone. I recorded myself doing everything and kind of made it into a story. We had to submit it to a film festival for high school and I ended up winning the film festival for that. After that I was just like, why don't I submit it to the Virginia Film Festival after I committed to the school (UVA) because I knew that was a respected film festival in college. I submitted it early in the summer and they got back to me maybe two months later, when I forgot I had even submitted it. I was definitely surprised that I got accepted into the festival because I didn't think it was that good. I didn't think it was good enough to be accepted into the festival, especially with the low quality, in my opinion. But that's kind of how I got my film into the film festival.
Q: Have you always had a desire to create films and document events? 
Pendarvis: I definitely had the idea of (showing) my experiences, going to a predominately white school, just a lot of my things that I feel like aren't always portrayed in the media, on TV and in movies. A lot of time we see the one story about black people in movies and TV shows and I really want to be one of the content creators that shows different representation of black people in America, because I feel like we don't have enough of that. So, that's always been something I wanted to do.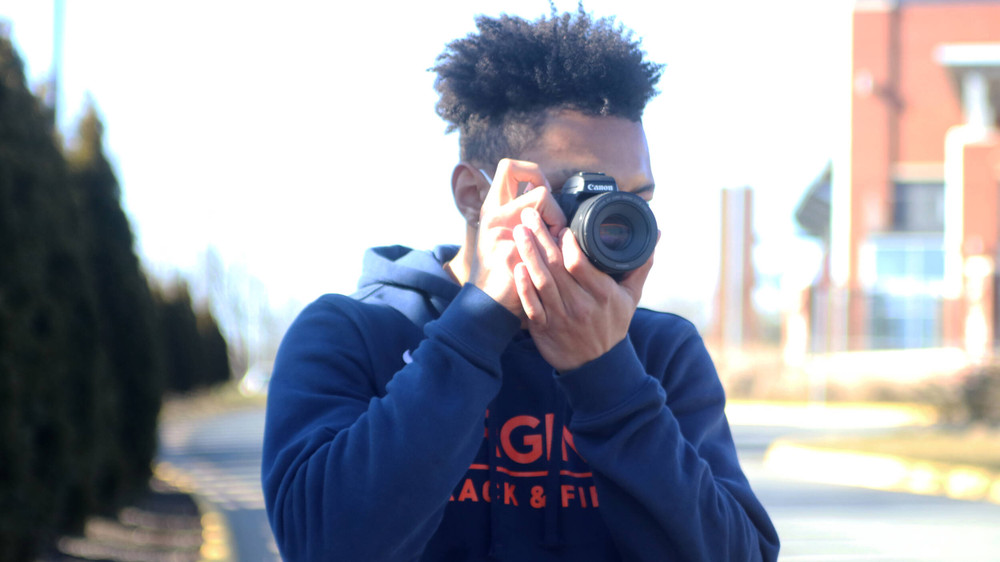 Q: Are you focusing more on journalistic and documentary videos at the moment? 
Pendarvis: For now, definitely, it's more documentary especially because it's so much easier to just go out and record and put something together and put a message behind it but I do want to make my way into making movies out of events that have happened or scenarios in the country. I do want to eventually section over to that. But I think the best way to start is probably by just looking at what's going on right now because so much has happened in 2020, especially over the summer with COVID and the civil rights movement. Just so many things that should have been documented over this summer. So that's really why I was going out every day and just recording stuff like that.
Q: Do you plan on pursuing a career in film making or is this just a hobby? Is this something you plan on getting a degree in at UVA?  
Pendarvis: I've always wanted to create films but I never knew how, so when I took the class in high school I really got a feel for how to create films and over the summer I just created a multitude of content. I went to protests and recorded protests. I recorded videos from my friends who played football, ran track, basketball. I created a video for the humanitarian crisis going on in Yemen with my friend, kind of just to shed light on things that we think, and I think, aren't always shown in the media and needs to be shown. So, one of my big focuses is just showing people what I think they need to be shown that isn't always shown on TV.
I would definitely want that (film making) to be my career if we lived in a perfect world and it wasn't as hard to get into the industry. I know there's not an official film major at UVA, but I'm doing my best to try and find classes that will help me with my skills. Classes that will help me better my skills.