After not being able to return to Grounds in the fall, Giovanna Veiga de Almeida (Belo Horizonte, Brazil) gained new appreciation and insight as she made her way back to UVA in January for her final semester. She recounts her experience at home in Brazil as a newfound ambassador for the sport and shares her experience navigating the difficulties of traveling internationally during a global pandemic.
Q: You were the first international recruit and scholarship recipient for the squash program. What made you decide to come to the University of Virginia?
Almeida: I really wanted to, first of all, study in the U.S., because in Brazil there's really not a follow up to college squash or anything like that. So, I knew I wanted squash to be a part of my life. When I came to visit UVA, I had an amazing visit. All the girls were so involved and took me to the Downtown Mall, Bodo's, all those places. I saw the courts, we had just become varsity (status), so everything was really phenomenal. I also had a really good relationship with Mark (Allen). Me and my parents would talk to him over Zoom and everything, and I just really liked the environment, coaches and staff.
Q: Because you wanted to play squash in college, did you know at an early age that you would want to compete in the United States?
Almeida: I think so. It's also because I have an older brother in the U.S., not at UVA (at Franklin & Marshall), but seeing from his experience, all the fun things he got to do like compete, meet a lot of people – from kind of a young age I was always aware that I wanted that for me as well.
Q: Did having your brother compete collegiately in the U.S. help, especially since you are so far away from home?
Almeida: Yeah, it's really hard. Especially in Brazil, I don't think there's this huge link with college squash and the U.S. My brother, there were a couple of guys before him, but he was kind of one of the first people to actually try and do it. So definitely having him helped me through the process of applications and emailing coaches. All of that was a huge help.
Q: Squash is a very popular sport back home for a lot of your international teammates. Is it a big sport in Brazil?
Almeida: Not really. We (Almeida and her brother) just got into it because we used to play tennis and there was a squash court on the same facility, but it's not really well known. We definitely do not have a lot of women playing. So, I'd say that it's not very well known at all.
Q: Does that create the opportunity for you to be an ambassador for the sport, due to the success you've had at the collegiate level, and educate those around you about squash?
Almeida: Yeah, I felt a lot of that during this past year. During quarantine, different state federations in Brazil for squash invited me to speak live on Instagram or give interviews to try and help other junior players that are looking to do something similar. I think it's just been really cool being able to first of all have this amazing experience, but then help others by telling them what to do or where I lived and how fun it is and how they should really try to do that.
I was live on Instagram with the federation from my state in Brazil, we have 13 states, so it was more local for that one. Then I also did another live one. It's actually a really cool initiative. It was a bunch of girls and junior players, and it was one girl from U11, U13, U15-17-19, and they called me too because it would be good to talk to all those juniors about going to college in the U.S. So that was more of a national initiative. It was with the junior squash federation in Brazil.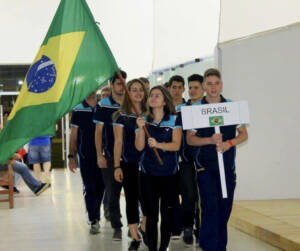 Q: Do you know if that is an initiative that will continue for Brazil and if so, would you want to be a part of that in the future?
 Almeida: It started as a live (video) that they posted on their Instagram so that players could always check and get some tips. But I think it's definitely something I want to be more involved with in the future. I feel like Brazil has a huge need to develop more players like juniors but then also bring more women into the sport. Right now, there are a lot of different tournaments that they will host and will be like,'Oh it's a women's only tournament', trying to get ladies to play and be more involved. So, I would definitely say that when I go back home, I want to be involved with disseminating the sport a little bit more in Brazil.
Q: You are a captain for the team this year, along with Emily Woodworth. How does that along with coming from a community where squash is not as well-known and being the first international student for the team help you?  
Almeida: Being captain, you have to take on a lot of roles and responsibilities. It's not like as a first-year you just go and try to figure out what's going on in practice and do your own thing and follow the rules. As a captain and fourth-year, you're there but you're constantly thinking about your performance, other's performance and how you can motivate them, what should you be saying, what examples you should say. So, I think that's really going to be helpful for my life in the future. Not only in trying to make squash more popular in Brazil by taking on those leadership roles and hosting tournaments or talking to people, but also in whatever endeavor that I decided to take as my professional career. I feel like the skills that I've built being a captain at UVA will just be with me throughout my life. That will just keep being useful and helpful.
Q: Looking back over the growth of the program, what are your thoughts on where it was when you first committed to UVA to where you are now?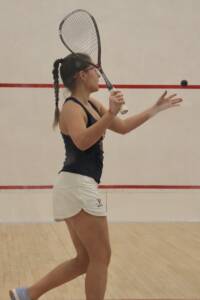 Almeida: I think it's been an amazing journey. When I got here, I was already amazed. Like I said, squash wasn't a big thing in Brazil, so coming here and having all those courts and all these people to play, I was already like, 'Oh my god, this is amazing.' But seeing where we are now. Obviously, this year is a little hard with COVID, but it's just been an amazing improvement. I would definitely say the team culture has grown and I feel everyone's a lot more together now because we practice for more hours and we take this more seriously as a varsity sport. Not just that, the recruiting (has also) changed a lot. I was the first international person to be recruited officially under scholarship and now our teams like 50-50, essentially, internationals and Americans. So that's really cool, just the increased diversity. But I think we've grown so much as a team, as a culture. Going from number 13 in the country in my first year to number nine last year, that's been really amazing too and I am sure that for the years to come, we'll just keep on doing better and better.
Q: You just arrived on Grounds in January for this year. Were you still staying in Brazil? 
Almeida: Yes, so back when COVID started, by like spring break last year, I ended up going home and then there was actually a travel ban in place with Brazil and the U.S. So I couldn't really return for the fall semester. Even now, when I just got here, I had to go to Mexico and quarantine for two weeks before I was allowed to fly into the U.S. But for the fall semester, I ended up deciding with my parents not to do that because it'll be a lot of work to get here and then we didn't know how things were going to be, if school was still going to be in place or if there was going to be a surge of cases and they would have to close off a little bit. We ended up deciding that I was not going to come back.
I just got in here, but it's definitely been interesting. It's obviously an unfortunate experience, especially being my fourth year and not being able to be here with the team as a captain and everything. We still all did our best to stay involved with Zoom meetings, but I'd say that I've definitely grown so much from this experience. Even the simple fact is now I'm much more aware of all the privileges and the good things that I have here at UVA. At this time, we don't have any matches schedule on the women's side, but it's still like so amazing for me and unbelievable to be back and practicing with the team. I feel like things have taken on a completely new level of meaning, just from what I've experienced by not being here.
Q: What was it like having to quarantine in Mexico and what did that look like?
Almeida: I ended up going with my dad and we quarantine there for two weeks. And then when I got here, I had to do the athletic (department) quarantine and take two (COVID) tests and then when I finally got the negative results, I was cleared for practice. But I'd say that it was definitely very stressful because we're making all these travel arrangements, but then we're not sure if they're really going work. I was definitely really nervous when I was about to fly. I was like, 'Oh my god, what if someone tells me I cannot do this,' and since I'm from Brazil and was in Brazil 15 days ago, what if they don't let me in. But overall, everything went well, and I definitely had a lot of people help me. Not just Mark at UVA, but also the ISO (international studies office) and other departments that I contacted that provided me with all the documents and things that I needed to make sure it would be a smooth travel.
Q: Were you able to train while you were at home and did you have access to a court?
Almeida: I was actually very lucky about that because I have a squash court in my house so I was never subject to the clubs closing, because they did close for a while, but I had my court that I could use full time. At first during the summer, Mark would send the team a couple of practices and things to do and I would just do them on my own and try to exercise outside like go for runs or just use a few of the equipment that I had at home, like sort of a personal gym. But when the fall actually started and the team was back together and training, obviously a lot more hours, what I ended up doing was just hiring a coach back at home so he could do the squash part with me but then I would just do the fitness and strength and conditioning outside, based on what Mark, Justin (Russ) and Grant (White) were sending me.
Q:  You're going to graduate in seven semesters with a psychology degree. What are your plans for after college and after graduation?
Almeida: I'm currently writing a thesis in the psych department, which is good experience to set me up for the next part of my future professional career. I'm currently applying to a bunch of master's and PhD programs, mainly in clinical psychology, and all of them in the U.S.