Redshirt senior Charlie Campbell returns as Virginia women's lacrosse's starting goalie for the third consecutive year. In her 35 games she has accumulated 266 saves. In 2020, Campbell made a career-high 16 saves in UVA's win at Princeton. Campbell doesn't just excel at lacrosse, she has many other interests and talents she finds time for.
You are a fifth-year senior, how you have grown in your time at UVA?
Campbell: I think that I have become much more comfortable with myself as an individual – both the visible and invisible facets of my personality. I used to want to make myself smaller, to have less of a presence so that people had less about me to dislike or label as weird, but now I realize that there is nothing about me or my interests that I need to excise from myself. I don't need to become smaller in order to fit in someone's palm, other people need bigger and stronger hands.
You completed your undergraduate degree last year, what did you study and how did you get interested in that?
Campbell: My major was human biology – which is part of the Distinguished Majors Programs here at UVA. Human biology is the intersection between public health policy and the physical sciences (such as biology, chemistry, physics, and anatomy and physiology). Though I've always wanted to be a medical professional, I became interested in public health when I realized that many aspects of the American healthcare landscape were specifically built so that those deemed "less valuable" by those in power are hurt. Race and poverty are not risk factors in medicine – racism, classicism, and bigotry are what kill people unnecessarily. And all healthcare workers, irrespective of whether they are aware of it or not, have biases that could end a patient's life.
What were your classes like in undergrad?
Campbell: Very challenging, but intensely rewarding – every class was fascinating to me (with the exception of chemistry), but many were difficult. Sure, several of my classes were complex and the homework exigent, but much of what I learned was (for lack of a better word) intensely sad. From maternal mortality rate, to unnecessary health disparities, to the way Black Americans are treated by hospitals, to the suicide rates of the transgender patients, almost every class came with a reason to give up on humanity. I realized that I truly was in the field that I belonged in when I refused to give up on us, even though we may not deserve my hope.
How did you balance that with lacrosse?
Campbell: Lacrosse is something that I need, just as a human being must breathe in order to live. It is not easy, but it is more than worth the long hours of both schoolwork and athletic work to have both. My best strategy was go get "insurance" at the beginning of the semester with my professors – doing any and all extra credit opportunities, making sure that my professors knew my face and that I was passionate about the subjects that they taught, so that later in the year if I needed help they were far more willing to work with me than if I was a faceless student all of a sudden emailing for an extension on an assignment.
Now you are in graduate school, how has that been different?
Campbell: All of my classes are asynchronous, and it is very difficult to actually build up a rapport with my professors and classmates. It is hard to make friends over Zoom, but it is even more difficult when the only avenue to speak with one another is online discussion boards! Grad school is also different in that most people here are at a vastly different points in their lives than I am. I am getting a master's degree in educational psychology: social foundations of education, and most of my classmates are not only older and wiser, but far more experienced than I am; almost all of them are teachers and professionals, not mere students like me.
What are you hoping to do after graduation?
Campbell: My dream is to be a general trauma surgeon, and if I am allowed, I would love to specialize even further to be a pediatric general trauma surgeon (though I am more than happy to take care of adults too)! I have always loved fixing things, and whenever I see an injured person the only thought in my head on a loop is 'Let me fix it, let me help, let me fix it, let me help' over and over again. It seems only fitting that I channel that all-consuming need to fix things in a positive direction.
You also have many interests outside of school/lacrosse, talk about your love of music, what your favorite kind to listen to is, etc.
Campbell: Though I have little free time, I really enjoy watching horror movies, reading sci-fi and fantasy novels, and listening to music. My favorite genres are alternative, metal, punk rock, and folk punk. I will always love a good protest anthem, but pair the progressive sentiment with some intricate electric guitar riffs and you basically have a contender for one of my top-10 favorite songs.
Is there anything you listen to regularly that gets you pumped up before a game?
Campbell: I love Jazmin Bean, who is a non-binary nu metal artist that everyone should listen to! I own every single one of their songs (even their covers of other artists). Saccharine and Worldwide Torture are songs that get me psyched before a game. Additionally, I love the punk bands PUP, Hot Milk, and Against Me! PUP's Bloody Mary, Kate, and Ashley, See You at Your Funeral, and Nothing Changes along with Against Me!'s Thrash Unreal, Black Me Out, and Rebecca, plus Hot Milk's Candy-Coated Lie$ and Take Your Jacket all feature on my pregame playlist. When I read the titles of these songs back to myself, I realize that they sound really scary, but I promise that they are all wonderful and really uplifting.
Growing up in NY, did you get to go to a lot of Broadway shows? What are some of your favorites?
Campbell: I was very fortunate that I was able to see many more shows than the average person because my family has a very deep love and respect for the performing arts. My favorite is probably Les Mis because I am not only a sentimental marshmallow who cries at every ballad, but because my family has a history of loving the show. My grandfather (named George, my father's father) hated the theater, but he put up with it because my grandmother loved it so. When he saw Les Mis, he fell in love with the show, and would belt out the lyrics to Who Am I every morning in the shower. My grandfather unfortunately passed away a few months before I was born, but thankfully his surviving wife and children held onto their precious memories of him. When I was younger, I said something along the lines of thinking that Les Mis looked overly dramatic and silly (I may even have called it stupid) since I had only seen the trailer for the film. My dad was instantly reminded of how much my grandfather had to be dragged into the theater to see it, said that I had to see it because he thought that perhaps it would surprise me. Sure enough, I know the entire operetta by heart.
You also are amazing at doing makeup, what inspired you to start doing that?
Campbell: I have always been fascinated by special effects makeup and practical effects, and to say that I love horror and horrific imagery would be an understatement. I believe that when people create monsters, they are trying to confront something within themselves that someone (be it themselves or someone they know) has labeled as monstrous. Creating a character is a deeply introspective process, and I enjoy transforming myself into a fantastical creature, some appalling ghost, or simply something beautiful. Instead of feeling like I am putting on a mask, I am actually revealing more of myself to others, and getting to know myself better when I put on makeup.
Did you teach yourself, or how did you learn to do the amazing creations you have come up with?
Campbell: I am completely self-taught, and whenever I have a concept in my head, I doodle my thoughts into a notebook I almost always have with me. I will then troubleshoot my ideas on my face with the cosmetics I have available. In 2020 for Halloween, I made all of my own prostheses myself using liquid latex – it was difficult to master, and I ruined a few makeup brushes, but the end results were completely worth it!
What are some of your favorite makeup looks?
Campbell: Even though I really enjoy cosplaying and being a "recognizable character", I think that my favorite thing to do is create my own characters, since it allows me to exaggerate a trait that I already have or embody a characteristic that I wished I displayed more often. It is very freeing to transform yourself into whatever your heart desires, I feel like I am painting my dreams on my face.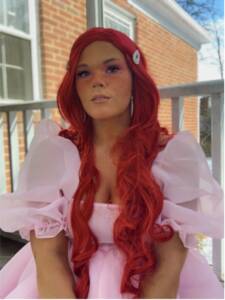 Pink (an original character designed by my friend Baylee).
A Forest Deity I created myself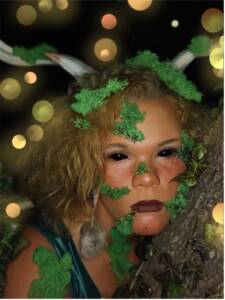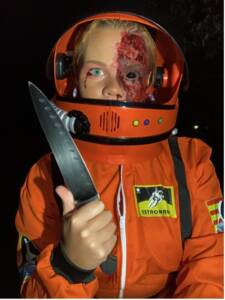 The Imposter – a nod to the videogame Among Us
A look I did inspired by Dr. Facilier from The Princess and the Frog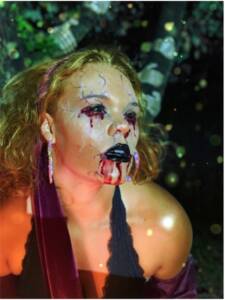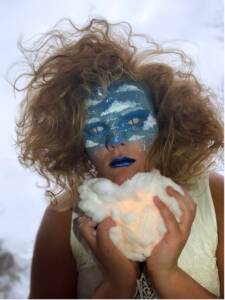 This look was inspired by a dream that I had that I was living in a city in the clouds. I thought it would be fun to give that city a deity.