Since March, the ongoing coronavirus pandemic has left many struggling to find ways to pass the time. While some opt to go for walks multiple times a day, and others tend towards teaching themselves new tricks and talents, third year Madi Wilson has surely had her plate full. Not only has the Chesapeake, Va., native devoted hours to developing her skills as a catcher and first baseman on the softball team while continuing to prepare for a career in nursing, but she has also followed her passions into something a little less…traditional: rock painting.
Yet, while this may just seem like a random hobby, it is actually a part of something much, much larger.
The Kindness Rocks Project, a national organization started by business mentor and "kindness activist" Megan Murphy, works to encourage people by "leaving rocks painted with inspiring messages along the paths of life." Though it originated in Cape Cod, Massachusetts, the Kindness Rocks Project made its way to Charlottesville by the leadership of Erika Osherow, a former UVA softball starter and Wilson's friend and former teammate, in the aftermath of the events of August 11 and 12 in 2017.
"It started as a Class Council project and I was on the wellness committee at the time," Osherow said. "It started as an idea to unite the Charlottesville community at large with the University, and so my third year, we organized some rock painting parties and just wanted it to grow. It was a small way for students to see anonymous love and togetherness at random times throughout their day."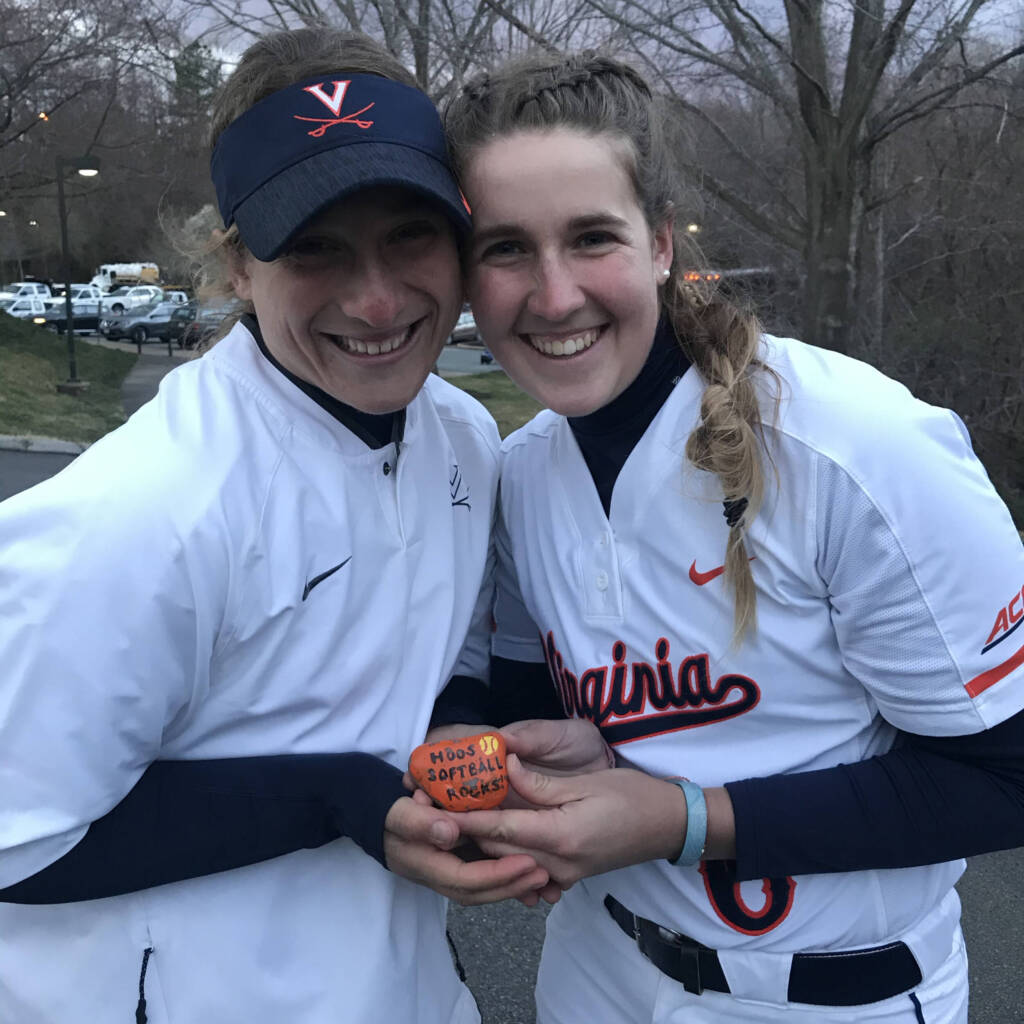 Upon her graduation in 2019, Osherow passed her passion and the project on to Wilson, who not only caught the former pitcher, but also became a close friend in their one shared year on the softball team.
"I got involved my first year when Erika had already started it, and I kind of just flew under her wing and then when she graduated, I took over from her," Wilson said. "I think the biggest thing that I hope to do with the project is brighten people's days in a sense that you never know who might find a rock and if they're going through a hard time and that's the one thing that they really need to get through that hard time."
Throughout the three years that the Kindness Rocks Project has been around Charlottesville, both Osherow and Wilson have painted hundreds of rocks with thoughtful, uplifting messages and placed them where any individual could find them on Grounds. However, what started as a small way to reunite the university and surrounding community after a difficult event has grown to be a daily part of life for Wilson, as well as the rest of the UVA softball team.
"I think for the softball team, it's not only been a way for us to bond together, but it's also kind of been another way that we can make an impact beyond the small little athletic bubble that we have," Wilson said. "Even if people don't actually know that it's us, we know that we're able to have that impact on other people, and just using what we have in our strengths and using that to better the community around us."
Community service has become a core piece of the Cavaliers' softball team in recent years, not only due to athletic director Carla Williams' hope for UVA Athletics to further connect with the Charlottesville community, but also thanks to the incorporation of a different "leadership teams" within the softball program – of which community service is one, and is headed by none other than Wilson, along with fellow third year pitcher Clare Zureich – that correlate with different aspects of the team's mission statement.
"I think the project aligns with our core principles and values as a team, because we always talked about how we wanted that consistency in how we are off the field to be the people we are on the field in terms of respect, sportsmanship, integrity, and care for others," Osherow said. "The Kindness Rocks Project has become one small thing to really emphasize those principles, on top of how we go around Grounds as student-athletes. It's really cool when you have Strike Out Cancer games and nursing home or hospital visits and are able to bring the rocks out for a cause or bring a piece of ourselves to the game. It's been another place to rally behind and show that we don't have to just be student athletes or UVA students, we can also be a part of the Charlottesville community."
Throughout lockdowns and quarantines, Wilson chose to devote her time to painting rocks in hopes of continuing to spread kindness and positivity during such unprecedented circumstances. "When we first went home, we had a table that we put all kinds of rocks and paint pens and paint and that's when my mom got really into it with me," Wilson said. "Because of COVID, she was home every day with me, so we painted a ton of rocks then, which was fun just because when we first got home there wasn't a lot to do since we didn't have a season to really prepare for. So, it's nice that we were able to paint a lot of rocks that had more pandemic and COVID themes like social distancing and stuff like that and use that as a way to make people smile."
Even though Osherow is no longer a student at UVA, she continues to paint rocks as well, and is hoping to start a project back in her home state of Connecticut.
"I know Madi had family-wide rock parties during quarantine, but it's definitely become a hobby of mine and incredible discovery of how writing my favorite quotes on rocks can be so de-stressing," Osherow said. "It's always great when a friend sends you a quote or you find on that really resonates with you and you're like 'Wow, I've got to write that on a rock.' Today I had a rock that I had that moment with and it said, 'And then I realized that adventures were the best place I learned how to live," and it just brings a moment of happiness."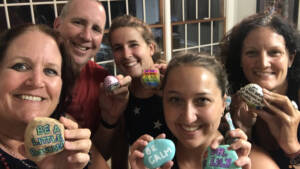 As Wilson approaches the start of her second semester of third year, her time with the Kindness Rocks Project has taught her many valuable lessons. "I learned that I'm more creative than I thought I was, I never thought I was ever that artistic!" Wilson said. "But it's definitely taught me how powerful one saying or how powerful something really small can be. My mom has always told me that you never know what battles other people are fighting, so to always be kind; I think that this has just been a daily affirmation of yes, we don't know what other people are going through, but here's something little we can do to help them in times when they don't have anyone else to lean on."
"I think the biggest take away from this project that I hope people take from it is that words of kindness, small acts of kindness are a universal love language," Osherow said. "It doesn't require a lot of money, time, or space to continue to give hope, laughter, and pass on a smile. Especially with COVID, everyone has been going through something, and no one is exempt; whether you're grieving a loss of a loved one, plans you had, a social life, a college experience, a season…we can find those unifying moments and connect to bring us together rather than further isolate ourselves."
Molly Keshin, a senior on the Virginia softball team and student assistant in the Athletics Media Relations Office, compiled this feature.