Seaman and Caldwell Go 1-2 in Long Jump at ACC Championships
Jada Seaman (left) and Khyasia Caldwell (by Bart Boatwright/ACC)
CLEMSON, S.C. – A repeat sweep of the women's long jump competition's top two places highlighted the second day of events for Virginia at the 2021 ACC Indoor Track & Field Championships.
Sophomore Jada Seaman (Pikesville, Md.) repeated as the long jump champion, edging out teammate Khyasia Caldwell (Pocono Summit, Pa.) by a quarter of an inch, for the first-place medal. Those two performers took the top two places in the event at the 2020 ACC championship meet.
Seaman's top mark of 6.19m (20'-3.75") came on her third and final attempt in the prelims after she had fouled on her first two attempts. Caldwell posted a leap of 6.18m (20'-3.50") on her fifth try to move into second place. Her distance was a season-best mark for the UVA senior.
Seaman is the first Cavalier to win back-to-back ACC titles since Sherry Gould won the high jump at the 1993 and 1994 championships. Seaman is the first ACC competitor to win consecutive women's long jump titles since Clemson's April Sinkler in 2009 and 2010.
Both Seaman and Caldwell earned first-team All-ACC honors for their finishes.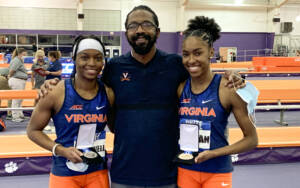 Caldwell (left), UVA jumps coach Mario Wilson and Seaman.
Junior Alix Still posted a personal-best score of 3,974 points in the pentathlon to finish third and earn first-team All-ACC accolades. Still's score allowed her to move up to third on UVA's all-time performance list. Still was sixth at the 2020 ACC championships and improved her score from that meet by 317 points.
Still's best event performance was a third-place finish in the high jump at 1.70m (5'-7"). She set personal best marks in the 60-meter hurdles (8.70), the shot put (10.97m / 36'-0") and the 800 meters (2.19.84). In a field of 19 competitors, she never placed lower than seventh in the pentathlon's five events.
In the heptathlon, sophomore Elby Omohundro (Midlothian, Va.) finished fourth with 5,014 points. That earned him second-team All-ACC honors.
In the 60-meter dash, senior Halle Hazzard (Commack, N.Y.) advanced to Saturday's final along with freshman Kayla Bonnick (St. Catherine, Jamaica). Hazzard had the second best prelim time (7.28) while Bonnick was seventh with a personal best time of 7.48
They will also race in Saturday's 200-meter finals along with Seaman.
The UVA men advanced two competitors to Saturday's 400-meter finals. Jordan Willis (Williamsburg, Va.) turned in the fourth best performance at 47.00 while Brandon Outlaw (Moorestown, N.J.) was right behind him with the fifth-best clocking at 47.16. Outlaw and Willis rank first and third, respectively, on UVA's all-time list for the 400 meters.
Andrenette Knight reached the finals in the women's 400 meters. She had the fourth fastest time in the prelims, turning in a season-best effort of 54.99.
Notable Individual Performances
Freshman Jeremiah Wilson (Salem, Va.) had a personal best time of 8.20 in the 60-meter hurdles. That ranks No. 4 on the UVA freshman performance list.
Freshman Jay Pendarvis (Annandale, Va.) clocked a time of 48.10 in the 400m to take over 10th place on UVA's all-time performance list for the race. That time ranks No. 3 on the freshman performance chart.
Director of Track & Field and Cross Country Vin Lananna on the Hoos
"This was a historic day for the Virginia women capped off by the one-two finish in the long jump and the third place by Alex Still in the pentathlon. The men were led by a gutsy performance in the heptathlon and two finalists in the 400. Tomorrow is a big day for our teams. I am very proud of the Hoos!"
Next Up
The final day of competition at the ACC Championships starts at 10:30 a.m. The meet will be streamed on ACC Network Extra.