By Jeff White (jwhite@virginia.edu)
VirginiaSports.com
The University of Virginia men's basketball team packed for an extended stay in the Hoosier State. The Ohio Bobcats spoiled those plans.
Ohio, seeded No. 13 in the NCAA tournament's West Region, rallied to defeat fourth-seeded UVA 62-58 on Saturday night at Assembly Hall in Bloomington, Ind. For the Cavaliers, it was a painful ending to a season that was played during a pandemic and tested them in myriad ways.
"It was a windy road," Virginia head coach Tony Bennett said. "Unique."
The Wahoos closed their 12th season under Bennett with an 18-7 record. The COVID-19 pandemic shut down college basketball before the NCAAs could start last March, so this was Virginia's first game in the tournament since April 8, 2019.
On that night, UVA capped a heartstopping postseason by defeating Texas Tech to win the NCAA title in Minneapolis.
"I've faced such joy in this tournament on so many occasions, and I've faced the heartache too," Bennett said Saturday night. "And you have to be, as I always say, willing to accept them both and know that when your career is done this doesn't define you, whether you win it all or you lose. It's what you do. You do it with love and joy and passion, and then you don't let it define you beyond what it should."
Two weeks ago, Virginia clinched the ACC's regular-season title with a road win over Louisville. The Cavaliers then headed to the conference tournament in Greensboro, N.C., where they defeated Syracuse in the ACC quarterfinals on March 11. The next day, however, UVA had to withdraw from the tournament after sophomore forward Justin McKoy tested positive for COVID-19.
Back in Charlottesville, much of the team was quarantined because of contact tracing, and there was no guarantee Virginia would be cleared to play in the NCAAs. But after a week of negative tests, the Hoos got the go-ahead from the NCAA and flew to Indianapolis, without McKoy, on Friday.
Of the 68 teams in the NCAA field, Virginia was the last to arrive for the tournament.
"We were grateful to the NCAA for giving us that," Bennett said. "We met all the protocols."
He flashed a rueful smile. "I know more about protocols than I care to, to be honest."
After returning to Charlottesville from Greensboro, the Hoos were able to practice only once, on Friday morning, before flying to Indianapolis. Still, with 14 minutes to play Saturday night, they led 38-31 and appeared well-positioned to advance to a second-round meeting with No. 5 seed Creighton.
The Mid-American Conference champion Bobcats (17-7) refused to cooperate. Led by Ben Vander Plas, the younger son of one of Bennett's former teammates at Wisconsin-Green Bay, Ohio stormed back to take a 49-42 lead with four minutes left.
On the final play of the first half, Vander Plas had hit a deep 3-pointer to cut Virginia's lead to 28-27. In a four-minute span of the second half, he made two 3-pointers and two interior baskets as the Bobcats took control.
Virginia battled back, thanks in so small part to freshman guard Reece Beekman's contributions, and in the final minute cut Ohio's lead to 58-55 and then 60-58. With five seconds left, however, guard Lunden McDay made both ends of a one-and-one to seal the victory for the Bobcats.
"Ohio played a better game," Bennett said. "When they needed to make plays, they made the plays, and we left some on the table. Again, I'm grateful we got the chance. You can't go back and change anything. I thought our guys were as ready as they [could be] given the circumstances."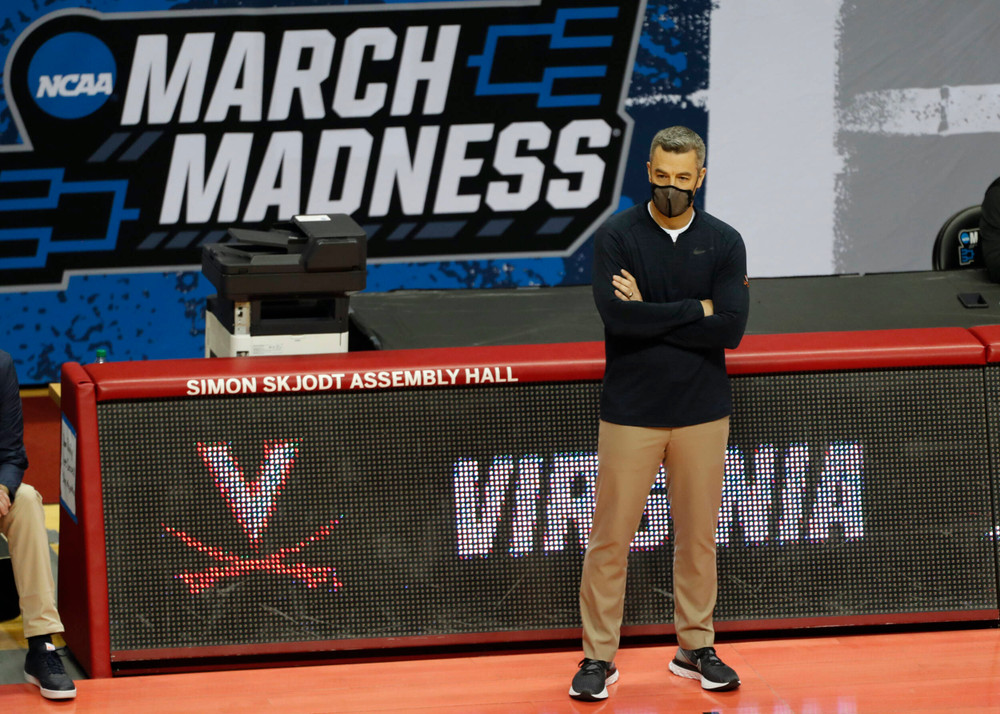 For the game, the Bobcats made 13 of 14 from the line. Moreover, they scored on 11 of their final 15 possessions.
"Give our guys a lot of credit for the offensive execution," Ohio head coach Jeff Boals said.
Virginia, meanwhile, had only three turnovers, a season low, but otherwise struggled offensively.
Among ACC teams, UVA came into the NCAA tournament ranked first in field-goal percentage (48.0) and second in 3-point percentage (38.10). Against Ohio, the Hoos shot a season-low 35 percent from the floor. From 3-point range, they shot 25.8 percent.
Junior forward Trey Murphy III was 4 for 8 and sophomore guard Casey Morsell 1 for 2 from long range. The rest of the team was 3 for 21 from beyond the arc.
"I don't know if we got tired down the stretch or felt a little bit of the pressure," Bennett said, "but I thought we got some good looks and just had a pretty poor shooting day, a very poor shooting day from [3-point range], with some quality shots. But they did a solid job defensively."
Fifth-year seniors Sam Hauser and Jay Huff came in shooting 46.2 percent and 39 percent, respectively, from beyond the arc. Hauser was 1 for 8 and Huff 1 for 6 on 3-pointers against Ohio.
"It was just one of those things where the shots just weren't falling," said Hauser, a first-team All-ACC selection. "I don't think it was tired legs at all. I just think it was one of those games where it happens, and it happens to everyone. That's why your defense has got to be real, real good, and I thought our defense was pretty good up until they made that run in the second half. But you can't make an excuse for not being able to make shots. You got to find other ways to score, and tonight we just we just left some baskets out there that we should have made."
Hauser, who was 4 for 16 overall, finished with 15 points, nine rebounds and three steals. Murphy (12 points) was the only other Cavalier to score in double figures.
For Ohio, Vander Plas scored 17 points, sophomore forward Ben Roderick added 15 points, and junior guard Jason Preston totaled 11 points, 13 rebounds and eight assists.
Vander Plas, whose given name, Bennett, is a tribute to the UVA coach's extended family, also has a connection to Hauser. They both grew up in Wisconsin and played on the same travel team when Hauser was in the second grade and Vander Plas was in the first.
"He's a great player," Hauser said. "He's crafty. He's deceiving. He's got a really good shot fake and obviously you saw he has really deep range and he made a couple of bombs tonight. Hats off to him, man, he's good. He is so sound. He's so fundamentally sound and he's a good player, and he's kind of like a glue guy to that team. Without him I don't know what they'd be like."
Bennett said Vander Plas "did what his old man would do when I played with him: make key plays … He's just skilled and sound and he knows how to play the game. So I'm happy for him and hurting for our guys."
The Cavaliers have four seniors: Hauser, Huff, Tomas Woldetensae and Austin Katstra. Like their teammates, the seniors have been following strict protocols since returning to Grounds in July, and this was not the ending they'd envisioned for themselves.
In the locker room after the game, Bennett said later, "I just thanked the old guys that put as much as they could into this program. And I said, 'You'll remember your ACC regular-season championship, that's a big deal. And you'll also remember getting beat in this tournament, but that's nothing to hang your head about.'
"I said, 'I wish I had some magic words to make the sting go away, but I don't. But time heals all things.' "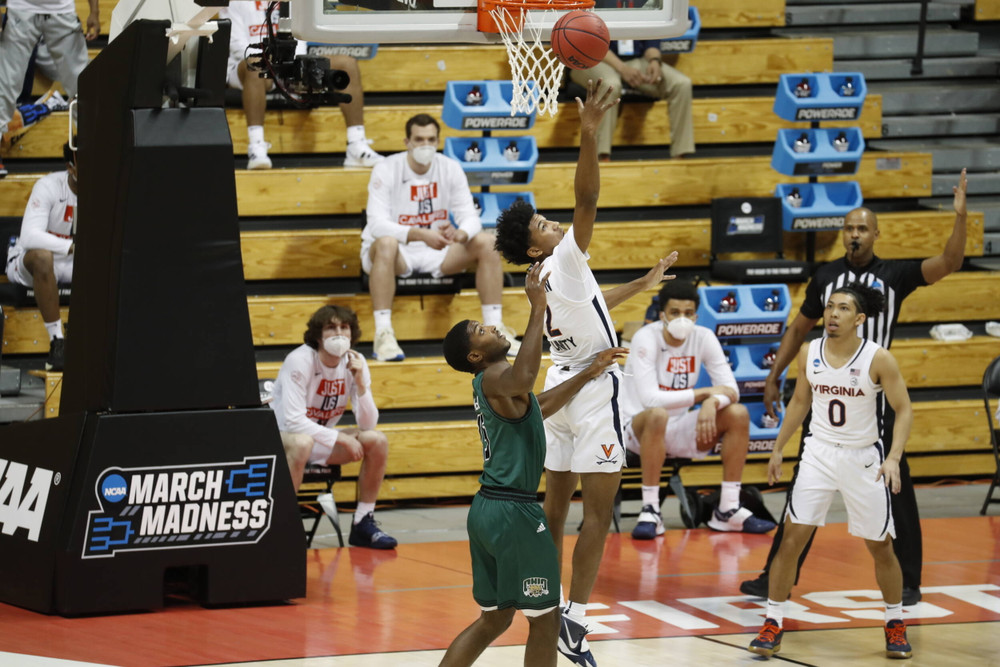 SOUND BITES: With the loss, Virginia's all-time record in the NCAA tournament dropped to 35-23. Among the postgame comments at Assembly Hall:
* Bennett: "Our guys were hopeful that we would get this opportunity, and the NCAA allowed us to come in and in a unique way. I'm thankful for it, but it just stings right now to not advance in this tournament. It's such a special tournament. You know how that goes. The last game of the year is always tough, and I know our guys are feeling it right now."
* Hauser, who began his college career at Marquette, on how he'll remember this season: "Everything was different. It wasn't a normal college basketball year. But overall, I was just happy to be able to play and [for UVA to] be able to play a pretty good number of our games. Obviously, this last week has been hectic, but we were just happy we were able to have a chance to play in the tournament, and that's where you want to be able to end your season, in the tournament. Overall, it was a good year. We ended up ACC [regular-season] champs, so can't take that away from us for sure. I'm definitely happy I chose to come here."
* Bennett: "At the start of the season we didn't even know if we'd get to play that many games, didn't know what would happen with the NCAA tournament. I'm glad we're having the NCAA tournament, but it was a strange year, unlike any, and I hope it never happens again, because there's such an experience when the fans are there [to add to] the excitement of it, and that won't take anything away from the teams, of course, that are advancing."
* Ohio head coach Jeff Boals: "I want to give Virginia all the credit in the world for what they went through. Tough to go through a COVID pause, not practice, flying the day before. They missed some shots they normally make. Feel very fortunate and very grateful."
* Bennett when informed after the game that COVID-19 issues had knocked VCU out of the NCAA tournament: "What is it with us Virginia schools? Oh, man, I'm sorry to hear that for those young men. I didn't know that."
To receive Jeff White's articles by email, click here and subscribe.