By Jeff White (jwhite@virginia.edu)
VirginiaSports.com
CHARLOTTESVILLE –– Payton Cormier enrolled at the University of Virginia in the summer of 2018, and he was on the team that won the NCAA men's lacrosse championship in Philadelphia the next spring.
His perspective, though, was more that of a spectator than a participant during UVA's stirring postseason run. Cormier, a heralded recruit from Oakville, Ontario, tore his right anterior cruciate ligament at a practice in November 2018, and many months of rehabilitation followed.
"It wasn't an injury where I could be ready for the season after two, three months," Cormier said this week. "It was an injury that was season-ending, and that definitely made it a lot tougher."
Healthy again in 2020, Cormier was third on the team in points when the COVID-19 pandemic shut down college sports last spring, long before the postseason was scheduled to start in lacrosse. And so UVA's first-round clash with Bryant last weekend at Klöckner Stadium held special significance for Cormier. It marked his long-awaited NCAA tournament debut.
"Obviously, I saw that whole 2019 run, so I felt like I'd seen those situations before, but it was definitely fun," Cormier said this week. "It's not something that happens every day, that you get to play in an NCAA tournament."
A 6-2, 230-pound left-hander, Cormier scored two goals in the Cavaliers' 13-11 victory over the Bulldogs. For the season, he leads the team in goals (39) and is fourth in assists (eight).
The 2019 team that won the program's sixth NCAA title had plenty of offensive firepower, but Cormier would have been another weapon for the Hoos to deploy.
"I remember the day he got hurt really vividly," offensive coordinator Sean Kirwan said this week. "It was actually the day I thought he finally was getting comfortable and had started playing really well and really within himself and was letting his skills shine. So it was a real bummer when that injury happened, because I really thought he was starting to turn that corner and break through."
Those skills have been on full display this spring, and they've helped Virginia advance to the NCAA quarterfinals. At noon Saturday, in a game ESPNU will televise, fourth-seeded UVA (11-4) meets fifth-seeded Georgetown (13-2) at Hofstra University's James M. Shuart Stadium in Hempstead, N.Y.
That's the same Long Island venue, of course, where Virginia rallied to upset Maryland in the NCAA quarterfinals in 2019.
"All the sudden there are some things that are popping up that are really comforting," Kirwan said. "It's like, 'OK, we've been here before. It's the same road map. It's the same plan.' "
Kirwan came to UVA from Brown University with fellow assistant Kip Turner and head coach Lars Tiffany after the 2016 season. Before Cormier arrived on Grounds, Kirwan had coached only one Canadian player, former Virginia attackman Joe French. Like many Canadians, Cormier grew up playing hockey, and the techniques he used on the ice helped him in lacrosse.
"With using my hands in tight places, hockey was one of the best things for me," said Cormier, who hasn't been on the ice since he tore his ACL. "I was happy that I didn't stop playing hockey until the year that I got to UVA."
Oakville is on Lake Ontario, about 25 miles southwest of Toronto. It's a long way from Charlottesville, but Cormier's talent didn't escape the notice of the Hoos.
Cormier, who's an American studies major, committed to UVA in July 2015. The Wahoos' head coach then was Dom Starsia. Even though his future lay in lacrosse, Cormier stayed active in other sports, too. At Oakville Trafalgar High School, he played lacrosse, hockey, football and basketball.
He grew up playing both versions of lacrosse. Field lacrosse, which is most popular in the United States, is played outdoors, with 10 players on a team and a 6-foot by 6-foot goal at each end.
Box lacrosse, at which Cormier also excelled, is the version of choice in Canada. It's played indoors on hockey rinks, with the ice removed or covered. Each team has six players, and the goals are 4'×4'. Like their counterparts in ice hockey, goalies wear large, bulky pads, and so the box game requires special skills from shooters, who have less room for error.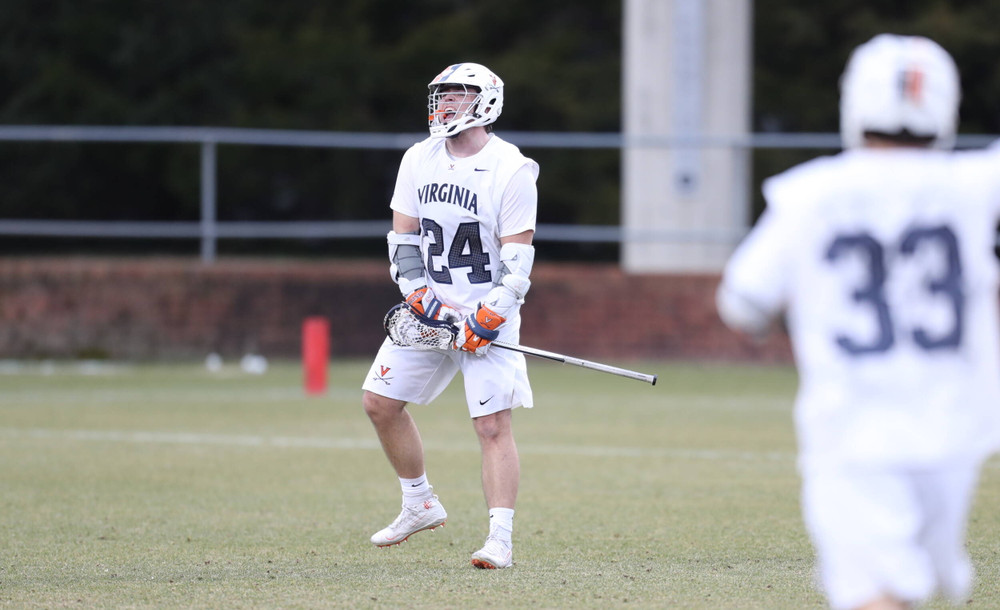 Cormier, like many Canadian players, rarely uses his off hand. "We just joke around in practice, because I am so left-hand dominant," he said. "I've taken a few shots this year with a stick in my right hand, but I think for the most part I am pretty dominant left hand, and I don't really try to avoid that."
Canadians who have played at UVA include French, brothers Mark and Matt Cockerton, Garrett Billings, Garett Ince and A.J. Shannon. Cormier played with French's brother, Ben, in the Mimico Lacrosse Club and also is close with Billings, who scored 30 goals as a freshman on the Virginia team that went undefeated and won the NCAA title in 2006.
"He really helped me through my whole recruitment process as well as just growing up and becoming a better lacrosse player," Cormier said of Billings. "He was one of those people there for me, and I still connect with him to this day. He really supported me and still supports me."
Cormier is a natural attackman, but the Cavaliers were loaded at that position in 2020, with starters Ian Laviano, Matt Moore and Michael Kraus back from the national championship team. So Cormier played in the midfield as a redshirt freshman.
"One of the best things about our offense is we have so many guys that can play wherever you need them," Cormier said. "We worry more about winning than personal things, which is one of the good things about our team.
"Last year I was definitely one hundred percent a middie. With the guys we had, I didn't really see too much of an opportunity to go down to attack, and breaking up that chemistry from a championship team was never something that I even thought of."
With Kraus gone, a starting job on the attack opened this year, and Cormier has filled it capably. He doesn't dodge the way teammates Moore and Connor Shellenberger do, but like Laviano he's exceptional at finishing around the crease.
"Payton's done a great job of really accepting being a presence for us off-ball just as much as he is dodging," Kirwan said. "It took us a little while to understand how to play with everybody, but guys really have a ton of confidence in him, just like they do with Ian, and those two kind of operate in the off-ball roles for us. Guys are really starting to look for each of them, and we feel like it gives us really good balance on our offense."
Nine Cavaliers have scored at least nine goals each this season: Cormier (39), Moore (27), Shellenberger (25), Charlie Bertrand (23), Laviano (20), Peter Garno (20), Dox Aitken (15), Jeff Conner (10) and Xander Dickson (nine).
With so many options on offense, none of UVA's frontline players gets as many shots as he might on a team with less depth and less talent. That hasn't been an issue for the Hoos, who are averaging 14.7 goals per game.
"The guys have done a really good embracing that," Kirwan said. "It's definitely a challenge for them. With a couple fewer guys, there's maybe a few more opportunities per guy, but at the end of the day they've bought into playing together and doing whatever it takes to come out with some victories. Payton is not exclusive of that, and he's done a great job kind of embracing his role and how he fits into what we're trying to do."
There was an adjustment period for everyone at the offensive end this year, Cormier said, but "when we all look at the bigger picture, when we see what we want to accomplish, what we're going for, we're OK with it. If this is what it's going to take, then we're OK with it."
Moreover, he said, there's one overriding goal in the postseason: championships. "So I think that's really sunk in with our team," Cormier said. "We're not focused on those personal things, if we ever were. We're focused on winning as a team."
To receive Jeff White's articles by email, click here and subscribe.