By Jeff White (jwhite@virginia.edu)
VirginiaSports.com
CHARLOTTESVILLE –– She'd heard the stories about the rigors of law school and knew it would be challenging.
That knowledge didn't make her initial experience any easier for Peyton Chaney, who enrolled in the Howard University School of Law in the summer of 2016, a few months after graduating from the University of Virginia with a double major in government and sociology.
"They tell you, 'You gotta be in the books, you gotta be in the library,' " Chaney recalled in a recent Zoom interview, "and I was so used to being an athlete and waking up early to go to practice or attend track meets. And then all of a sudden I'm now waking up early and I'm going to the library, I have class, and they're calling on me.
"So it was definitely hard at first, but I'm grateful for it: Howard, all my friends and my family. They were the ones who were like, 'You're fine, you can push through it, it's gonna be OK, it gets better,' and it really did, and I really enjoy what I do."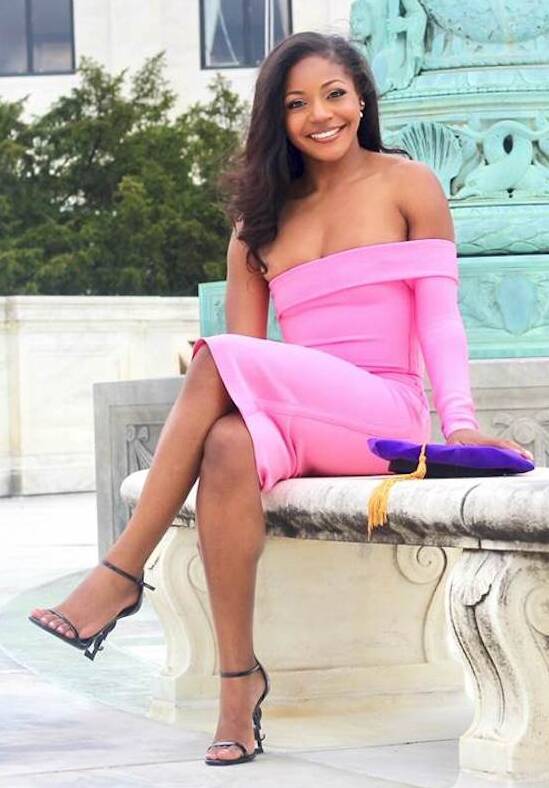 Chaney, who graduated from Howard in 2019, is an attorney with Skadden, Arps, Slate, Meagher and Flom LLP and Affiliates, a large firm in Washington, D.C. She's a litigation associate and primarily works on government investigations.
"It's definitely challenging," Chaney said. "Law school doesn't really prepare you to do what you do in BigLaw"––a term often used for firms with more than 500 employees––"and so you're definitely learning as you go, but it's been great."
When she started at Howard, Chaney said, she wanted to go into criminal law. But after she took a criminal law course in her first year, she changed career paths.
"I was like, 'I don't think I have the stomach to do this,' " Chaney said, laughing.
After her second year at Howard, she worked as a summer associate for Skadden, Arps, Slate, Meagher and Flom, and the firm later offered her a full-time position.
"It's been everything that I wanted it to be," Chaney said. "The essence of law is really advocating, and I've been grateful that along with the corporate part of it, I've also done a lot of pro bono work. And so it is great to see I can use that same advocating skills that I'm using for companies to also help out individuals, whether that's getting [people] out of a prison or reducing sentences. That's what I've been passionate about for our pro bono work. I worked on a death-penalty case last year. And so I like that I get to do both. I like that I'm stimulated in both, and I like that I feel like I have a voice and I can actually do something with it."
For most of the past 18 months, she's worked remotely, but Chaney and her colleagues are now going in to the office, which is near the White House, three days a week.
Chaney grew up in Belleville, Ill., near St. Louis, and attended Nerinx Hall High, a Catholic all-girls school. Her family stressed education but also enjoyed sports. Her mother and father ran track and wrestled, respectively, at Indiana State, and her brother ran track and played football at the University of Iowa.
A talented sprinter, Chaney competed for the St. Louis Express Track Club and attracted interest from numerous Division I programs. In 2012, she became Bryan Fetzer's first recruit at UVA. Fetzer directed Virginia's track & field and cross country programs from December 2011 to July 2019.
Chaney had an outstanding college career and remains a presence in the UVA record book. Outdoors, she ranks sixth in program history in the 200-meter dash (23.50 seconds) and 10th in the 100 (11.71 seconds).
Indoors, she ranks fourth all-time in the 200 (23.84 seconds) and is tied for fifth in the 60 (7.40 seconds). Chaney also ran on the 4×400 relay team, along with Jordan Lavender, Vanessa Fabrizio and Andrea Wright, that holds the school record indoors (3:39.43).
"I miss it so much, honestly," Chaney said. "I wish I could go back. I really think about the team and my coaches. They meant the world to me, and I loved being a part of something that was bigger than myself. So I really do look back on those memories and how we were able to accomplish so much with each other. That meant everything to me and I loved that."
She's still close with many of her former teammates, including Jade Baker, Vanessa Fabrizio, Dallas Rose Osborne, Jessica Caldwell, Edy Ndem, Briana Brazile. Danielle Williams, Pearl Bickersteth, Chimere Ezumah and Kiana Hairston.
"We all stay in touch as much as we can," Chaney said. "It might not be as often as I'd like it to be, but it's definitely always love, and a lot of them came out to my law school graduation, which meant the world to me. It was a very strong UVA track team presence there."
She's proudly followed Baker's achievements. Baker, who graduated from UVA in 2019, is in her third year of law school at Georgetown University, where she's president of the Student Bar Association's executive board.
"Jade and I are close," said Chaney, who lives in Silver Spring, Md. "We've stayed in contact throughout her entire law school process, as she was interviewing, and I had to go to Georgetown a couple of times for recruiting events, so I'd catch up with her and just kind of check in on her. It's been great seeing how UVA athletes are now either in law school or lawyers in D.C. and just seeing that growth from that."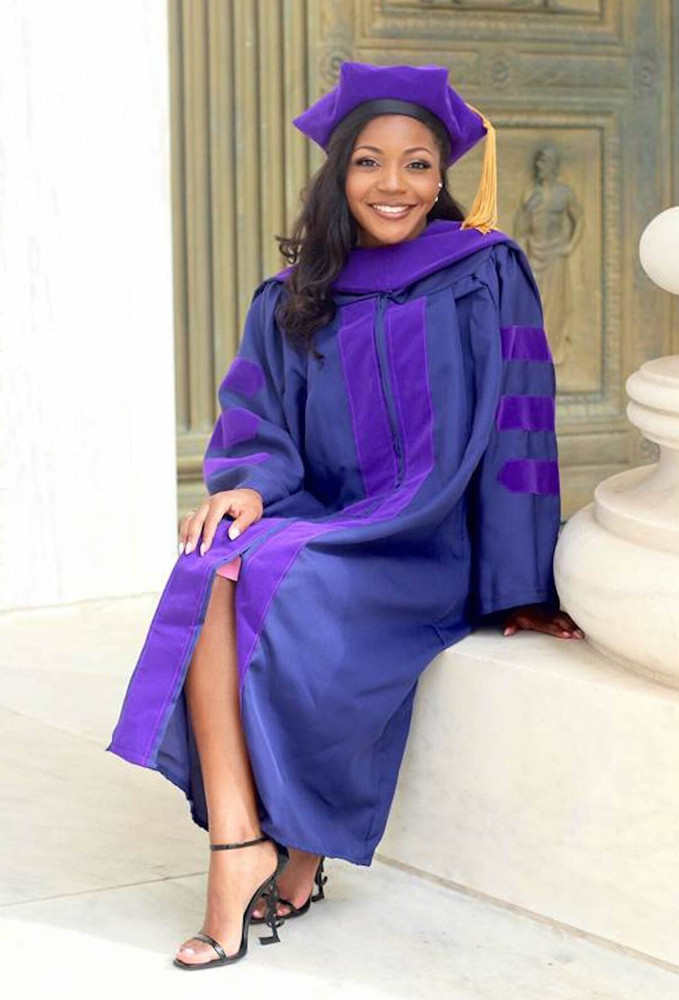 The discipline required to succeed as a Division I student-athlete has helped her professionally, Chaney said. She remembers a job interview she had with another law firm as she neared graduation at Howard. One of the firm's partners noted that Chaney hadn't gone to work before starting law school.
"Most people take a couple years off," Chaney said. "So he was like, 'What makes you qualified to work at a large law firm like this?' And I told him that being a student-athlete at UVA was my work experience. It was that discipline, it was that structure I had and the willingness to work hard and work alongside a team. That was my work, that was what prepared me to get to where I am today.
"I think he was kind of shocked to hear my answer, but it made sense that even though I didn't have the quote-unquote 9 to 5 experience, I did have those kind of same skill sets, so I could do my job properly. And they gave me an offer, and so it really did show that being an athlete really helps."
As a UVA student, Chaney made a point of not focusing solely on athletics and academics. She was involved with Fashion for a Cause, a non-profit charitable organization, volunteered as a peer advisor in UVA's Office of African-American Affairs, and served as a Class of 2016 trustee.
She enjoyed broadening her horizons on Grounds, and "any chance I get to go down to Charlottesville and kind of relive those moments, I take it," said Chaney, who in February 2016 was selected as a recipient of the ACC's Weaver-James-Corrigan Award, a postgraduate scholarship worth $5,000.
"I loved being a student-athlete," she said, "but I knew that these four years were going to be the years that I could do other things that I was interested in, find out what I was passionate about, and I got to do all sorts of things during that time. I also wanted to let those who came after me have that same experience, and I'm so happy to see that many of my younger teammates were going out and obviously still killing it on the track and still doing great academically, but also still getting involved in the University, outside of just being a student-athlete. That was the goal, and it was great to see that actually happen."
After being a competitive athlete for so many years, Chaney acknowledged, it's been a "shock to the system" to no longer have track be a focal point of her life.
"But kind of in the same realm, it is similar," Chaney said. "I just had to change the focus from getting up and being on the track to getting up and being in the books."
Her parents have moved from the St. Louis area to northern Alabama, "and I actually got to spend a couple months with them last year during the pandemic," Chaney said. "We were working from home so we all got to hang out and spend time together. It was probably the longest period of time I've been with my parents since undergrad. So that was fun."
She's still fit, though she doesn't run much these days. "It's hard when you're a sprinter," Chaney said, "and finding a track in D.C. where I can just go out and run some 100s or something, it's hard."
So she's taken up cycling. She'll still go out for a two-run mile "every now and then," Chaney said, "but it's definitely not the same. I think that's why I've been drawn to cycling because it kind of has that same fast pace, rush, adrenaline that goes with it."
To receive Jeff White's articles by email, click here and subscribe.