By Jeff White (jwhite@virginia.edu)
VirginiaSports.com
CHARLOTTESVILLE –– Atlantic Coast Conference play starts Friday night for Virginia, a basketball team that has experienced dramatic highs and lows thus far this season, sometimes in the same game.
The Cavaliers' clash with unbeaten Iowa in the Big Ten/ACC Challenge was a case in point.
"We saw some guys step up a little bit, which was good, and they played with the appropriate effort," head coach Tony Bennett said Monday night at John Paul Jones Arena. "But we need to grow up in the first half … I thought guys stepped up better in the second half––most of the guys [played well] and they knocked down some shots––but it's a two-half, 40-minute game."
For most of the first 20 minutes, the Wahoos showed few signs of life, and Iowa feasted on that lack of energy. At the 3:30 mark, sophomore Keegan Murray, who drew multiple NBA scouts to JPJ for the game, capped a 15-0 run with a dunk that put the Hawkeyes up 40-19.
From there, however, the Hoos outscored Iowa by 20 points, and had the final minute unfolded differently Monday night, they might well have walked away with the biggest comeback victory in JPJ's 15-year history. (The Cavaliers erased a 19-point deficit and beat Arizona at JPJ on Nov. 11, 2006.)
"It just shows when we play how we want to play, we're pretty good," senior point guard Kihei Clark said after Virginia's 75-74 loss.
The Hoos (5-3) took the lead twice in the final two minutes: first on a 3-pointer by freshman Taine Murray at the 1:35 mark, the second time on a Clark trey with 45 seconds remaining.
Virginia followed Clark's shot with a defensive stop, sending the crowd at JPJ into a frenzy, but Murray missed the front end of a one-and-one with 27.8 seconds left. The Hawkeyes didn't squander their next opportunity. With 8.4 seconds to play, guard Joe Toussaint banked in a midrange shot to put Iowa up 75-74.
Clark brought the ball up quickly, drove into the lane and shot a runner that missed. UVA center Kadin Shedrick grabbed the rebound and drew contact on a stickback attempt that was blocked as time expired, but no foul was called, and the Hawkeyes (7-0) avoided a disastrous collapse.
"That would have been a heck of a win, it sure would have been, coming back and fighting," Bennett said. "But was great to hear the crowd get rowdy and get back into it. We've missed that, and they certainly helped us with the comeback."
Iowa came in averaging 97.2 points per game, the most of any team in the nation, and had Division I's top scorer in Keegan Murray (25.7 ppg). A 6-foot-8 forward whose twin, Kris, also plays for the Hawkeyes, Murray finished with 18 points, nine rebounds, three assists and one blocked shot.
More surprising was the performance of Taine Murray. A 6-foot-5 guard, Murray didn't play last week in Newark, N.J., where Virginia defeated Georgia and Providence to win the Legends Classic, and he'd totaled four points in his five appearances.
Against Iowa, however, Murray played a career-high 20 minutes, hit 4 of 6 shots from beyond the arc and finished with 14 points. Only forward Jayden Gardner (18) and Clark (15) scored more for the Hoos.
Like former UVA center Jack Salt, Murray is from Auckland, New Zealand.
"He's tough, gritty, not perfect, but plays hard and is not afraid of the moment," said Bennett, who played and coached in New Zealand after his NBA career ended.
"He'll have ups and downs, as all the guys will, but he's a hard-nosed, tough young man. He's about the right stuff. And I'm giving different guys different chances and guys will get opportunities.  You can't play this game, we used to say, in a tuxedo. You've got to show up ready, and it's got to be in your eyes, it's got to be in your mind, it's got to be in your heart, and when that's lacking it sticks out like a sore thumb. He's a tough Kiwi. Jack Salt would have been proud of him tonight."
Gardner, a transfer from East Carolina who hadn't attempted a 3-pointer as a Cavalier until Monday night, made back-to-back treys early in the second half to help fuel the comeback. Gardner had several costly defensive lapses, though, and he watched the final 4:01 from the bench.
"It's hard," Clark said of mastering the Hoos' signature Pack Line defense. "It's just like he's a pretty much like he's a freshman learning the defense, honestly. It's really hard. So we understand that. He knows we're behind him. We're just trying to push him through every day, just trying to coach him up, show where he's where he's messing up and what he can do better. And when he does a good job, we pat him on the butt … He's learning, but I think he can really he can really be a good defensive player for us."
The Pack Line, Bennett said, is "a lot for [Gardner] defensively, and it's a lot for anybody. It's just habits and being continuous and understanding position. He certainly did knock down some shots, did some good things, and Jayden's an awesome young man, he really is. But I challenged him. I said, 'Keep coming. We need more. You gotta be engaged.' It's a challenge … He didn't have a redshirt year [after transferring to UVA], and so he's trying to learn on the fly."
The Hawkeyes, who came in shooting 50 percent from the floor, were 30 for 56 (53.6 percent) on Monday night. The Hoos shot a season-high 52.6 percent and had only five turnovers.
"It's good that we took care of the ball," Bennett said, "but you've got to stand in there and have some resistance, and I just hope we'll learn from that. Defense is an all-the-time kind of thing, and guys have to understand that. [The Hawkeyes] were a good shooting team and they did some good stuff, but we'll grow from it and learn from it."
Sophomore guard Reece Beekman scored a season-high 11 points and added five assists for Virginia, which also received a solid contribution from the 6-foot-11 Shedrick.
After picking two fouls in the first 10 minutes, Shedrick spent most of the first half on the bench. After intermission he flashed the skills that make him such a promising player. Shedrick finished with nine points, six rebounds and one block and acquitted himself well when he defended Keegan Murray.
"I was just trying to manage matchups," Bennett said, "and we needed him, and that was good to see from some of those guys. The guys that didn't play in the second half, I said, 'Get your mind right, practice hard and fight for opportunities, but we have to go with guys that are ready and keep finding the right guys and working.' "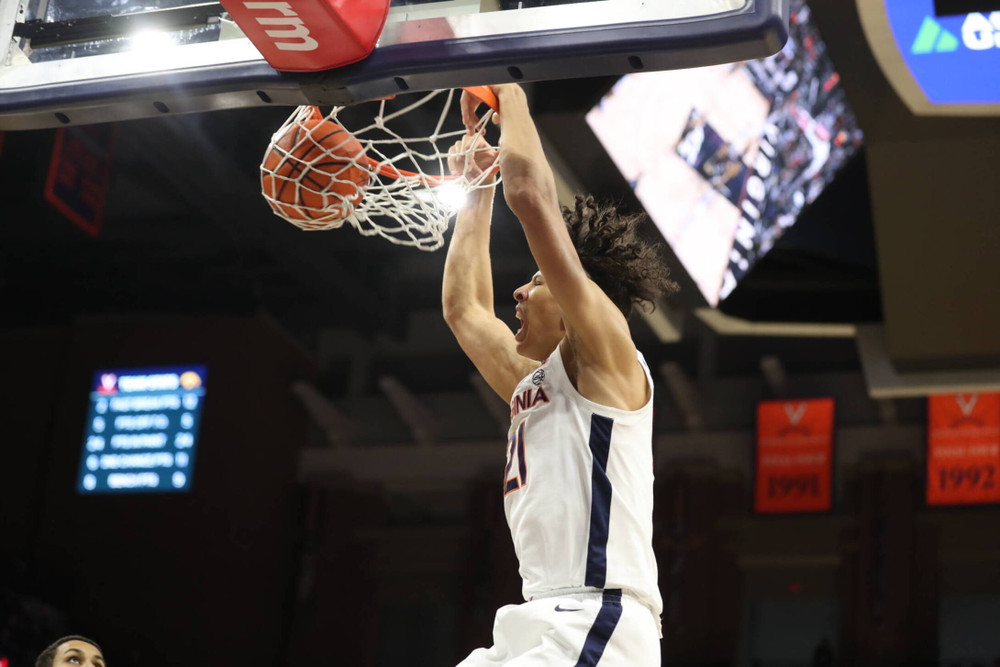 BREAKOUT GAME: In his two most recent appearances, against Coppin State and Lehigh, Taine Murray played a total of six minutes and 12 seconds.
"You gotta wait your turn," Clark said, "and he was ready when his number was called. So hats off to him. He's been working in the gym. He really works hard, and it showed tonight."
His understanding of what his coaches expect from him is growing, Murray said, and he's grateful that they "see something in me that allows me to be on the court, especially in such a close game."
UP NEXT: In a game that will air on ACC Network, UVA opens ACC play Friday at 8 p.m. against Pittsburgh at JPJ.
The Cavaliers are 12-0 in ACC openers under Bennett. UVA has won six straight over Pitt and leads the series 17-4.
In the Big Ten/ACC Challenge, the Panthers (2-4) host Minnesota at 7 p.m. Tuesday.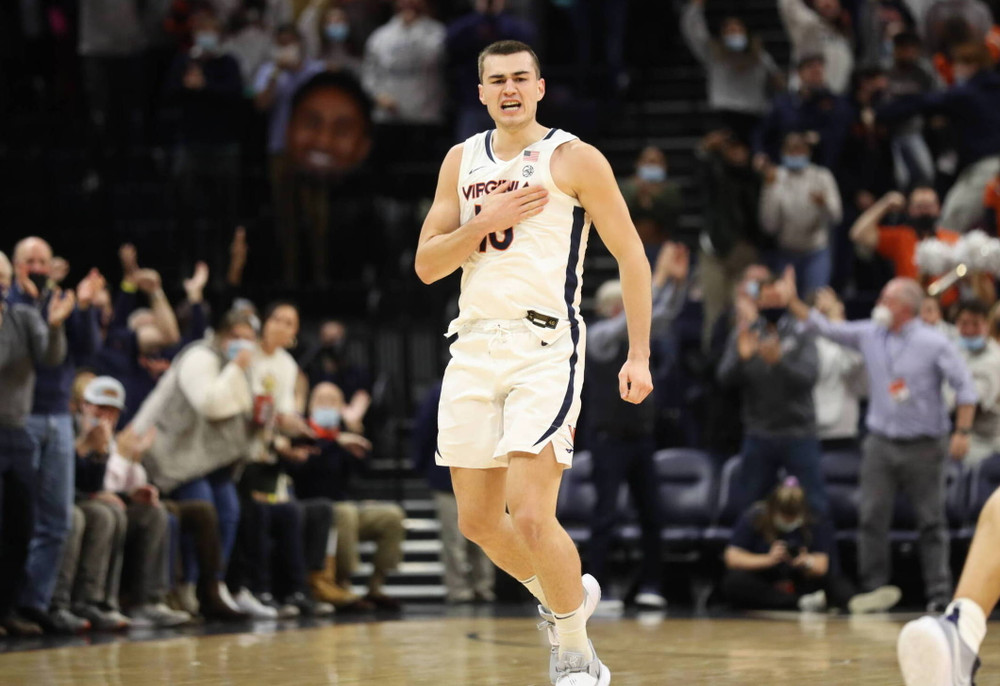 SOUND BITES: Virginia's record in the Big Ten/ACC Challenge under Bennett dropped to 8-4. Among the postgame comments Monday night:
* Bennett: "[Iowa] made the play down the stretch and we didn't, but at least we did some things that were good. There was passion and grit, but to bury yourself to in a 20-point hole [was unacceptable] … We had to just get some guys off the floor and go with what was working. But, again, good fight, good comeback, I hope we'll grow from it."
* Bennett on Iowa's sixth-year guard, Jordan Bohannon, who hit 6 of 9 shots from beyond the arc and led all scorers with 20 points: "His release, it reminded me of Kyle Guy in some of those shots where it's in his hands and it's off."
* Bennett: "Yes, ball security was important, but I think some key offensive rebounds cost us and even missing some free throws. Those little things in a tight game or when you're trying to get back can obviously make the difference."
* Taine Murray: "The crowd was awesome tonight. I think that's probably the most amount of people I've ever played in front of."
* Clark on the growing pains of Virginia's four newcomers: "The coaches demand a lot, and if you don't bring it, you're going to sit down. It's hard to play here. So I think they're kind of starting to get a taste of what it means to play for the program and what you have to bring each and every night to get on the floor."
* Clark on the Hawkeyes: "Really good team. They really shoot it. The [Murray] brothers are really good. Hats off to them. I think they made shots, but I think we also made it easy for them in the first half. They really shot the ball well, and they got a lot of second-chance points in the first half. I think they had 11 second-chance points [before inter,mission]. So if we don't give those up, I think it's a close ball game."
* Iowa head coach Fran McCaffery on holding off UVA: "You're on the road, you're playing one of the best teams in the country, packed house. At some point in the game there's going to be some adversity. We overcame adversity a number of different times and got contributions from a lot of different people. It was a hard-fought game, very physical. You're proud of your guys when they come out with a W in those situations."
To receive Jeff White's articles by email, click here and subscribe.