By Jeff White (jwhite@virginia.edu)
VirginiaSports.com
CHARLOTTESVILLE — After Hibah Shaikh ended the match with one last smash Saturday, a celebration broke out on and around the indoor tennis courts at Boar's Head Resort. In all the dancing and hugging and shouting that followed, it was difficult to tell which University of Virginia team was more excited: the women's or the men's.
"I think it just goes to show how close the programs are," said Sara O'Leary, head coach of the women's team, who shared an embrace with her counterpart on the men's side, Andres Pedroso, during the post-match festivities.
With Shaikh and her teammates cheering them on Friday, the seventh-seeded UVA men defeated No. 10 seed South Carolina 4-0 in the NCAA tournament's round of 16.
Less than 24 hours later, the Virginia men were the ones supplying vocal support from the stands, seemingly intent on yelling themselves hoarse with a never-ending series of cheers and chants.
"The energy was crazy," said Shaikh, a sophomore who rallied for a three-set victory at No. 5 singles to give fifth-seeded Virginia a 4-1 win over No. 12 seed Oklahoma State in the NCAA tournament's round of 16.
"Our men's team really helped us towards the end of those second sets in some of the matches, and we're very grateful to have them on our side."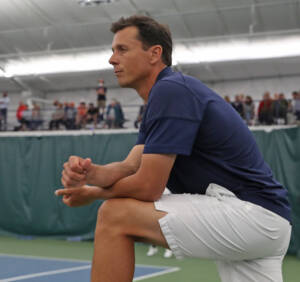 This is what UVA Athletics envisioned when it hired Pedroso to fill a new position—director of tennis—in May 2017. Pedroso, who also took over as head men's coach, then helped with the search that ended with O'Leary's hiring in June 2017.
Until then, the men's and women's programs had not been especially close, and Pedroso, who'd been the men's associate head coach from 2010-14, wanted to change that.
"We have the same resources," Pedroso told VirginiaSports.com in 2017. "It's just about building a little more of a culture of discipline, communication, relationships, and surrounding them with great people and making sure it's an enjoyable and positive experience for them."
The synergy between the programs was never more evident than this weekend at the Boar's Head, where both the men's and women's teams started their matches outdoors and finished indoors.
"They're a united group," O'Leary said.
"That was one of the main goals Sara and I had when we got the job here," Pedroso said. "We wanted it to be a team effort, both programs working together, spending time together, feeding off each other. You're seeing [the result of] four or five years of work, and it hasn't even been work. It's been easy, because I think we've got really, really good people on both sides."
He smiled. "The thing is that the players get along so well and have become so close that a lot of those cheers, it's coming from their soul. They're just being so creative, and they're just trying to push each other across the finish line. So it's fun to watch."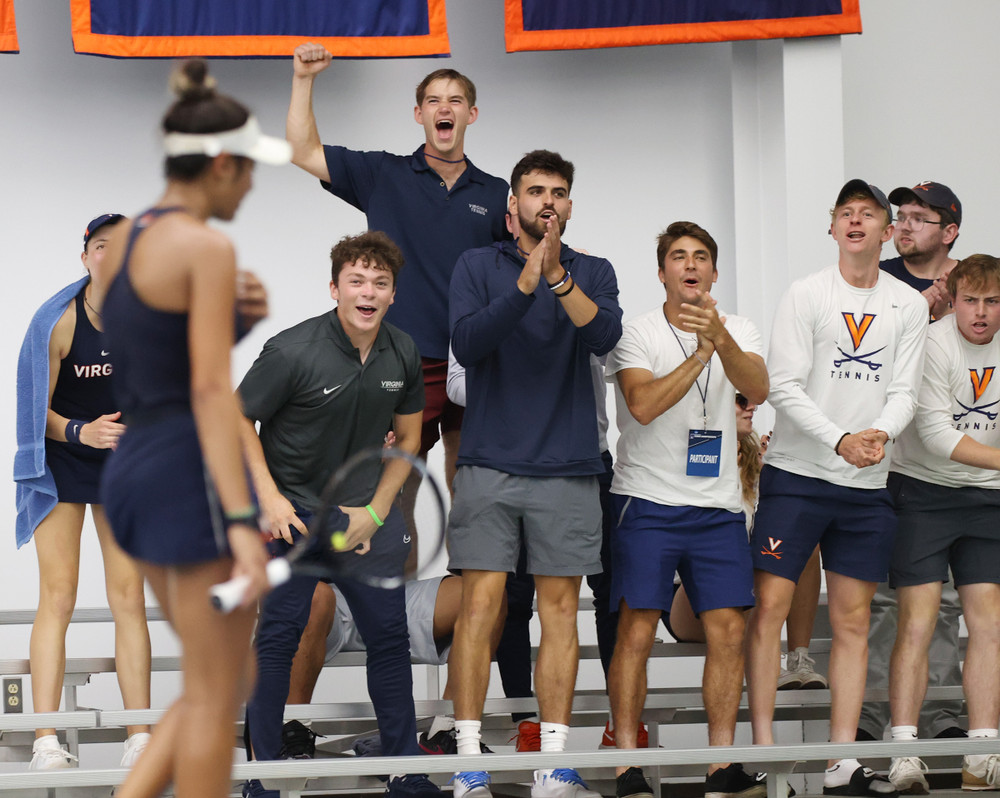 Sixteen Division I tennis teams are still pursuing NCAA titles: eight on the men's side and eight on the women's. UVA is only school still represented in both tournaments, and "now we get to go to Champaign together," O'Leary said.
On the University of Illinois campus, the Virginia men (25-5) will face second-seeded Florida (26-2) n the NCAA quarterfinals Thursday at the Khan Outdoor Tennis Complex. The Virginia women (23-5) will meet fourth-seeded Texas (23-4) in the quarterfinals Friday at the same venue.
The UVA men's program has won four NCAA team titles (2013, '15, '16, '17). This marks the third time the Cavalier women have reached the NCAA quarterfinals, and they would make history with a win Friday.
"I think UVA might be a little bit underrated," Shaikh said. "Maybe we don't get paid as much attention as other teams do, but I think we are very dangerous. Everyone on this team, every player works really hard, and everyone has something special to their game that the other person doesn't, and we feed off each other's energy. We're very united as a team, and we're just going to take all that into our next round and see what we can do."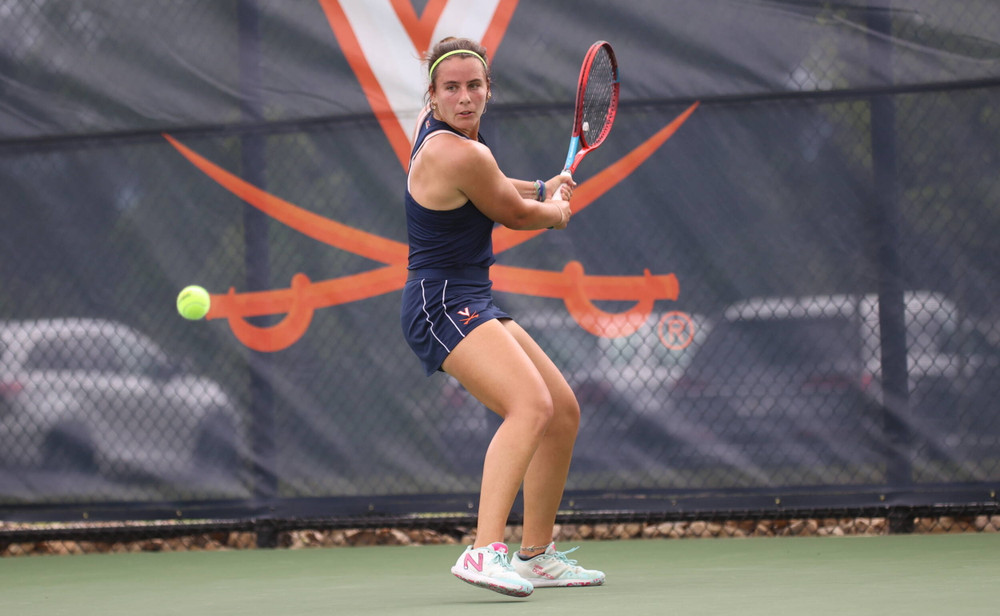 The doubles point was never really in doubt Saturday, and the Wahoos took a 1-0 lead into the singles matches. Reigning NCAA champion Emma Navarro, at No. 1, and Sara Ziodato, at No. 6, quickly took control of their matches, but the other four Cavaliers each dropped the first set.
"I think the first set I was just being a little bit too passive," said Haikh, whose opponent was Ayumi Miyamoto, "and maybe [there were] a little bit of nerves playing into it. We're playing a big tournament, big round."
Navarro, a sophomore, won 6-1, 6-1 to put UVA ahead 2-0. The Cowgirls' Oona Orpana won at No. 4 to halve Virginia's lead, but Ziodato, a sophomore, prevailed in straight sets to make it 3-1.
By then, the other Cavaliers had flipped the momentum in their matches. Junior Natasha Subhash, at No. 2 singles, won her second set 6-4; freshman Elaine Chervinsky, at No. 3, won hers 6-3; and Shaikh won hers 6-1. The race was on to see who would clinch the victory for the Hoos, and Shaikh reached the finish line first, winning her third set 6-1.
After her first set, Shaikh said, "I kind of just put my head down [and went] right back to work."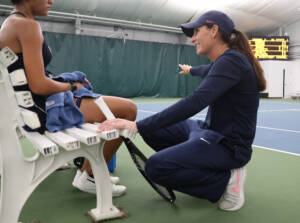 O'Leary said she was especially proud of the way Shaikh "just really stayed focused on the task at hand. We struggled in the first set, and she changed her strategy in that second set, and there were a lot of momentum switches with coming inside after being outside and just losing that first set, kind of poorly, but she just stayed focused on the task at hand and did awesome."
In the other third sets, Subhash was leading 3-2 and Chervinsky was up 4-1 when the match ended.
"I think that this team is extremely resilient," O'Leary said. "They've showed that time and time again throughout this entire season. They've learned to embrace the tough moments, and there was definitely a tough moment there outside when we lost four first sets pretty handily. But this team, you can't ever count them out. They believe in themselves. They understand they may have to change strategies, they're willing to do it, they're willing to adjust and they're willing to just stay out there in those uncomfortable moments. And that's what they did today, and it paid off."
Both teams enjoyed a decided home-court advantage this weekend, and the atmosphere Saturday "was incredible," O'Leary said.
The weekend was "amazing," Shaikh said, "amazing for our men's team, amazing for our women's team, and doing it together, I wouldn't have it any other way."
To receive Jeff White's articles by email, click the appropriate box in this link to subscribe.