By Jeff White (jwhite@virginia.edu)
VirginiaSports.com
COLUMBUS, Ohio — From the pain of a season-ending loss will come some good for the University of Virginia men's lacrosse program. Head coach Lars Tiffany and his players are convinced of that.
"It's definitely going to be driving us," sophomore defenseman Cole Kastner said Sunday after UVA lost 18-9 to top-seeded Maryland in the NCAA quarterfinals. "I think this feeling will stick with me and the rest of the guys for a while."
The Cavaliers came into the postseason seeking a third straight NCAA championship, and they posted an impressive road victory over eighth-seeded Brown in the first round last weekend. At Ohio Stadium, however, Virginia trailed 4-1 after one quarter and never seriously threatened the Terrapins (16-0) thereafter.
"Tough draw in the quarters, but our guys rose to the challenge," Maryland head coach John Tillman said.
Redshirt sophomore attackman Connor Shellenberger, who led the Cavaliers in point this season, faced a suffocating defense Sunday, and he was held without a point for the first time all season. Like Kastner, he's determined to attack the offseason.
"I think that there will be definitely a little bit of a different focus and mindset going into the fall," said Shellenberger, the Most Outstanding Player of last year's NCAA tournament. "It kind of alters the way every rep, every drill is conducted. I think it's kind of the challenge that we need to reach that next level."
Longtime followers of the sport consider these Terrapins to be one of the best teams in the history of college lacrosse. After two games with Maryland this season, neither of which was close, the Cavaliers are among the believers.
"There just isn't a weakness," said Tiffany, who puts Maryland on par with the 1990 Syracuse Orangemen and UVA's 2006 team.
There was no NCAA tournament in 2020, due to the COVID-19 pandemic, but Virginia ended Maryland's season in the 2019 quarterfinals and again in last year's championship game. Those losses drove the Terps as they prepared for this season. They first asserted their superiority in March, when they overwhelmed UVA 23-12 at Audi Field in Washington, D.C., and they might have been sharper Sunday.
"I think this is a really, really special team that John Tillman has built," Tiffany said, "one we are going to learn from. We recognize that last year's national championship game was the impetus for Maryland to take their team to the next level. Now it's our turn. [Virginia is going to] watch this team, study this team, learn from this. And so we come back in 2023 at a different level, an all-time new level for Virginia lacrosse."
The Terps won 21 of 31 faceoffs Sunday, vacuumed up 15 more ground balls than ACC champion Virginia (12-4), and blanketed Matt Moore and Shellenberger, two of the nation's premier attackmen. Goalie Logan McNaney made 14 saves for the Terps.
"Maryland's an unbelievable team," Kastner said, "and they do such a fantastic job of raising that bar every time we play them."
Shellenberger said the Terps "definitely felt more buttoned-up today than they did in D.C., which is hard to believe. It's kind of what Coach has been saying. We believed we had a chance today, but that's definitely one of the better teams that's played in probably the last 10 or 20 years."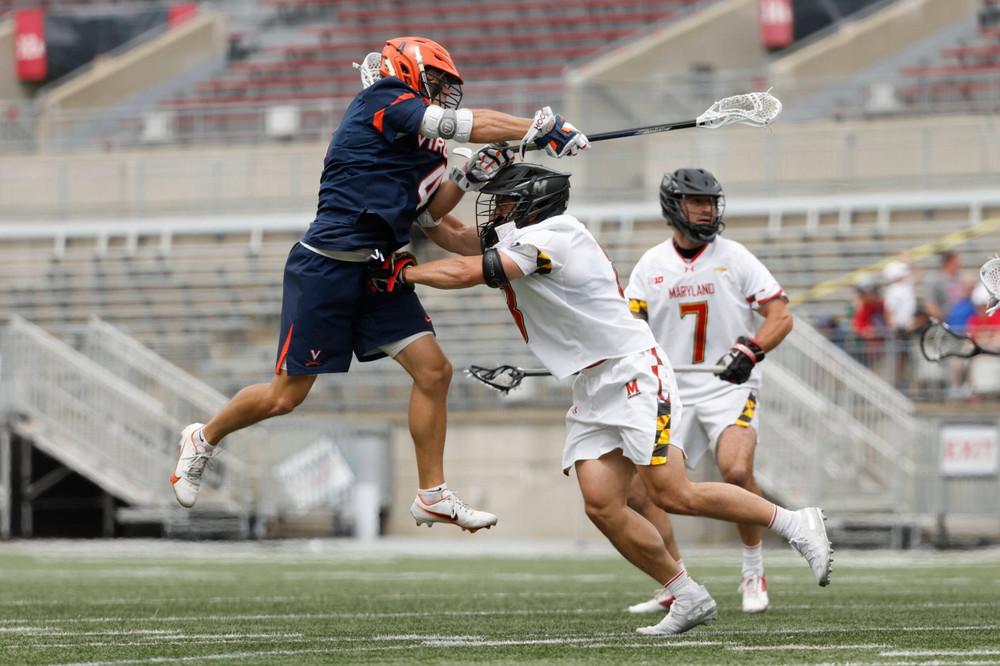 Maryland advances to meet fifth-seeded Princeton (11-4) in the NCAA semifinals Saturday afternoon at Rentschler Field in East Hartford, Conn. That's where the Cavaliers repeated as NCAA champions last year, edging the Terps 17-16 in the title game.
A year later, the Hoos' offseason started earlier than they would have liked. Another team will hoist the championship trophy on Memorial Day.
"I'm very fortunate to coach warriors," Tiffany said, "and that's why this hurts, because the ride's over. We've been fortunate the last two full seasons, in '19 and '21, to finish our seasons holding up the national championship trophy. And so it's hard to not have the Final Four be a part of the Virginia lacrosse season. But there's a reason it's ended, and it's because we've just faced—the best team—in the last 16 years."
UVA overcame "some injuries this year," Tiffany said. "Just couldn't overcome the Maryland Terrapins."
Of the Cavaliers who were in prominent roles this season, only Moore and Jack Peele, a short-stick defensive midfielder, have exhausted their eligibility. Moore will leave UVA with two degrees—a bachelor's in foreign affairs and a master's from the Frank Batten School of Leadership and Public Policy—and he holds the program record for career points (277). No. 5 had a goal and an assist Sunday.
"Man, we're going to miss this guy," Tiffany said at the postgame press conference, where he was seated between Kastner and Moore.
"I think that might have been the hardest thing," Shellenberger said outside Virginia's locker room. "Yeah, we were losing, but looking over and realizing that that was the last couple minutes I was going to play with Matt. I really can't describe how cool it's been to, one, become his friend but, two, also be his teammate, and how meaningful his leadership has been to our team and me as well."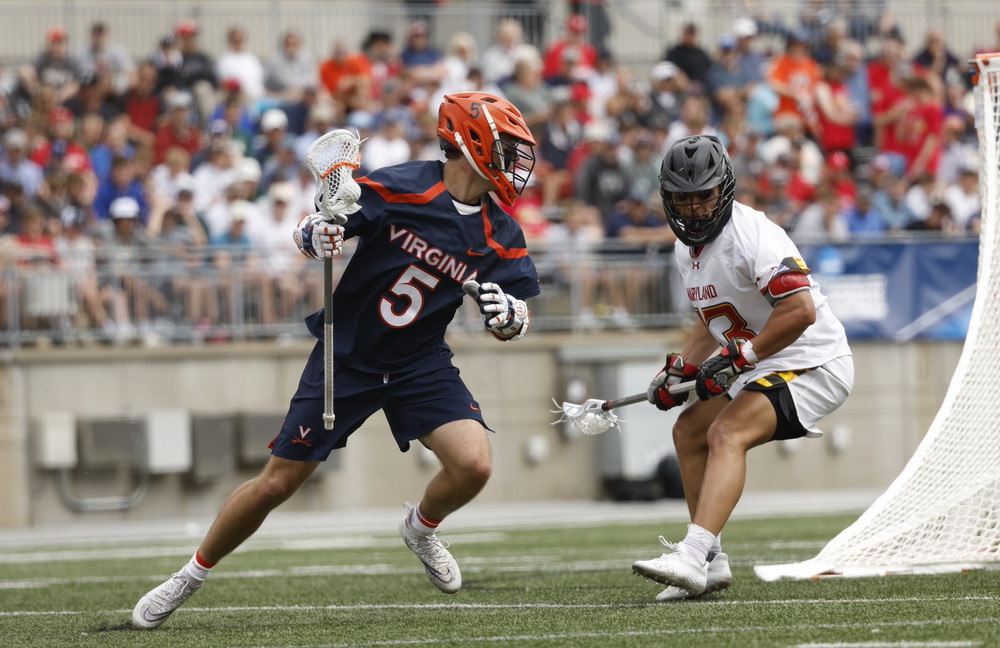 Virginia figures to start next season on the short list of NCAA title contenders. Returning players will include Shellenberger, midfielders Jeff Conner (three goals, one assist Sunday), Griffin Schutz (two goals, one assist), Xander Dickson, Grayson Sallade, Evan Zinn and Noah Chizmar, attackman Payton Cormier (two goals), defensemen Cade Saustad, Quentin Matsui, Scott Bower, Ben Water and Kastner, faceoff specialist Petey LaSalla and goalie Matthew Nunes.
"There's a whole host of talent," Tiffany said.
And there's more on the way. Thomas McConvey, who led America East champion Vermont with 60 goals this season, will join the program as a graduate transfer this summer, and UVA's incoming recruiting class is highly regarded.
"We have the pieces," Shellenberger said. "Just gotta put the work in."
Long after the players from each team had headed toward their locker rooms, Tiffany remained on the field Sunday evening, talking with his Maryland counterpart, John Tillman. They're good friends.
"I know the rivalry of Maryland versus Virginia lacrosse has great history, and it's going to have a great future," Tiffany said. "So I could see a Maryland fan or a Virginia fan saying, 'I wish the coaches didn't like each other as much or maybe didn't respect each other as much, because I can get the blood boiling being a part of these games.' And here we are, the third year in a row we've met me in the NCAA tournament. There is no tomorrow for one of those two teams, so it's painful."
Tiffany said the Cavaliers will choose their team captains for 2022-23 on Monday. Moore, Saustad and Salad held those positions this year.
"Obviously, when the cord is cut and the season's over, it's hard," Tiffany said. "I can't wait to get back on that practice field and start learning from this loss, emulating a championship program, the University of Maryland, and making this thing even better than it's been."
The disappointment of falling short of the Final Four won't fade immediately for the Hoos. "It'll definitely be on my mind," Kastner said, "but I don't think that's a bad thing, because it's just gonna keep pushing me, keep pushing everyone else."
To receive Jeff White's articles by email, click the appropriate box in this link to subscribe.