By Jeff White (jwhite@virginia.edu)
VirginiaSports.com
CHARLOTTESVILLE — Long before the scheduled start of practice, the sound of bouncing basketballs filled the men's practice gym at John Paul Jones Arena.
This will be not a typical summer for the University of Virginia men's team, and the Cavaliers' players and coaches were eager to get started Tuesday afternoon. In August, UVA will play four exhibition games in Italy, a country where head coach Tony Bennett's family has roots.
"I think it'll be nice to bond with the guys on a different continent," senior forward Jayden Gardner said. "I've only been out of the country once"—to the Bahamas—"but some of the guys have never been out of the country."
In 2012, the Wahoos visited the Netherlands, Belgium and France on a summer tour. Four years later, they returned to Europe and toured Spain. The COVID-19 pandemic forced the Hoos to postpone the tour of Italy they had scheduled for 2020, and that's heightened the anticipation for this long-awaited trip.
"I think it will be a great experience for everyone, but especially the new ones, for chemistry and just playing," said Bennett, who's heading into his 14th season at UVA. "There's no substitute for getting some game experience and playing."
From a team that finished 21-14 after losing in the National Invitation Tournament quarterfinals, Virginia returns its top six scorers: Gardner (15.3 ppg), 6-foot-4 Armaan Franklin (11.1 ppg), 5-foot-10 Kihei Clark (10.0 ppg), 6-foot-3 Reece Beekman (8.2 ppg), 6-foot-11 Kadin Shedrick (6.9 ppg) and 7-foot-1 Francisco Caffaro (4.3 ppg).
Gardner was named to the All-ACC third team in 2021-22, and Beekman was named to the ACC All-Defensive team. Beekman and Clark received All-ACC honorable mention.
Joining that core are four freshmen—6-foot-9 Isaac Traudt, 6-foot-7 Ryan Dunn, 6-foot-5 Leon Bond and 6-foot-4 Isaac McKneely—and Ben Vander Plas, a graduate transfer from Ohio University.
"I feel great about this team," said the 6-foot-6 Gardner, who also led the Cavaliers in rebounds (6.4 per game) last season. "We've got the whole team back, and we played pretty good basketball late in the year. You mix that together with the talented freshmen we have, and we have one of the greatest coaches in college basketball, so we're looking for a good NCAA tournament push."
Vander Plas has been working out at JPJ since last month. A 6-foot-8 forward, he averaged 14.2 points and 6.8 rebounds for Ohio last season and made the All-Mid-American Conference first team. In March 2021, he totaled a game-high 17 points and added five rebounds, four assists and one steal to help the Bobcats upset Virginia in the NCAA tournament's first round.
Now, after earning two master's degrees at Ohio, Vander Plas is a Cavalier, and he's impressed his new teammates.
"He shoots the lights out," Gardner said. "To me, it's like having [former North Carolina forward] Brady Manek in practice. He really shoots the cover off the ball, so whenever I have to match up with him in practice, it's got to be high-hand close-outs, and I try to run him off the line. He's got one of the quickest releases I've seen."
The Cavaliers did not have a full complement of players Tuesday, and that'll be case for the first part of the summer. Caffaro is back in his native Argentina with its national team, for which he played in the Olympics last summer. Taine Murray, a 6-foot-5 sophomore from New Zealand, will be heading home soon to train with its national team, the Tall Blacks, and Clark, a fifth-year senior whose father is of Chinese ancestry, is expected to join China's national team this month.
"They all will be back for the tour," Bennett said. "It's just that they're coming and going [until then]."
At the start of practice, the players gathered at midcourt around Bennett, who reminded them that Boston had turned the ball over at a staggering rate against Golden State in the recent NBA Finals.
Had the Celtics not been so careless, Bennett told his team, they might well have been crowned world champions. To drive home his point, he kicked off practice with a drill that emphasized sureness and ball security.
"A good way to start the summer is getting after it that way," Bennett said.
A sizable portion of the practice was devoted to shooting drills. Among ACC teams, the Hoos ranked 12th in 3-point field-goal percentage (32.3) last season, and that was among the major reasons they missed the NCAA tournament for the first time since 2012-13.
"That was a hard thing for us last year," Bennett said, "but guys have put in the time and worked hard on their shots. You can't comment for sure on the new guys, but there should be more shooting in this year's group, with the addition of Ben and some of the [freshmen]."
Franklin started 34 games last season after transferring to UVA from Indiana. For the season, he shot only 29.6 percent from 3-point range, but he was 12 for 23 from beyond the arc in the Cavaliers' three NIT games. Like Virginia's other veterans, Franklin went into the offseason determined to keep improving.
"Armaan worked out a lot with John Lucas down in Houston," Bennett said, "and there's some good runs and good training there. It was pretty intense, and I think for a couple weeks he was with [former UVA standout] Justin Anderson down in Miami. And then the other guys were here training hard, so that was good, whether it was in the weight room or getting work in, in the gym."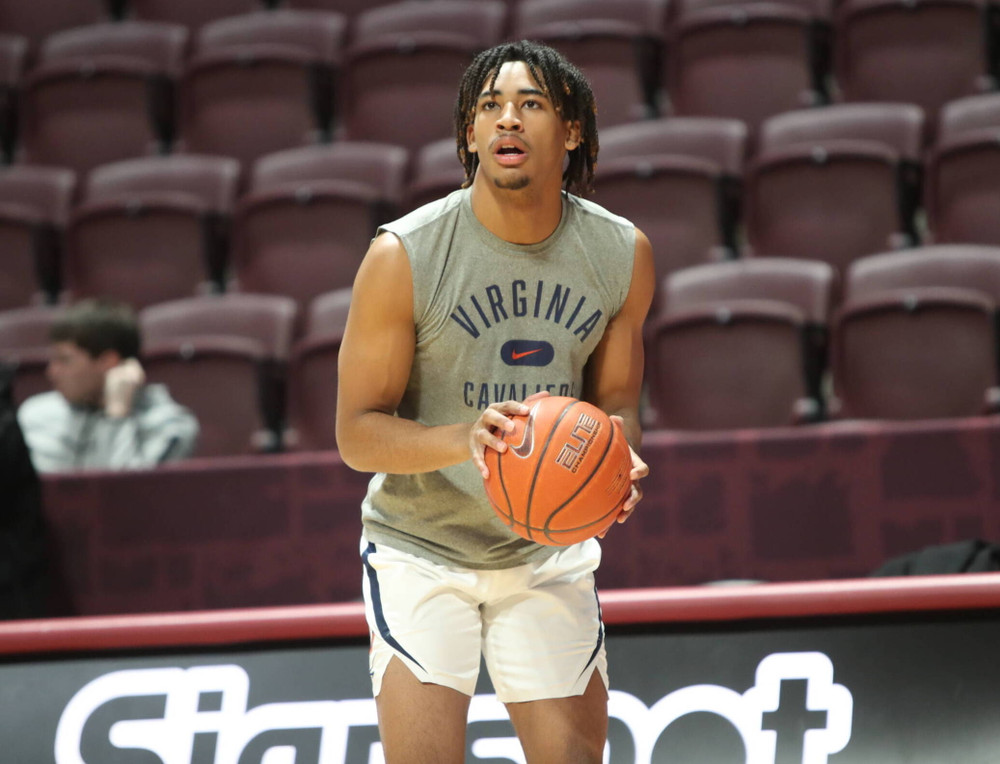 This freshman class is highly regarded, but Bennett wants to temper expectations for the group. Not every freshman is ready to contribute immediately, no matter how many accolades he earned in high school.
"It's hard," Bennett said. "Some can, but they gotta be ready in their second year, for sure, and if they can give you something their first year, which hopefully they can, that's more of [a bonus]. I don't ever have big expectations on a first-year, unless there's just a huge hole and somebody's gotta come in and fill it. They'll all have their own journey, at their own pace. You can't short-cut the process, but we're hopeful. We're going to need a couple of them, maybe more, so there's opportunity there to a certain extent, but they'll have to earn it. Again, all of the classes, I like what they become as they mature."
Bennett said his "words of advice for the four first-years when they came were: 'Listen, you're coming in here, and when we start our workouts, don't make the mistake of trying to be perfect and feel like you've got to show your teammates and coaches where you're at. Be freed up. And then the second thing, maybe more important, is to compete really hard. You don't have to worry about being perfect, but you better play really hard and not yield.' "
With five newcomers to blend in, Gardner said, the Cavaliers' practices this summer are "going to start out slow, but then we'll start to ramp it up as the weeks go by."
Tuesday's session concluded with a series of three-on-three games. The team left standing consisted of former UVA greats Ty Jerome and Isaiah Wilkins and senior guard Chase Coleman. Jerome is heading into his fourth NBA season, and Wilkins is in his second year as a graduate assistant in Bennett's program. (Forward Tristan How replaced Wilkins, who had to leave for class, in the final game.)
The players were tired but upbeat when practice ended, and the coaches were smiling, too.
"It's just exciting to have everyone back and be around them," Bennett said. "You have your four new guys, plus Ben is a new guy, though I wouldn't call him a first-year by any means. But to see the new faces, and then get the other guys back, it's just exciting. There's just something about that feel of, 'All right, we're starting to get to work.' "
To receive Jeff White's articles by email, click the appropriate box in this link to subscribe.