By Jeff White (jwhite@virginia.edu)
VirginiaSports.com
CHARLOTTESVILLE — More than a half-century later, former University of Virginia coach and athletics administrator Jane Miller still recalls traveling from Boston to West Chester, Pa., in 1969. She was a freshman on the women's basketball team at Northeastern University, which had qualified for a national championship tournament sponsored by the Commission on Intercollegiate Athletics for Women.
"We took station wagons," Miller recalled, "and I had to ride in the back, in the third seat, facing the wrong direction. We rode that way, and the faculty came and brought bags of foods for us to take with us."
She laughed. "I know the men didn't travel like that back then."
Thanks in no small part to Title IX, the landscape of college sports has changed. A civil rights law that prohibits sex-based discrimination in any education program that receives federal funding, Title IX went into effect 50 years today.
"It's a big milestone," former UVA head women's basketball coach Debbie Ryan said.
"I'm not sitting here but for Title IX," Virginia athletics director Carla Williams said. "There isn't a [basketball] scholarship for me to have at the University of Georgia but for Title IX and the generosity of donors. If I don't have that experience, I'm certainly not here.
"From a very personal standpoint, I understand the benefits of Title IX. That's really important to me. You can ask anyone on our staff, they will tell you, because leadership starts at the top. Is gender equity important? Is Title IX important? It's very important."
UVA head field hockey coach Michele Madison enrolled at Rutgers University in 1978. She received a scholarship and played field hockey and lacrosse for the Scarlet Knights.
"Looking back from where I am now, I see where Title IX opened the doors," Madison said. "It's been a long, hard journey through quicksand, but at least the door was open."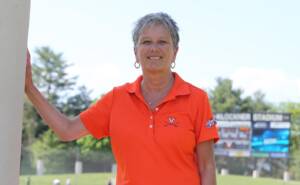 Had Title IX not been enacted, Miller said, "I hate to think where [women's sports] would be right now." But progress came slowly.
"In '72, all of the sudden women's opportunities didn't grow exponentially," said Miller, who retired as UVA's senior associate AD for programs/senior woman administrator at the end of the 2018-19 school year.
"Instead, it took a long time for those things to happen," Miller said. "So it was less than a steady process to bring the women up to where they are today, and I think one of the things you have to remember is that women's sports and opportunities and all of those things have happened over time, but so has the growth of men's sports. I think people forget that.
"I rode in the back of a station wagon, and now in women's basketball, the University of Virginia team charters [airplanes]. That's a long way. It took a long time for that to occur, but we also have to remember that the men have grown exponentially as well over the same period of time."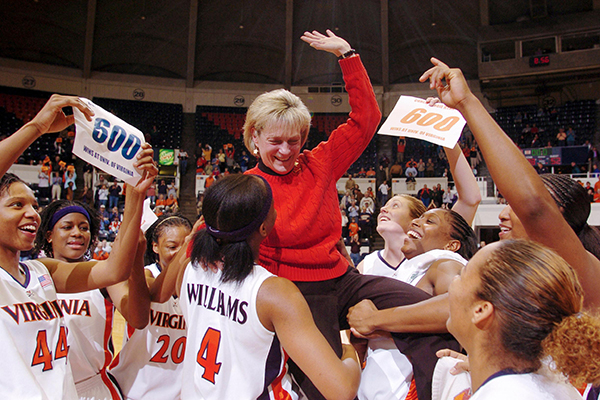 Ryan was an undergraduate at Ursinis College in Pennsylvania when the law passed, and "absolutely nothing changed [in women's sports] for years and years and years," she said.
In 1975, she came to UVA and joined then-head women's coach Dan Bonner's staff as an assistant. "We had one scholarship, and that was it," Ryan recalled, "and there was no promise of any more."
The women's program now has the full complement of 15 scholarships, and that's been the case for years. But early on, Ryan said, there "was so much distance between [head men's coach] Terry Holland's program and [the women's] program. It was just a cavern, and you really couldn't see what it was going to turn into. But as time went on, Virginia became one of the examples of how you add more and more scholarships."
Ryan succeeded Bonner as head coach in 1977 and held that position for 34 seasons, during which UVA made three appearances in the Final Four.
At the start of her tenure, the Cavaliers "were behind Tennessee to the west, Old Dominion to the east, NC State to the south, Maryland to the north," Ryan said. "So it took us time to catch up and to be able to attract some of the better players. We just didn't have the amenities. We didn't have a very good locker room. We didn't have a lot of things. It just was the way it was, and you just dealt with it. You kind of picked your battles and went from there, but there was a long lag."
In the '70s and '80s, some of the coaches of the men's teams at UVA supported the growth of women's sports, Ryan said. Others were less enthusiastic.
"To be honest, we were seen as a threat to the [lower-profile] sports," Ryan said. "We were a threat to take their funding. It was never supposed to be that way, but I think they saw it that way."
Holland, however, "always very, very supportive," Ryan said. "Terry really understood that he had to share the arena with us and that he couldn't go over [practice] by half an hour or 15 minutes, because it would throw us all off. He was very kind and would come down to my office and we'd talk about practice time, and he had two daughters, too, which made it so much easier. But he totally understood that we were fighting for our lives. He was always very, very supportive of us being as good as we could be and helping us along the way. He was never someone who tried to one-up us or say, 'You guys don't matter.' He always saw us as equals."
Miller was hired in 1983 to coach Virginia's field hockey and women's lacrosse teams. In the years that followed, UVA added varsity women's teams in soccer, rowing, golf and squash, bringing the total to 14.
"The women were behind," Miller said, "and I think the leadership really recognized what was going on, not just within our own department, but within the conference and at the national level. So the conversations shifted to: How do decisions now impact our women? So I felt really pretty good about how we were moving the needle, even though there still were discrepancies. The needle was moving, and I think we had people in place that thought, 'This is the right thing,' as opposed to 'I'm being forced to do it.' "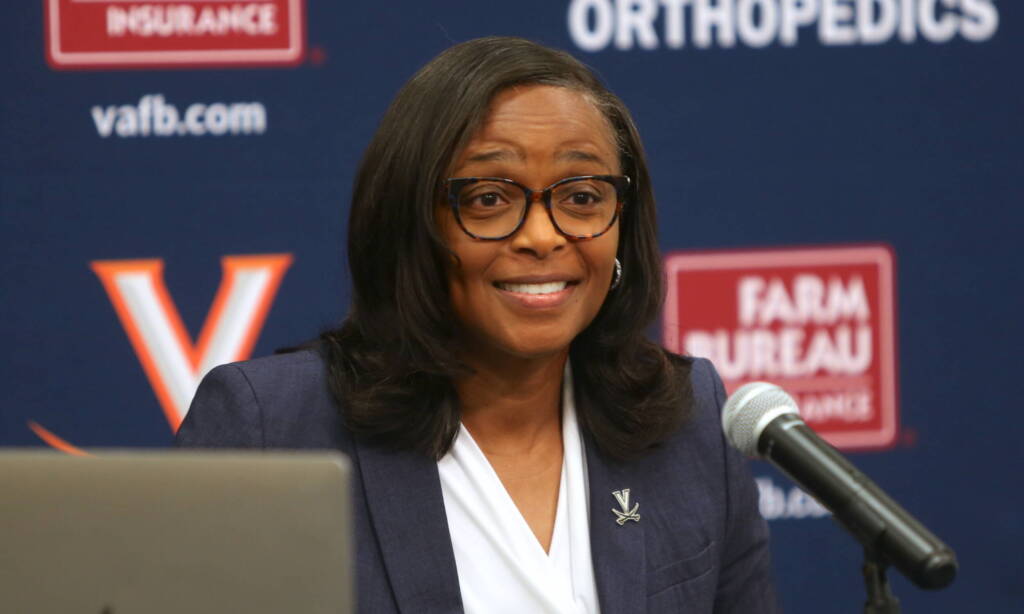 Virginia's current student-athletes include Mary Shaffer, a rising junior on the volleyball team.
"I remember growing up, my grandma would always tell me stories about how, when she was in high school, she was not allowed to play any sports, she could only be a cheerleader," said Shaffer, who's from Cincinnati. "And then I hear stories from my mom, who played volleyball at Duke, and she would always tell me how awesome it was, because now all of the sudden she was getting all this money for food because of Title IX."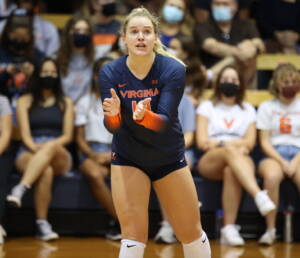 Shaffer's mother, the former Janie Borcherding, starred for Duke in the early 1990s.
"It's obviously an amazing thing that we have," Shaffer said of the opportunities Title IX has afforded women.
At UVA, Shaffer said, "I feel like women have gotten much more of a voice and feel a lot more empowered to speak up if there is anything that doesn't seem equal. I feel like on my team if there's an issue, all of us feel empowered to speak up. I'm not really sure if that was a privilege that my mom had when she was at Duke."
Even so, Ryan and others say, work remains on the gender-equity front. Late in the 2020-21 basketball season, for example, the stark contrast in the NCAA's treatment of men's and women's teams at their respective Final Fours generated national headlines and brought about long-overdue changes.
"There's still many, many battles going on out there that a lot of us don't even know about," Ryan said. "But it was good to see the NCAA own up to the fact that this has been going on for years and years and years with them, and now they've had to straighten it out."
When Madison was a Rutgers freshman in 1978, her teammates included a senior, Hallie Cohen, who was the first player in program history to receive an athletic scholarship. Later, an assistant coach at Iowa in the 1980s, Madison had to drive the team van, "and that was awful," she said. "I never felt safe doing that after a game, driving five hours."
And so when she sees all the positive changes in women's sports, Madison, whose first season at UVA was 2006, doesn't take them for granted.
To look back now, it's still hard to swallow that it's still not where it needs to be, but absolutely the opportunities are amazing," she said. "And I appreciate it. I wouldn't have the job I have without Title IX, I'm sure."
The women's programs at UVA have enjoyed tremendous success over the years, winning nine NCAA team titles, 35 NCAA individual championships, 64 ACC team championships and 438 ACC individual titles. Without Title IX, who knows where women's sports at Virginia, and around the country, would be?
"I love seeing all of the celebrations of the anniversary across the country," Williams said. "I think it's really important. I've got two daughters and a son. It's just as important that my son see those celebrations as my daughters because that's how we change moving forward."
To receive Jeff White's articles by email, click the appropriate box in this link to subscribe.